Chang and Eng's descendants arrive for birthday celebrations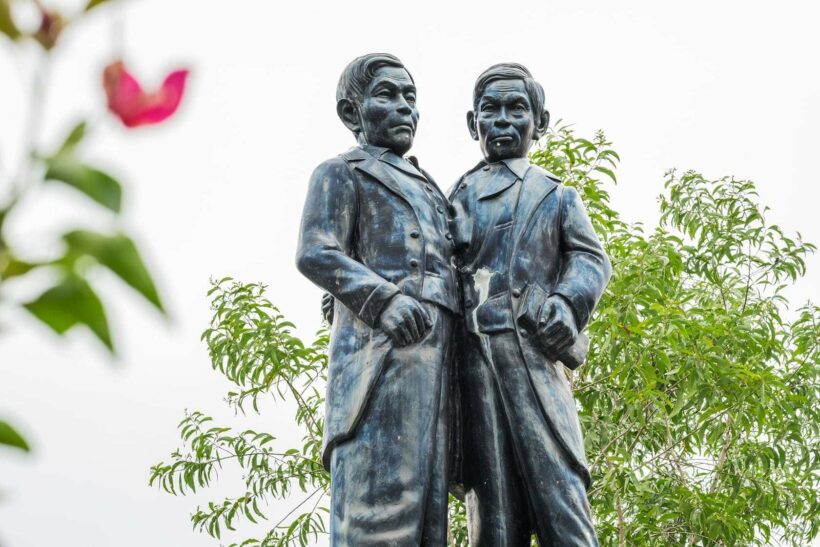 by Phatarawadee Phataranawik
Chang and Eng Bunker (May 11, 1811 – January 17, 1874) were Thai-American conjoined twin brothers whose condition and birthplace became the basis for the term "Siamese twins".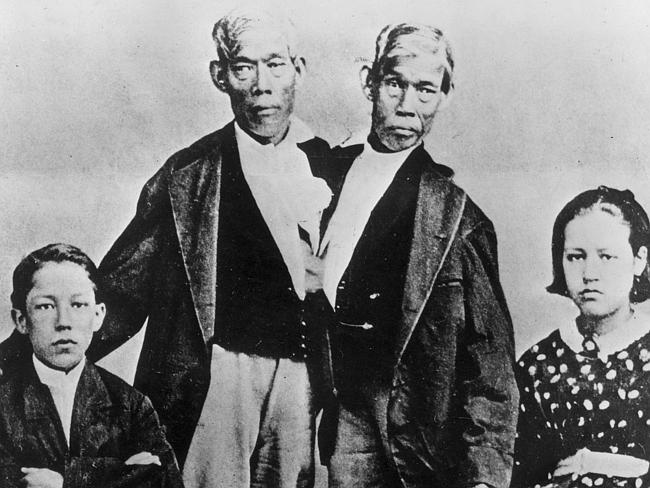 Dozens of descendants of Chang and Eng Bunker yesterday arrived in the hometown of the famous Siamese conjoined twins to celebrate the anniversary of their birth today in Samut Songkhram province more than two centuries ago.
The first gathering of fourth and fifth generation descendants is being organised jointly with the Foreign Ministry as part of the 185th anniversary of Thai-US relations.
Chang and Eng married two American sisters and fathered 21 children.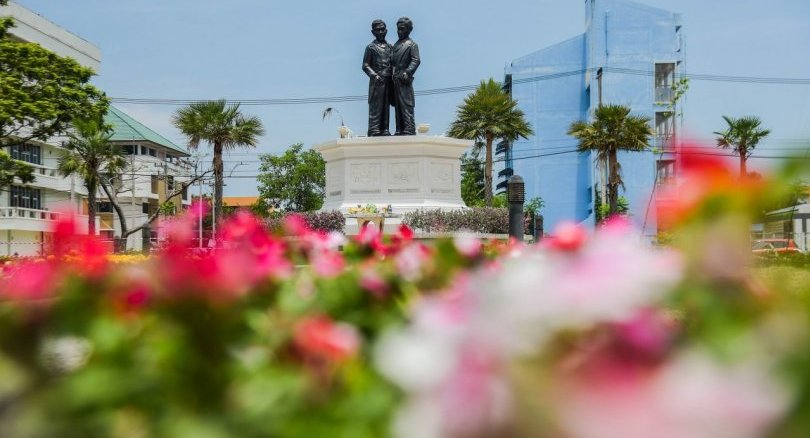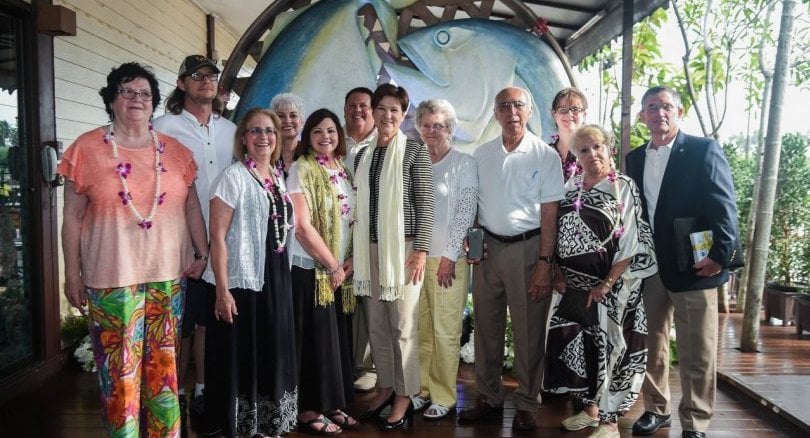 Photo by Chalinee Thirasupa
"I'm so excited to see the Siamese Twins' statue. Our family would love to erect a similar bronze statue designed by an American sculptor in our city Mount Airy, North Carolina]," Alex Sink, great granddaughter of Chang, told The Nation.
"We are working on joining the two cities as 'Sister Cities' in order to boost exchange between two countries," she added.
The replica statue is set to be unveiled in Mount Airy on May 28 when the city sees the 29th reunion of the Siamese twins' descendants.
The Thai festival commemorating the 207th birth anniversary of the twins kicks off today in front of the twins' statue in Muang's Latyai sub-district and runs through Sunday.
Today their descendants hold Buddhist rites before unveiling a new street named "Chang and Eng" where the statue is located.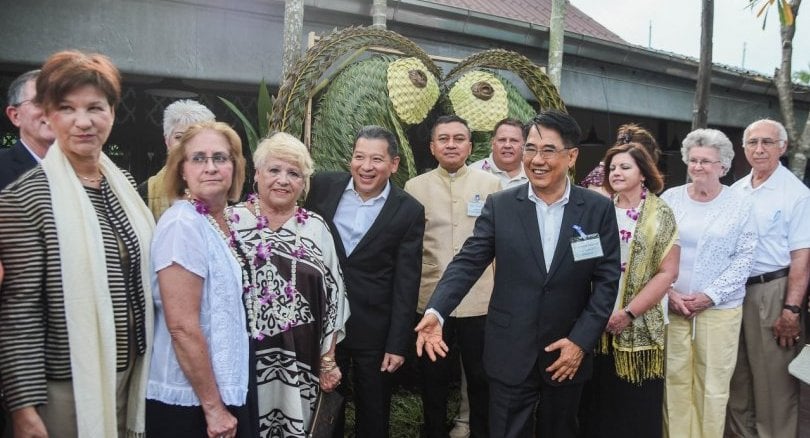 The festival is co-hosted by the province and the Tourism Authority of Thailand with the aim of promoting Samut Songkhram as an international tourist destination. The descendants also paid visits to the studio of renowned sculptor Sa-ngad Jaiprom, who created the statue, and to the Memorial Park of King Rama II, who commissioned the twins to join a diplomatic mission to Indochina in 1827.
The twins shot to international fame as part of a world tour in 1829, before settling in the US a decade later. Their descendants now number more than 1,500, many of whom continue to reside in the vicinity of Mount Airy, where the twins lived and worked for over 30 years before they died on January 17, 1874, at the age of 63.
Descendants of both brothers continue to hold joint reunions every last Saturday of May.
STORY: The Nation
Keep in contact with The Thaiger by following our
Facebook page
.
Never miss out on future posts by
following The Thaiger
.
K-Pop fan-funded billboards move from BTS and MRT stations to tuks tuks to support protesters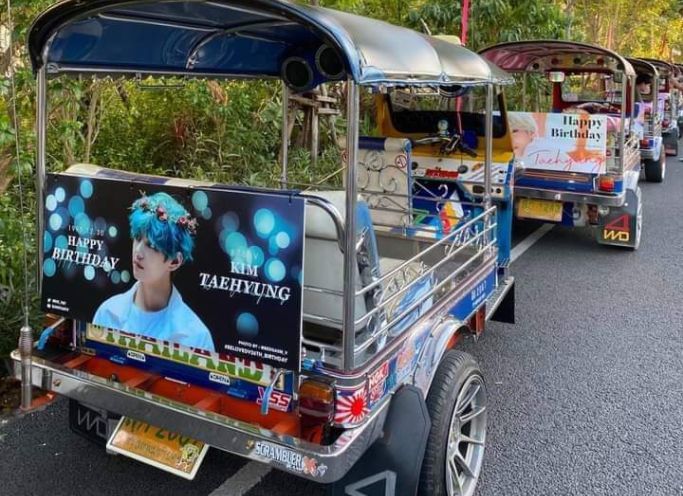 K-Pop fan-funded "happy birthday" billboards are moving from mass transit stations in Bangkok to tuk tuks after the BTS Skytrain and MRT Bangkok Metro temporarily shut down services during pro-democracy protests last month.
The world's K-Pop fans are weaponising their huge numbers and online 'power' by supporting Thailand's pro-democracy movement. In 3 days last month, Thai and overseas K-pop fans raised more than 3 million baht to support the growing student-led movement calling on government and monarchy reform. A lot more has been raised since then.
A Thailand fan page for the South Korean K-Pop band BTS (not to be confused with Bangkok's BTS Skytrain) urged fans to stop paying for the "happy birthday" billboards displayed in BTS and MRT stations. The fan-funded signs celebrate the birthdays of the 7 members of the band.
The band members also issued a statement asking their fans (known as ARMY) to stop paying for signs in the BTS and MRT stations because the mass transit systems "inconvenienced protesters and normal citizens from getting home and putting them in danger."
The "happy birthday" signs have been seen on tuk tuks throughout Bangkok while some have posted photos of empty advertising space in the transit stations.
🐹𝑯𝒂𝒑𝒑𝒚 𝒃𝒊𝒓𝒕𝒉𝒅𝒂𝒚 𝐉𝐈𝐍 & 𝐕🐯
พร้อมแล้วสำหรับวันเกิดพี่น้องตะกูลคิม ลิมิเตดสุดๆ 15 คันเท่านั้น ใครเจอป้าย ถ่ายรูปมาอวดกันที่แท็กนี้นะคะ 🌕#OursmilebeginwithJIN
🧸#BelovedV26th_Birthday#Happyvday#Happyjinday Special thanks for beautiful photos @Bedgasm_v 💜 pic.twitter.com/cVenc2SN9W

— 🌻⁹⁵ᶻ𝒊𝒔 𝑳☻𝒗𝒆 ᴮᴱ⁺𝘭𝘪𝘧𝘦 𝘨𝘰𝘦𝘴 𝘰𝘯 (@nuna_vmin) November 30, 2020
Keep in contact with The Thaiger by following our
Facebook page
.
Never miss out on future posts by
following The Thaiger
.
Thailand News Today | Thai Airways corruption, Southern floods, Border Covid outbreak | Dec 3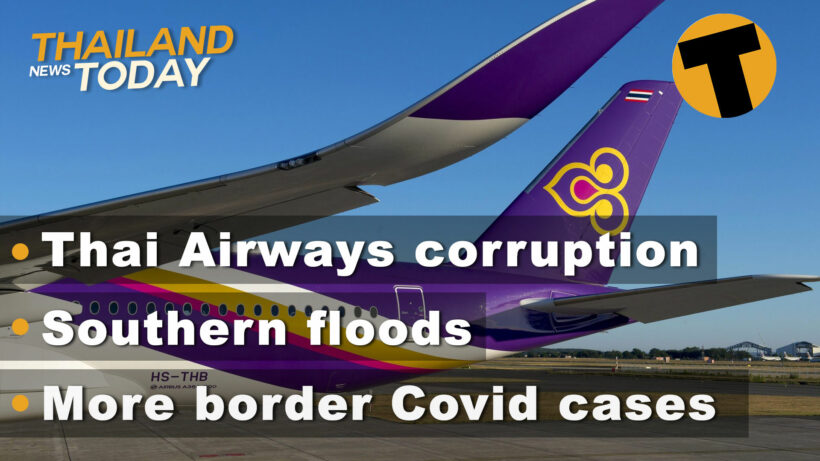 Thursday's edition of Thailand News Today, including the latest in the local cases popping up in Northern Thailand. Thailand's most watched English language news.
20 more people suspected of being involved in corruption at Thai Airways
20 people are now under suspicion of corruption and mismanagement within Thai Airways as accountants unravel the massive losses for the airline, spanning a decade
The news, announced by police and deputy head of the commission investigating the airline, comes as little surprise to anyone who has been following the demise of Thailand's legacy airline. The airline is tackling a debt of around 300 billion baht.
The story follows many other tales of corruption and bad deals that have been part of a larger puzzle that is now being unraveled by accounts and committees who are handling the airlines' bankruptcy.
Now, 20 people are suspected of corruption in 6 different parts of the company's management.
The investigation into alleged corruption at the airline started in August. In September, 18 documents showing evidence of corruption and mismanagement at the airline was submitted to the Finance Ministry, still a major shareholder for Thai Airways.
The airline's decision to buy 10 Airbus A340 aircraft for 100 billion baht in 2004 was catastrophic. The airline lost money on every single flight of these aircraft. All but 1 of them have been decommissioned and stored at the U-Tapao airport.
2 infected Thai women took domestic flights after illegal crossing from Myanmar
2 Thai women, both infected with Covid-19, took domestic flights after entering the Kingdom illegally from Myanmar and bypassing health checks and quarantine.
A total of 10 Thai women have now tested positive for Covid-19 after crossing the border from Myanmar, several having worked in the same hotel and entertainment establishment in the Burmese border town opposite Mae Sai in Chiang Rai.
Health officials are tracking and tracing anyone who could have been in contact with the women, a number well into the 100s. Some have travelled to Chiang Mai and Bangkok.
Thai economists say new local Covid-19 cases will slow tourism recovery
Meanwhile, the National Economic and Social Development Council says that the mini outbreak in Northern Thailand will re-ignite fears of a second wave of infections in Thailand, stifling travel and tourism in the northern cities.
Operators already note that there has been a drop off of bookings and cancellations related to the publicity from the cross border infections. Airline bookings have also dropped off to both Chiang Mai and Chiang Rai.
Government to raise 5-year Elite visa fee by 20%, as foreigners flee Covid countries
As more foreigners opt for one of Thailand's "elite" visas, allowing stays of between 5 and 20 years, and costing anything from 500,000 baht to 2 million, the most popular version is up for a price hike.
The cost of the 5-year "Easy Access" visa will go up by 20% from January, to 600,000 baht.
An additional 2,674 applicants signed up for an elite visa so far this year. That's an increase of nearly 25%, with the scheme generating revenue of 1.6 billion baht.
By the end of September this year, over 11,100 people hold an elite visa in Thailand, as part of 9 different packages offered by Thailand Privilege Card.
Heavy rain wreaks havoc in flood-ravaged Nakhon Si Thammarat
The governor of Nakhon Si Thammarat has put the province on high alert, following 6 days of heavy rain in the southern province.
Nakhon Si Thammarat is directly east of Phuket, on the Gulf of Thailand.
Large swathes of land are underwater after extensive flooding that has affected tens of thousands of people in the region. Floods have been recorded in 351 villages in 15 districts, with some 48,000 people affected.
Heavy rain and flash flood warnings were issued for all southern provinces except Chumphon and Ranong
Keep in contact with The Thaiger by following our
Facebook page
.
Never miss out on future posts by
following The Thaiger
.
Man shot and killed outside Bangkok restaurant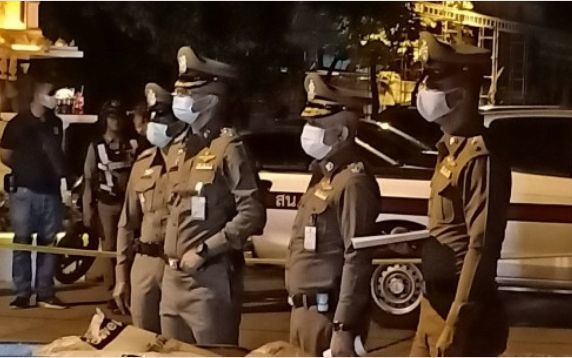 A man was shot to death at a parking lot outside a restaurant in Bangkok's Noi district. Police, accompanied by a doctor from the Siriraj Hospital, arrived at the scene around 2am this morning and found 49 year old Damrong Taweekkhet with 2 gunshot wounds in his chest.
Damrong, a fruit vendor, was chatting with his friends in the parking lot when a motorbike driver rode up and started arguing with Damrong, a witness told police. The driver allegedly pulled out a gun and shot it multiple times.
Police say they suspect the shooter is Damrong's friend who had argued with him inside the restaurant prior to the shooting. Police are still looking for the suspect and say the motorbike was seen driving down Boromratchonnee Road.
SOURCE: Nation Thailand
Keep in contact with The Thaiger by following our
Facebook page
.
Never miss out on future posts by
following The Thaiger
.