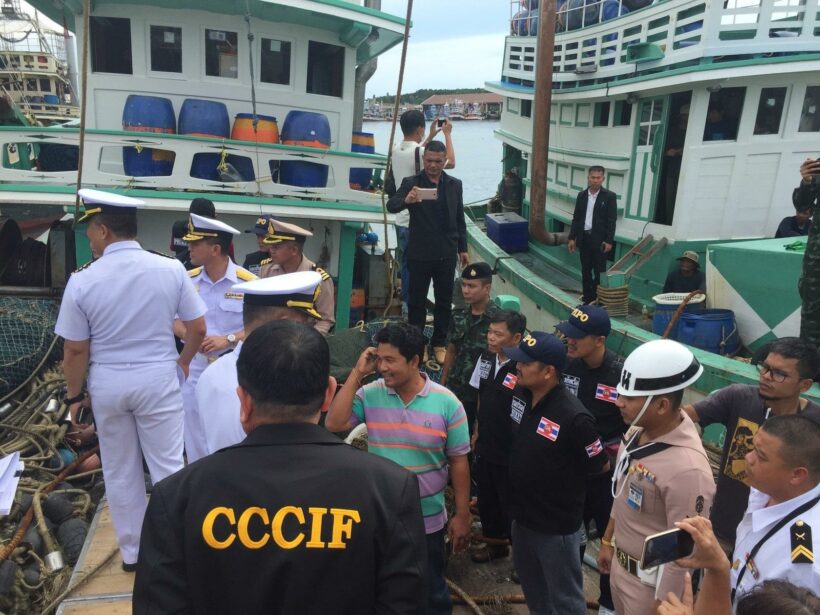 The captain of the 'Sang Samut 3' fishing boat, Somsamai Meejom (the fishing vessel at the centre of last Friday's whale shark catch) says, "We did not realise that the whale shark was caught in fishing net. Boat crews pulled the fishing net up and could feel that it was very heavy. We thought that we had caught a log."
"When I knew that it was a whale shark, I was shocked. I immediately asked the boat crews to release it back to the sea. It took about 10 minutes."
"Reason that we had to hang the whale shark up with the crane was because the whale shark is very big and heavy. We didn't have enough people to push the shark by ourselves. I can confirm that the whale shark was not dead and not injured."
Chief of staff of the Royal Thai Navy Adm Pichet Tanaset says, "The case is now under investigation. The penalty is a fine from 300,000 to 3 million baht or five times the value of the marine life."
Nares Choopueng who is the Director of Marine Resources Conservation Division of the Phuket Department of Marine and Coastal Resources (DMCR) filed a report to the Chalong police against the captain of 'Sang Samut 3' fishing boat, Somsamai Meejom, and the captain of 'Sang Samut 2' fishing boat, Rattana Promngam.
The 'Sang Samut 2' fishing boat was involved in the incident while the 'Sang Sanut 3' fishing boat was the vessel that caught the whale shark in its fishing nets.
They are being accused of a violation of Wild Animal Reservation and Protection Act, B.E. 2535 Section 16; No person shall hunt or attempt to hunt the reserved wild animals or protected wild animals except if the act is a part of official activities.
In addition, officials from the Phuket Fisheries Port In-Port Out Control Centre (PiPo) have filed a report to the Phuket City Police. The owner of the fishing boat is being accused of an offence to the Royal Ordinance on Fisheries in Section 66 and Ministry of Agriculture and Cooperatives Announcement.
Read more HERE.