Soaring baht continues to court investors and speculators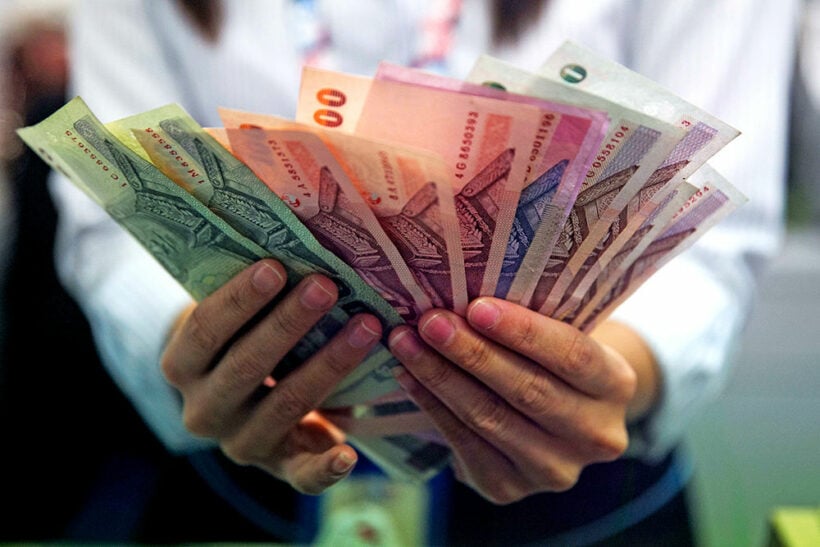 The Thai baht continues to be the best performing currency in Asia. On a year-on-year basis it has soared more than 8% against the USD and this year reached a six-year high. But the strong currency threatens the country's exports and tourism, two major drivers of Thailand's economy.
Thailand continues to have solid economic fundamentals, a high current account surplus and substantial foreign reserves together with a hawkish central bank. All these factors continue to lure capital inflows.
International investors and currency players consider the baht a safe haven among other emerging market currencies due to its stability. So, the baht is likely to retain or increase in value, attracting speculative capital inflows and placing upward pressure on the currency.
The Bank of Thailand (BOT) has limited capabilities to stem enthusiasm for the currency.
In early 2019, the BOT didn't seem concerned about the Thai baht's appreciation, as a strong currency can actually benefit Thai importers and those who have foreign currency debts. It can also help improve the country's terms of trade.
But the baht's persistent strength and its potential negative impacts on the export-driven Thai economy have since prompted concern.
Exports contracted for a fourth straight month in June and the BOT revised its GDP growth forecast for 2019 downward, from 3.8 to 3.3%.
In July 2019, the BOT lowered the cap on the outstanding balance of non-resident accounts by a third and cut its supply of three- and six-month bonds at auctions in July and August. In addition, the BOT has signaled plans to further relax restrictions on outward portfolio investment by Thai investors, which can also help stem currency appreciation.
Then last month the BOT cut the policy rate by 25 basis points from 1.75 to 1.5%, a shift in the BOT policy stance since a raise by 25 basis points in December 2018. But economist believe these measures will do little to quell investment in the baht.
A common belief is that further rate cuts would make the Thai baht less attractive for foreign investors, reducing pressure on the baht. Yet, if the funds flow into Thailand because of the safe haven currency perception, rather than for a high yield, it is unclear whether rate cuts will be effective.
More importantly, easing policy may worsen already elevated household debt, which is 78.6% of GDP (among the highest in Asia), jeopardising Thailand's financial stability.
The strong baht may just be a product of global trends that are contracting exports, particularly sluggish global growth and trade tensions.
Read the rest of this article at East Asia Forum
Keep in contact with The Thaiger by following our
Facebook page
.


Do you need help with your business? Are you searching for a new job? Or an employer looking to hire? Try JobCute today.

Read more headlines, reports & breaking news in Thailand. Or catch up on your Thailand news.

Thailand's food delivery services are booming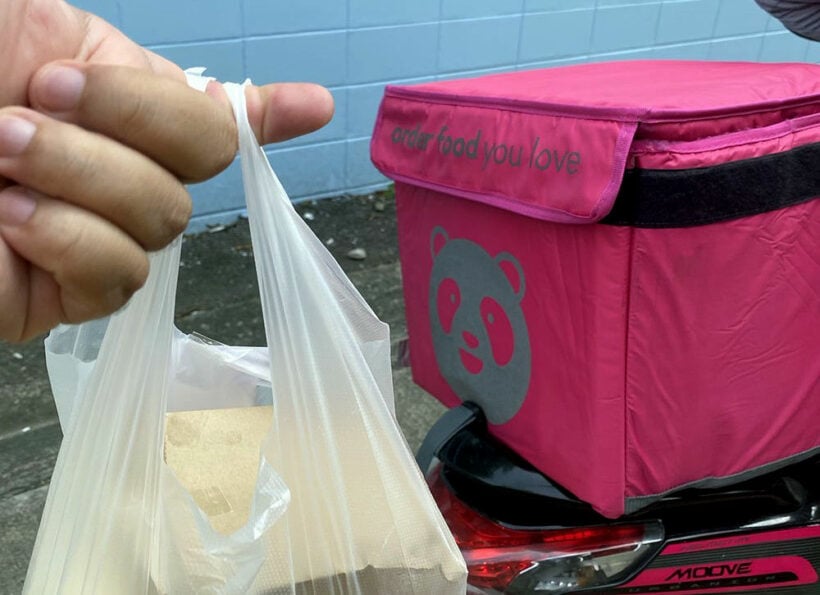 Whilst most businesses have been turned upside down by the disruptions caused by the Thai government's reaction to Covid-19, along with enforced closures, at least one business is booming at this crazy time. With restaurants closed to sit-down customers, the delivery services are providing a valuable service getting food to customers stranded at home whilst applying social distancing for the safety of their drivers and hungry customers.
Food delivery services are among the few local businesses that will not only survive but thrive throughout the outbreak in Thailand. Last year Kasikorn Bank Research reported that Thailand's food delivery business in 2019 was worth 33-35 billion baht, up 14% from the previous year. You can bet it's growing even faster now, some reporting rises of up to 100% in the past few months.
A ban came into affect on March 26 preventing people going out and sitting down for meals at restaurants. But restaurants have been able to provide take-away services and many either have their own delivery services or use the network of delivery apps like Food Panda or Grab Food to provide ordering and delivery services.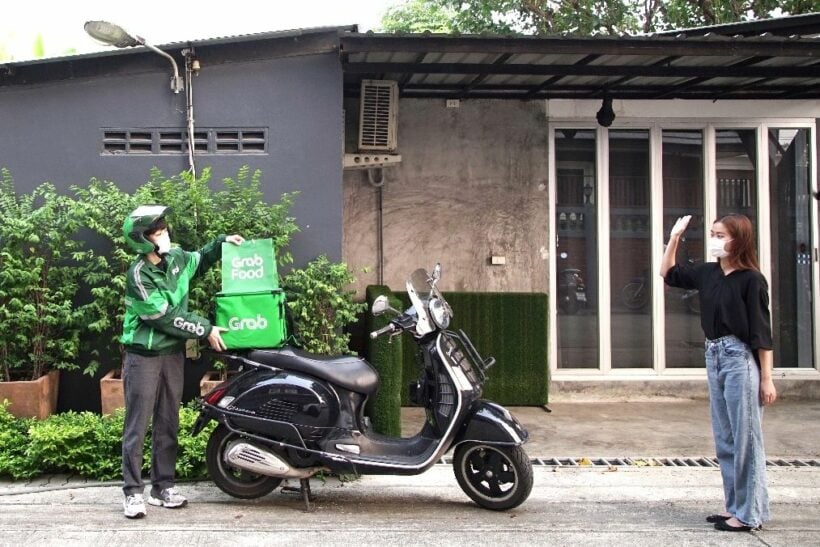 A 43 year old Grab Food driver says that he's been doing up to 15 deliveries over a 2 hour period. He's been doing deliveries for about a year. He noted that the demand for deliveries has surged during the recent disruption. He works mostly around Bangkok's Pattanakarn area.
"Of course, I'm scared of catching Covid-19, but I have to make a living, so there is no choice left for me. I just wash my hands many times a day and try not to get too close to other people," he told Bangkok Post.
35 year old Jakkrit Kamwan also works for GrabFood…
"The number of orders has doubled since the government invoked the emergency decree. I don't think I am at high risk of contracting it because I don't touch or talk to people when running orders."
Last week GrabFood introduced the "contactless delivery" to ensure the hygiene and health of customers during the Covid-19 crisis. Tarin Thaniyavarn of Grab Thailand says, "Grab has been closely monitoring the Covid-19 situation and is prepared to execute any necessary measures to promote safety standards for everyone involved."
GrabFood and its restaurant providers use these safety guidelines…
Drivers will be wearing face masks as they follow customers' directions via an in-app chat as to where to deliver their order.
Safety guidelines in food preparation and packaging.
Customers are advised to make payments via GrabPay to reduce the transmission risk.
29 year old Pongsatorn Chuaychart, who works for LINE MAN, said its no-contact policy helps to encourage customers who might be reluctant to use a food delivery service for fear of being infected.
"Even more, it make those carrying out the deliveries feel protected. But I'm also taking my own precautions. I plan to keep delivering as long as orders keep coming in. People still have to eat."
Others industries that are thriving though this really difficult time are the medical industry, medical supplies, hygiene sanitary services and supplies, life and health insurance policies, food packages and digital technology. People are also spending a lot of time online searching for accurate news and information.
SOURCE: Bangkok Post
Keep in contact with The Thaiger by following our
Facebook page
.
BOT responds to temporary breakdowns for online payments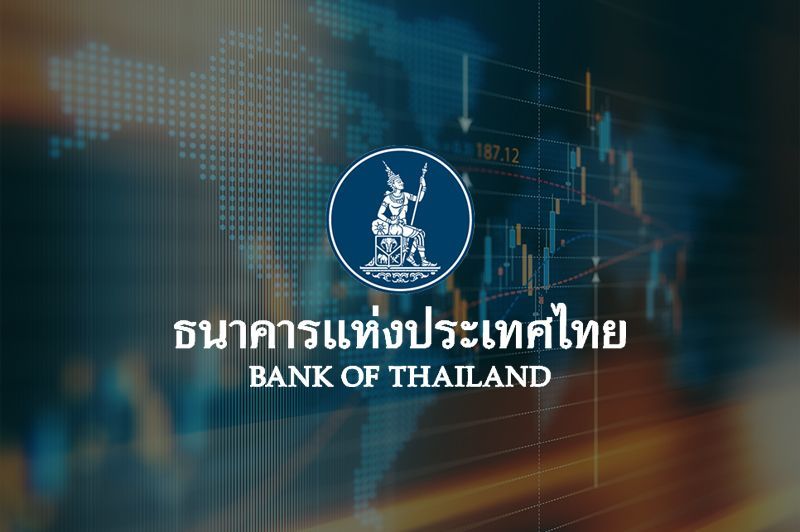 The new online payment systems, put in place to provide payments related to government stimulus packages, have suffered from temporary breakdowns in the past few days. Today users also reported problems with the Bangkok Bank's online payment system and ATMs machines going offline.
More users are also reporting problems with the governments' website providing financial support for informal workers during the outbreak.
Siritida Panomwon na Ayudhya, the Bank of Thailand assistant governor of payment systems policy and financial technology says the BoT is closely monitoring the situation in order to solve any problems as soon as possible.
"The server has been crashing and temporary break downs of the website (www.เราไม่ทิ้งกัน.com) in the past few days."
"The BoT has asked banks and other financial institutions to monitor any glitches on their online transaction systems and solve them quickly. The institutions have been urged to ensure that the problems are solved within 24 hours."
SOURCE: The Nation
Keep in contact with The Thaiger by following our
Facebook page
.
30,000 Thai hotels to lose all revenue during April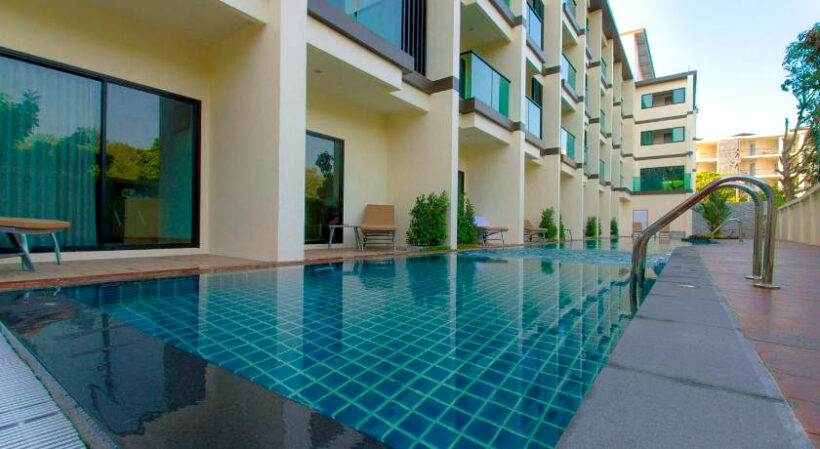 According to the Thai Hotels Association, out of the 32,564 hotels registered in Thailand, 95% will lose all revenue during April as the temporary lockdown escalates around the country. Adviser to the THA, Surapong Techaruvichit says that the number of hotel closures is growing every day as more provinces have imposed stricter lockdown policies.
"Phuket is the latest major tourism destination prohibiting people from free travel in and out of the area. Most hotels in provincial areas prefer a clear order from the authorities to close all hotels for the sake of employees, making them eligible for benefits from the Social Security Fund."
"THA is asking members to look after the welfare of workers, such as offering hotel rooms and meals for those who can't afford to pay rent and food, but it is hard for business operators to keep supporting employees as nobody knows how long the Covid-19 pandemic will last."
"We strictly follow the rules by contributing 10% of salary to this fund, in which both employers and workers pay 5% equally, for example, a hotel with 550 staff will have to contribute at least 700,000 baht every month to pay for the Social Security Fund. But during this tough time when business operators have no income, and cannot continue to pay the levy to employees who are in need of it the most."
The president of THA's southern chapter, Kongsak Khoopongsakorn says that 87% of hotels in Phuket intend to temporarily close during April to comply with the one-month lockdown.
"There are no tourists in the province at this point and it is possible that the closure could extend beyond April if the outbreak still remains uncontrollable."
Most of the 3,000 foreign visitors in Phuket are expected to leave before the airport is closed on April 10.
SOURCE: Bangkok Post
Keep in contact with The Thaiger by following our
Facebook page
.