Ruler of the rubber world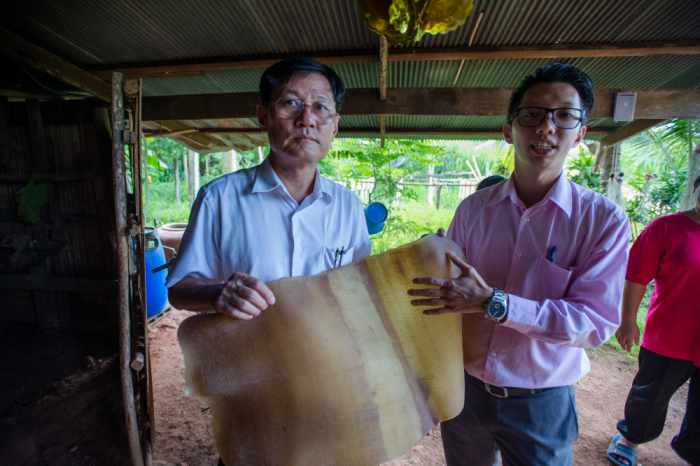 PHUKET: It started way back in the 16th century when an explorer saw tribal people in Mexico playing games with balls made out of a soft, bouncy material. It took another couple hundred years before anyone actually sat down and took a long, scientifically inquisitive look at what that material was. And its first practical use came in the form of… an eraser.
Since then, chemists have found different ways to process latex and rubber and whether we realize it or not, we are surrounded by products which contain this naturally occurring material. In Thailand, we are not only surrounded by products, we are in the rubber production capital of the world.
"For the rubber industry in Thailand, it pretty much all started in the southern area… it started in the Hat Yai, Songkhla and the Yala area," said Marketing Assistant of Von Bundit Co, Ltd Michael Ong.
With their main offices located just north of the heart of Phuket Town, family-owned Von Bundit Co, Ltd plays a serious role in the production of rubber for the global market. In fact, after getting into the rubber processing industry in 1987, they now operate the largest processing plant on the planet, located in Surat Thani.
As the largest exporter of raw rubber in Thailand, Von Bundit's five factories churned out 550,000 metric tons last year, or 15 per cent of Thailand's total export. Nearly half of that came out of their behemoth Punpin factory in Surat Thani.
"This factory, we actually took over from Euro Siam. Euro Siam was the Thailand-French company. At that time [they produced] only 2,000 tons per month," said Executive Director Tanawat Phankosol.
Von Bundit Co, Ltd acquired their Punpin factory from Euro Siam Co, Ltd in 1994. Since Von Bundit assumed control of the factory, they have been able to ramp up production capacity to a massive 38,000 metric tons per month.
Surprisingly, considering Von Bundit's scale of operations, they don't own a single rubber tree. Instead, some rubber tree plantations are operated as small holdings while others are independent family-owned tracts. About 1 million families in Thailand are involved with rubber production which accounts for four per cent of the country's gross domestic product (GDP).
The way the system works is that intermediaries – what they call second-dealers in the business – source the latex or rubber (latex comes from the tree and rubber is processed from latex), make an initial assessment of quality, sell the liquid latex directly to the factories, and stockpile the rubber and sell it to the factories when the price is right.
The factories consider a spectrum of variables to come up with the current market price, which at the time of writing was about 63.5 baht per kilo.
When asked why they don't control the entire production process, Mr Ong replied, "For us, we don't want everything. The profit is there, but we do want the community to share [in the profits]."
Because the rubber tree plantations are fairly small and there are thousands dotted across the landscape, Von Bundit buys their material from several hundred second-dealers.
In turn, Von Bundit sells to a global market of around 450 customers that range from tire factories to trading houses (companies which manage import-export and purchase and sell goods for another company) that supply various other industries.
"Usually the traders that we sell to, in turn, sell back to the tire manufacturers," explained Mr Ong. He claimed that an estimated 80 per cent of their material found its way to tire manufacturers with Bridgestone being their largest client.
Rubber plantations and processing factories such as Von Bundit plan for a seasonal lull in production during the wintering period from March through June when the deciduous trees lose their leaves. While typically peak rubber production occurs between November and February, this year the industry suffered from the worst drought in 30 years.
"We expected to be able to tap the latex since June, but as of now we don't see as much latex coming to the market – I would say now about 70 per cent of what we had expected," said Executive Director Bundit Kerdvongbundit.
Last year, rubber farmers took to the streets in protest and demanded that the then current Prime Minister Shinawatra's administration double the existing subsidy. The farmers succeeded, only to see the subsidy abandoned shortly thereafter due to excessive cost and market distortion.
The protests followed a 2012 plan, similar to the rice pledging scheme, which saw the Thai government purchase and stockpile more than 200,000 metric tons of rubber in a failed attempt to raise market prices.
"Government stockpiles [of rubber] can be helpful or harmful depending on the way it is being treated. If we treat the stocks as dead stock that must be sold off, then it is harmful. But if we treat this as strategic stock, where there is proper management, then it will be helpful," explains Mr Bundit.
"Our target is to reach [production of] 1 million tons by 2016 and it should account for about 20 per cent of the total export [from Thailand]."
Currently, the only competition to natural latex and rubber is a chemical version synthesized from crude oil. According to the Rubber Manufacturers Association, more than 70 per cent of all rubber that hits the market today is synthetic.
Following a report that Thai exports in all sectors, except rubber and sugar, were up 2.6 per cent last month, the NCPO announced that it is allocating over 6 billion baht to be distributed to registered rubber farmers to help offset their losses.
— Jeremie Schatz

Join the conversation and have your say on Thailand news published on The Thaiger.
Thaiger Talk is our new Thaiger Community where you can join the discussion on everything happening in Thailand right now.
Please note that articles are not posted to the forum instantly and can take up to 20 min before being visible. Click for more information and the Thaiger Talk Guidelines.