Business
Phuket Business: Makro – now bigger and better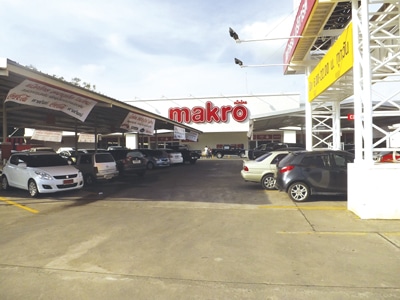 PHUKET: The newly renovated Makro Phuket has reopened its doors, announcing that it is better equipped to meet the cooking and catering needs of local hotels, restaurants and cafés (HoReCa).

With an emphasis on enhancing the capabilities of businesses to maintain international standards, the membership-based wholesaler has increased the quantity and diversity of its consumer products, which include both fresh and dried foods, by 30%.

Accordingly, its business, retail floor and parking space has expanded by about 45%.

Speaking at the Makro Phuket relaunch ceremony, Phuket Governor Maitree Intusut linked the island's thriving tourism sector with the growth of the HoReCa sector.

"Phuket has seen a rapid increase in tourists and residents…. This has made both Thai and foreign [business] operators interested to invest [more] in tourism, service and entertainment businesses," he said.

Gov Maitree emphasized that Phuket province has a policy of continually developing the tourism industry, namely, by promoting international conferences and the events industry, while improving environmental development for sustainable prosperity.

"The renovation of Makro's Phuket Branch, in order to match the growth of the city and increasing demand from business operators, is in line with the provincial development plan.

"Makro's business commitment is good news for the operators of hotels, restaurants, and food businesses since Makro is able to provide comprehensive service solutions tailored to their customers' needs.

"The new Makro store offers a variety of products, especially premium quality vegetables and fruits from both Thailand and overseas. Operators can now provide [produce] to their consumers with confidence, and the high quality of Makro's service will enhance the people of Phuket's health and safety."

Makro's primary customers include operators of small and medium sized businesses (SMEs), hotels, restaurants and catering companies in Phuket and nearby provinces.

Mrs Suchada Ithijarukul, Chief Executive Officer of Siam Makro Plc, remarked: "Phuket is a world-class tourist destination and a major province in the South.

"With fast-growing development, and the province's vision to promote the Meetings, Incentives, Conferences and Exhibitions (MICE) industry, there has been [an increase in the] diversity of hotel operators, lodgings, restaurants and related businesses over the past few years."

In response to this demand, Makro Phuket has expanded its retail floor space for consumer products and its business area from 6,887 square meters to 9,980 sqm.

The parking lot has also been expanded and is now able to accommodate 180 cars, from 125 cars previously. Diversity of the consumer product lines has increased by more than 30%.

Moreover, Makro has improved the quality of its vegetable offerings under the "Quality Pro" label.

This quality guarantee has been jointly developed between Makro and its farmer suppliers, and involves quality assurance monitoring throughout every step of the process – from cultivation to packaging and shipping – to ensure that international standards are met, Mrs Suchada says.

To enhance the confidence of Islamic food customers, produce sold in its meat zone section, such as frozen beef balls, beef sausages, chicken, beef, lamb and goat meat, are all produced in line with the Halal standard, certified by the Central Islamic Committee of Phuket.

Such produce – meat and vegetables – is now available at Makro Phuket.

"The renovation of Makro Phuket will contribute to an effort to upgrade tourism infrastructure and service businesses in Phuket to provide for sustainable development," concluded Mrs Suchada.