Oh what a feeling… walking on the ceiling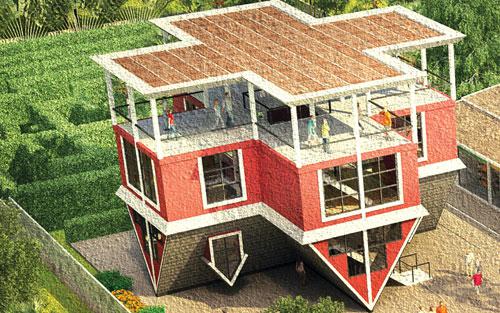 PHUKET: Lionel Richie's feel-good 80s tune is about to apply in a more literal sense, with the opening of Phuket's newest quirky, off-the-wall attraction which will enable visitors to actually dance, or walk, or crawl, or slide… on the ceiling.
The beginning of 2014 is set to welcome a three-story, fully furnished house which will become the newest tourist attraction in Phuket – to be built completely upside-down. The eccentric modern Western-style house will feature a garage, staircase, bedroom, kitchen and bathroom – all with the furniture hanging from the ceiling, or as it were, the floor.
This project, entitled "Baan Teelanka", which, fittingly, means "upside-down house" in Thai, will be accompanied by another brain-puzzling activity: a 1,000-square meter hedge maze will be grown alongside the house, expected to be completed within a couple of months after the house has opened its "roof" to the public.
Alex Riva and Wah Yodying, the minds behind Baan Teelanka and A-Maze-in-Phuket, spoke to the Gazette about their upcoming additions to the island's attractions.
"We are targeting people in Phuket and tourists alike, so we needed to make sure that we're creating something that is fun and generates curiosity. With all the activities, attractions, and amusements available, Phuket's got a lot to offer – so we wanted to be different and find something that is lighthearted, easy going and appealing to all," said Alex.
"We put into consideration that not everyone who comes to this island wants to be active – if you do want to be active, there is so much to do… Scuba diving, golf, activities in the jungle and so on. But we wanted to attract people that are on a bit more of a laid back holiday, whether they are old or young, regardless of nationalities.
"Here in Phuket, 30 to 40 per cent of the days of the year we have some rain – so we are providing something not only for a sunny day, but also for rainy days. It gives something extra to do, whether it is a standalone activity, or on the way from other activities in the area," he added.
Alex, a Swiss national, is no stranger to the tourism industry. A hotelier for all his life and most recently General Manager at several Le Meridien and Sheraton hotels in Thailand and within Southeast Asia, he is now taking a sabbatical from his career, and together with his wife Wah, they are now pursuing a long held dream – to create something for the island they call home.
"Alex and I met and worked together in a hotel, here in Phuket, twenty years ago. But after I had to stop working to look after our children, he continued working within hotel management for fifteen years outside Thailand.
"We always had a dream to come back and create something for our hometown, within the industry that we are both so passionate about.
"Bringing Baan Teelanka and A-Maze-in-Phuket to reality is great fun, not only for both of us to find ourselves working together again, but also for our three daughters, who were instrumental in the conception of both logos and mascots," said Wah.
"We are very encouraged by the feed-back received so far from some of the key tour operators – they have shown great interest in including the facility in their leisure programs. All of them can't wait to see it and promote it to their travellers."
Alex and Wah also plan to work with individual groups in the community, such as schools and other institutions.
"We will be associating closely with government schools and private schools to make sure we give some special privileges, so kids can come and see something different on special occasions – children's day for example," Wah said.
"We hope that schools can benefit from our facility, and we will be working together with them to arrange hosted activities for children – we want to give something back to help the community."
The house itself is set to be a great piece of architecture: "We do believe that our house, which is 350 square meters, 13 meters high, with three floors, will be very impressive – with a lot of attention to detail," said Alex.
"The architects had never done anything like it before, so we're all very excited about the result," added Wah.
A-Maze-in-Phuket was also designed by an expert in the field. Adrian Fisher, a well-known maze designer, who has designed over 500 mazes in 30 different countries, was brought onto the team.
His works include the hedge mazes at the Scone Palace in Scotland, as well as the Blenheim Palace in England, among other mazes in India, Japan, South Korea, the US, the Netherlands, France, Germany and the Ripley's mirror maze in Pattaya – just to name a few.
"Yes, the maze was designed by Mr Adrian Fisher, a famous maze designer from the UK. It has been made with different gates so that alternating routes can be opened, so it can be changed on different days of the week and visitors are not always repeating the same route. It is definitely very challenging, and we're sure visitors will have a lot of fun," Wah told the Gazette.
The attractions will be located on the bypass road, between the Factory Outlet and Siam Niramit, right next to Wat Ratsadaram.
"We chose the location strategically. As we know ten or twenty years ago the strategic location would have been on the West coast of Phuket, but around the world, and in Phuket, tourism has changed. Though beaches remain the most important attraction of Phuket, it is no longer just about the beaches," Alex explained.
"The geographical location of tourists has changed, with different tourists, so different cultures and expectations – meaning the center of tourism industry has moved a little bit to central areas of the island. So for us, the bypass road, which is a main connecting road between the airport and beaches was a perfect location."
The sensory experience will come at a very affordable price too, with entrance fees planned to be as low as 150 baht.
"We wanted to create something of good value for money," they explained.
In the meantime, bypass road passers-by can catch glimpses of the wacky and exciting house coming to life as its early 2014 opening nears.
You can also visit the website to keep an eye on the project's latest developments.
Keep checking our online Phuket Business pages, join our Facebook fan page or follow us on Twitter @PhuketGazette for local and national business news.

Join the conversation and have your say on Thailand news published on The Thaiger.
Thaiger Talk is our new Thaiger Community where you can join the discussion on everything happening in Thailand right now.
Please note that articles are not posted to the forum instantly and can take up to 20 min before being visible. Click for more information and the Thaiger Talk Guidelines.