Bangkok Hospital Group aims to broaden medical tourism with new facility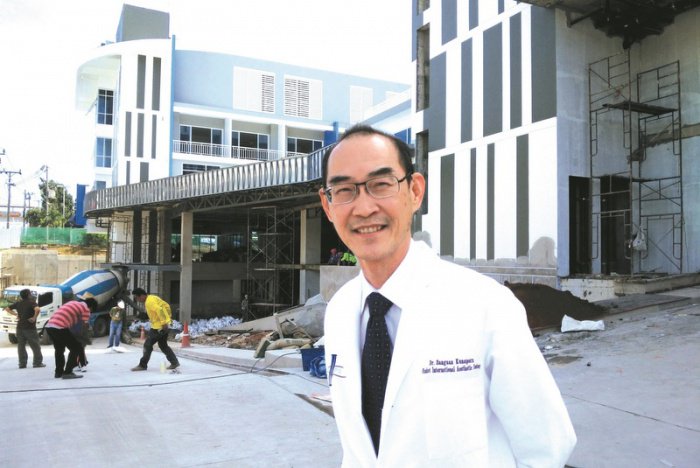 PHUKET: One of the primary reasons the Bangkok Hospital Group purchased Phuket International Hospital for 3.61 billion baht last year was to bring the hospital's exceptionally strong aesthetic surgery branch into the fold, explains Sanguan Kunaporn, the Director of the Phuket Plastic Surgery Institute at Phuket International Hospital.
This month, the group will stage the soft opening of a new 900 million baht medical tourism facility at Phuket International Hospital.
"When Bangkok Hospital took over, they wanted Phuket International Hospital to focus on cosmetic surgery, so they re-assigned the building for medical tourism," Dr Sanguan said. "It will not be just for plastic surgery, but will house an anti-aging department and a skin care department as well."
Teams of surgeons from the two hospitals will be joining forces at the new facility, which has 10 operation auditoria and almost 70 patient rooms.
The number of in-patient rooms gives the facility plenty of room for growth, as the two hospitals combined served 3,500 patients last year, and the teams produced more than 500 million baht in revenue, explains Dr Sanguan.
"We arranged for this building to be a one-stop service for our clients. Our clients can come from the airport or their hotel to this single building to get their consultation, pre-operation investigation and the operation itself, and even enjoy the comfortable lobby and in-patient rooms," he says.
Though 2014 was a strong year, there have been struggles for the hospital this year, with nearly a 25 per cent decline in patient numbers, forcing the group to look for new markets.
Phuket International Hospital's original medical tourism market was Americans seeking sex changes. Because of the brilliant work of Dr Preecha Tiewtranon from the Preecha Aesthetic Institute in Bangkok; Dr Sanguan from Phuket International Hospital; and Dr Suporn Watanyusakul from the Suporn Clinic in Cholburi, Phuket is often referred to as the 'World Capital of Sex Changes'.
With access to the internet in Thailand by the late 90s, the doctors were able to effectively market their high-quality work globally. However, the American market was eventually replaced by Australians and New Zealanders, who now comprise 70 per cent of the patients in the hospitals.
"Phuket is one of the key players in medical tourism in Thailand, or I would even say the Asia Pacific region. After the AEC opens up, we hope that we can tap into new markets," Dr Sanguan says.
He has already met with medical travel agents in Myanmar to start gauging the potential of the market.
"There is a lot of opportunity there, because there are not many good hospitals or clinics that can provide good services to the Myanmar people or expats," he says.
"Most Myanmar patients go to Bangkok, but they are interested in what we have down here in the way of aesthetic plastic surgery."
Though the Chinese market is also part of the strategy, as it is Phuket's largest in-bound market, most of them who come to Thailand for medical tourism are here for wellness, anti-aging and skin treatment packages. Few are arriving for plastic surgery.
The new facility at Phuket International Hospital is now fully operational with a large surgeon team, and Dr Sanguan expects to see prices at the facility unchanged despite the merger and is hopeful that the group will be able to regain lost ground and bring profits back to the level of 2014.
"During this downward trend of the global economy, we don't think we can increase our prices because we might lose patients to centers in Bangkok and in other countries," Dr Sanguan says.
However, a number of mega-shopping complexes being developed on the island are expected to increase Phuket's attractiveness. It will become a destination where new techniques and cutting-edge equipment allow women to undergo breast augmentation – the most popular type of aesthetic surgery – and be on one of Phuket's famous beaches the following day, and there will also be world-class shopping too, Dr Sanguan says.
— Isaac Stone Simonelli
Keep in contact with The Thaiger by following our Facebook page.
Never miss out on future posts by following The Thaiger.
Thai temple tour, via a jet ski on Bangkok's Chao Phraya | VIDEO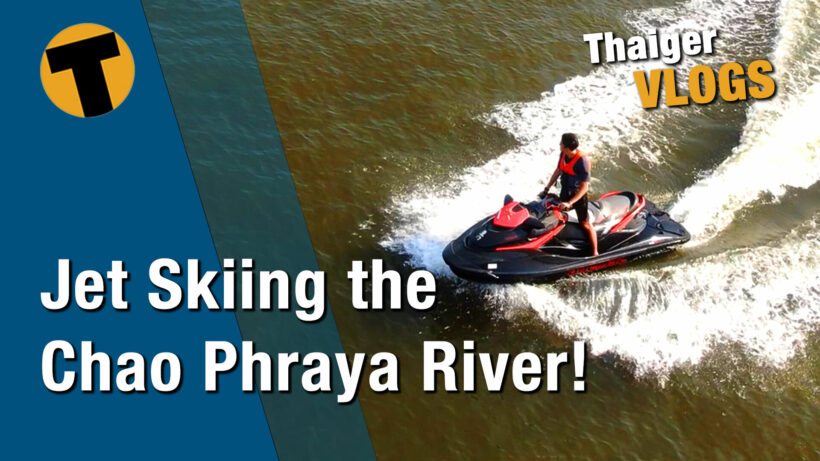 In this brief video, Chris our Thaiger 'adventure' Vlogger, takes you on a ride through the Chao Phraya River…on a jet ski! There are plenty of ways for tourists to take the well-trodden path of temple-hopping whilst in Thailand. THIS is a very fresh view of some of the famous river's lesser known temples.
You can stop off and a look around (make sure you're dressed appropriately) during your very-own river trip. The Chao Phraya River is the main river that runs through Thailand, and for 2,500 Thai baht you can rent out a jet ski and do some temple hopping as well as speeding your way around Ko Kret.
Keep in contact with The Thaiger by following our Facebook page.
Never miss out on future posts by following The Thaiger.
Pro-democracy activists rally against corrupt police promotion system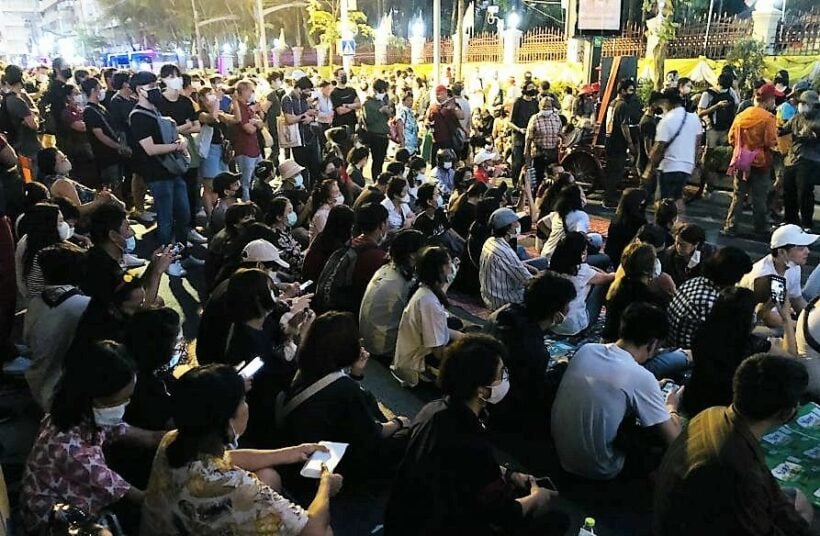 The pro-democracy group, Ratsadon, held a rally in Bangkok yesterday, this time with their sights set on Thailand's police force and the corrupt practices involved in promotion. The system in which officers have to pay bribes to senior figures, allegedly including senior politicians, was highlighted in a debate in parliament last week.
Activists met at the Ratchaprasong intersection in the capital at around 5pm and stayed there for an hour, according to a Thai PBS World report. However, most of the speakers were unknown faces, with more prominent leaders, such as Panasaya Sitthijirawattanakul, aka, "Rung", and Mike Rayong notably absent. Those who addressed the crowd called on "honest" officers to join them in the fight for justice, as they slammed the widespread nepotism and corruption that is allegedly rife in the police force.
Protesters then marched to the nearby headquarters of the Royal Thai Police and sat on the street outside while speeches continued. At one point, an activist read out a letter which the group says was written by a police officer and addressed to his colleagues. In it, the officer calls on his colleagues to decide if they are serving the people or those in power, and asks them if they think they've been fairly treated by their bosses or used for political purposes. After the reading, rally participants were given copies of the letter.
The protest dispersed peacefully around 8.30pm, with organisers saying another rally is planned for today. Activists are being asked to wear black and will gather in front of the Criminal Court in a symbolic show of mourning for the country's justice system. The "mourning" will last for 112 minutes, to protest Section 112 of Thailand's Criminal Code, also known as the lèse majesté law. Participants will also call for the release of 4 detained protest leaders, Parit Chiwarak, Anon Nampa, Somyos Prueksakasemsook, and Patiwat Saraiyaem.
SOURCE: Thai PBS World
Keep in contact with The Thaiger by following our Facebook page.
Never miss out on future posts by following The Thaiger.
Bangkok bars are back open, restaurants serving booze again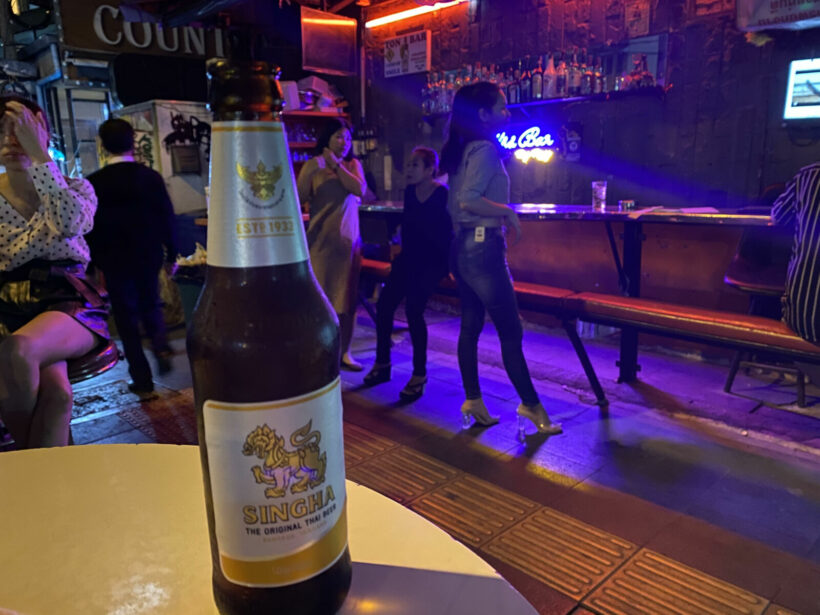 Bangkok bars are back in business. People flocked to the city's streets last night after hearing the news that bars could reopen and restaurants could start serving alcohol again… as long as they close by 11pm. Some started rolling out their mobile bars stocked beer and liquor, setting it up along a busy street. Restaurants changed their signs, erasing 9pm and writing 11pm. Bars reopened, turning on the lights and turning up the music. Even a street performer dressed up in a robot costume (or maybe it was a knock-off Transformer) was out by the Sukhumvit-Asok intersection.
The easing of disease control restrictions officially set by the Centre for Covid-19 Situation Administration kicks in on Monday, but provincial authorities have been given the "okay" to the lift the restrictions earlier. In Bangkok's case, local officials gave the nod immediately.
Live music is now allowed, but customers are not allowed to dance. Bars, pubs, restaurants and other nightlife venues must close by 11pm. Click HERE to read the new disease control regulations by zone.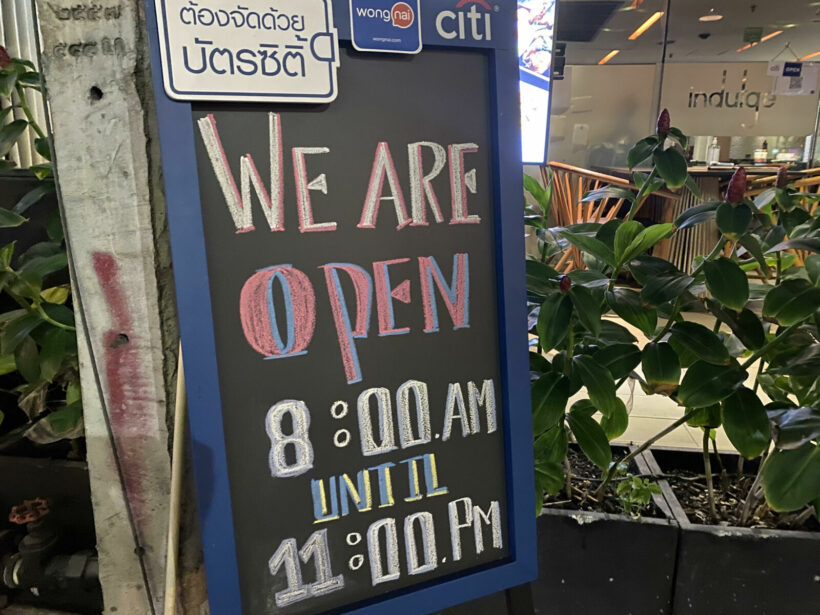 Keep in contact with The Thaiger by following our Facebook page.
Never miss out on future posts by following The Thaiger.