Bull elephant warning in Kanchanaburi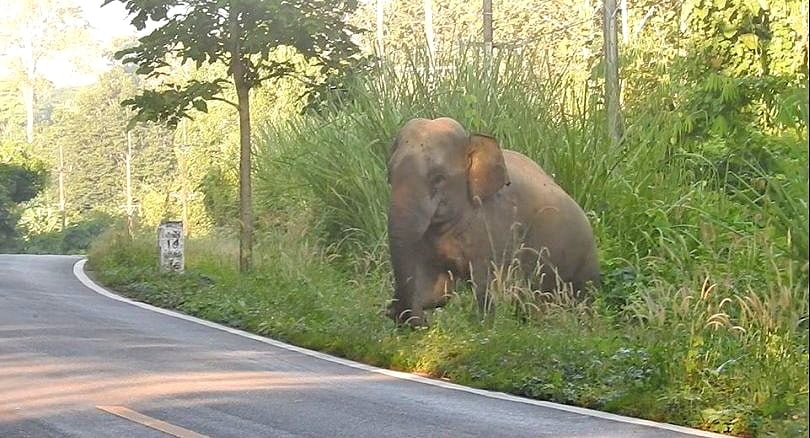 Tourists have been warned about wild elephants in a forest plantation in Kanchanaburi province, particularly a male that has been nicknamed "Nga Lek, the bully". "Nga Lek" translates as "short tusk".
Sadet Hui-oun, chief of Thong Pha Phum Forest Plantation, which covers about 20,000 rai (3,200 hectares) in Thong Pha Phum district, said there were about 60 to 70 elephants living in the area.
Most of them have already returned to the deep forest but some are still in the fringe area.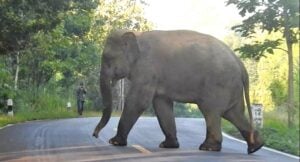 Sadet singled out an eight-year-old male elephant that officials encountered last Friday. "We call the elephant Nga Lek, the bully," he said.
"Nga Lek, the bully, is active and suspicious. It always loves to run at people, dogs and other animals it meets along the way."
Local people and tourists should be careful riding cars or motorcycles along Thong Pha Phum-Ban Rai Highway 3272 between Samakom Pamai Hang Prathet Thai Uthit School and a police booth in Tambon Huay Kayeng between 6pm and 9am, officials warned.
"People should start slowing down their vehicles when they see signs of wild elephants crossing the road."
Most of the tourists were following the recommendation but a small number had not, Sadet said.
"On November 28 [Tuesday] at about 6pm, officials were monitoring Nga Lek, the bully, which was walking across a road. Suddenly a driver drove his car near the animal, ignoring officials' order for him to stop."
The driver was lucky that the elephant did not attack him, Sadet said. Officials stayed in the area throughout the night and saw the elephant crossing back over the road again at 7.25am.
The Thong Pha Phum Forest Plantation is a state enterprise under the Forest Industry Organisation of the Ministry of Natural Resources and Environment.
STORY: The Nation
Keep in contact with The Thaiger by following our
Facebook page
.
Man arrested for triple fatal shooting in Nakhon Phanom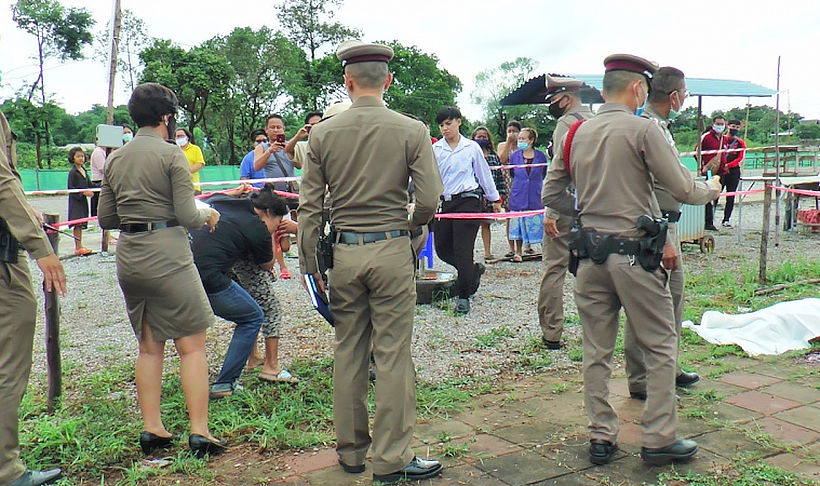 Police in the Isaan's Nakhon Phanom have arrested a man for the shooting death of his wife and 2 of her family members. The suspect reportedly confessed he acted out of jealousy after learning his wife wanted to return to her ex-husband.
41 year old Noppadol Nuamsamlee was arrested shortly after the fatal shooting of his wife, 23 year old Sujittra Chiangbai, her sister, 25 year old Jittra Chiangbai, and their mother, 45 year old "Lawan," in Muang district yesterday afternoon. Police conducted a re-enactment this morning, a standard procedure in Thai police investigations.
Authorities say the incident began after Noppadol and his wife left their house to go shopping. While driving his pickup truck, Noppadol demanded to know why his wife was still in touch with her ex-husband, with whom she had a 5 year old son.
After stopping on the roadside, he allegedly assaulted his wife, who phoned her sister for help. When Jittra and her mother arrived, Noppadol allegedly fired at them as they tried to intervene. He then fired 2 shots at his wife before fleeing. All 3 women died at the scene. Police later arrested the suspect on the road.
During questioning, the suspect reportedly admitted he shot the women "in a fit of jealousy". He told police he became angry after finding records of chats between his wife and her ex-husband on her mobile phone.
Noppadol, a resident of Bang Lamung district in Chon Buri, was due to appear in Nakhon Phanom provincial court today to face charges of murder and carrying a firearm in public. Police say they will oppose bail.
60 year old Paijit Chiangbai, who lost his two daughters and his wife, says he never imagined Noppadol, who had lived with his younger daughter for a year, could have shot his family. He says he arrived at the scene shortly after the shootings and Noppadol pointed the gun at him and threatened to fire if he tried to intervene. He says he will never forgive the suspect and doesn't want him released on bail.
Paijit also says he never thought his daughter would return to her former husband, as they had been separated for a long time and he already had a new family. Noppadol also has an 8 year old daughter from a previous marriage.
25 year old Ratchadaporn Thongkhlee, a friend of Jittra, claims the suspect had earlier threatened to shoot her and Jittra.
SOURCE: Bangkok Post
Keep in contact with The Thaiger by following our
Facebook page
.
Poll shows most Bangkok residents dissatisfied with public bus service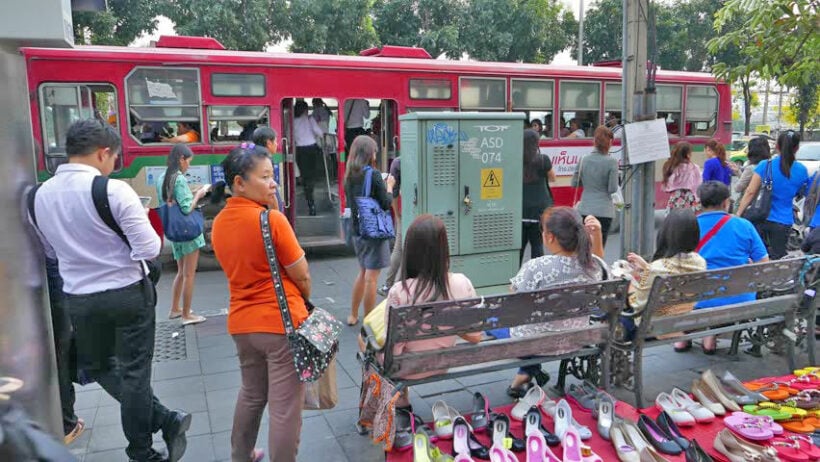 A recent survey by Bangkok Poll showed most of the city's residents aren't satisfied with the capital's bus services, citing long waiting times, shabby conditions and thick black exhaust. The poll, conducted June 25-29 by the Bangkok University Research Centre, surveyed 1,299 people aged over 18 to gauge public satisfaction with city buses.
The largest group, 46.7%, said they were unsatisfied with buses operating on Bangkok streets; 33% were partly satisfied and 20.3% were mostly satisfied.
Asked to identify the problems with the capital's public buses, 61.1% complained of long waiting and inadequate numbers of buses. Another 51.7% said most of the buses are old, while 41.2% complained of black smoke.
Asked to suggest improvements they'd like to see, 61.6% said they want buses to arrive on time to shorten commuting times. Some 53.1% wanted all city buses to be air conditioned. About 51.9% wanted them to be less crowded by adding frequencies and seats, in line with "new normal'' and social distancing measures to prevent the spread of Covid-19, according to the poll.
SOURCE: Bangkok Post
Keep in contact with The Thaiger by following our
Facebook page
.
Alcohol bans tomorrow and Monday in Thailand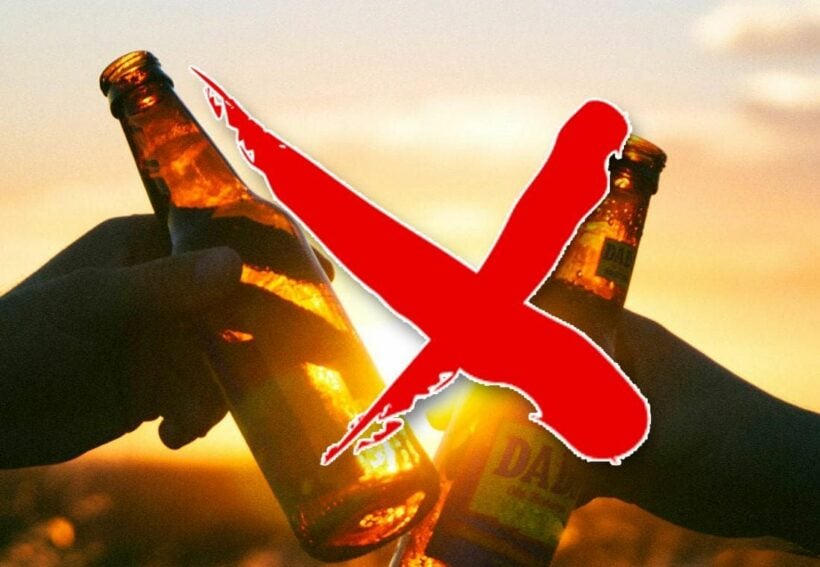 2 Buddhist holidays, Asahna Bucha Day, and the start of Buddhist Lent, fall on this weekend. As a result the government has added Monday, July 6, as a national holiday.
There will be an alcohol ban tomorrow, Sunday (July 5) and Monday (July 6). No alcohol will be sold or served on these days.
The dates of these important Buddhist holidays, and the ensuing long weekend and alcohol ban, falls just days after pubs, bars and entertainment venues have been allowed to re-open. The alcohol bans will put a dint in the re-opening plans for many small businesses who have been hit hard by the enforced closures and the ban on tourists coming into Thailand.
Various news outlets around the country have published a variety of confusing headlines on the matter. Because of the confusion you may have to 'roll with the punches' as the ban is applied in your particular area and is managed by the local police. For now, you have at least a day or so to stock up.
Asanha Bucha Day is a public holiday in Thailand marking the day when the Lord Buddha delivered his first sermon at Benares in India over 2,500 years ago. The exact date of the holiday is determined by the waxing moon and the lunar months, but is usually held in July or August.
The Buddha preached his first sermon at a deer park and from this sermon the Dharma (doctrine) of the Buddha was symbolised as a wheel. The Dharmachakra is also known as the Wheel of Life, Wheel of Law or Wheel of Doctrine and can be seen on flags in temples and buildings all across Thailand. Similarly, pictures or models of deer can often be seen at temples or in depictions of the Buddha.
Keep in contact with The Thaiger by following our
Facebook page
.