UPDATE: Shooter arrested. Shots fired around Chulalongkorn University this morning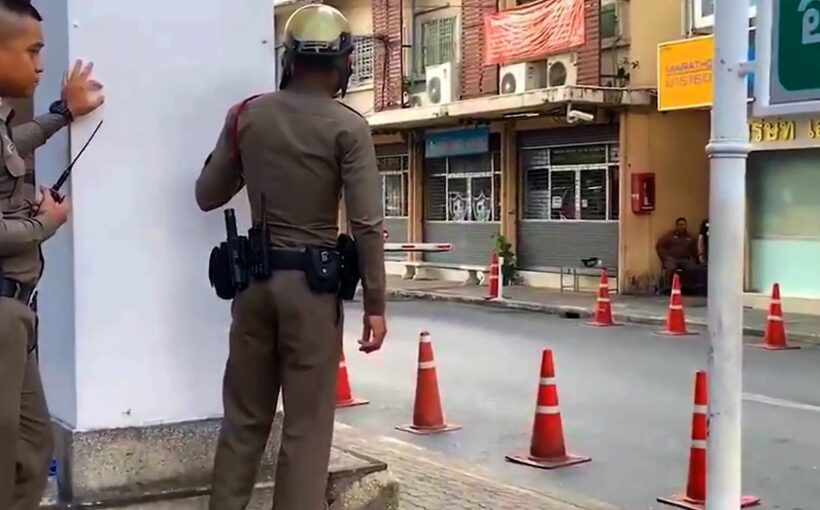 UPDATE
Police say that a 40 year old man has now been caught after a series of shots, more than 20 according to eye witnesses this morning. Shots were fired from a sports clothing store in Sio Chula 10, close to Chulalongkhorn University, in Bangkok's Pratumnam district. No one was injured. (Video of the stand-off below from the Bangkok Post)
Police cordoned off the area as traffic and passers-by were moved away from the crime scene. The man began firing shots out of his shop around 4am.
One witness reports that he was sitting with friends when he heard shots from the rooftop of the two-storey sports clothing shop. A shot was fired in his direction, causing the group to immediately scatter. Police say the man was firing shots into the air.
Police were eventually able to talk the man down at 10.40am. He was then escorted to the nearby Pathumwan police station. Police say the man "was stressed out by family problems".
ORIGINAL STORY
Police in Bangkok have reported that they are searching for a 40 year old man who has allegedly fired more than 20 gunshots in public space close to Chulalongkorn University this morning.
Eyewitnesses claim they heard the gunshots in the Pathumwan area, on Chula Soi 10, near Chulalongkorn University. At this stage the situation is unclear whether anyone has been injured as a result of the unfolding incident. The reports of another shooting incident comes just days after the mass shooting in Korat, Nakhon Ratchasima which killed 29 and injured up to 50 others.
The Thaiger will keep you up to date with any developments.
SOURCE: Khaosod English
Keep in contact with The Thaiger by following our
Facebook page
.
Bangkok cops bust online gun dealers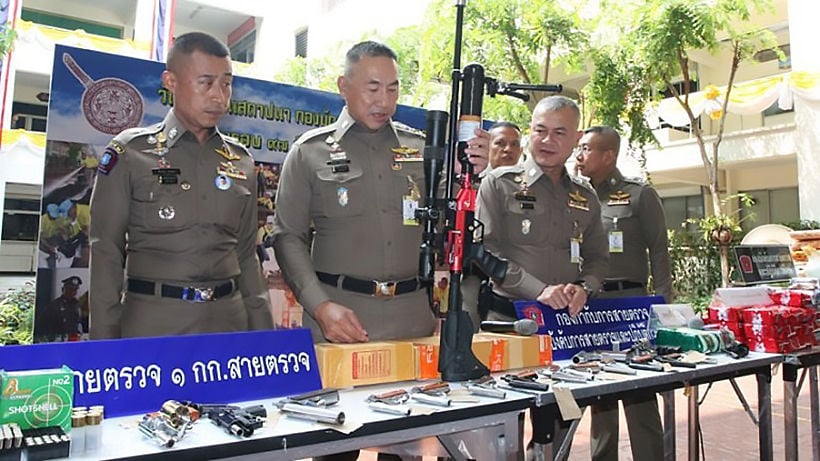 The chief of the Bangkok Metropolitan Police Bureau told a media briefing yesterday that officers have arrested six men and two women for selling firearms on Thai social media. They seized seven guns, ammunition and gun components. Police initially arrested Pairoh Chanchom for selling firearms without a licence. A subsequent, lengthy investigation led to raids on several premises and the arrest of seven accomplices.
Also arrested were 34 year old Thaweephan Jit-aree; 28 year old Saksid Kerdmanee; Suriyan Yodsaen, aged 38; 24 year old Kamphon Wongsriphuek; 28 year old Raen Senaphan, and two women; Intheera Thananwarawong, age 43 and 57 year old Uraiwan Krodsui. Officers seized seven firearms, 221 rounds of ammunition and also 38 gun parts. The suspects are charged with colluding in the illegal possession and sale of firearms and ammunition.
Police Major General Samran Nuanma, chief of Patrol and Special Operations Division 191, urges the public to call the 191 hotline if they have any information about unlawful activities on social media.
According to Gunpolicy.org of the University of Sydney's School of Public Health, Thailand has about 10 million privately owned firearms or one for about every seven citizens. Of those, they estimate about 4 million are illegal.
"I can't say whether Thailand has a gun problem, but it certainly has a gun culture," says Michael Picard, GunPolicy.org's research director.
"Guns are idolized as symbols of power and privilege, as they are expensive and not easy to legally obtain."
SOURCE: Chiang Rai Times
Keep in contact with The Thaiger by following our
Facebook page
.
PM "concerned" about campus rallies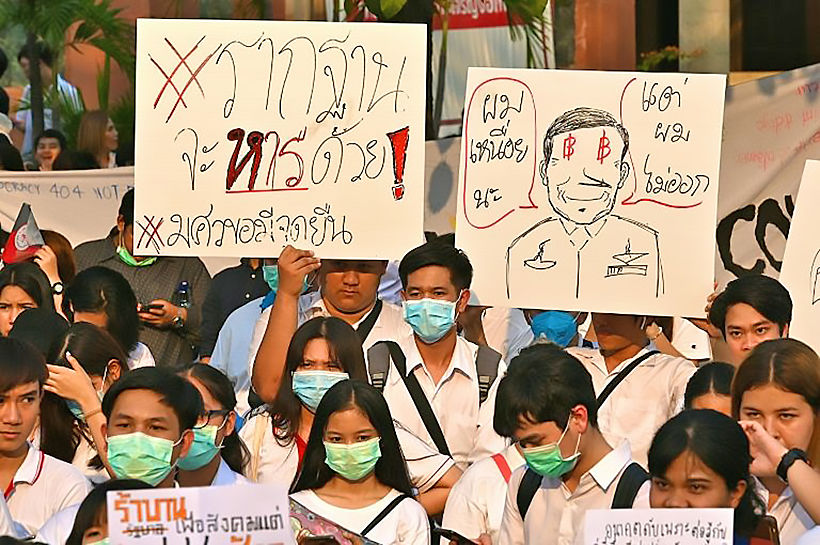 Thai PM Prayut Chan-o-cha has expressed "concern" over growing support for student rallies at universities and now high schools, throughout Bangkok and elsewhere, to protest the recent dissolution of the popular Future Forward party, and the possibility of confrontation and unrest.
The proliferation of political rallies and demonstrations comes in the aftermath of the Future Forward party's dissolution by the Constitutional Court, starting at universities and now spreading to some Bangkok high schools. It led to the PM telling reporters today that he "understands the good intent of the students," but that he is "concerned that they might be misled by one-sided information and might be used as a tool as part of political agenda."
Prayut pleaded with protesting students to keep an open mind to information from the government as well, saying that he didn't want a repeat of the "coloured political divide and eventual political unrest," an apparent reference to the violent, sometimes fatal street protests between rival "red-shirt" and "yellow-shirt" factions; violence which shook the years 2008-2010.
He said, perhaps ominously, that core leaders of several rival political groups, whatever their political colours, are now serving prison time or facing trial. The PM said that he holds no grudge against protesting students, but warned that the "instigators" of student protests might face legal action.
This morning, a police team was dispatched to Triam Udomsueksa (University Preparatory) school beside Chulalongkorn University, where about 100 students held a flash mob to protest military dictatorship. Similar events were reported at Satri Wittaya, Suan Kularb and Bodindecha schools.
Triam Udomsueksa school director Sophon Kamol sent a letter to the district educational office explaining that the school had nothing to do with the mob, and did not support the event. He explained that about 4,000 students in Mathayom 4, 5 and 6 were gathered at the school for their traditional union and they had nothing to do with any flash mob.
SOURCE: Thai PBS World
Keep in contact with The Thaiger by following our
Facebook page
.
Legendary Thai singer Suthep Wongkamhaeng has died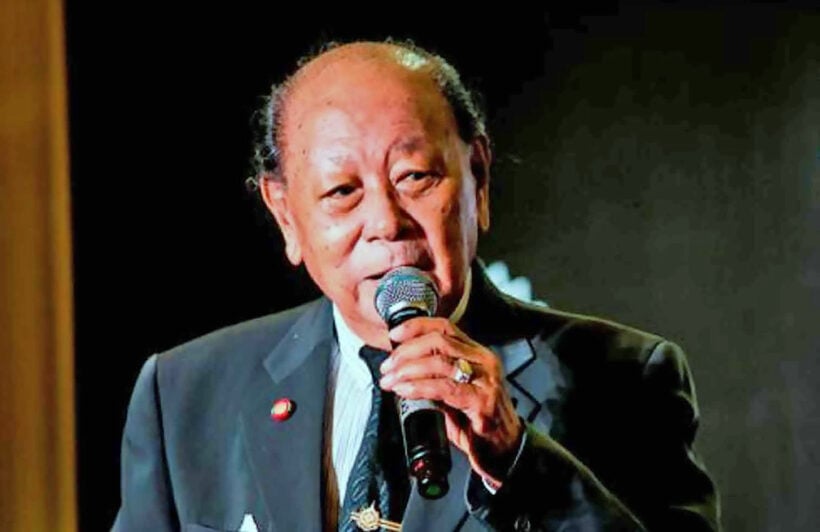 A Thai icon is dead. Legendary "luk krung" singer Suthep Wongkamhaeng died today at his Bangkok residence, aged 86. A team of police and a doctor from Chulalongkorn Hospital were dispatched to Suthep's house to examine the body and attempt to determine the cause of the death.
Luk krung (Thai: ลูกกรุง, literally "child of the city"), also called phleng luk krung (เพลงลูกกรุง), is a genre of Thai popular music. It's a more polished, urban style compared to its folk music counterpart, luk thung. Luk krung songs commonly feature themes about the feelings of society, people in the Thai capital and occurrences of the day.
A beloved national treaure, Suthep was adored by the older generation for his soft, sweet easy-listening songs. Among his best loved songs are "Rak Khun Khao Laew" (I Have Already Loved You), "Look Kamphra" (Orphan), "Jai Pi" (My Heart), "Pid Tang Rak" (Wrong Way to Love), "Ter Yu Nai" (Where Are You?) and, "Botrian Korn Wiwa" (Lesson Before the Wedding) among others.
Suthep performed in several movies and sang the themes to many classic Thai films.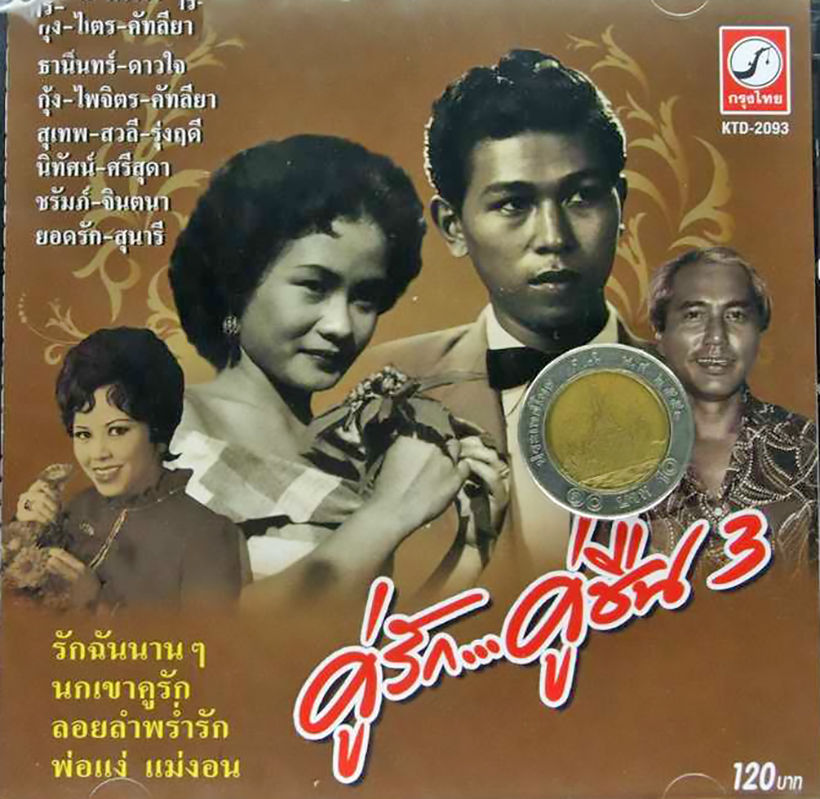 Suthep was admitted to Siriraj Hospital last year for treatment of a blood infection. He suffered from diabetes and other ailments associated with old age.
SOURCE: Thai PBS World
Keep in contact with The Thaiger by following our
Facebook page
.