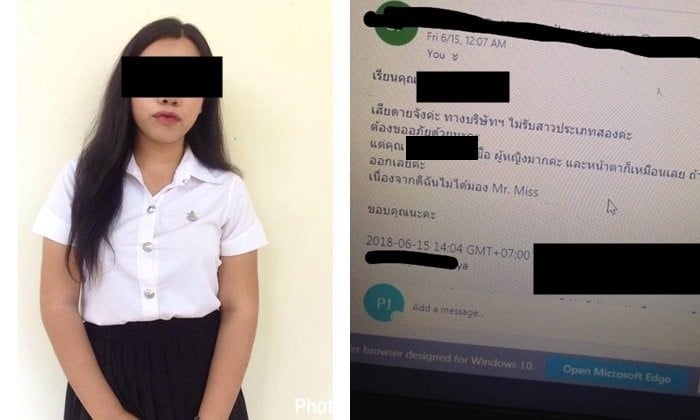 PHOTO: Sanook
A recently graduated lady boy has taken to Facebook to claim that she was turned down for a job at a trading company because she was discriminated against based on their sexuality.
She posted a screenshot of an email in which the company said "sorry but we don't accept type two women" ('Type Two Women' is the term used in Thai language for ladyboys.)
Reaction from friends and netizens was swift – they asked… "What era is this?" condemning the email and the company.
One poster said that they should be glad they turned them down – they are clearly not a professional company, reported Sanook.
Legislation exists in Thailand whereby those who believe they are the victim of sexual discrimination can make a case in such circumstances.
STORY: Sanook
Some of the responses on social media over this issue on ThaiVisa…
From 'Greenchair' – They are over 18, they are not boys at all. They are men. Or transgender men to be precise. Most understand this and prosper very well in the areas of life where they can excel. Such as healthcare services, in the beauty industry, elderly care, fashion, jewellery. A company that was involved in male body building might not be suitable. Be who you are and get over it for goodness sake.
From 'Bluesofa' – Sexual prejudice. Perhaps the ladyboy might be taken to court for masquerading as a female?
From 'Bluebspunk' – People have the right to be identified as the gender they know them selves to be. It's not a choice, it's who they are. Companies should not be allowed to discriminate against someone because of who they are. This applies whether they are gay, straight, transgender, male, female.