Green Day heading back to BKK in 2020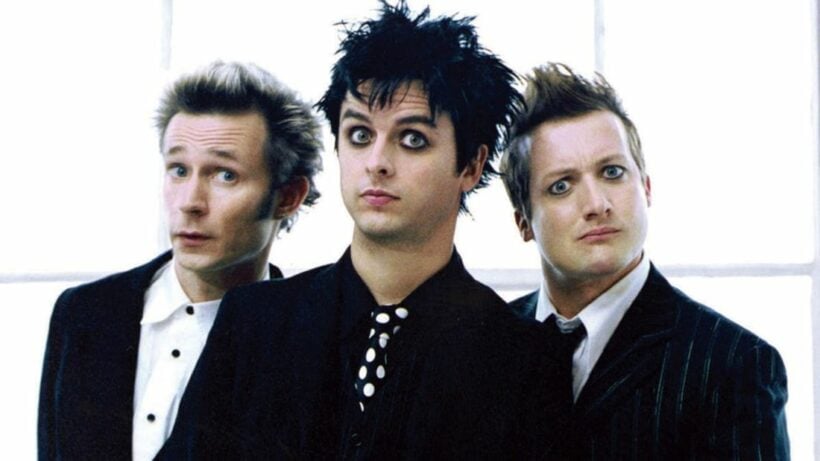 Green Day, five-time Grammy Award winners, are embarking on a global tour in 2020, including a stop-over in Bangkok during March. The rock 'n' roll Hall of Fame inductees will perform a series of concerts throughout Europe, UK, North America and Asia.
"Green Day Live in Bangkok" takes place on March 11, 2020 at Impact Arena, Muang Thong Thani. But it's not their first time. Green Day sold out concerts in their last Thai live gigs in 1996 and 2010.
Formed in 1986 in Berkeley, California, Green Day is one of the world's best-selling bands of all time, with more than 70 million records sold worldwide and 10 billion cumulative online streams of their music and performances. Their 1994 breakout album "Dookie" is widely credited with popularising and reviving mainstream interest in punk rock, catapulting a career-long run of No 1 hit singles.
In 2004, Green Day released the rock opera "American Idiot", selling more than 7 million copies in the US alone and taking home the Grammy Award for Best Rock Album. In 2010, a stage adaptation of "American Idiot" debuted on Broadway to critical and commercial acclaim. Entertainment Weekly called Green Day, "The most influential band of their generation," while Rolling Stone said, "Green Day have inspired more young bands to start than any act this side of KISS, and that doesn't seem to be changing."
Green Day Live in Bangkok 2020 is on March 11, 2020 at Impact Arena, Muang Thong Thani.
Ticket prices start at 2,000 baht and tickets go on sale on November 2 at all ThaiTicketMajor outlets via www.livenation.co.th or www.thaiticketmajor.com or call: 02 262 3838 for more information.
SOURCE: The Nation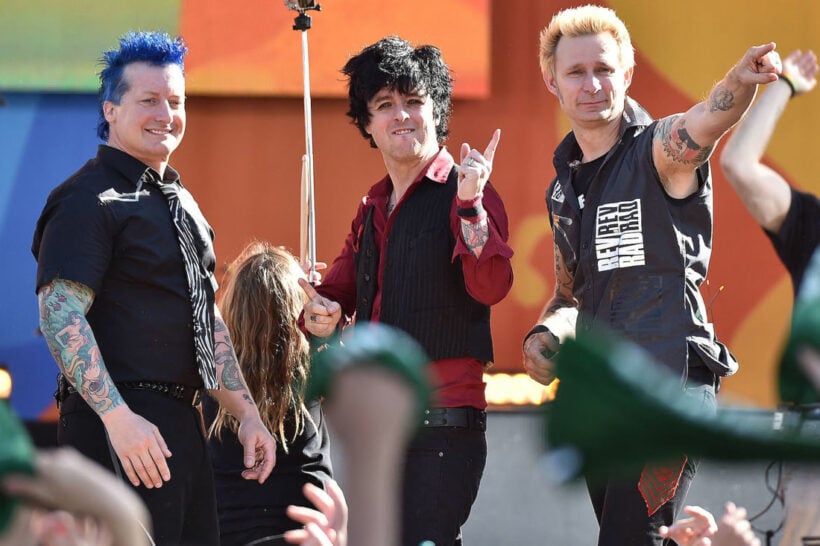 Keep in contact with The Thaiger by following our
Facebook page
.


Find local events and browse venues in Thailand with Thaiger Events, or post your own today.

Read more headlines, reports & breaking news in Bangkok. Or catch up on your Thailand news.

Air purifiers to be added to the top of Bangkok buses. Really…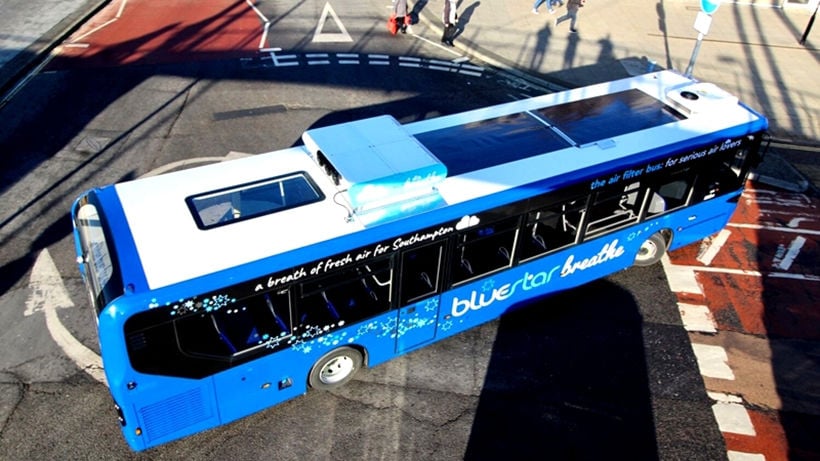 "It is like a single dead pixel on your phone, hardly noticeable"
Air purifiers sitting on tops of buses. Apparently this is another solution for Bangkok's air pollution problems. Sounds like the people selling the mobile bus-top air purifiers have a very convincing sales person!
But Bangkok's Mass Transit Authority director Surachai Eamvachirasakul says the department will go ahead with plans to install the air purifiers on top of Bangkok's public buses. The promise is that it will reduce dust pollution. The air-filtration systems which will be installed on top of some of the state-operated buses are said to be capable of sucking in polluted air and blowing out clear air behind it. The director cited several test runs of the system as "evidence".
"The device is capable of filtering 10,000 cubic metres of air per one trip. Scientific research indicated that an adult would breathe in an average 0.5 cubic metres per hour, so a bus would be able to provide clear air to more than 20,000 people on the road."
This fuzzy maths shows an appalling ignorance of the larger pollution problem, most of which comes from plantation fires to the north of the capital – little to do with any local city contributions.
Even Chulalongkorn University biologist Jessada Denduangboripant says the plan "will have a near-zero impact on the PM2.5 dust particles". Near zero. That's a much closer estimate of the effectiveness of strapping air purifiers to the tops of the buses. Better still, don't run the polluting old diesel buses in the first place which may cause more pollution per kilometre than the air purifiers could ever 'filter'.
"If it is working as claimed, I believe it will only be capable of cleansing just a pixel of Bangkok," Jessada said to Khaosod English.
Another scientist opined that the effectiveness of the air purifiers "would be trivial at best", given the amount of air in the capital city against what the machines could process.
Matipon Tangmatitham, a researcher at the National Astronomical Research Institute of Thailand got out his calculator.
"Based on the area of Bangkok and the height of dust particles from the ground, it gives out 1.568E+12 cubic metres of air that needed to be filtered. But the scheme would only produce 20,000 cubic meters of clean air, even when all the 500 buses are on the road."
(And how much pollution is caused by the 500 buses cruising around the city?)
But BMTA director Surachai hit back at the scientists with a test result he gathered, which compares PM2.5 level before entering the device at 48-52 AQI with 1-5 AQI after passing through the device.
In truth, the effectiveness of the system would be almost impossible to calculate on a city-wide situation. A few extra kilometres of wind strength from the north on a day of burn-offs in the north would blow the pollution readings off the scale, completely obliterating any tiny improvements made in the immediate vicinity of the passing bus.
SOURCE: Khaosod English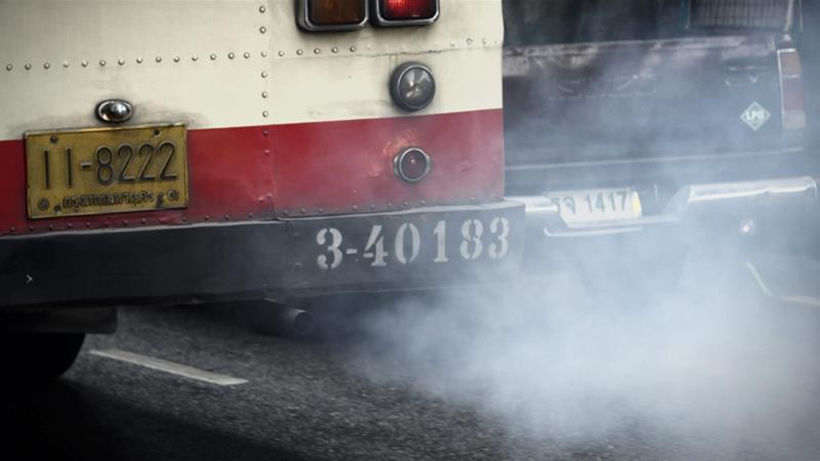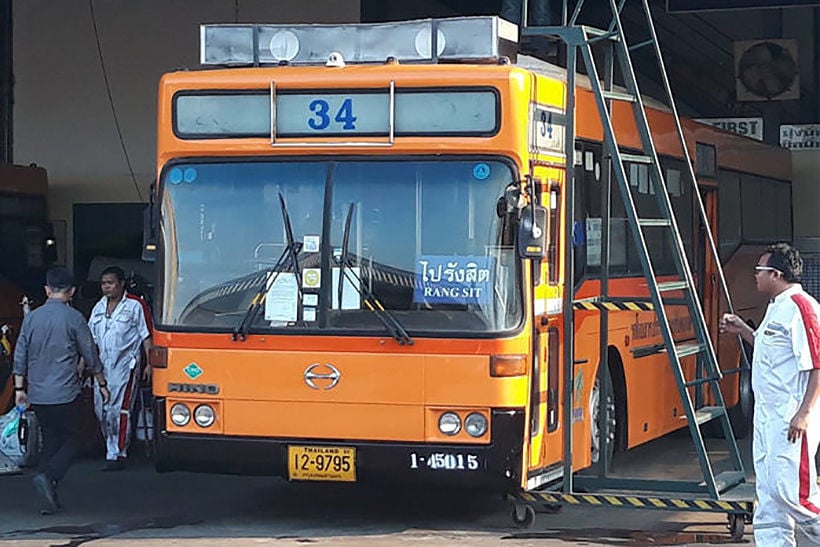 Keep in contact with The Thaiger by following our
Facebook page
.
Bangkok shooter granted bail despite drugs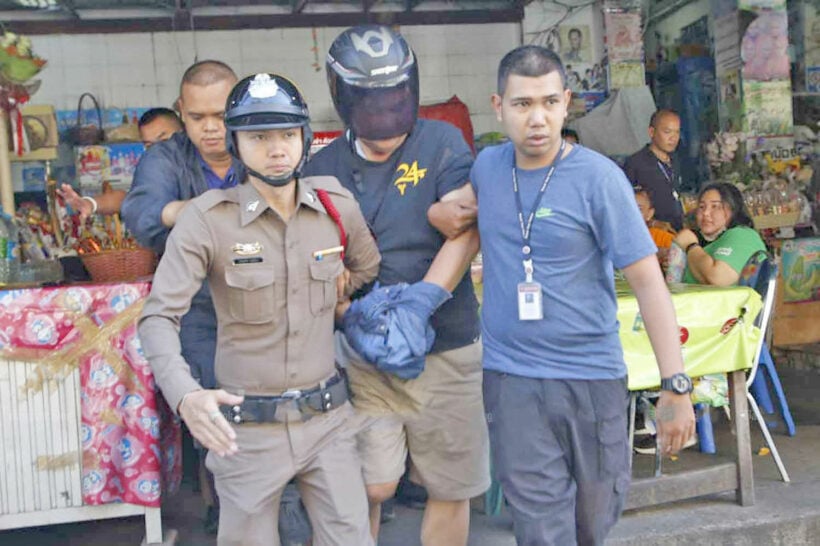 A Bangkok shop owner who set off a panic by firing dozens of gunshots on Friday morning was released on bail after his first court appearance yesterday. Forty-eight year old Ekachai Jaruksin faces charges of attempted murder, discharging a firearm in a public area, narcotics possession and using illicit drugs.
Police took him to the Criminal Court yesterday morning to seek his detention for 12 days while they investigate the case. But the court granted temporary release on 350,000-baht bond, on condition that he do nothing else to threaten public safety.
The drama began when shots were fired from the building of the Best Sports shop in a local market at around 4am Friday. Police found the man firing from the third floor of the shop. They cordoned off the area and asked relatives of the man, later identified as Ekachai, the shop's owner, to calm him down. After negotiation, he surrendered around 10:30am and was taken into custody.
Police searched his room inside the shop and found two pistols, many rounds of ammunition, an undisclosed amount of crystal meth and drug paraphernalia.
The suspect told police he fired the shots in anger over family and business problems. He insists he had no intention of hurting anyone. But the incident caused panic in the neighbourhood, coming just days after the mass shooting which left 30 people including the gunman dead in Nakhon Ratchasima.
SOURCE: Bangkok Post
Keep in contact with The Thaiger by following our
Facebook page
.
Attempted murder charge for Bangkok gunman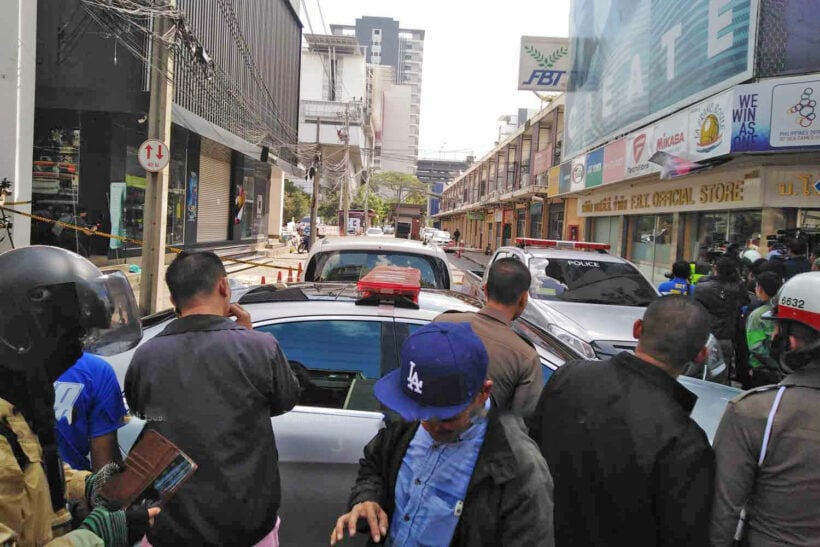 Multiple charges have been lain against against the man who allegedly fired more than 50 shots in downtown Bangkok early yesterday, including attempted murder. Police say the charge was filed because a ballistic examination showed some of the gunshots were aimed at people opposite the suspect's position.
Other charges include carrying gun without a permit, discharging a firearm in a public place and narcotics charges. The man's identity has not yet been released.
The incident began at about 4am near Chulalongkorn University, at a market for locally made sports garments. Periodic gunfire continued for more than an hour.
Police rushed to scene and cordoned off the area, telling locals to stay indoors. A police negotiator talked the shooter into surrendering and no injuries were reported.
An eyewitness told police that the shots were fired by a man about 40 years old and he and some friends went for a look. The man fired on them, forcing them to run for cover.
The suspect reportedly told police he was under stress caused by family and business problems.
The incident comes less than a week after a rogue soldier went on a murderous rampage in the northeastern province of Nakhon Ratchasima, killing 29, including three police officers. The gunman was shot dead at the Terminal 21 shopping mall, the scene of a dramatic 12 hour siege.
If you or anyone you know is in emotional distress, please contact the Samaritans of Thailand 24-hour hotline: 02 713 6791 (English), 02 713 6793 (Thai) or the Thai Mental Health Hotline at 1323 (Thai).
SOURCE: Thai PBS World
Keep in contact with The Thaiger by following our
Facebook page
.