German overstayed visa for nine years – another 56 arrested in crackdown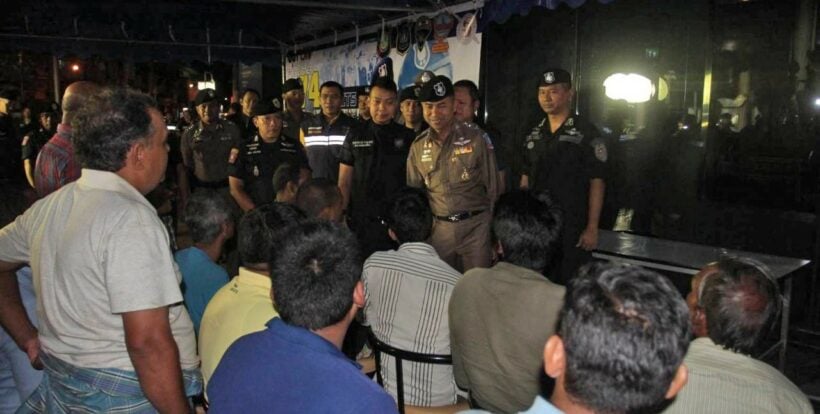 A nine year overstayer, 41 unlawful entrantss and 56 arrested – just another week for the regular crackdown by 'Big Joke' and his team.
'Big Joke' is the nickname for the police crime-killer, Pol Maj Gen Surachet Hakpal – deputy tourist police chief, who has been leading the way with the country's main crackdowns and criminal investigations, including the boat tragedy in Phuket.
In last night's raids a German man, who allegedly overstayed his entry visa for nine years, was caught in the weekly operation that also nabbed 55 other foreigners who were living illegally in the kingdom.
Pol Maj Gen Surachet Hakpal spoke at a 2am press conference saying that tourist police joined other agencies to check 74 locations around the country, including hotels, schools and language institutes.
He said the operation saw 56 foreigners arrested, 11 for overstaying their visa, 41 for having unlawfully entered the kingdom and four others on other charges.
Of the overstaying foreigners, a German allegedly lived in Thailand for nine years after his visa expired. Surachet said the operation focused on checking English-language schools because many foreigners, who do not live in the kingdom lawfully, like to disguise themselves as English teachers.
Surachet added that he has carried out 31 operations so far and has searched 3,947 locations and arrested 1,724 foreigners.
Despite his nickname Surachet is definitely no 'big joke'.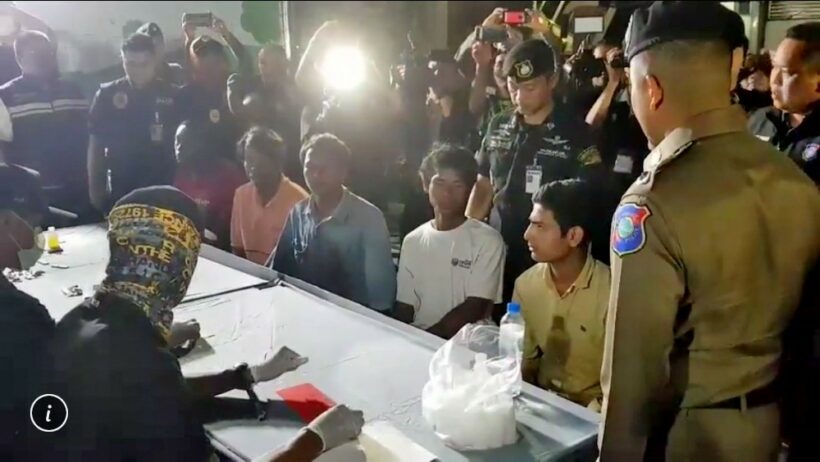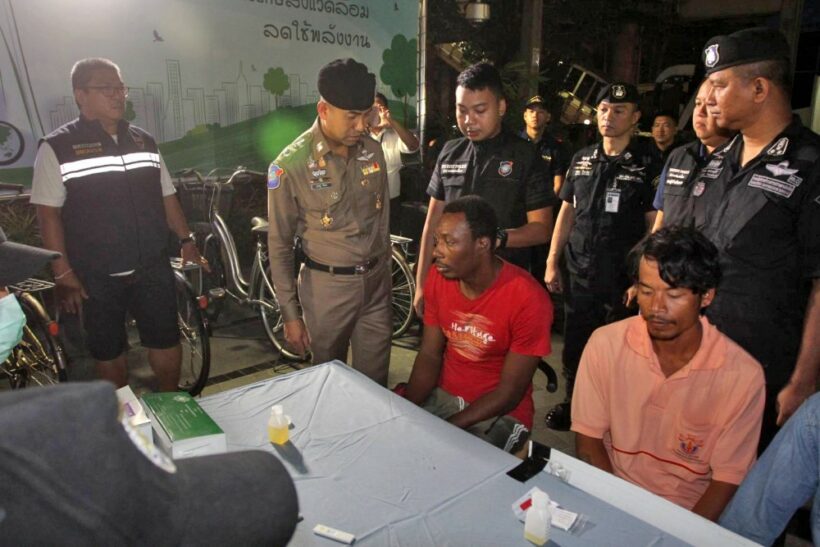 STORY: The Nation


Read more headlines, reports & breaking news in Bangkok. Or catch up on your Thailand news.
UPDATE: Armed Mercedes snake man to be charged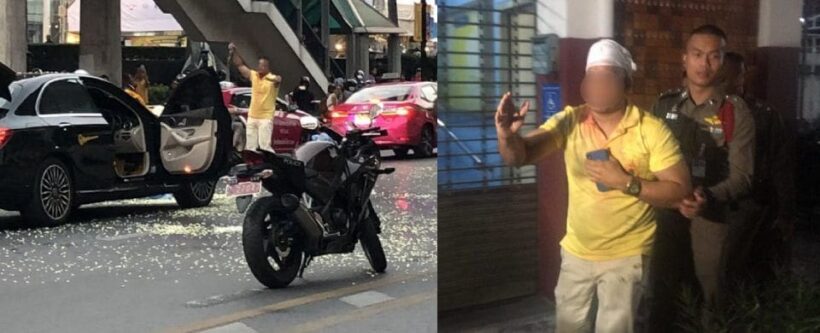 No previous mental medical health problems have been identified for the man who released snakes on the road outside Central World in Bangkok yesterday.
The incident caused bedlam and stopped traffic outside Central World. A man, armed with a large knife, stopped his new black Mercedes right in the middle of the road. He then got out, posted some signs around the car and started releasing snakes out of a blue bag onto the road in front of the bewildered passersby.
Read more about last night's bizarre display HERE.
Metropolitan Police revealed at a press conference that the man was 42 year old 'Kanetpitsanuthep' or Kanthapong Jakkrapopmahadaecha. He told police that he was worshipping as part of his beliefs in the Buddhism and Hindu religions. He says he received power from the sun (solar powered snake release). The man released two cobras during his impromptu demonstration yesterday.
The man had a mental health check this morning. If police determine that he doesn't have any mental health issues, he will face charges of releasing garbage in a public area, carrying a knife in public without reason and blocking traffic. Releasing the two cobras didn't appear to attract any particular conviction.
Kanetpitsanuthep told police that he was nervous as his mother has just passed away last year and that his sister had suffered from cancer.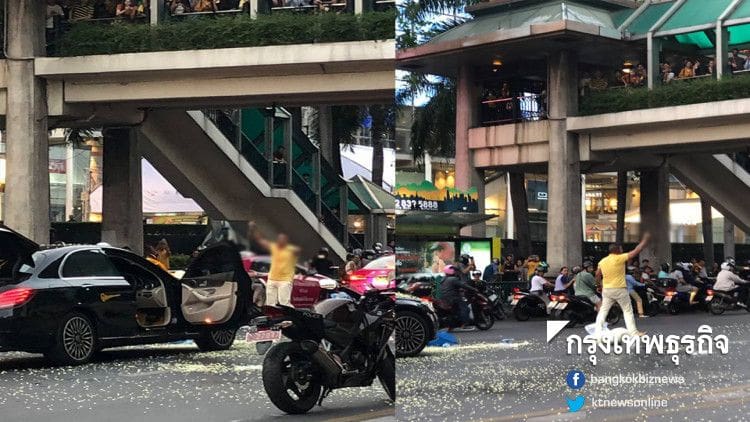 Armed Mercedes owner releases snakes onto road outside Central World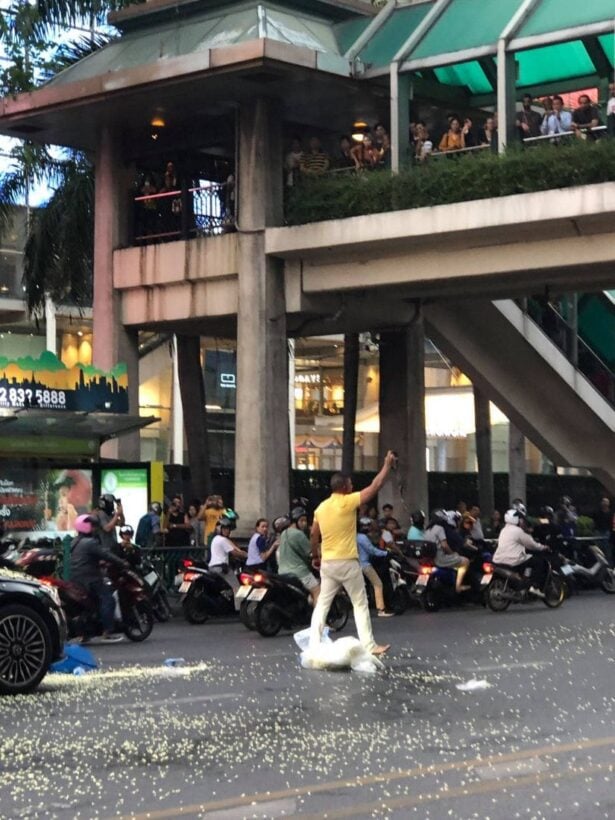 PHOTOS: JS100 Radio
An incident has caused bedlam and stopped traffic outside Central World in Bangkok. A man armed with a knife stopped his new black Mercedes in the middle of the road. He then started releasing snakes out of a blue bag onto the road in front of the bewildered passersby.
Footage from the incident shared on Twitter shows the man, dressed in yellow, holding at least one snake above his head, while holding large knife in his other hand. His car is decorated with portraits of the HM The King
Witnesses also say the man started cutting himself as he set the snakes free onto the road. Sanook reported the man was eventually apprehended and arrested shortly before 7pm tonight.
Police are investigating the incident.
คืออะไรก็ไม่รู้อ่ะหน้า CTW มีมีด มีงู เอามีดสับๆคอ อันตรายอ่ะ น่ากลัว @fm91trafficpro @js100radio pic.twitter.com/DgIJp9R5I9

— ใ บ ต อ ง x x 🍅 (@baitongkks) April 24, 2019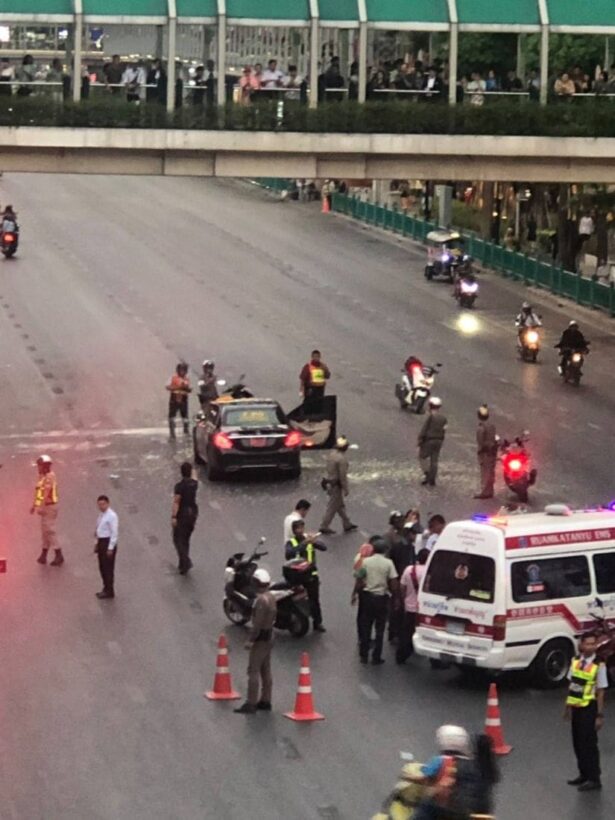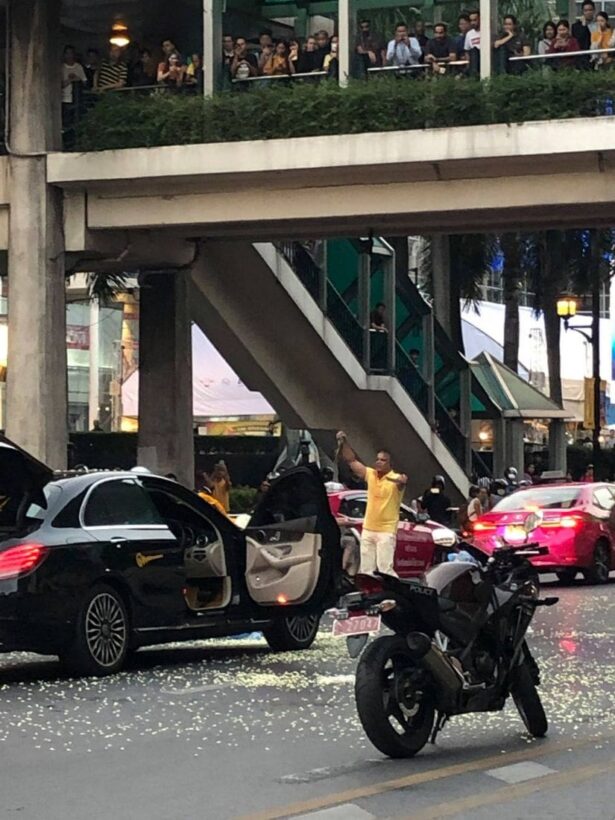 ,
Bangkok-based Filipino visa service provider arrested over alleged fraud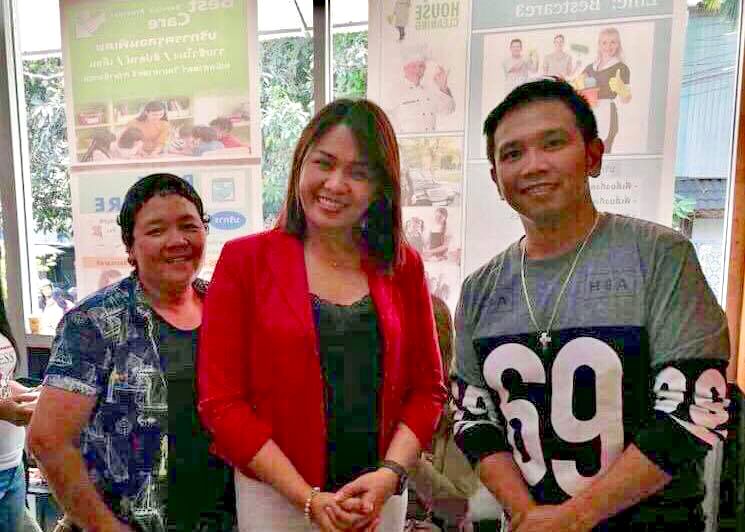 PHOTO: (left to right) Emily Fontanilla Fabe, Ronygene Esmeralda Atregenio & Ernest Rey Basilio Salarza 
The administrator of a Facebook group SWD Kapamilya Thailand (has more than 30,000 Filipino members), Ernest Rey Basilio Salarza (aka. Rhey Keen Ayala), was arrested yesterday (Tuesday) in Bangkok after the court issued an arrest warrant.
Basilio, commonly known as Rhey Keen Ayala, another SWD Kapamilya Facebook admin Emily Fontanilla and Best Care Provider owner Ronygene Esmeralda Atregenio (aka Nokie and Caroline Maxim) have also been charged with fraud under Thailand's Computer Crimes Act.
At least nine Filipino have already been accused and arrested for posting allegedly fraudulent information to obtain funds by deception.
Many more victims are expected to file additional cases this week. The case started when Nokie of Best Care failed to provide visas and work permits to the Filipino victims. Each of them paid 33,000-38,000 baht to Best Care Provider.
16 Filipino victims have so far come out and sought help to get their money back. There were at least 30 victims who paid the same amount but never received the paperwork promised to them by Best Care.
Atregenio, aka. Nokie and Caroline Maxime are the owners of Best Care, while Salarza popularly known in social media as Rhey Keen Ayala is one of the company founders.
Meanwhile, Emily or 'Em Fabe' is the promoter of the company using her Facebook group SWD Kapamilya Thailand. Rhey Keen is also the administrator of Pinoy ADOBO Facebook group which is also being used to promote Best Care Provider.
A string of criminal cases under the Thai Computer Crime Act are also expected to be filed against Em Fabe and Rhey Keen for alleged libellous comments and personal attacks on Facebook against other Filipinos.
SOURCE: Pinoythaiyo.com