Bangkok expo planned to fill 1 million job vacancies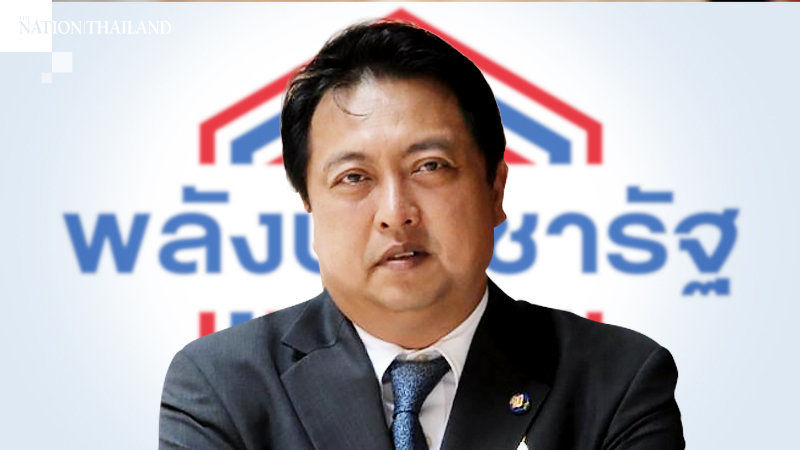 Thailand has a lot of job opportunities. About a million. The Labour Ministry is hosting an expo to connect job seekers, especially recent university graduates, with companies. For recent graduates, a new government initiative co-payment system will take care of half the salary.
Job Expo Thailand 2020 will run from September 26 to 28 at Bangkok International Trade and Exhibition Centre, or Bitec. Government agencies are expected to post around 400,000 job positions, according to the Labour Minister Suchat Chomklin. About 100,000 jobs are expected to be posed from companies overseas. There will be around 200,000 job positions for university graduates. Another 200,000 jobs are expected to be posted from companies from various sectors.
"The economy is reviving after the lifting of the Covid-19 lockdown. Companies have reopened and begun to hire their workforce again… This organised state job expo is expected to boost confidence in the economy and accelerate the hiring process."
The labour minister says he hopes the mass hiring will help revive the economy after the pandemic.
"It is not practical now to seek a job in a normal way… So we've decided to pull in all companies that seek to place job postings in one place."
The Bangkok Post did not report on how many, if any, companies would be open to hiring foreigners. But there are options for native-English speakers for teaching positions. Thailand's Education Minister has announced plans to recruit up to 10,000 native English-speaking teachers. Even though the the plan hasn't been put in place yet, many schools have positions available since a number of foreign English teachers went back to their home countries during the pandemic.
For recent university graduates, the government has started a co-payment system to cover 50% of the salaries for new graduates for 12 months. Sachat says the system is expected to bring in 190 billion baht. The government plans subsidise 15,000 baht per month for 1 million new graduates, estimated to spend 180 billion baht over the next year on the subsidy.
SOURCE: Bangkok Post
Keep in contact with The Thaiger by following our
Facebook page
.
Never miss out on future posts by
following The Thaiger
.
Bangkok DJ dies in high speed crash on notorious 'death road'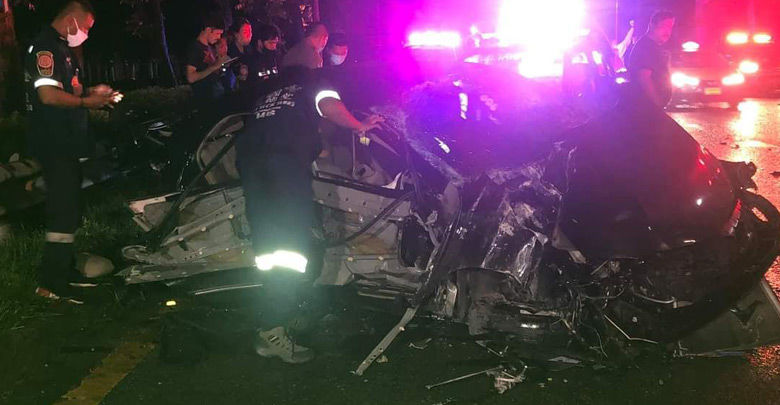 A well known local DJ died early this morning in a high speed car crash on a Bangkok road bend nicknamed "Curve of 100 Deaths." Police say his car's speedometer was found stuck at 200 kilometres per hour.
Police suspect 33 year old Annop Poonsripattana was going around a curve when he lost control of the car due to the slippery road conditions from the rain. His black Toyato Altis was found smashed into an electricity pole around 2:30am today. The impact caused Annop to be flung to the back seat. Police say his skull was shattered and his neck broken.
A security guard at a nearby building says heard an explosion and the electricity cut out. The entire area went black, he says. The so called "Curve of 100 Deaths" is near Ratchada Criminal Court in Bangkok's Chatuchak district. The guard says many fatal crashes happen on the road.
"This area is highly prone to road accidents. Just last week a mother and her small child were killed here."
The Ratchada Road curve so dangerous that locals honk when driving through the curve to show respect and to ask for permission from the spirits of those who have died there for safe passage, according to Coconuts Bangkok. In the past, many people have left offerings like zebra statues in honour of those who died in car incidents while driving on the road.
Annop played music at many entertainment venues in Bangkok. He was also a contestant in the Take Me Out Thailand TV show in 2015. An autopsy is being done at the Police General Hospital. Electricians are working to fix the electricity pole and restore power.
SOURCES: Nation Thailand | Coconuts Bangkok
Catch up with the latest daily "Thailand News Today" here on The Thaiger.
Keep in contact with The Thaiger by following our
Facebook page
.
Never miss out on future posts by
following The Thaiger
.
1 dead, 2 injured, as out-of-control construction truck ploughs into family car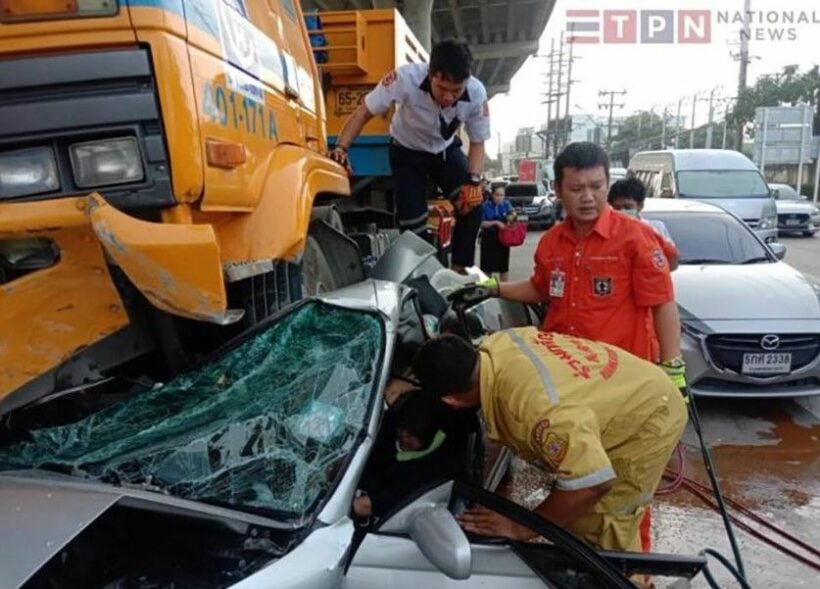 A man has died, and his parents have been injured, after a construction truck lost control and ploughed into their car, crushing the vehicle and killing the 27 year old driver instantly. The Pattaya News reports that the truck also hit 5 other vehicles in the incident, which occurred in the Minburi district of Bangkok.
The truck driver, named as 41 year old Piean Sricharoen, says he was having problems with the truck's brake booster while travelling from the central province of Saraburi. While attempting to emergency park in the middle lane to check the booster, the truck began to lose its balance, crashing into surrounding vehicles. One witness confirms the account, saying the truck began to sway back and forth before crashing into the victim's car, crushing the vehicle, and causing a 7 car pile-up.
Emergency workers arrived on the scene and rushed the dead man's parents to a nearby hospital. The truck driver has been charged with reckless driving causing death and is in police custody.
SOURCE: The Pattaya News
Catch up with the latest daily "Thailand News Today" here on The Thaiger.
Keep in contact with The Thaiger by following our
Facebook page
.
Never miss out on future posts by
following The Thaiger
.
Bangkok officials issue advice to motorists to avoid parliament area due to protest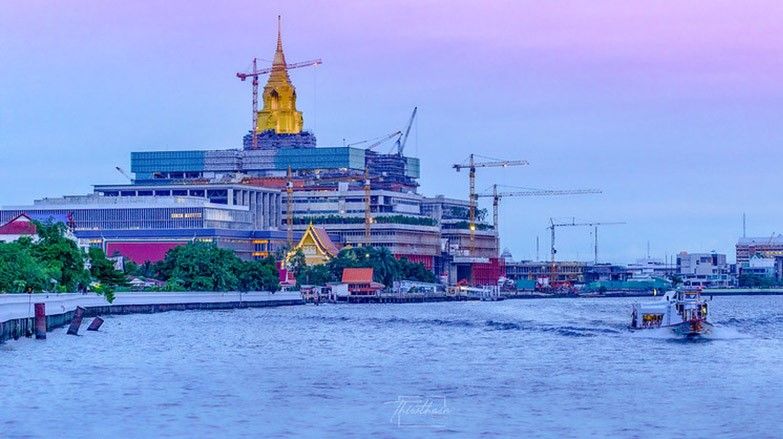 Bangkok motorists would do well to avoid the roads around the Sappaya-Sapasathan building later today, with a political rally set to take place there this afternoon. That's the word from officials, who have issued guidance to motorists ahead of the protest in front of the new parliament building, expected to kick off at 2pm and continue late into the evening.
According to a report in Nation Thailand today, the Metropolitan Police Bureau are advising drivers to avoid Kiak Kai Road, in front of the parliament building, as well as a number of other roads in the vicinity.
"On Thursday afternoon, the Free Youth group will hold a political rally in front of Parliament, where a meeting to amend the constitution is taking place. We expect the rally to start at 2pm and last until 10pm."
MPB chief Pakkapong Pongpetra adds that the following roads are also best avoided:
• Samsen Road (from Bang Kra Beu intersection to Kiak Kai intersection)
• Pracharat Sai 1 Road (from Kiak Kai intersection to Bang Pho intersection)
• Thaharn Road (from Kiak Kai intersection to Saphan Daeng intersection)
Nation Thailand reports that drivers who need to get from Bang Kra Beu intersection to Bang Pho intersection are advised to take Amnuay Songkram Road, to Rama V Road, Techa Wanich Road, Pracharat Sai 2 Road, and finally Bang Pho intersection.
Pakkapong says officials are not expecting any trouble at today's rally. The rally was announced last Sunday by protesters at the weekend demonstration held around the grounds of the Thammasat University's Tha Prachan campus and the adjacent Sanam Luang royal parade grounds. The weekend protests attracted around 30,000 people.
"Protest leaders have asked Parliament for permission to hold the rally and have promised to obey the law and not block public roads. The MPB expects the rally to end peacefully, when the meeting concludes at 10pm."
Despite officials' confidence that the rally will pass off without incident, security has been tightened around the building. Additional police officers are being drafted in, as well as a security patrol along the Chao Phraya River, and an evacuation helicopter in the event senior parliamentarians need to make a swift getaway.
Meanwhile, motorists in need of further traffic information or roadside assistance can visit www.trafficpolice.go.th or call 1197.
SOURCE: Nation Thailand
Catch up with the latest daily "Thailand News Today" here on The Thaiger.
Keep in contact with The Thaiger by following our
Facebook page
.
Never miss out on future posts by
following The Thaiger
.