Bangkok air deteriorates today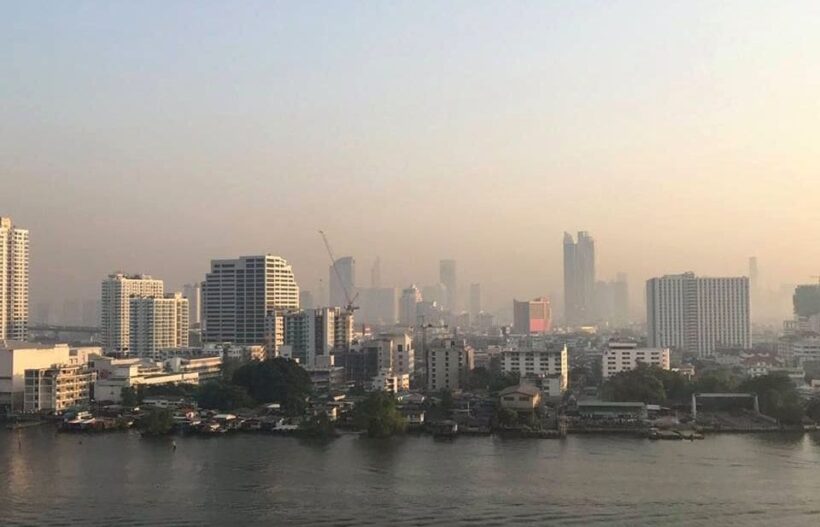 PHOTO: Bangkok skyline this morning – FM91 Traffic Pro
Greater Bangkok's air pollution was bad this morning, with 36 locations reporting the amount of PM2.5 micron pollutants rising beyond the safety limit of 50 micrograms of PM2.5 per cubic metre of air, with one area reaching as high as 113 micrograms.
The Pollution Control Department say the breeze is too low to blow the dust away today, but just enough to stir up the dust and make things worse this afternoon.
The PCD is urging people to refrain from using vehicles emitting dark exhaust, avoid outdoor burning, and reduce their use of personal cars and take public transport.
Those with health sensitivities, including children, the elderly, pregnant women and people with chronic illness should seek medical attention if they experience anything abnormal.
The Thaiger publishes the air quality charts from around the country each day. Today's post HERE.


Read more headlines, reports & breaking news in Bangkok. Or catch up on your Thailand news.
Rescuers slam local police for lack of response after body found in Chao Phraya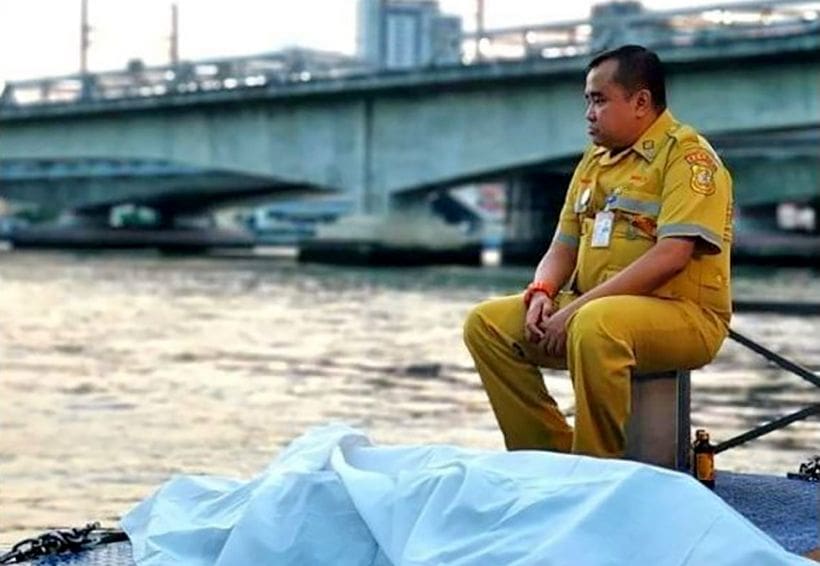 PHOTOS: @Disater_TH
The Rama VII Bridge in Bangkok has long been a location where people have jumped to their death. But its location has also fallen between two jurisdictions and the nearby police argue over who is responsible for receiving and acting on reports on bodies in the river.
Yesterday, the body of an unidentified man was pulled from the Chao Phraya River at 2am Saturday but rescuers claim police refused to turn up until late morning.
Eventually, the rescuers sent the man's body to the Police Hospital and registered the incident with the Bang Kruay police station in Nonthaburi.
The man was seen jumping from the Rama VII Bridge. That part of the river is located between Bangkok and Nonthaburi and police stations in the two provinces have been known to pass responsibility to one another when informed of bodies found on the river.
Officials of the Ruam Katanyu said they were alerted at 12.30am that a man was seen jumping from the Rama VII bridge.
Local people, who fished at the spot, said the saw the man drinking beer in the middle of the bridge before jumping. They said he was seen struggling in the water for awhile before he disappeared under water.
Scuba divers took about an hour to locate and retrieve the body. The body was put on the pier on the side of the Bang Kruay power plant of the Electricity Generating of Thailand pending a check by police.
The rescuers said they called the Muang Nonthaburi police station and Bang Kruay police station in Nonthaburi and Bang Pho police station and Boworn Mongkol police station in Bangkok at 2 am, but no police turned up.
Noppadol Si Thongkham, an official of the Ruam Katanyu Foundation, said 191 patrol police officers passed by later in the morning and they helped coordinate with some stations, but no police responded.
Noppadol said there have been similar problems at that area for years as police from nearby stations often passed the buck to other stations to inspect bodies.
Noppadol said sometimes a floating body has been tied to a pier for a day before police turned up.
If you or anyone you know is in emotional distress, please contact the Samaritans of Thailand 24-hour hotline: 02 713 6791 (English), 02 713 6793 (Thai) or the Thai Mental Health Hotline at 1323 (Thai).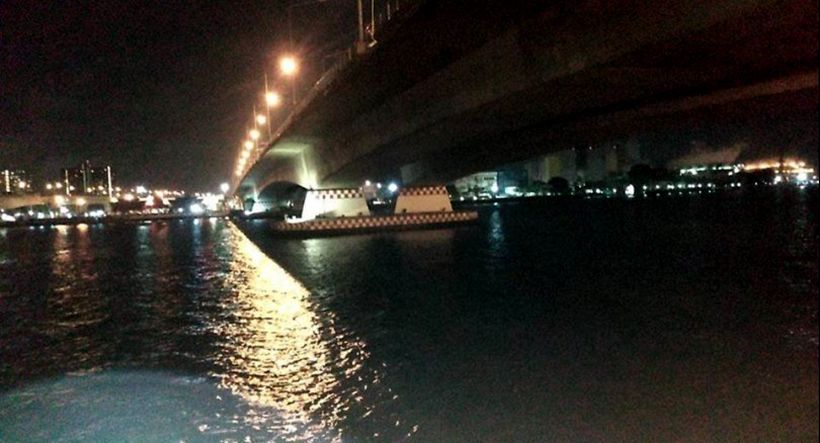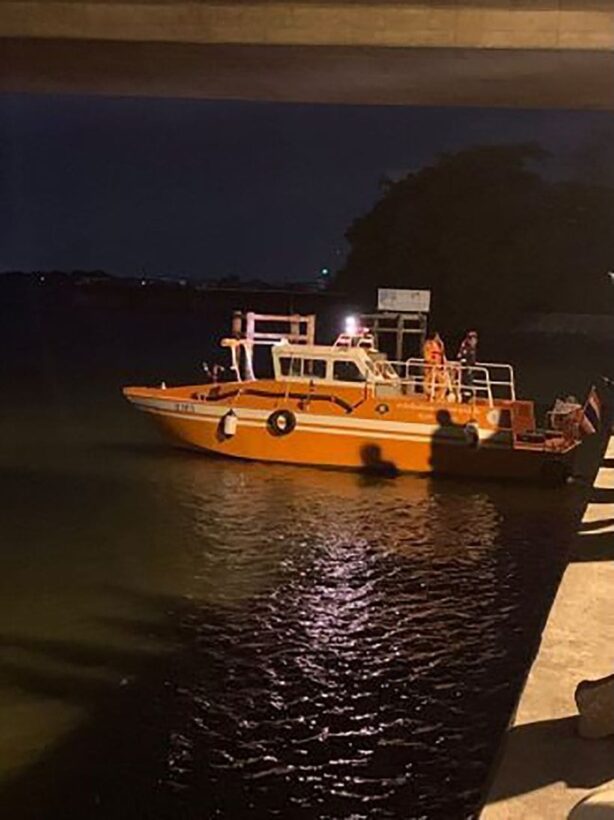 SOURCE: The Nation
Plastic surgery furore and first transgender contestant at Miss Universe in Bangkok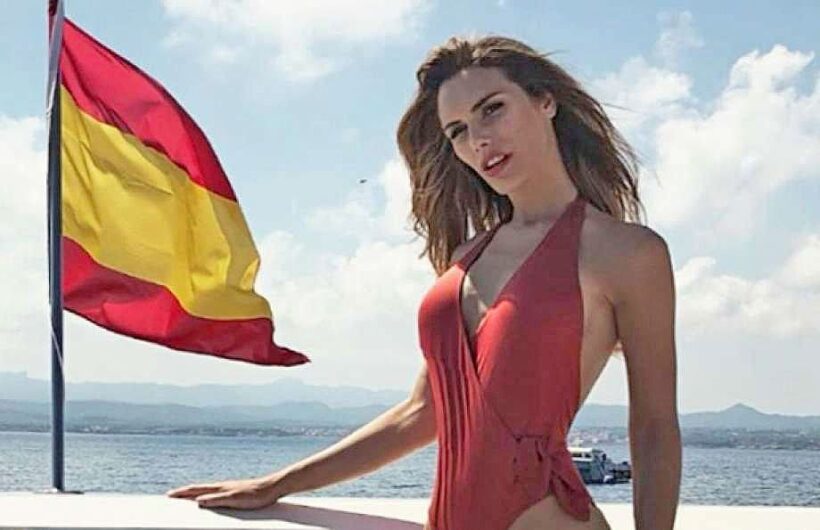 PHOTO: Spain's Angela Ponce becomes first trans woman to compete for Miss Universe
After the beauty dust has settled and the glitter is wiped away, it seems all is not well with the latest Miss Universe Pageant. Taking place in Bangkok recently, new revelations have surfaced surrounding one of its entrants and, notably, her plastic surgeon. 
Aesthetic and rhinoplasty surgeon, Froilan Paez, took to social media in order to post pre and post-op images of one of his clients. Displaying the fruits of his labor, former Miss Venezuela 2017 Stefany Gutierrez's transformation was uploaded to Mr. Paez's Instagram account. 
What looks like part of a 'thank you' posting, Mr. Paez tagged Venezuela's most beautiful woman declaring her "a true diamond that knew whom to trust to get its best shine." However, it appears that the beauty queen is not the first model to crop up in his particular feed. 
Delving a little deeper shows a host of 'nose job' patients who have gone under the knife, including those from previous beauty contests. Utilising various hashtags, it does seem that Miss Venezuela 2017 did undergo rhinoplasty before taking to the stage.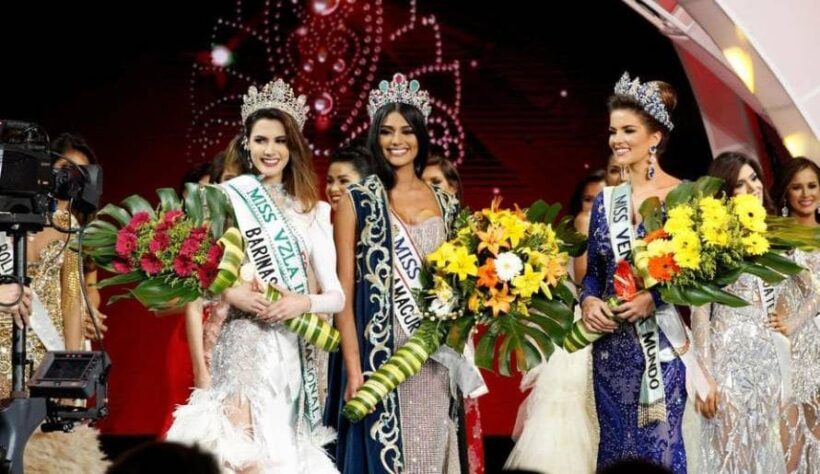 Meanwhile, the event in Bangkok last December also saw the first transgender contestant take part. Miss Spain, Angela Ponce, who underwent gender re-assignment surgery has set pulses racing for different reasons. 
"Trans women have been persecuted and erased for so long. I'm showing that trans women can be whatever they want. I am proud to have the opportunity to use this platform for a message of inclusion, tolerance and respect for the LGBT+ community." she said
Since 2012, The Miss Universe Organisation has lifted its ban on entry for transgender contestants which has raised awareness on the subject. With Catriona Gray from the Philippines taking victory, the Thai capital saw the Miss Universe contest beamed to nearly 200 countries across the world. The TV audience is just as great and usually attracts half a billion viewers every year.
Speaking to Thomson Reuters Foundation, Ponce explained that trans children often have to deal with mental health issues such as depression.
"I was born into a world, into a society which really wasn't prepared for me. So many children face discrimination for being different. It is important to tell them they have a right to be who they are, who they want to be," she added.
In fact, gender reassignment in Thailand has gathered pace as Darren Lyons of MyMediTravel explains;
"Thailand has long been considered at the forefront when it comes to transgender surgery. Gender-affirming surgery is firmly on the map with as many as three patients travelling to Thailand daily for this procedure."
"This is coupled with a growing supply of highly trained surgeons utilising years of experience to provide low-cost medical care to overseas patients. What better way to relax and recuperate post-treatment than at a nearby resort moments from one of Thailand's pristine shorelines."
All of this comes against a large shift in Thai law as the country readies itself to pass a bill allowing same-sex unions. Consequently, they will become the first country across Asia to pass this specific law.
BKK road racing crackdown: 78 arrested with illegally modified motorcycles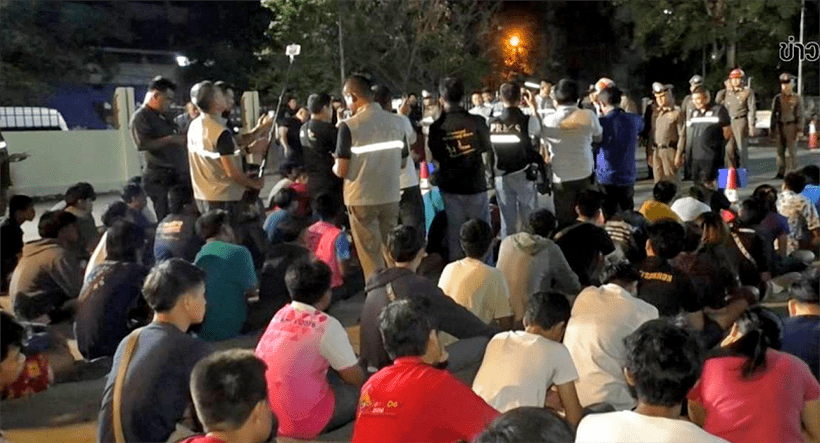 "…those under 18 will be sent for an attitude adjustment in a military camp for seven days."
Samut Prakan police have arrested 78 motorcyclists and seized 85 motorcycles allegedly modified for road racing.
Police staffed the checkpoints on major roads in Samut Prakan last night and into early this morning making the arrests.
Samut Prakan police chief Pol Maj Gen Nithithorn Jintakanon said 25 of the 78 arrested motorcyclists are under 18 and two of the 78 tested positive to drug abuses.
The alleged drug abusers will be sent for mandatory rehabilitation while those under 18 will be sent for an attitude adjustment in a military camp for seven days while the rest were fined, Nithithorn added.
Police also checked 26 motorcycle spare parts shops and found that one shop sold exhaust pipes that were illegally modified to make noises louder than allowed by the law. 21 illegally modified exhaust pipes were seized from the shop.
Police also found 18 big-bike motorcycles making noises louder than allowed by the law so they were prohibited from use for 30 days.
SOURCE: The Nation