The 60 million Baht scam. Police make arrests in Bangkok.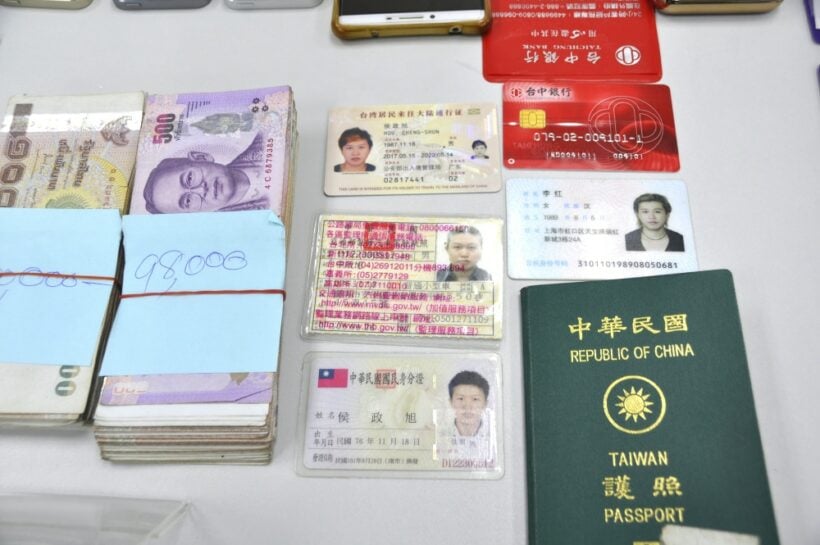 A 45 year old Taiwanese man wanted for a high-profile electronic card information theft linked to a "call centre scam" has been arrested in Nakhon Ratchasima.
Suspect Chi Min, wanted on a Sikhiu Court-issued arrest warrant since September, was arrested at a Muang Nakhon Ratchasima restaurant late on Thursday afternoon. Police also seized 270,000 Baht in cash, five bank account books, two ATM cards and four cell phones. Chi allegedly duped people into wiring money to help clear their name over bogus money-laundering charges.
Chi was also named on another arrest warrant issued by the Phitsanulok Court for conspiracy with a transnational criminal gang after three alleged accomplices were nabbed earlier this month along with 189,000 Baht in cash and 10 ATM cards. The trio Hou Cheng Shon, 30, Hung Wei Che, 22, and Wu Chung Che, 22 had been arrested for withdrawing cash within Thailand for a Taiwanese gang linked to Chi.
Provincial Police Region 3 investigation head Pol Maj-General Supakorn Khamsingnok said Chi, who had been in Thailand for a decade, allegedly coordinated activities on behalf of the Taiwan-based gang. Police said the gang phoned people and duped them into wiring money to clear their names in relation to bogus criminal investigations.
Chi is accused of sending the fraudulently obtained money back to gang leaders in Taiwan.
In a separate bust, Anti-Money Laundering Office deputy chief Pol Major-General Romsit Weeriyasan announced on Thursday the arrest of eight suspects linked to a Taiwanese "call centre scam". The Crime Suppression Division and the Department of Special Investigation joined Romsit at the Bangkok press conference.
A Chinese man, 50 year old Fang Yang Seng, and an unnamed Taiwanese woman were arrested along with Thais Anuruth Permthaweesap, Panpaporn Sri-ondee, Somporn Chuchuay, Kulwadee Chimphetch, Daranat Yangdeelert, and Rattana Ketsupan during the authorities' raids of three companies in Bangkok on Thursday morning.
A police source said the companies – two in Huai Kwang and one in Bung Kum – allegedly served as tour business and employment agency fronts to launder money for a call-centre scam gang.
The companies allegedly "facilitated" the Thai workers sending money back to their families, by keeping the legitimate Taiwanese dollars and sending ill-gotten cash to pay the workers' families instead, the source said.
Romsit said the gang had duped Thai and foreign people into wiring money with a threat of criminal prosecution over bogus drug or money-laundering offences since 2010.
So far 64 victims in Bangkok, Samut Prakan, Chiang Mai, Songkhla, Phuket, Nakhon Ratchasima, Lampang and Sa Kaew had filed complaints against them, claiming to suffer damages worth 60 million Baht. Forty-nine arrest warrants had been issued for suspects, including 20 Thais hired to open bank accounts for ill-gotten money transactions, Romsit said.
The account-opening-for-hire Thais would be charged for money laundering, an offence punishable by 1-10 years in prison and/or a 20,000 – 200,000 Baht fine, he said.
STORY: The Nation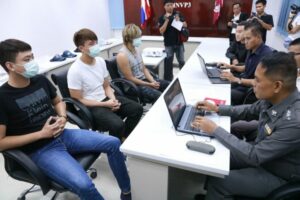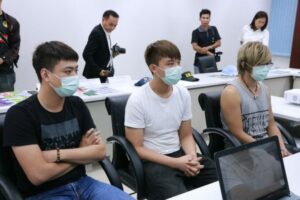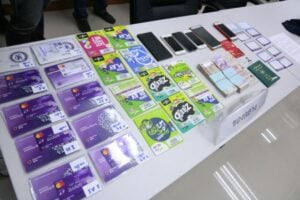 - The Thaiger & The Nation
Bangkok father jumps to his death after acquittal of suspect in his son's murder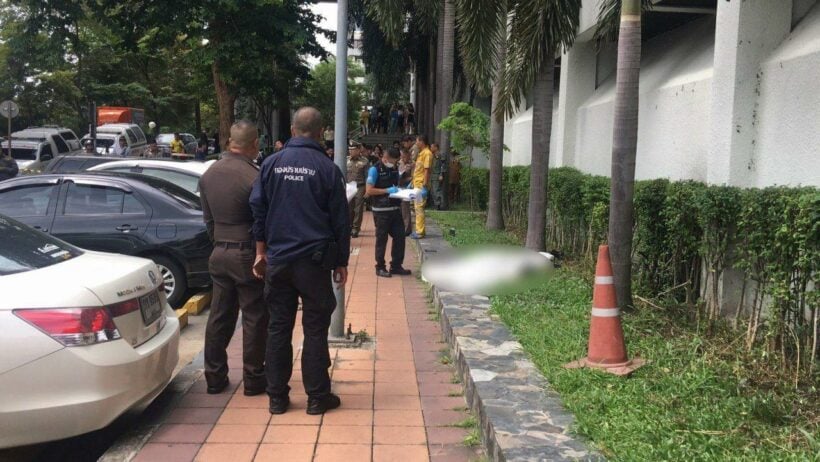 A tragic story from the Bangkok Criminal Court today where it's emerged that a man has jumped to his death after witnessing the acquittal of the suspect in his son's murder. The man jumped from the sixth floor of the court building at 10am.
Supachai Kanlahasunthorn came to the court at 9am to hear the verdict in the trial of a man accused of stabbing his son to death in April 2016. Supachai broke down in tears after the judge read the verdict acquitting the defendant at 10am.
Leaving the courtroom, he climbed through a hall window onto a terrace, over a wall, and then jumped to his death in the car park of court officials.
In the case, Supachai's son was stabbed to death on the night of April 15, 2016 on Prachasongkroh road in Bangkok's Din Daeng district. The court ruled that evidence and testimony from defence witnesses undermined the charges, while the prosecution lacked strong evidence.
After Supachai jumped, his sister-in-law rushed downstairs to see the body.
She broke into tears and had to be helped by officials into the court building to calm down. She claimed that her nephew did not receive justice, prompting her brother-in-law to commit suicide.
She said the murder incident should have been recorded on security cameras, but the owners claimed the cameras had broken down.
SOURCE: The Nation
74 year old British man dies after alleged row with 'toy boy' lover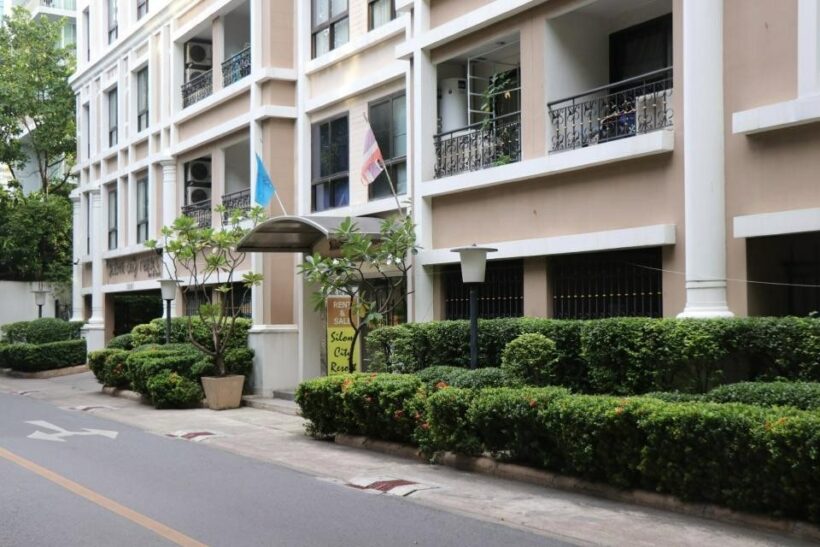 PHOTO: Silom City Resort
"Naked Brit businessman dead in his apartment in a pool of blood after 'row' with his Thai toy boy lover."
A headline that leaves little else to report. This one a sad story as reported by Murdoch's 'The Sun' in the UK.
A naked British businessman has been found dead in a pool of blood after a "row" with his toy boy lover in his Bangkok apartment.
74 year old Kitson Alexander Smith from Oxford, UK, had been renting the upmarket apartment, a short walk from the notorious Patpong red light district in the Thai capital, for two years.
Website thesun.co.uk reports that the former business school boss travelled regularly to the Thailand where he is said to have taken young men back to his room.
A forensics officer who attended the scene and recovered the body said: "The body was in an unusual state. There was blood from the head and a wound.
Police said Smith had used the rented property regularly but did not live there and was known to have at least one Thai toy boy lover "in his 30s who visited his room".
Staff at the Silom City Resort revealed they had seen him arrive back in taxis late at night having visited a nearby bars and strip clubs.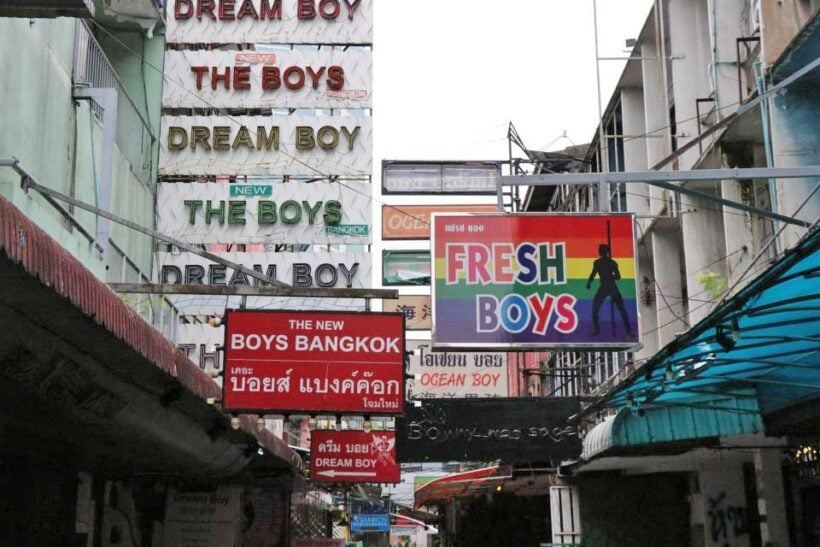 File Photo
Read the rest of the sad tale HERE.
Teacher hangs herself 'to atone for sins of previous life'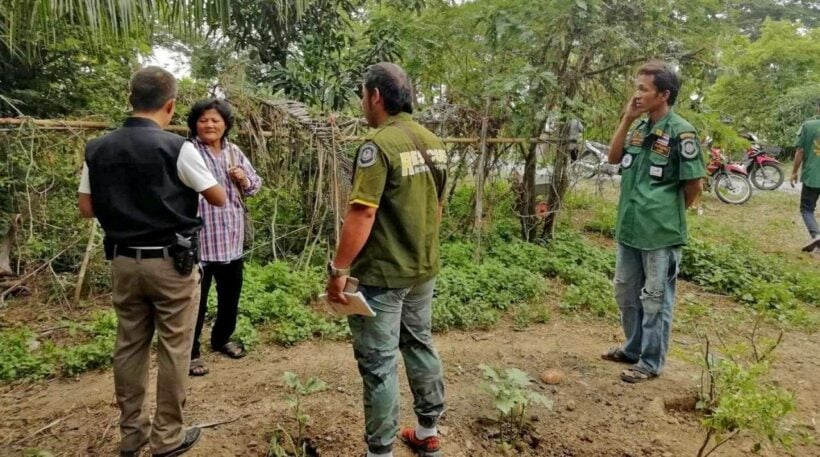 A 40 year old has been found dead, hanged in an apparent suicide at her parents' home in Suphan Buri province, north west of Bangkok, yesterday. The former contract teacher had claimed to have memories of her previous life as a soldier who had taken many lives.
The suicide report of Somkid Ridkanto in Tambon Sa Kaew, Muang district said she had been dead two hours before her body was found under a mango tree within grounds of the house.
A suicide note by her apologising to her parents for not being able to help take care of them was found in the house.
Somkid's mother, 64 year old Somjai Ridkanto, says her daughter used to work as a contract teacher and had resigned to work in a factory. After she divorced her husband, Somkid moved back to stay with her parents but later suffered severe headaches that deterred her from getting a job.
Somjai said her daughter had told her she wished to die to repay for her previous sins. Her daughter had told her she had memories of her previous life as a soldier who had killed many people, and that their spirits were now after her. She was taken to seek mental health treatment and when her condition improved, she returned home. Somjai said she had no inkling of what was to follow that day when her daughter prostrated in front of her on Saturday evening.
Police suspected that Somkid had committed suicide due to stress over her inability to provide for her parents and her belief that she must die to pay for her previous life's sins.
The medical examiner inspected the body and after the suicide report, police released her body to the family.

STORY: The Nation