The 60 million Baht scam. Police make arrests in Bangkok.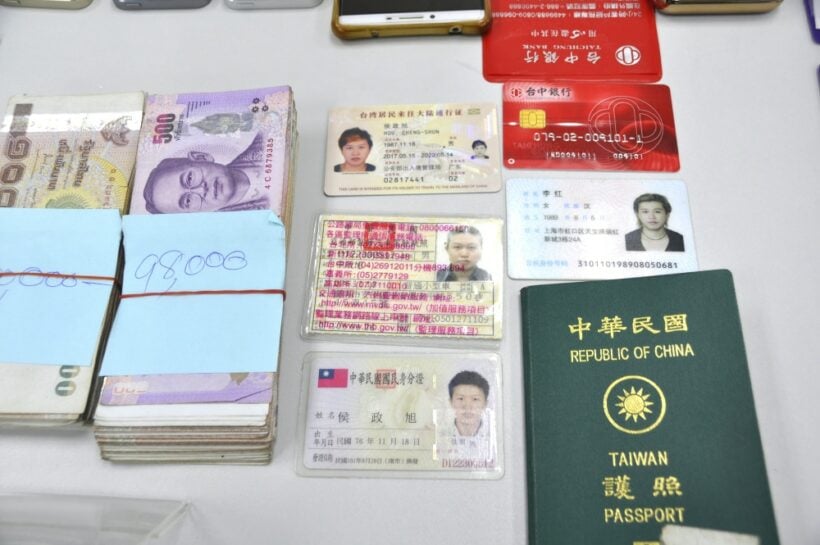 A 45 year old Taiwanese man wanted for a high-profile electronic card information theft linked to a "call centre scam" has been arrested in Nakhon Ratchasima.
Suspect Chi Min, wanted on a Sikhiu Court-issued arrest warrant since September, was arrested at a Muang Nakhon Ratchasima restaurant late on Thursday afternoon. Police also seized 270,000 Baht in cash, five bank account books, two ATM cards and four cell phones. Chi allegedly duped people into wiring money to help clear their name over bogus money-laundering charges.
Chi was also named on another arrest warrant issued by the Phitsanulok Court for conspiracy with a transnational criminal gang after three alleged accomplices were nabbed earlier this month along with 189,000 Baht in cash and 10 ATM cards. The trio Hou Cheng Shon, 30, Hung Wei Che, 22, and Wu Chung Che, 22 had been arrested for withdrawing cash within Thailand for a Taiwanese gang linked to Chi.
Provincial Police Region 3 investigation head Pol Maj-General Supakorn Khamsingnok said Chi, who had been in Thailand for a decade, allegedly coordinated activities on behalf of the Taiwan-based gang. Police said the gang phoned people and duped them into wiring money to clear their names in relation to bogus criminal investigations.
Chi is accused of sending the fraudulently obtained money back to gang leaders in Taiwan.
In a separate bust, Anti-Money Laundering Office deputy chief Pol Major-General Romsit Weeriyasan announced on Thursday the arrest of eight suspects linked to a Taiwanese "call centre scam". The Crime Suppression Division and the Department of Special Investigation joined Romsit at the Bangkok press conference.
A Chinese man, 50 year old Fang Yang Seng, and an unnamed Taiwanese woman were arrested along with Thais Anuruth Permthaweesap, Panpaporn Sri-ondee, Somporn Chuchuay, Kulwadee Chimphetch, Daranat Yangdeelert, and Rattana Ketsupan during the authorities' raids of three companies in Bangkok on Thursday morning.
A police source said the companies – two in Huai Kwang and one in Bung Kum – allegedly served as tour business and employment agency fronts to launder money for a call-centre scam gang.
The companies allegedly "facilitated" the Thai workers sending money back to their families, by keeping the legitimate Taiwanese dollars and sending ill-gotten cash to pay the workers' families instead, the source said.
Romsit said the gang had duped Thai and foreign people into wiring money with a threat of criminal prosecution over bogus drug or money-laundering offences since 2010.
So far 64 victims in Bangkok, Samut Prakan, Chiang Mai, Songkhla, Phuket, Nakhon Ratchasima, Lampang and Sa Kaew had filed complaints against them, claiming to suffer damages worth 60 million Baht. Forty-nine arrest warrants had been issued for suspects, including 20 Thais hired to open bank accounts for ill-gotten money transactions, Romsit said.
The account-opening-for-hire Thais would be charged for money laundering, an offence punishable by 1-10 years in prison and/or a 20,000 – 200,000 Baht fine, he said.
STORY: The Nation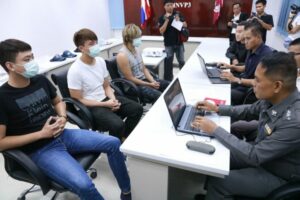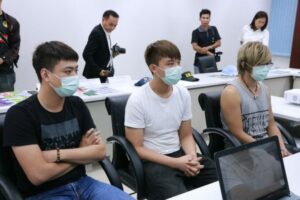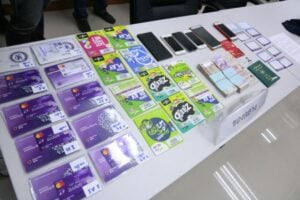 Keep in contact with The Thaiger by following our
Facebook page
.
Never miss out on future posts by
following The Thaiger
.
5 protesters to be charged over a rally in front of the Thai Army's headquarters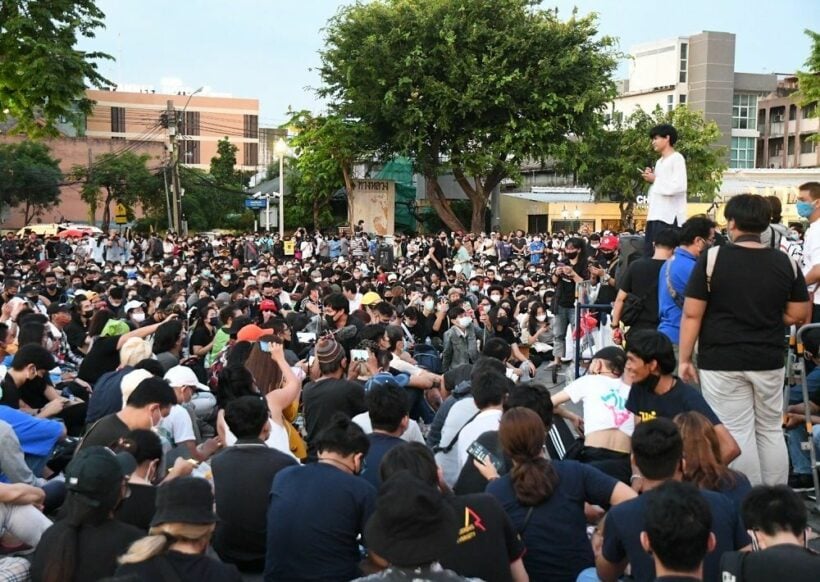 With impeccable timing, Nang Loeng police have summoned 5 protest leaders to appear before the Special Prosecutor's Office at the Dusit District Court in Bangkok. They will be formally charged over their roles in a protest in front of the Army's headquarters on July 20. At the time it followed an online exchange from an Army official criticising the students who had been protesting at the Democracy Monument days before.
The protest targeted Colonel Nusra Vorapatratorn, deputy spokesperson of the Army. Posting on her Facebook page about the Saturday protest, the Colonel said that rally's participants should "focus on doing their jobs rather than joining the protest." The Colonel later deleted the social media post.
Another army spokesman, Colonel Winthai Suvaree, spoke to the media at the time and stated that Nusra "had expressed her personal opinion" and that "she is no longer the deputy spokesperson".
After protesting outside the Army over the contents of the post, 5 protest leaders face official charges of "violating the Emergency Decree, the Traffic Act and use of loudspeakers in public without permission. The 5 protagonists facing charges are human rights lawyer Anon Nampa, Parit "Penguin" Chiwarak, Piyarath "Toto" Jongthep, Suwanna Tarnlek and Panupong Jardnok (Mike Rayong).
All 5 deny the charges and say they will defend their roles in court.
The charges follow a weekend of protests, with up to some 30,000 people gathering in the Bangkok rain to rally against the government and confirm a 10-point manifesto which includes demands to reform Thai politics and the country's monarchy. Specially the demands include the dissolution of the Thai parliament, standing down of the current PM and a new constitution to replace the 2017 Thai charter.
Today the Fine Arts Department has also says it will file charges of "trespassing on an archaeological site" after protesters yesterday embedded a symbolic brass plaque to replace another plaque that dates back to the 1932 Siam Revolution (when a bloodless coup overthrew the 'absolute monarchy' in Thailand). That plaque mysteriously disappeared in 2017.
The protesters responded this afternoon by saying that Sanam Luang is not an archaeological site, but a "public space for recreation and for vendors and hawkers".
Following on from the support of the crowd over the weekend, the protesters are planning to stage another protest in front of Parliament this Thursday. A House debate on constitutional amendments is due to start this Wednesday.
SOURCE: Thai PBS World
Keep in contact with The Thaiger by following our
Facebook page
.
Never miss out on future posts by
following The Thaiger
.
Woman shot and killed at Bangkok temple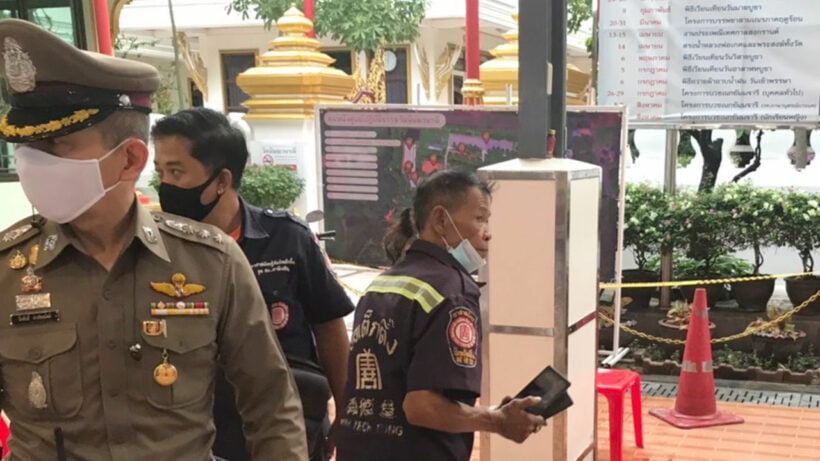 A woman was shot and killed at a Bangkok temple today. Police say 39 year old Linlada Phattanphan was found inside the temple, covered in blood. Her head had been shot at 4 times. Linlada went to the temple this morning to make merit, according to her maid, 52 year old Maneerat Srithornrat. The maid told police that the 2 of them were about to head home when another woman came up behind Linlada and shot her 4 times at a close range. The alleged shooter fled the scene.
Police say they were called to the temple in Bangkok's Bang Khae district around 7am. A forensic team from Siriraj Hospital responded and joined police in the investigation. They say Linlada was shot at close range with 9mm bullets.
Maneerat told police the alleged shooter was around 35 to 40 years old and was wearing a cap that shadowed her face.
Police are still investigating. Police say they plan to review surveillance camera footage to help identify the alleged shooter.
SOURCE: Nation Thailand
Keep in contact with The Thaiger by following our
Facebook page
.
Never miss out on future posts by
following The Thaiger
.
Protesters' plaque damaged historical site – Thai Fine Arts Department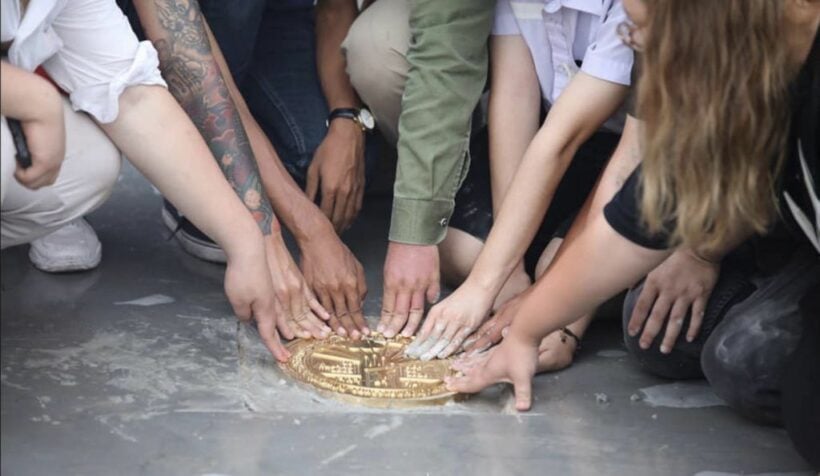 The Thai Fine Arts Department claim the pro-democracy protesters, who installed a symbolic brass plaque in an area next to the Grand Palace yesterday morning, broke the law. The department filed a complaint saying the installation of the plaque damaged a historic site, a violation of the Archaeological Site Act.
Protesters cemented the plaque in the perimeter of the Royal Field, known locally as Sanam Luang. It read "At this place the people have expressed their will, that this country belongs to the people and is not the property of the monarch as they have deceived us."
Sanam Luang is a registered archaeological site. Entering the area to install a plaque without permission is an offence under the Historical Sites, Archaeological Objects, Art Objects and National Museum Act 1961, according to the department's director general Prateep Phengtako.
"Those who invade a historic site or destroy or depreciate it can face up to 7 years in prison and a fine of up to 700,000 baht."
The department says since the plaque was illegally installed at Sanam Luang as part of the weekend's protests.
"It is considered destruction and depreciation of a historic site.
Less than 24 hours after the plaque was installed, it was removed and covered with concrete. The plaque was to replace a brass plaque that commemorated the end of Siam's absolute monarchy and the introduction of constitutional democracy for Thailand in 1932. The original plaque mysteriously disappeared in 2017 and was replaced with a new plaque with a pro-monarchist slogan.
The Fine Arts Department made no comment at the time of the removal of the old historical plaque in 2017.
SOURCE: Nation Thailand
Keep in contact with The Thaiger by following our
Facebook page
.
Never miss out on future posts by
following The Thaiger
.