39 die nationally on first day of Songkran Seven Days of Danger.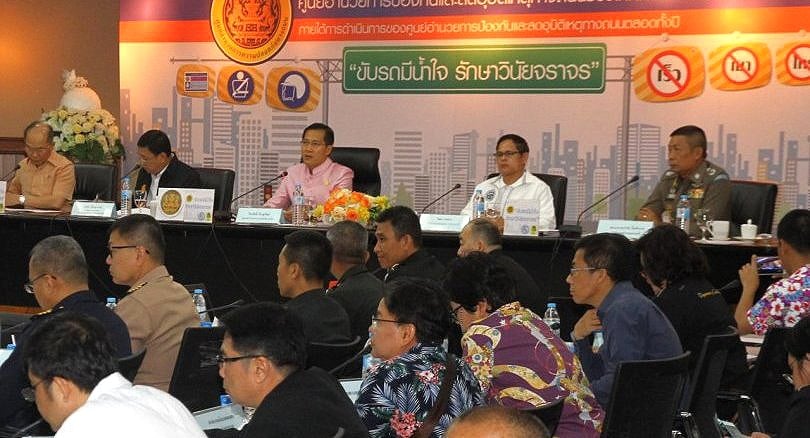 Whilst Phuket has had a clear Day One (Wednesday) for what's called the 'Seven Days of Danger', the rest of the country has notched up 39 people killed as of last night. Police say that drunk driving remains the biggest problem and cause of death. Police report 477 road accidents on the first day of the Songkran holiday reporting period.
Last year eight out of ten accidents happened to people who were driving on motorbikes. Long straight major roads were the most likely place for an accident to happen.
In 2016 the toll was 442 over the seven day reporting period, last year it dropped to 390.
Every year police promise more checkpoints, better enforcement, more sever penalties and various bans on potentially dangerous Songkran activities but little has changed.
Keep in contact with The Thaiger by following our
Facebook page
.
Never miss out on future posts by
following The Thaiger
.
9 underage girls rescued from brothel posing as spa in central Thailand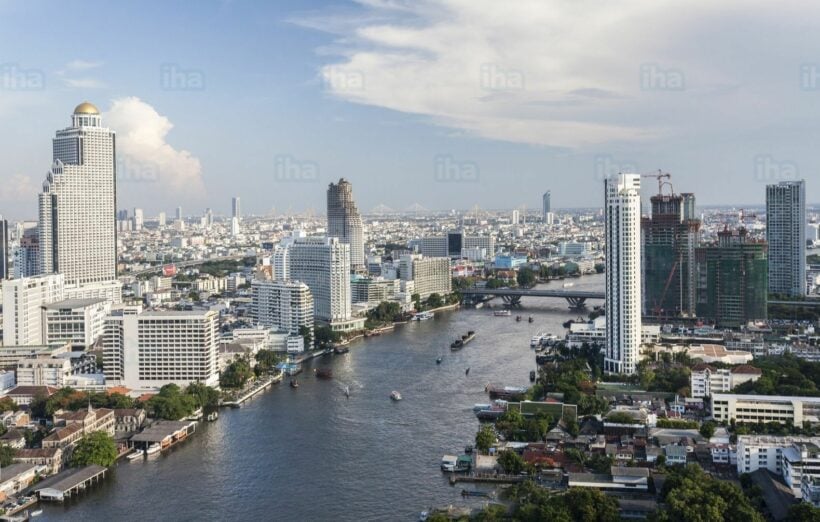 Police in Nonthaburi, just outside Bangkok, have arrested 12 people and rescued 9 underage girls in a pre-dawn raid on an un-licenced spa that was a front for prostitution. The Bangkok Post reports that the bust took place at a spa on the city's Rattanathibet Road early yesterday morning.
Torsak Sukwimol from the Central Investigation Bureau says the raid was conducted by the Anti-Trafficking in Persons Division, following a tip-off that customers were being offered sexual services at the premises.
"We also found that (the spa's managers) procured female sex workers, including some who were under 18, for its customers."
It's understood the facility opened in June of last year and used social media to recruit female workers. It does not have a licence to operate as a spa, and the age of some of the girls working there means the management face child prostitution charges.
SOURCE: Bangkok Post
Keep in contact with The Thaiger by following our
Facebook page
.
Never miss out on future posts by
following The Thaiger
.
No vaccine, no entry – the world's next travel challenge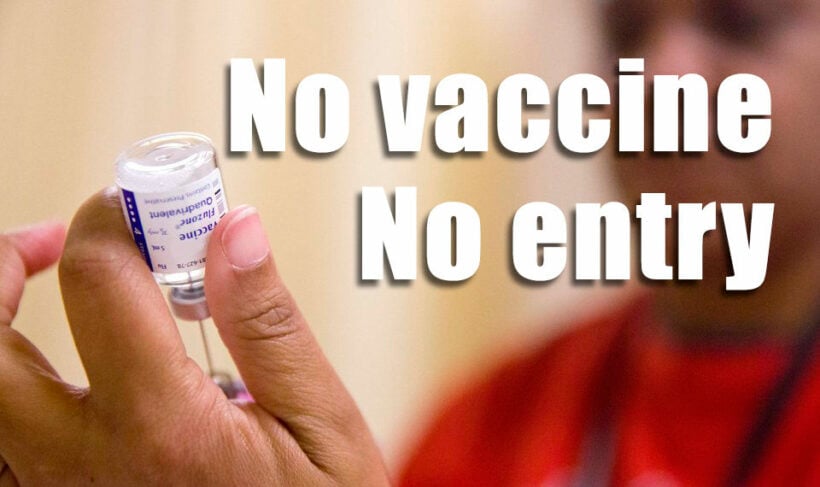 OPINION
UPDATE: Australia's national airline has already said it will impose "proof of vaccine" on all inbound and outbound international flights, a situation that IATA says they are likely to follow. Read more HERE.
ORIGINAL POST: With the announcements this week about several vaccine candidate trials, either being completed or at the end of their Phase 3 testings, and the applications to government bodies for 'emergency approval', we now have to face the next question.
What restrictions will be imposed on those people who don't have the vaccine, or even actively choose not to have the vaccine?
And more locally…
Will Thailand allow people to enter Thailand without first having the Covid-19 vaccine?
Given the Thai Government's low-risk strategy, well almost zero-risk strategy, and reluctance to take any chances with a second wave of Covid 19, it is highly likely there will be a stipulation that anyone entering Thailand will need a vaccine certificate or stamp in their passports.
Couple this with the Thai population's continued fear of allowing foreigners back into the country at this time, in poll after poll, and it's a safe bet there will be a "no vaccine, no entry" restriction imposed.
On a positive note, the Thai government may drop the 14 day quarantine for people that have had the vaccine (but not in the early days).
At this stage we know that most of the vaccine trials have had a 95% efficacy. We also know that the leading BioNTech/Pfizer vaccine needs an original jab plus a booster and has to be transported at extremely low temperature.
To complicate matters, there is not yet sufficient evidence that having had a bout of Covid-19, whether asymptomatic or not, guarantees you immunity. Or, if it does, for how long?
All these factors will mean that some level of quarantine will probably be in force as the Thai government slowly re-opens its borders to a wider groups of vaccinated travellers. This would remain in force until the world has a better knowledge of both the proven efficacy of the vaccine, or vaccines, and the re-infection rates.
So, even if we start getting groups of the world's populations vaccinated before the end of the year, and that's still a very big IF, there's a lot more water to pass under the bridge until a coherent, reliable vaccine strategy can be understood and implemented.
Then there will be a rump of people, either hard core anti-vaxxers, or others who are at least skeptical of a new vaccine, who will want to wait or not want the vaccine at all. Public education, some strong science and a successful roll out of the early vaccines will be a key to winning over a lot of the world's population.
Somehow governments and health authorities are going to have to wind back much of the disinformation floating around the internet about vaccines that is so factually out of whack with reality, it's going to be one of the greatest public health challenges of all time, to reassure people about the science of vaccines and vaccination.
All this, in the middle of a pandemic that, for now, is still on the ascendency as far as new cases and deaths are concerned.
But there is little doubt rejoining the world of international travel, even local travel, could become restricted to only those who are vaccinated. The rest will be stuck roaming around their own countries, or states, for… years with a raft of restrictions on their lives. Who knows.
Will shopping centres or public buildings also impose a "no vaccine, no entry" policy? Hotels? Public buildings? Job applications?
On top of the economic stress which has fallen on a lot of the world, with so many governments now facing the headwinds of deep recession, the vaccine 'haves' and 'have nots' will add even more public disquiet.
At this stage nobody is sure how the vaccine will be rolled out in Thailand. The Thai government has already signed up for several of the leading vaccine candidates and will most likely provide the vaccine for free to citizens under its public health system.
What does that mean for foreigners living here? If you are covered, with a work permit, under the country's public health, are you able to get the vaccine for free too? Will the thousands of foreigners on private health insurance be covered?
Surely the insurers will want its customers to be vaccinated. Sick customers cost them money. So, will insurance renewals be limited to only people who have been vaccinated? Will visas be renewed only if you have been vaccinated?
At this stage there are no firm answers to any of these questions.
Added to all this confusion, there is more than one vaccine, and some of the vaccines work in a different way than others. So do airlines and governments and shops and hotels and bowling alleys allow one vaccine through their doors but not another?
We're certainly now entering a new phase of this pandemic. New challenges, new questions. The rising numbers of cases throughout 2020 is only the first chapter of a book that will be many more years in the making.
Keep in contact with The Thaiger by following our
Facebook page
.
Never miss out on future posts by
following The Thaiger
.
Thailand News Today | Holiday road toll, protests tomorrow, GDP recovery | November 24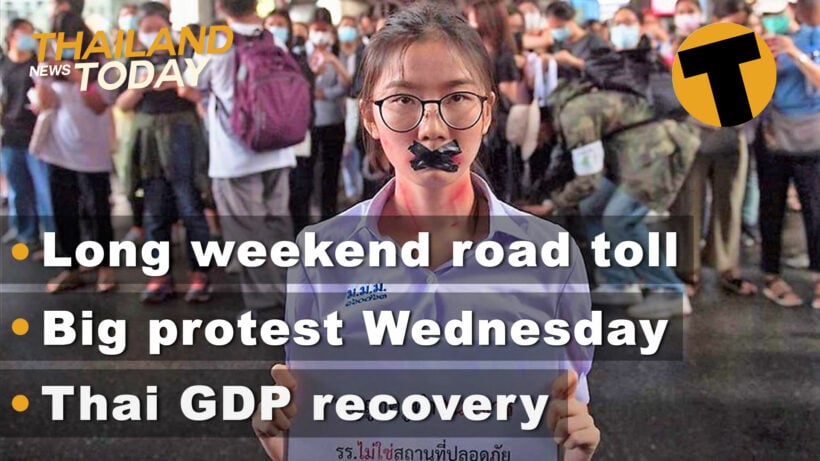 There's been some heavy downpours around sections of Bangkok over the past few days. We start with some video of the flooded streets. Then, into the news…
139 killed, 653 injured, as Thailand's holiday weekend sees surge in road accidents
The Ministry of Transport has confirmed that hundreds of road traffic accidents have taken place over Thailand's 4 day holiday weekend.
139 people have died and 653 have been injured in the course of the 4 day break, which was introduced to boost domestic tourism.
455 car accidents were recorded, with nearly 79% of them being caused by excessive speed. 82 people died in car accidents, with another 466 injured.Another 153 accidents involved motorbikes, with 47 bike riders killed and 165 injured.
Public transport vehicles and trucks accounted for 21 accidents, with 13 caused by trucks, 5 by buses, and 3 by trains. Over 10.7 million people took to public transport between last Wednesday night and Sunday night.
Protesters target the Crown Property Bureau tomorrow, taking direct aim at the country's Monarchy
Tomorrow the protest road show moves to the Crown Property Bureau in Phitsanulok Road, taking aim directly at the the management of the Thai monarch's affairs.
Protesters, who first brought up the issue of the role of the Thai Monarchy in July this year, say they have "a big surprise" in store. This will be the first time when the entire focus of the protest will be Thailand's Head of State, previously considered a taboo topic in Thai society and the media.
The Crown Property Bureau is the quasi-government agency responsible for managing the property of the Thai Monarch. The bureau is legally defined as a juristic entity and is not a government agency. It also has no tax obligations.
In speeches during last week's protests, speakers at the rally said… "we demand the return of taxpayers' money".
But Thai PM Prayut Chan-o-cha questioned the protester's plans…
"Why they want to get close to the Crown Property Bureau? I think you know their purpose."
There's a longer article with some history about the Crown Property Bureau at TheThaiger.com
Protester slammed for dressing as schoolgirl to highlight sexual harassment in Thai schools
2 government MPs have criticised a member of the "Bad Students" protest movement after she dressed as a schoolgirl to highlight sexual harassment in Thai schools.
In an online protest, the activist put on a school uniform and held up a sign condemning sexual harassment in the Thai education system.
Whilst her actions have generally been supported by netizens, some pro-establishment figures have hit out at the protester including 2 Palang Pracharat MPs, who says the protester's decision to wear a school uniform will bring Thai schools into disrepute.
His accusation comes as sexual harassment figures from the Office of Basic Education Commission have been released, showing hundreds of sexual harassment incidents recorded between 2013 – 2017. In January this year alone, there were over 700 cases reported of sexual harassment. The report says that many other victims remain too scared to come forward.
Finance Minister says Thailand's GDP will take 2 years to recover
Thailand's finance minister says the country's GDP will take 2 years to recover the 9% it has lost since the Covid pandemic ravaged the economy.
The Finance Minister says the economy would have expanded by 3% this year if it weren't for the pandemic.
"The pandemic crisis will make the economy contract by around 6% in 2020, therefore there is a 9% gap that needs to be recuperated. If Thailand's GDP growth could arrive at 4% in 2021 and 2022, this would propel the country's economic growth momentum to return to a normal ratio."
As for the 2022 budget, he says it is still being designed to support economic growth through public investments in infrastructure and energy, with some projects relying more heavily on help from the private sector.
Police have yet to investigate illegal hiring of foreign teachers at international school in Phuket
Chalong police in Phuket say they have yet to start investigating the illegal hiring of foreign teachers at an international school in Rawai.
Palm House International School allegedly hired foreign teachers illegally where 2 were arrested by Phuket Immigration police on November 4.
The Chalong police leading investigations into the case, says the 2 Brits were informed that police were processing a charge of working illegally in the country against them, where both denied the charges. The 2 men have been released on bail.
But he says the investigation is yet to begin with police saying they haven't even questioned the owner of the school.
"The investigation into the school will take time. The investigation into the two British people must be finished first."
Keep in contact with The Thaiger by following our
Facebook page
.
Never miss out on future posts by
following The Thaiger
.