Southern Thailand to be worst hit by heavy rain and flooding risk next week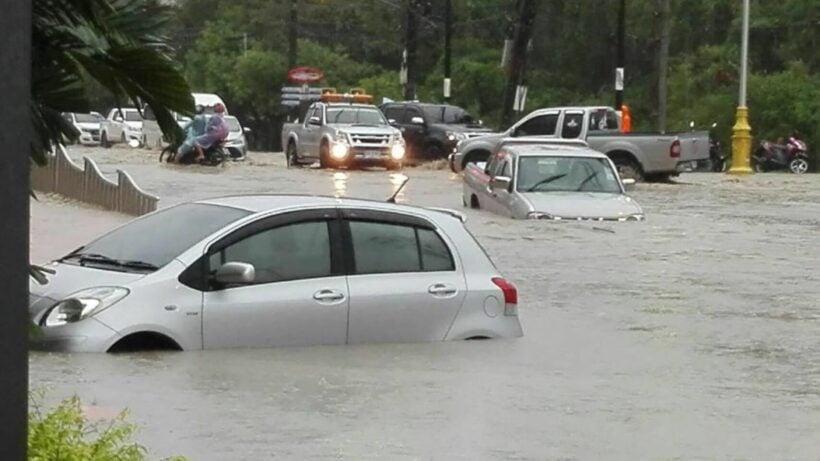 Thailand's Office of National Water Resources says 14 provinces are at increased risk from flooding as heavy rains are expected from October 15, with southern parts of the country expected to bear the brunt.
The Pattaya Mail reports that local authorities are being instructed to install equipment such as water pumps, flow accelerators and excavators, and to remain on alert and be ready to inform residents of risks.
The following regions should expect heavy rainfall from the middle of next week:
Chonburi, Chantaburi, and Trat in the east, Phetchaburi and Prachuap Khiri Khan in the west, Surat Thani, Chumphon, Ranong, and Trang in the south, along with Nakhon Si Thammarat, Phang Nga, Phuket, Krabi, and Songkhla.
The south of the country is expected to be the worst hit, according to General Somkiat Prajamwong, Secretary of The Office of National Water Resources.
"What we need to watch out for, is from 15th October in the southern region, particularly in the mid-section of the west coast. 14 provinces will be affected.
"The main issue is, in October from the 15th, so we have already assigned the Royal Irrigation Department and DDPM to relocate their machinery and equipment into flood risk areas to prevent difficulties, especially in Nakhon Si Thammarat, Phang Nga, Phuket, Krabi, and Songkhla which could be most affected."
SOURCE: Pattaya Mail
Keep in contact with The Thaiger by following our
Facebook page
.
Torrential rains again wash away parts of Pattaya Beach, more on the way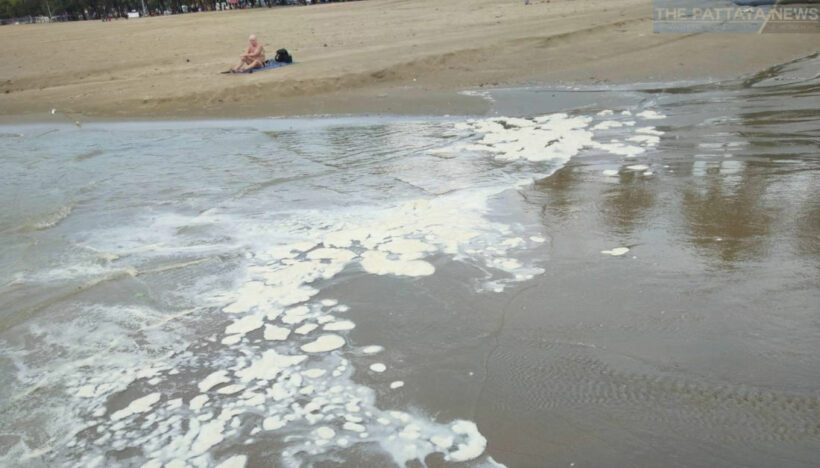 PHOTOS: The Pattaya News
Heavy rains have caused flooding and beach erosion on Pattaya's recently reclaimed beach yesterday afternoon. The torrential rain continued for many hours around Central Pattaya. Heavy rains are also expected again today (forecast below).
Many areas ended up flooded causing local traffic hazards and delays. Water flooded down storm drains and onto Pattaya's beaches and into the sea, literally washing the beach away in some locations.
Tourists and swimmers avoided the water as they saw "an unidentified white substance on the water's surface". The white scum appeared to look like some sort of detergent or foam which had washed down the city's drains.
Last year some 400 million baht was spent re-building some of Pattaya's beaches which end up damaged and washed out to sea any time there are heavy rains.
SOURCE: The Pattaya News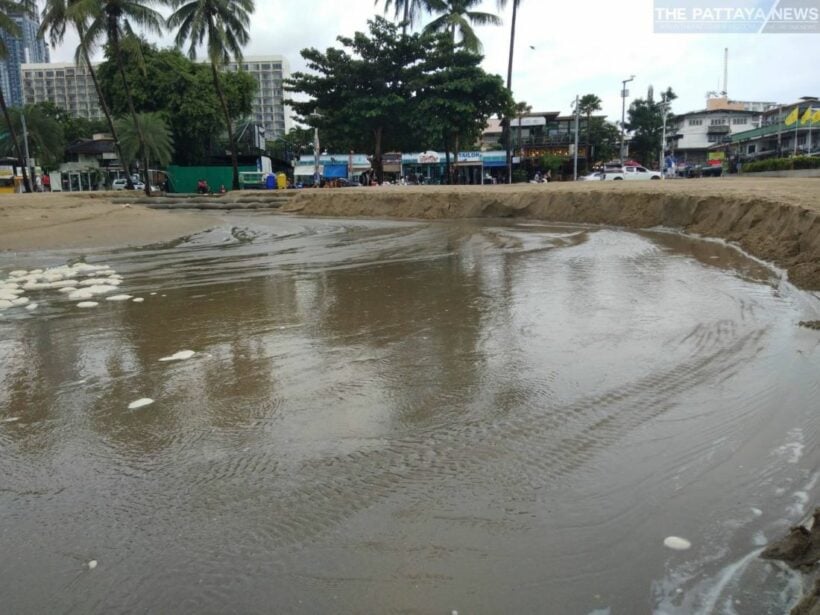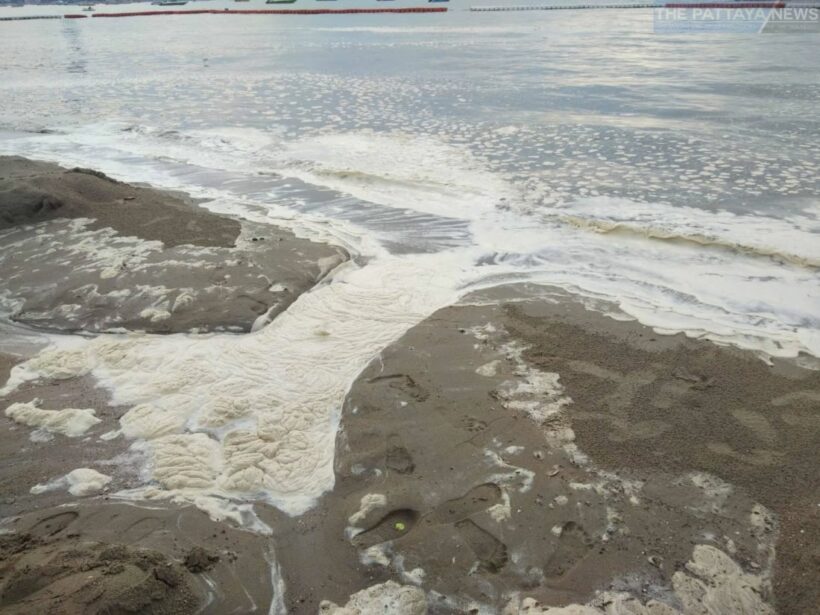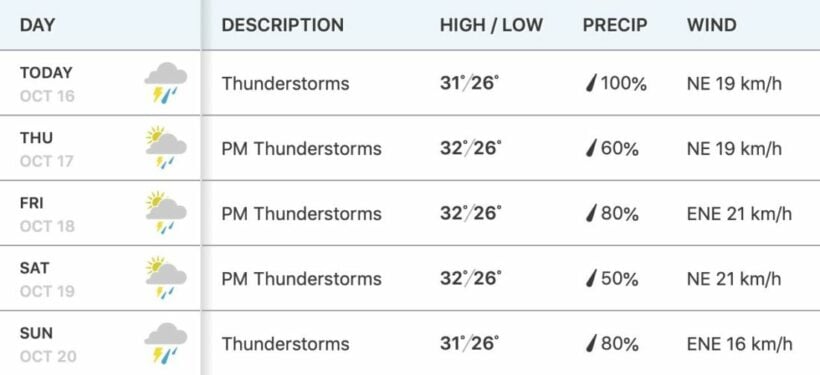 Keep in contact with The Thaiger by following our
Facebook page
.
Typhoon Hagibis kills 11 in Japan, rescue underway with up to 100 missing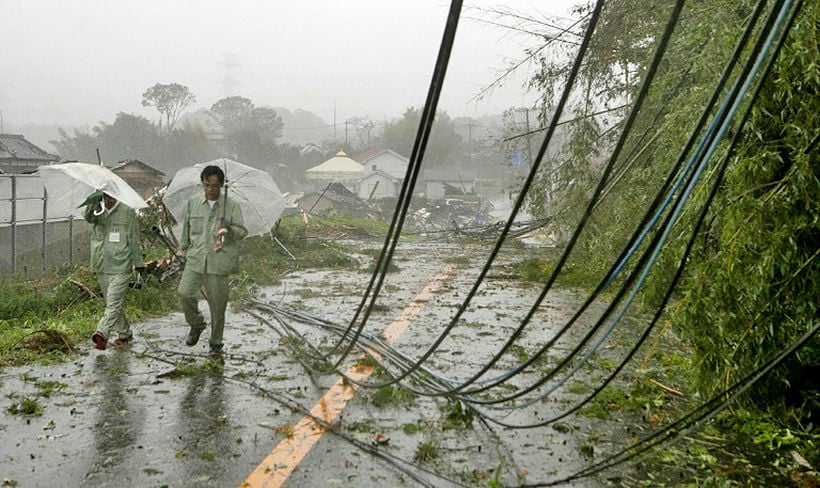 Japan's military is racing to help people trapped by flooding after powerful Typhoon Hagibis as it ripped across the country. So far at least 11 people have died and dozens remain missing.
The storm's heavy rain triggered deadly landslides and caused rivers to burst their banks. The destruction forced Rugby World Cup organisers to cancel the third match of the tournament though the key Japan-Scotland clash will go ahead.
By this morning, the significantly weakened storm had moved back off land, but serious flooding was reported in central Japan's Nagano, where a burst levee sent water from the Chikuma river gushing into residential neighbourhoods, flooding homes up to the second floor.
Japan's military have deployed helicopters to rescue people seen standing on balconies waving towels to attract attention.
"Overnight, we issued evacuation orders to 427 households, 1,417 individuals," Yasuhiro Yamaguchi, an emergency official in Nagano city, told AFP, adding that it was unclear how many homes had been affected.
Aerial footage showed a row of bullet trains half-submerged in muddy waters at a depot in Nagano.
Hagibis smashed into the main Japanese island of Honshu around 7pm (1000 GMT) Saturday as one of the most violent typhoons in recent years, with wind gusts of up to 216 kilometres per hour (134 miles per hour).
Well before making landfall, the outer bands of the storm claimed their first victim, a driver whose van was flipped over in the strong gusts. Several more deaths were confirmed Saturday night, including a man killed in a landslide and another pulled from a flooded home.
And the toll continued to rise as the full scale of the disaster became clearer Sunday morning, with bodies recovered from submerged cars and landslides across several regions of the country.
National broadcaster NHK reports at least 99 people had been injured and more than a dozen were missing after the storm. Among the missing were eight people from a cargo ship that sank Saturday night in Tokyo Bay. The coast guard said they had rescued four of the Panama-flagged ship's crew but were still searching for the others.
At the storm's peak, more than seven million people were placed under non-compulsory evacuation orders, with tens of thousands heeding the call and moving into government shelters. Japan's Meteorological Agency issued its highest-level rain disaster warning, saying "unprecedented" downpours were expected.
"The water came up higher than my head in the house," Hajime Tokuda, a finance professional living in Kawasaki near Tokyo told AFP.
He moved to his family's home nearby, but that flooded too and they had to be rescued by boat.
In Saitama's Higashi Matsuyama city, northwest of Tokyo, rice and flower farmers were counting their losses, with water submerging warehouses full of freshly harvested product.
"We never had a flood like this before in this neighbourhood," said one farmer, who declined to give his name.
"We cannot even go into the flower warehouse due to the water. I don't know where to start cleaning this mess."
Keep in contact with The Thaiger by following our
Facebook page
.
'Unprecedented' Typhoon Hagibis slams into Japan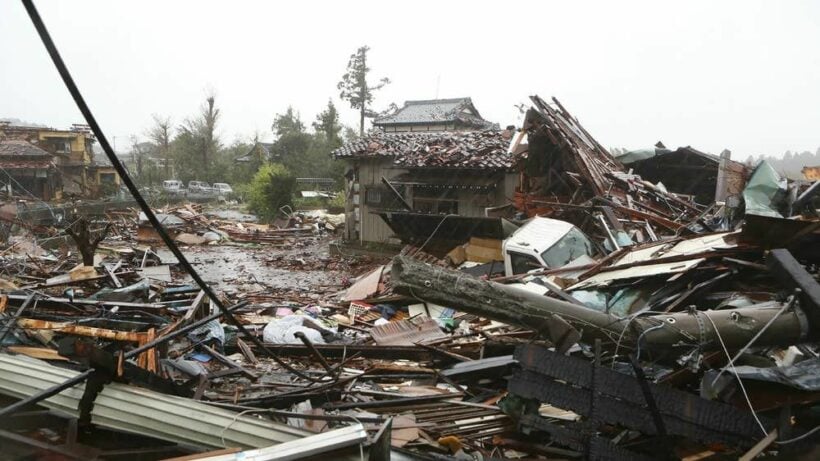 Powerful typhoon Hagibis has made landfall in Japan as torrential rain and winds have already lashed the country causing floods and mudslides.
"The eye of Typhoon Hagibis made landfall shortly before 19:00 (1000 GMT) in Izu Peninsula", southwest of Tokyo, said the Japan Meteorological Agency.
Powerful Typhoon Hagibis roared towards Japan's coast on Saturday, killing one person and bringing "unprecedented" downpours that prompted authorities to issue their highest-level rain disaster warning.
More than 3.2 million people have been placed under non-compulsory evacuation orders as authorities warn of imminent flood and landslide danger after hours of torrential rains.
Hagibis has caused enormous disruption, forcing the cancellation of two Rugby World Cup matches, delaying the Japanese Grand Prix and grounding all flights in the Tokyo region.
Hours before the worst of the storm arrived, its outer bands claimed the first casualty in Chiba, east of Tokyo, where a man was killed when high winds flipped his car. Hours of torrential rain prompted the JMA to issue their highest-level emergency rain warning for heavy rain for parts of Tokyo and surrounding areas.
"Unprecedented heavy rain has been seen in cities, towns and villages for which the emergency warning was issued," JMA forecaster Yasushi Kajiwara said at a press briefing.
"The possibility is extremely high that disasters such as landslides and floods have already occurred. It is important to take action that can help save your lives."
At least one landslide was already confirmed, engulfing three homes in Sagamihara, southwest of Tokyo, where an elderly man was rescued.
Hagibis is forecast to be the first storm rated "very strong" to hit the main island of Honshu since 1991, when the category system was introduced, a JMA official said.
By early afternoon, 3.25 million people were under non-mandatory evacuation orders, and more than 13,500 people had moved to shelters, including some whose homes were damaged by a powerful typhoon that hit the region last month.
"I evacuated because my roof was ripped off by the other typhoon and rain came in. I'm so worried about my house," a 93 year old man told national broadcaster NHK as he sheltered at a centre in Tateyama in Chiba east of Tokyo.
Japan is hit by around 20 typhoons a year, though the capital is not usually badly affected. Hagibis has hit the region just weeks after Typhoon Faxai hit the area with similar strength, killing two and causing major damage in Chiba.
SOURCE: Agence France-Presse
Keep in contact with The Thaiger by following our
Facebook page
.