Flooding damages 5 northern provinces, more rains predicted today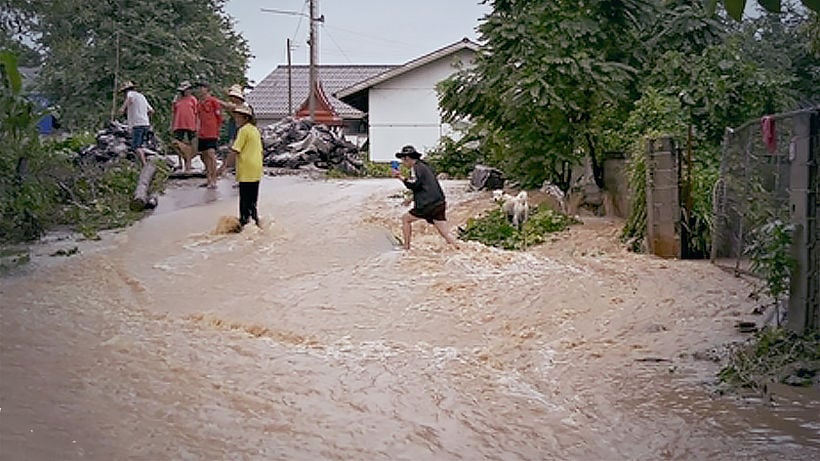 5 provinces in Thailand's North, namely Chiang Mai, Phayao, Lampang, Nan and Phrae, suffered serious flooding yesterday, causing damage in 15 districts, 189 villages and more than 1,400 households. Nan province suffered the most, with 960 households in 6 subdistricts damaged and 1 person dead.
The director general of the Department of Disaster Prevention and Mitigation explained that the heavy rains were caused by the monsoon trough across the North and Northeast, as well as the low-pressure cell over South China Sea and the southwest monsoon prevailing across the Andaman Sea and Gulf of Thailand.
The Thailand Meteorological Department says people in the North, the Northeast, the Central and the East should beware of the severe conditions that could cause forest runoffs and flash floods today. It urges people to beware of the severe conditions. The affected areas are:
North: Mae Hong Son, Chiang Mai, Chiang Rai, Lamphun, Lampang, Phayao, Phrae, Nan, Uttaradit, Phitsanulok, Sukhothai, Tak, Kamphaeng Phet, Phichit and Phetchabun.
Northeast: Loei, Nong Bua Lam Phu, Udon Thani, Nong Khai, Bueng Kan, Chaiyaphum and Khon Kaen.
Central: Nakhon Sawan, Uthai Thani, Chai Nat, Kanchanaburi and Ratchaburi.
East: Sa Kaeo, Chonburi, Rayong, Chanthaburi and Trat.
SOURCE: Nation Thailand | Nation Thailand
📱 Download our app on Android or iOS for instant updates on your mobile
📧 Subscribe to our daily email newsletter
👍 Like/Follow us on Facebook
🔔 Subscribe to or Join our YouTube channel for daily video updates
Northern Thailand summer storms damage almost 3,000 homes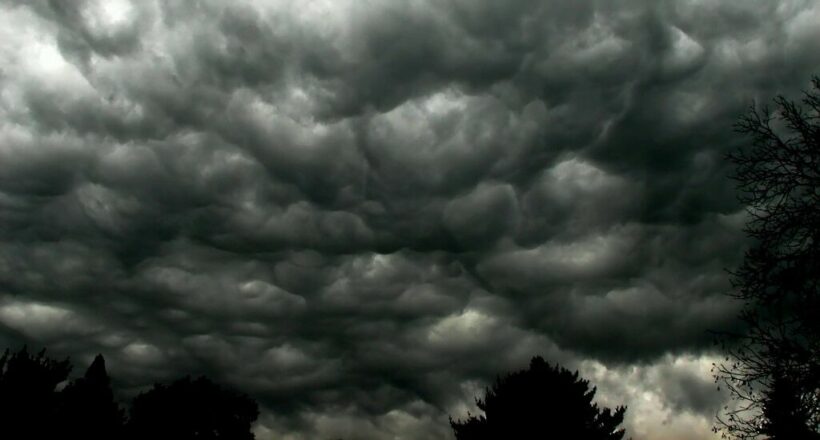 Almost 3,000 homes are damaged after northern Thailand summer storms wreaked havoc in 11 provinces. The Disaster Prevention and Mitigation Department says Pichit, Phitsanulok, Sukhothai and Nan are among the hardest hit. 1 death was also reported in Nan province when a tree branch fell onto a woman's car, killing her. 5 others were injured in Nan, Pichit and Surin.
Thailand's northeastern province of Nakhon Ratchasima saw the most damage with about 300 houses needing repairs. Surin province followed in seeing the most damages. The Thailand Meteorological Department says summer storms will continue up north until mid-week.
Last week, a summer storm hit the northern Thailand's Phitsanulok province, causing serious damage in the town and surrounding areas. Houses, shops, and a petrol station were damaged. Area officials say some houses were completely demolished in the storm. Trees toppled the Phitsanulok-Nakhon Thai highway, where traffic was blocked in several areas.
District chief, Nisit Sawasdithep, told Chiang Rai Times that he ordered disaster mitigation authorities to examine the damage so that assistance and relief goods could be rapidly provided for those who were affected the most by the summer storm.
Also in northern Thailand, farmland and forests blaze with abundance (the annual burning season usually lasts from January to April, before the wet season kicks in). Despite increasing cautions against air pollution affecting short and long-term health of residents, the fires don't show signs of stopping. The government has even issued a no burning ban, but enforcing the ban has proved to be fruitless as such provinces in northern Thailand consist of vast forest lands.
The government helicopter team can only do so much as they set out to locate hotspots and attempt to extinguish them by dropping buckets of water. But crop burning appears to be the cheapest and fastest way to help farmers clear their lands for a new growing season.
Recently, Thailand's northern province of Chiang Mai has ranked the 3rd most polluted city in the world, according to AirVisual, which gives live updates of rankings. Today, Chiang Mai doesn't appear in the list of the top 10 most air-polluted cities in the world, according to iqair.com
SOURCE: Chiang Rai Times
📱 Download our app on Android or iOS for instant updates on your mobile
📧 Subscribe to our daily email newsletter
👍 Like/Follow us on Facebook
🔔 Subscribe to or Join our YouTube channel for daily video updates
Heavy storms to hit many parts of Thailand between today and Tuesday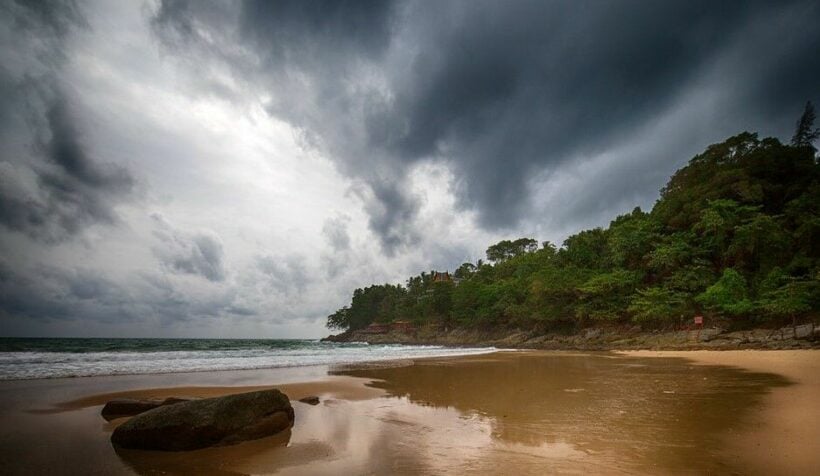 The Thai Meteorological Department is warning of sudden summer storms, bringing strong gusts and possibly even hail, across many parts of the country. Yep, looks like the wet season has arrive d abut early in parts of Thailand this year. The TMD says the north-east, east, north, central, and upper south of the country will be affected from today until Tuesday. Officials say they fear the damage in many areas "could be extensive".
According to a Bangkok Post report, the stormy weather is the result of a high-pressure system from China, that is currently moving over Thailand and the South China Sea. The TMD expects it to move into the north-east and east of the country today, followed by the north and centre, including Bangkok, eventually making its way down to the upper south of the country.
People are asked to exercise caution, by avoiding potential hazards such as large trees and advertising hoardings. Farmers are advised to implement measures to protect their crops. In the south, officials are warning of heavy rain and strong winds. Waves of 2–3 metres are expected in the Andaman Sea, even higher during thunderstorms. The TMD says shipping in the region should proceed with caution and that small boats should not venture out to sea.
Meanwhile, firefighters in the north of the country have been battling a number of bush fires, which have worsened the already unsafe air quality. The Royal Thai Army says fire fighters and volunteers spent 5 hours yesterday battling a bush fire at Chiang Mai's Doi Suthep-Pui National Park. The Bangkok Post reports that 120 rai of forest was destroyed in the blaze.
Another 100 army officers teamed up with national park staff and village volunteers to fight a bush fire that had been raging in the park since Thursday. Officials say 90% of the blaze had been brought under control by late yesterday, but the air quality in the region is significantly worse as a result of the fire. 156 micrograms of PM2.5 were recorded near Chiang Mai university on Friday, far exceeding the 50 classified as safe.
SOURCE: Bangkok Post
📱 Download our app on Android or iOS for instant updates on your mobile
📧 Subscribe to our daily email newsletter
👍 Like/Follow us on Facebook
🔔 Subscribe to or Join our YouTube channel for daily video updates
Pattaya water drainage system construction completed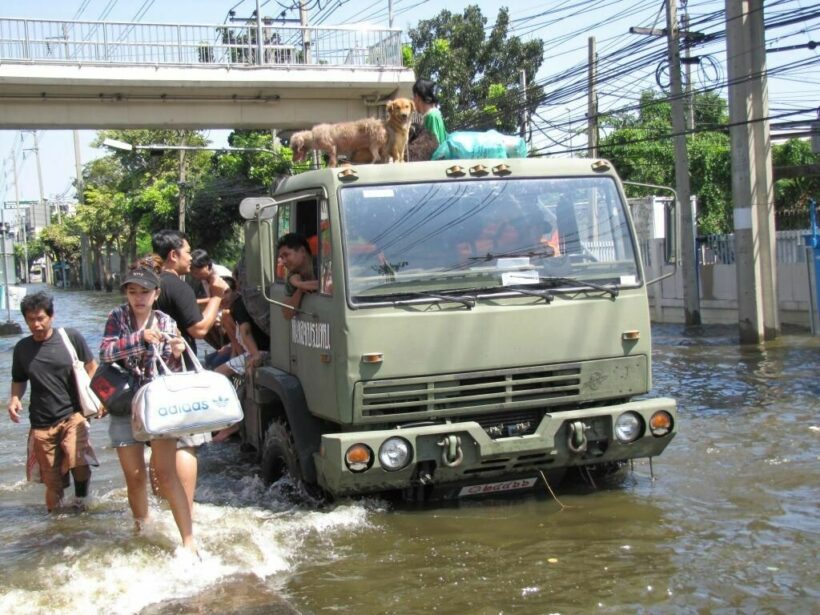 A major water drainage system construction project in Jomtien has been completed on schedule according to Pattaya City officials. The construction was needed to resolve frequent problems in the area with flooding by adding more water drainage pipes to the ocean while also widening the pipes already in place in the area. The project covered a lower area in town, from Rompho Market to the Dongtan curve on Jomtien Beach, which is easily flooded by heavy rains because the surrounding streets are higher.
The construction was declared officially finished yesterday by Pattaya City officials. All that remains is to repaint street markings and lane lines, which is scheduled in the near future. The project was expected to take 180 days and ground was broken on November 16. There were concerns the project would be delayed or slowed because of the Covid-19 pandemic, but the project was completed on schedule in less than the time predicted.
Flooding has been a major problem in Pattaya for years, with some roads under up to 80 cm of rainwater last October, and a 2-hour rainstorm caused flash floods that brought the area to a standstill last July. The increased drainage will hopefully help move water off the city streets and back into the ocean more quickly, bringing water levels down and minimizing heavy rain's impact on Pattaya residents.
Ten projects were tackled to deal with flooding issues around Pattaya and are expected to be finished by April 4, with a total cost of 280 million baht. New construction projects to lay underground cables amongst other building are scheduled to get underway in the near future but have drawn some criticism over being undertaken in quick succession.
The water drainage system just completed previously received criticism also from business owners and local residents, concerned that the construction would negatively affect their businesses and lives during a time when the pandemic had already destroyed much of the economy.
SOURCE: The Pattaya News
📱 Download our app on Android or iOS for instant updates on your mobile
📧 Subscribe to our daily email newsletter
👍 Like/Follow us on Facebook
🔔 Subscribe to or Join our YouTube channel for daily video updates