Thailand's high speed rail future "not the right fit"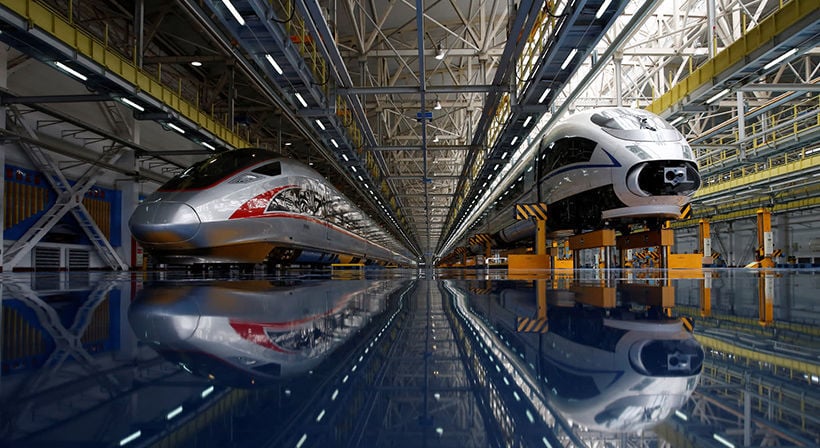 After years of delays, negotiations and more negotiations, bullet trains (high-speed trans) are coming to Thailand. But with one project underway, another already approved and others being considered, many speculate if high speed rail is the right fit for the Kingdom.
Critics say the existing contracts with the Chinese are more about a political jibe at the US over its criticism following the 2014 coup, than actually meeting any transport needs for such a rail service.
But Thai shipping magnate Thanet Sorat says that the high speed train network will be a game changer for Thailand. Thanet is an adviser to Thailand's Senate Committee on Transportation, and president of the Thai Authorised Customs Brokers Association. He wants to see the trains, with top speeds 250 kph "pin-balling" around the country within four years. He may be over-optimistic.
The current projects will use Chinese HSR (high speed rail) technology. Even though Thailand has declined Chinese loans to pay for the high speed trains, the projects are considered a part of the broader Chinese Belt and Road Initiative, a massive 'foreign policy' plan to connect China to the rest of Asia through transport infrastructure.
The Chinese government have been spending up big on massive these projects throughout the pan-Asian continent for the past decade. (Meanwhile Britain spends four years figuring out how to leave the EU and the US President is hell-bent on building walls along the US southern border)
A massive new rail hub is being constructed in Bang Sue which will replace the 103 year old Hualamphong Station in Bangkok. The new station in the city's northern suburbs will serve the new high-speed network as well as the existing rail services, which are currently being upgraded from single to dual track around the country.
Just last month Thailand's CP Group signed a contract with State Railway of Thailand for the construction of a new high speed rail link joining Suvarnabhumi and Don Mueang airports in greater Bangkok, to Chachoengsao, Chonburi, Sriracha and Pattaya in the east, as well as the U-Tapao airport, serving Pattaya and the Eastern Economic Corridor. This is expected to be operational by 2024.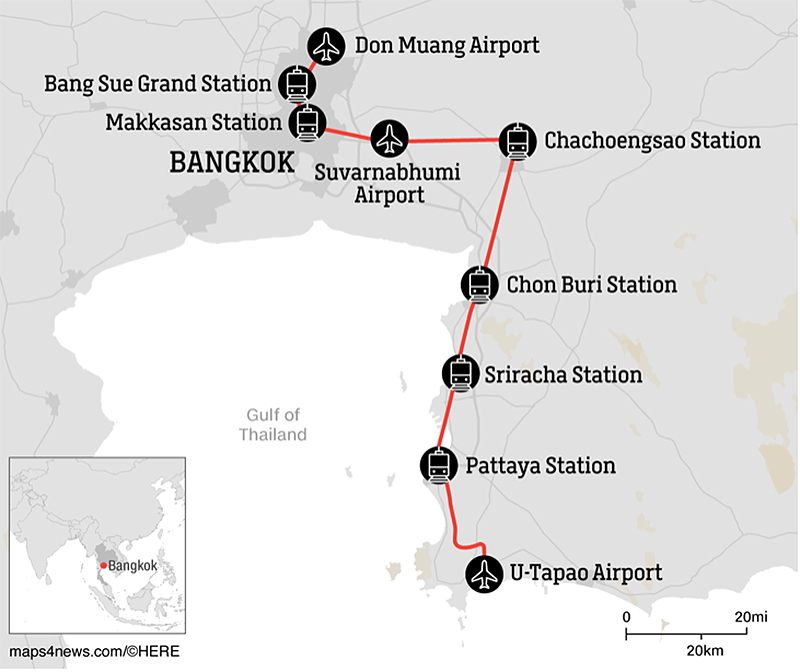 GRAPHIC: CNN Travel
In the medium to long-term the government is also planning to move around 10% of the flights from Suvarnabhumi to an upgraded U-Tapao, taking some of the pressure off the over-capacity BKK airport.
Khun Thanet says the goal is to provide easy access to the Eastern Economic Corridor, a zone that constitutes 80% of total foreign investment in Thailand. The EEC project is the Thai government's flagship economic project.
The three-airport/EEC high speed rail links are also expected to take some of the pressure of the highways and will reduce current travel times by more than half.
But some critics wonder if the expensive high-speed solution, using Chinese technology, is the right fit for Thailand. They argue that a traditional dual track extension of the existing network, serving the eastern area of Bangkok, would suffice. Currently the only way to head east from Suvarnabhumi is by jumping in a taxi or passenger van for the nearly two hour ride to Pattaya.
They point out that some 3,000 houses will also have to be demolished for the new high-speed lines with the government still embroiled in court cases over forced land appropriations.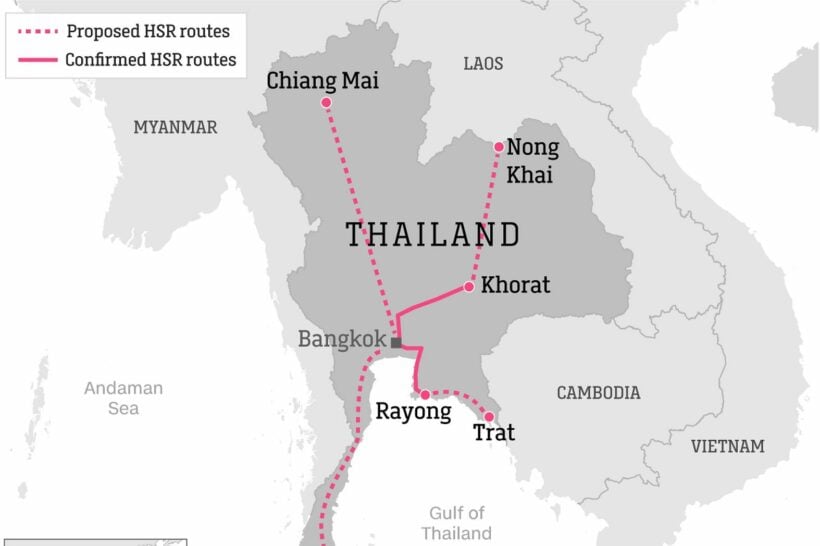 GRAPHIC: CNN Travel
The other project already underway is the Bangkok to Nakhon Ratchasima high-speed rail line. This line will link Bangkok with Don Mueang and Ayutthaya, and then north east to Korat. Eventually this line, expected to be completed in 2023, will be extended to the Laos border at Nong Khai, linking with another high-speed rail service currently under construction in Laos which will run through to Kunming in China.
But critics argue that this grand project, given the green light by the NCPO military government in 2017, is a route to 'nowhere in particular' because, they claim, Thailand's north-east is not generally on the tourist map, or certainly not as popular as the other hot-spots, and that local Thais won't be able to afford a ticket.
They also say the military government's projections at the time just don't add up, reckoning the proposed passenger traffic falls 90% below the numbers needed to repay the investors over 20 years. They claim the decision was made as a concession to China in a broader foreign policy 'tiff' with the US, who were heavily critical of the Thai military coup in 2014.
Government-sponsored travel around Thailand has been a loss-maker for years. Both the State Rail Authority and the government-run bus services have long operated at financial losses as passenger numbers dwindle each year (as Thais buy more cars and road networks improve).
Then there's the rising losses, over a decade, for Thai Airways. Budget carriers like Air Asia, Lion Air, Vietjet and Nok Air compete with fares from Bangkok to more than 20 other Thai cities for as little as US$20. Thai Airways and its shorter-haul subsidiary, Thai Smile, have struggled to compete.
The high speed rail fares will be higher and the commercial airlines will surely compete to keep their market share. The bullet train from Bangkok to U-Tapao is projected to cost 330 baht and Bangkok to Korat 500 baht.
In the future, Khun Thanet sees Thailand as a central hub in Southeast Asia linked by high speed rail. He also suggests that "20 years into the future, we should be able to produce high-speed trains ourselves and not only buy them from China or Japan."
Currently the Thai government is also considering more high speed lines running north from Bangkok, through central Thailand to Chiang Mai, south from Bangkok through Petchaburi, Hua Hin, Surat Thani to Hat Yai, and extending further east from Pattaya, through Rayong to Chanthaburi and Trat on the Cambodian border.
SOURCE: CNN Travel
📱 Download our app on Android or iOS for instant updates on your mobile
📧 Subscribe to our daily email newsletter
👍 Like/Follow us on Facebook
🔔 Subscribe to or Join our YouTube channel for daily video updates
Brake system failure blamed for fatal incident in Khon Kaen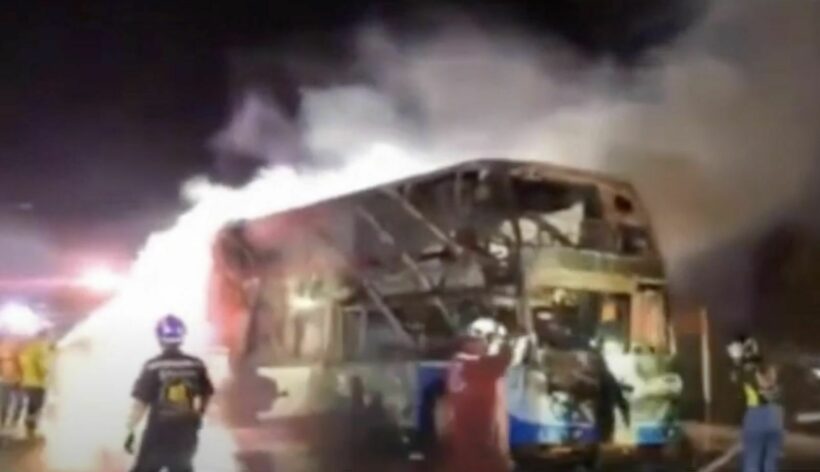 Checking your brakes regularly is something that could save you from a fatal accident, yet a lack of routine maintenance seems popular when it comes to accidents. The latest victims from a brake system failure, include 5 fatalities and 12 injuries after a bus in northeastern Thailand's Khon Kaen province crashed.
The horrible accident happened last Tuesday at about 12:30am on Mitraphap Highway near Nong Kham in tambon Non Sombun. A double-decker bus headed towards Bangkok, erupted in flames with survivors saying a back tyre burst and caught fire. The, the fire spread to the engine area which then saw the bus burst into flames.
A Department of Land Transport accident investigation report says the brake system failed, overheated and caused the tyre to explode. Hot rubber pieces then landed on the valve of an NGV cylinder causing a gas leak.
The bus' driver, 48 year old Patsadee Kham-on, is being charged with reckless driving causing death and injuries, for assumingly not checking the vehicle's brakes before setting off. The Khon Kaen governor says the provincial land transport office has also fined the bus owner, 407 Pattana Tou Co, for using a sub-standard bus.
In November of last year, a cement truck driver in Banglamung, blamed faulty brakes for not being able to stop the truck, resulting in it running off the road and flipping. The 61 year old driver, luckily, made it out with only minor injuries. Sadly, this type of accident is quite common and likely will grace the news again, if routine maintenance is ignored.
According to directasia.co.th website, "Checking your brakes at least every year will give you advanced warning on brake pad breakdown. Putting off the less costly pad change can lead to much more expensive brake rotor repairs and even failure when driving. A major component in the Thai driving test is gauging how quickly you can slam on your brakes….for good reason."
Thailand conducts routine checks on public transportation vehicles, with the news usually not being up to par with what one would expect when paying to be transported. The Department of Land Transport just 2 years ago, in one of its annual checks, revealed 1 in 7 public transport vehicles failed the inspection checks.
SOURCE: Bangkok Post
📱 Download our app on Android or iOS for instant updates on your mobile
📧 Subscribe to our daily email newsletter
👍 Like/Follow us on Facebook
🔔 Subscribe to or Join our YouTube channel for daily video updates
Footbridges stop luxury yacht travelling from Phuket to Samui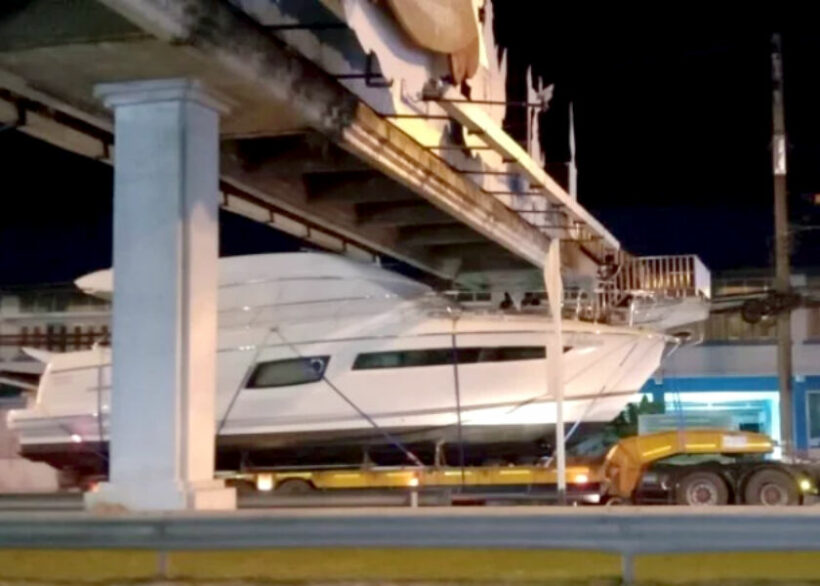 Footbridges in Phuket stood in the way of a luxury yacht travelling from its home in Phuket to Koh Samui when the boat was too tall to pass. Police received a call around 8 pm last night from the truck driver after his trailer carrying the yacht had trouble getting under one of several bridges for walkers to pass over the highway. The boat was travelling down Thepkrasattri Road, where it was stopped by the bridge near Baan Tha Reua School. The boat also had trouble at the pedestrian bridge at the Provincial Electricity Authority Thalang Branch and the bridge at Baan Lipon School in Srisoonthorn.
All the bridges were supposed to have a 5-metre clearance, though one observer speculated that all the repaving of the road over the years may have raised the road and lowered the clearance. Traffic police responded to the first bridge incident by sending officers to direct traffic and make sure bikes and cars didn't pass and impeded progress on freeing the boat. The second incident about 30 minutes later was resolved by letting air out of the truck's tires to lower it just enough to pass under the bridge. The third snag prompted the driver to go in person to the Thalang Police station to request help yet again.
This time police were less amused and suggested the truck driver try to resolve the issue himself and call back to the police only if he was unable to free the luxury yacht. A traffic police officer went to follow up with the stranded boat at the end of his shift and found the driver had given up and decided to return the yacht to its Phuket origin at Boat Lagoon Marina in Koh Kaew. The boat, now damaged from the bridge bumps, wasn't going to make it to Surat Thani to be sailed to Koh Samui on this journey. The boat radar had broken off on one of the bridges. No word on any major damage to the pedestrian bridges.
SOURCE: The Phuket News
📱 Download our app on Android or iOS for instant updates on your mobile
📧 Subscribe to our daily email newsletter
👍 Like/Follow us on Facebook
🔔 Subscribe to or Join our YouTube channel for daily video updates
Thailand provinces currently imposing travel restrictions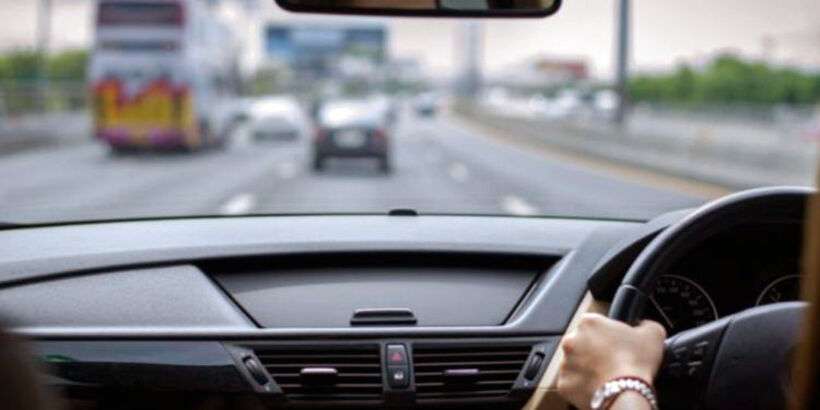 Here's a list of Thai provinces current imposing restrictions on entry, by road or air, as you travel at this time. Today is the last day of the Songkran holiday, so there will be a return home for many people although it's expected that many have also taken the Friday off to merge the Songkran break with the weekend. So there will be a big movement of people on Sunday.
The government is meeting today to examine additional restrictions and possible partial lockdowns, especially in Bangkok and the immediate surrounding provinces.
Some provinces are insisting on negative Covid tests, others are providing an option for voluntary 14 day quarantine (which is not very practical if people are returning home for 2-3 days). The restrictions vary in most of the provinces. Do your homework as the situation is extremely fluid at the moment.
Both the island (province) of Phuket and Pattaya (Chon Buri) are notably absent in this list.
NORTH
Chiang Mai
Kamphaeng Phet
Lampang
Lamphun
Nan
Phayao
Phetchabun
Phichit
Phitsanulok
Phrae
Tak
Uttaradit
NORTHEAST
Amnat Charoen
Bung Kan
Buri Ram
Chaiyaphum
Khon Kaen
Maha Sarakham
Mukdahan
Nakhon Phanom
Nakhon Ratchasima
Nong Bua Lam Phu
Nong Khai
Sakon Nakhon
Ubon Ratchathani
Udon Thani
Yasothon
CENTRAL AND EAST
Chai Nat
Lop Buri
Nakhon Sawan
Sa Kaeo
Saraburi
Sing Buri
Uthai Thani
SOUTH
Chumphon
Narathiwat
Pattani
Phangnga
Ranong
Satun
Songkhla
Trang
📱 Download our app on Android or iOS for instant updates on your mobile
📧 Subscribe to our daily email newsletter
👍 Like/Follow us on Facebook
🔔 Subscribe to or Join our YouTube channel for daily video updates