Thai Airways offers One Pass One Price Value Card
In a first of what will surely be a prolonged period of promotions, Thai Airways is offering a One Pass One Price Value Card Package which will cover four economy class fares from Bangkok to some destinations in Cambodia, Laos, Vietnam and Myanmar.
Tickets start at 8,060 baht and are valid for trips from Bangkok to Phnom Penh, Siem Reap, Vientiane, Luang Prabang, Mandalay, Ho Chi Minh, and Hanoi from November 11 to December 10, 2019.
The One Pass One Price Value Card Package for four economy class one-way tickets can be used to fly with Thai Airways and Thai Smile. Passengers may choose to fly to any of the designated destinations from Bangkok in the Mekong Region with travel valid until 31 May 2020.
Outbound flights from Bangkok (one way, four tickets) to any four cities such as Phnom Penh, Siem Reap, Vientiane, Luang Prabang, Mandalay, Ho Chi Minh and Hanoi sell for 8,060 baht per package.
Inbound flights to Bangkok (one way, four tickets) from Phnom Penh, Siem Reap, Vientiane, Luang Prabang, Mandalay, Ho Chi Minh, Hanoi sell for US$260 per pass.
Taxes and surcharges fee are included in the prices above (taxes and fees may vary based on the current exchange rate on the date of ticket issue).
A limited amount of promotional fares are available for each flight, whereby terms and conditions are applicable. Passengers may receive miles based on to Royal Orchid Plus (ROP) conditions. Some of the flights are on the budget airline Thai Smile.
One Pass One Price Value Card Package is available at Thai Airways Sales Offices at Thais's Headquarters, Larn Luang branch, as well as in Cambodia, Laos, Myanmar and Vietnam. Passengers may visit thaiairways.com for flight schedule information, reservations, and ticketing using the value card pin and password or call the Thai Airways Contact Center at (+66)-2356-1111.
SOURCE: www.thaiairways.com
Keep in contact with The Thaiger by following our
Facebook page
.


Looking to jettison some items before jetsetting away or chartering a yacht? Look no further than Thaiger Classifieds where you can find and post items, work, property and more for free. Be sure to check out YonderTours for things to do in Thailand and tours across the country.

Plant-based meat alternatives gain popularity in a fertile Asian market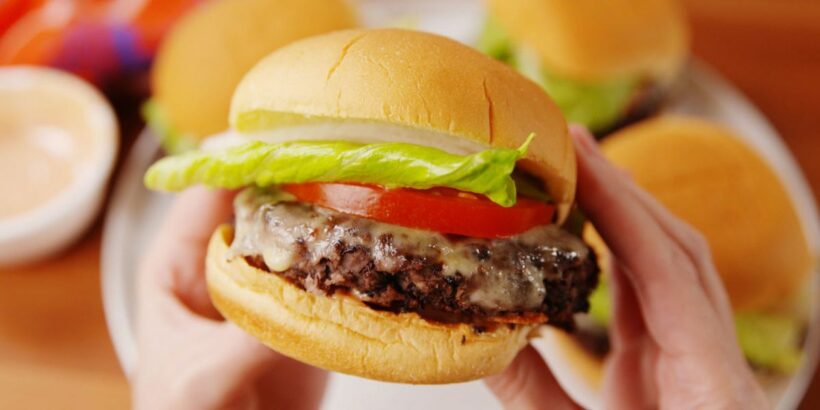 PHOTO: delish.com
Being a vegetarian, or vegan, in the land of smiles is a challenge. There are some excellent vegetarian options opening up, particularly in the tourist zones of Thailand. But outside of that you're struggling to find dedicated vegetarian options and just have to ask for your favourite Thai food, but without the meat.
But Asia, particularly south east Asia, is coming to the attention of the western alternative meat market. Because they're starting to make really interesting, and tasty, meat alternatives and they want to get a slice of the Asian market too.
In one of the largest meat-eating regions in the world (Asia), where nearly 50% of the world's meat products are consumed, it's a fertile market indeed for the growing number of vegans, vegetarians and flexitarians (people who eat a mostly non-meat diet but occasionally may have some meat as well).
The producers of the alternative meat products are now looking to take a bite out of the Asian market.
Impossible Foods, a developer of plant-based substitutes for meat products, has set its eyes on the meat market in Asia. The American firm, famous for its meatless-burgers, intends to make the region a key focus due to its huge meat consumption. The almost tasteless and inedible vegetarian 'patties' of a decade ago are now rich in flavour and gaining a large following as a viable and tasty alternative.
Asia accounts for over 46% of the world's meat intake according to the Agricultural Outlook 2019-2028 by Organisation for Economic Co-operation and Development and the Food and Agriculture Organisation.
And analysts at investment bank Barclays, predict that the alternative meat market is expected to hit US$140 billion within the next ten years.
Since April 2018, Impossible Foods has already featured its plant-based meat and dairy products in some of Hong Kong's beloved restaurants such as Little Bao, Happy Paradise, and Beef & Liberty. But they're not the only alternative meat brand eager to supply its products to the Asian market. Rival brands such as Quorn in the UK) and Beyond Meat from US, have been supplying meat alternatives in the region since 2015.
Quorn's meat free products are readily available in Singapore through FairPrice Online and RedMart, while Beyond Meat's alternative meat products are sold at NTUC Fairprice Finest and Little Farms outlets in the country. In Asia, supermarket brands like Villa Mart are carrying more alternative meat products, and they are featured often in vegetarian restaurants and starting to appear in menus of mainstream restaurants as well.
How mainstream? Even Michelin have provided a recent guide to some of the best meant-alternatives around at the moment.
As more Asians continue to adopt a vegan and flexitarian diet, the growing demand for plant-based meat alternatives is expected to steadily increase in the coming years.
NB. I'll admit to being vegetarian, part-time flexitarian, eater and happy to promote more plant-based alternatives for our diets. If you know of, or can identify, some good vegetarian restaurants or sources for meat-alternative products, we'll gather your intel and make an article to help people find vegetarian options. Send you email market 'VEGETARIAN' HERE. T
Keep in contact with The Thaiger by following our
Facebook page
.
Surat Thani fisherman missing after falling off boat last night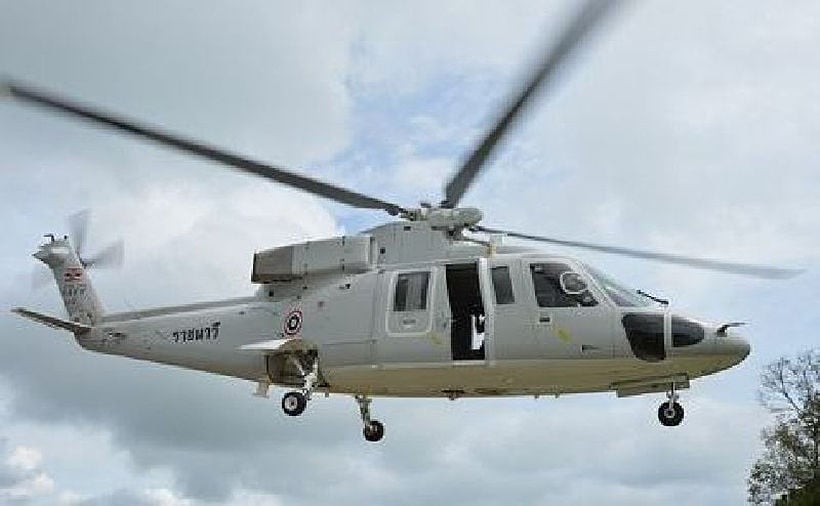 FILE PHOTO: Khaosod English
Police and rescue crews are still searching for a fisherman missing since last night.
Today's search off Koh Samui involves ships and aircraft of the 2nd Naval Area. The search was launched as soon as police were alerted about a fishing boat crew member who fell into the sea off the island late last night.
At this stage it is understood that around 10.20pm 35 year old Supinyo Chanprasong went to the stern of the fishing boat of the vessel and was not seen again. The fishing boat, Sor Choksappaisal, was near the the Ang Thong archipelago at the time, north west of Koh Samui.
Other crew told police that the conditions were calm but Supinyo wasn't wearing a life jacket. He is a resident of nearby Don Sak on the mainland. Supinyo was one of five crewmen on the fishing boat.
Surat Thani Governor Wichwut Jinto ordered officials of the Samui marine police to urgently coordinate with the local Naval Area command and contact fishing boats in the area to help with the search.
The commander of the 2nd Naval Area ordered naval vessels and aircraft to join the search.
SOURCE: Bangkok Post
Keep in contact with The Thaiger by following our
Facebook page
.
Three men abandon van packed with drugs in Bangkok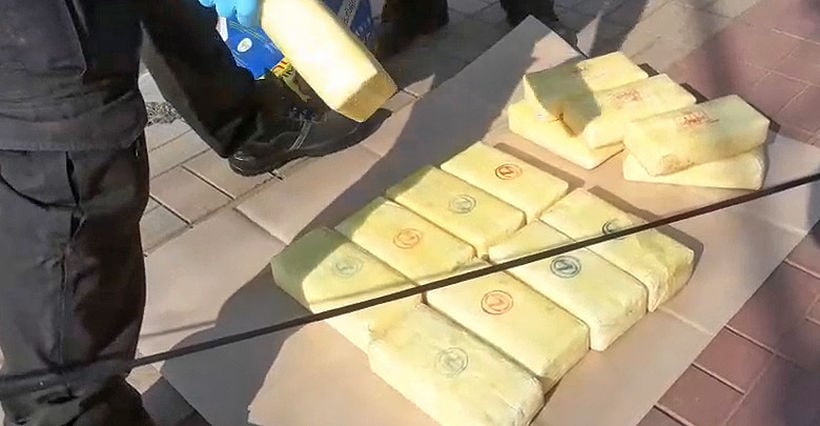 PHOTOS: INN News
Three men have abandoned a luxury passenger van in the Bang Khun Thian area of Bangkok. It was packed full of methamphetamine pills.
Police Officers from the Sam Dum Police Station discovered 100 packs of methamphetamine 'Yaba' pills, totalling 200,000, placed inside a large bag. The suspects fled the scene choosing to give up the drugs and avoid the police. Patrol police from the Tha Kam Police Station suspected the people in the vehicle who were acting suspiciously.
There were 2 main points where drugs were located.
Firstly, police discovered a sack with a distinctive bird logo. Inside were 20 packs of methamphetamine totalling around 40,000 pills.
At the second location officials found a Hyundai H-1 van with a Bangkok number plate parked in front of a cafe. The car keys and a mobile phone were left on the dashboard. In the rear of the vehicle was a large blue sack with 80 packs containing 160,000 pills. To top it off was 2 litre PET bottles filled with boiled Kratom leaves.
Patrol official first located 2 men carrying the first sack with the bird logo by the road. They got scared, jumped into the van and drove away. The van was then found later abandoned in front of the cafe.
Police checked and identified the vehicle was registered to 33 year old Adisorn from Samut Songkhram Province, west of Bangkok, with no criminal record. Adisorn has changed his name and was currently using the name Nattapat.
Police are currently trying to locate the three men for further questioning.
SOURCE: INN News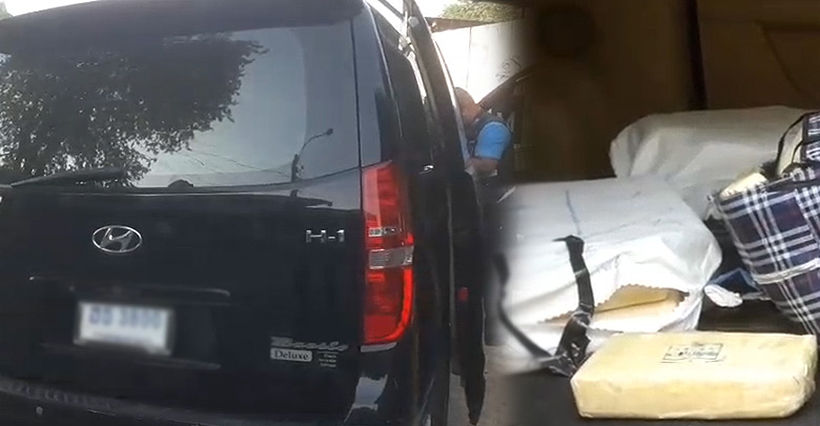 Keep in contact with The Thaiger by following our
Facebook page
.