Thai PM acts on illegal and unlicensed hotels and accommodation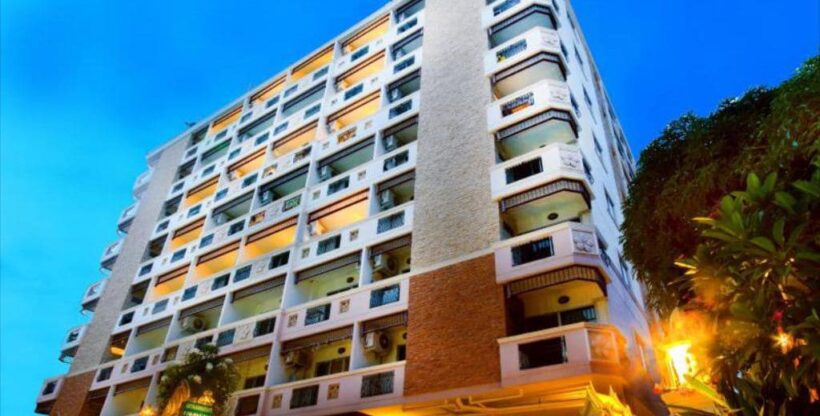 Owners of shop-houses, rented properties, even entire floors of condos – running them as defacto hotels – are about to get the Article 44 treatment.
The PM, acting in his capacity as the head of the NCPO (in the days before it is dissolved), says he will bring an estimated 20,000 illegal hotels and accommodations around the country under control so they run under the same rules as licensed hotels and to boost safety for paying guests.
The order cited a number of safety rules, like properly installed and operating fire extinguishers, required under the Hotel Act but usually missing in unlicensed premises, posing safety concerns for people that stay at unlicensed hotels.
He said they've been flaunting loopholes and dodging proper town planning guidelines for the past decade, taking advantage of Thailand's tourist boom but operating 'under the radar' and not paying the proper taxes or licensing their properties.
"Many people lease their buildings, houses or apartments in the same manner as hotels without permission or proper management."
He's gone further and asked hotel owners or citizens that know of illegally operated establishments to tell local officials so they can be closed down or given a chance to properly license the properties. Unlicensed or illegal premises will be given 90 days from last Wednesday when the order was announced in the Royal Gazette.
The order covered issues relating to land management and town planning restricting locations that hotels can be constructed or operated.
Thailand is flooded with illegal accommodation offerings such as rented shophouses being converted into rooms or sets of rooms or entire floors in new condos being sub-let to operate as defacto hotels – some even with full receptions to welcome guests. The hotel industry, suffering under increased competition from illegal operators, has been forced to lower room rates to unsustainable levels in recent years. Hotel associations have been lobbying the government for urgent action.


Find more property for sale and rent across Thailand at Thaiger Property, powered by FazWaz. You can even list your property for free.

Read more headlines, reports & breaking news in Thailand. Or catch up on your Thailand news.

Property developer confidence takes a dive in second quarter 2019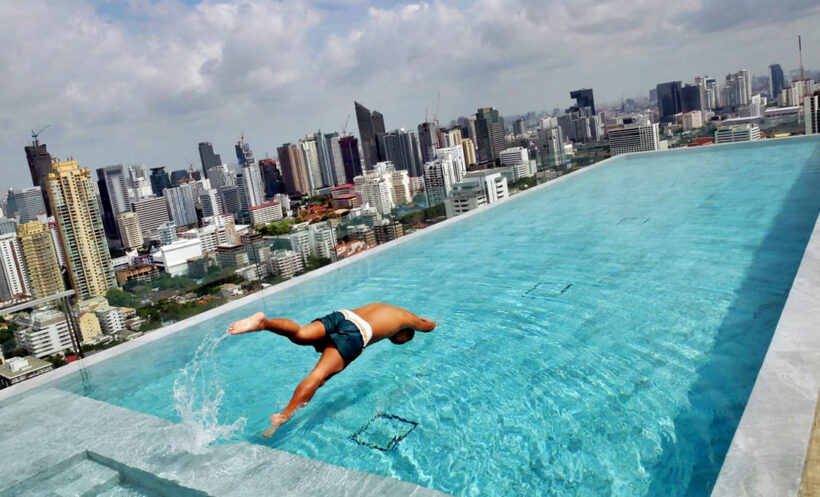 A measurement of real estate developer confidence for the Q2 2019 (April to June) has dropped to 42.2 points from 50.4 points for Q1 2019 (January to March).
Thai PBS reports that the second quarter confidence index has fallen below the 50 point median index, reflecting developers' declining confidence in the economic situation and investment in Thailand. Real estate developers are also waiting for the government's policy on real estate and housing development to be clarified.
The substantial drop in the confidence index is believed to stem largely from a decline in the confidence index of listed real estate companies, from 52.2 points in the first quarter to 41.9 in the second quarter, against a 50.0 point median level.
The confidence index of non-listed real estate companies also fell to 42.7 points in the second quarter from 47.7 points in the first quarter.
The expectation index of real estate situation in the next six months registered at 58.0 points for the second quarter this year compared to 58.4 points for the first quarter. This shows that the developers are optimistic that the economic situation will pick up after the formation of the new government.
The expectation index of non-listed companies was registered at 53.1 points for the second quarter, compared to 56.1 points for the first quarter, reflecting that the real estate developers are optimistic that real estate situation in the next six months will improve.
Some more property and real estate date from CEIC Data HERE.
Original Source HERE.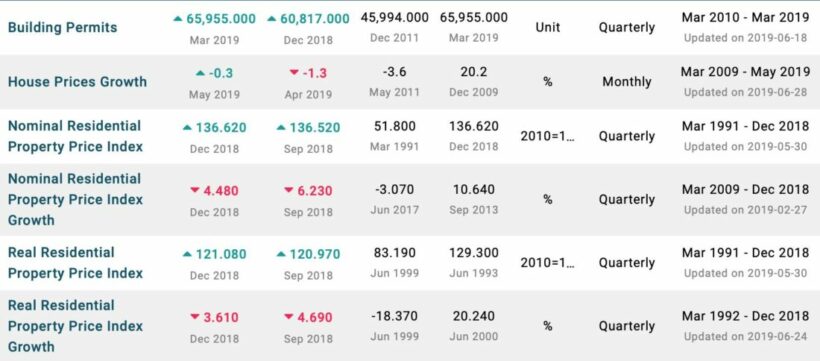 A drop in demand leaves Bangkok with a glut of completed new condos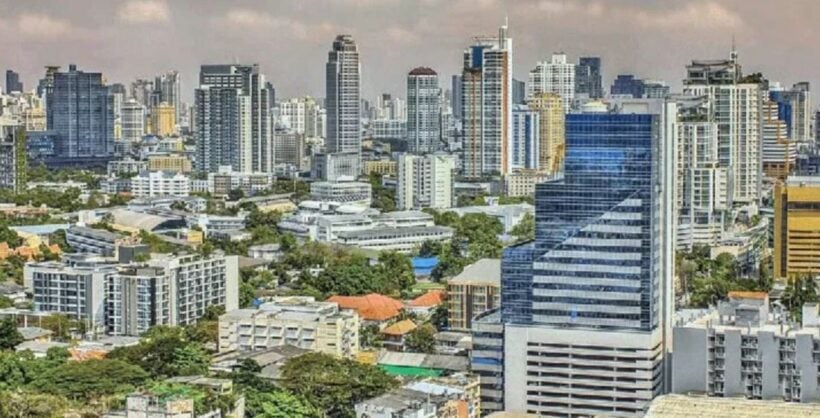 A parliament of owls? A murder of crows? A flock of geese? But what's the collective noun for a lot of available new condo developments in Bangkok? A glut of Condos?
As Thailand's economy is hit by the double whammy of fallout from US-China trade wars and lingering political instability, stricter mortgage-lending rules are also kicking in creating a buyer's market in the capital.
Some basic statistics… 65,000 new apartments became available last year. That's 11% more than 2017 and the most since 2009. But a Knight Frank reports indicates that demand is down and asking prices have decreased 6% year-on-year. Rental prices have also softened as recent investors remain keen to find tenants.
Aliwassa Pathnadabutr, a managing director of CBRE Group in Thailand, says that it's a great time to get into the BKK market with prices down a bit and the selection better than ever.
"The overall condominium market will be slower this year but there are still opportunities in some locations with the right product at the right price. We believe the market is entering an equilibrium stage where prices will be adjusted to a more realistic level."
Revised mortgage-lending rules that came into effect from April 1 are also dampening enthusiasm for property because lenders will now restrict the amount of money some buyers can borrow.
Meanwhile Brennan Campbell from FazWaz.com says the biggest developers are wanting to cash in their stock so they move on to the next projects.
"Some of the country's largest developers are holding a huge inventory of completed or soon-to-be completed stock where they have seen demand soften through the first two quarters of 2019. The motivation to sell these units is growing as this capital is required to fund future projects. The result? A supply of incredible units in some of the best areas of Bangkok where buyers can be more creative in their negotiation strategies in order to secure the best overall value."
Part of the softening in sales may also be linked to a drop in Chinese visitors to the capital. Whilst not a huge drop it is measurable considering that Chinese investors have historically been the principal foreign property buyers in Thailand. The lack of Chinese visitors is mostly a domestic problem with China's economy softening as the US-China trade war bites.
CBRE reported recently that Thailand's real estate market had a high reliance on foreigners.
"Most of the recent foreign buyers are investors and CBRE doubts they will live in the units they have bought. Foreign sales are highly sensitive to economic conditions of the buyer's home country."
Sopon Pornchokchai, president of the Agency for Real Estate Affairs, reports that a total of 454,814 residential units across the country were unsold in 2018.
To find Thailand's largest selection of condos and property go HERE.
Luxury condos change the face of Sathorn Road in Bangkok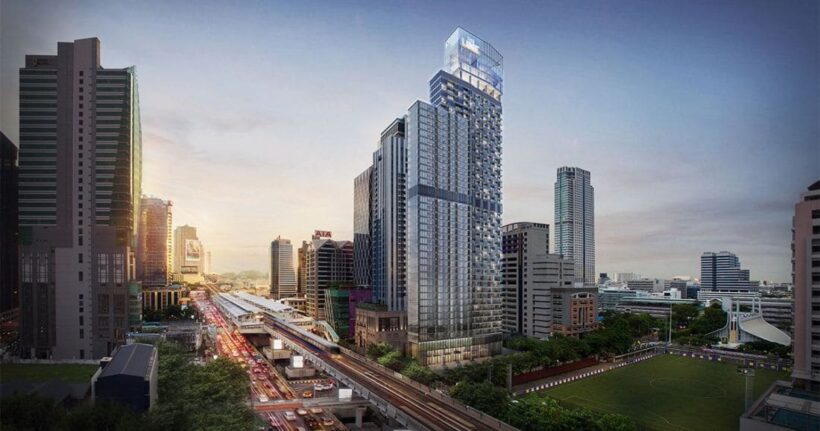 by Somluck Srimalee, The Nation
From Sathorn junction to Taksin Bridge, the riverside section of Sathorn Road has been transformed from a strip of shophouses to luxury residential condos in a gentrification that added 8,000 new apartments to the area. As well, the businesses have shifted to a more modern trade to replace the traditional trades.
With the market trend, listed and non-listed property firms are parading to launch their new condominium projects in Sathorn district, the central business district of Bangkok. Launches totalling more than 31 billion baht have been made from mid-2018 through the first half of this year, according to the recent Nation survey.
Supalai Icon Sathorn, worth 20 billion baht, is the latest project launched to market by Supalai. It is priced at 175,000 baht per square metre with a starting price of 8.2 million baht per unit.
Supalai's CEO Prateep Tangmatitham said the mixed-use project would feature residential along with offices, shops and complete facilities on a 12,600 sqm plot, 56 floors high. The combined total of 780 residential will offer a functional area of approximately 150,000 sqm.
Meanwhile, other property firms are also launching their condo projects on Sathorn Road.
To find all the latest Bangkok condos for sale, and compare prices, go HERE.
For example, in the middle of last year Pruksa Real Estate introduced the Reserve Sathorn worth 2.59 billion baht – it has already sold out. The project offered a 280,000 baht per sqm starting price, or 13 million baht per unit. The project will be completed and transferred to customers in 2022.
Sathaporn Estate last September introduced its 1.3-billion baht Shade Sathorn condominium project at a 135,000 baht per sqm price, or 3.69 million baht per unit. The project is to be completed and transferred to its customers in 2021 or 2022.
The latest condo project is the 3.4 billion baht Anil Sathorn by Grand Unity Development. It goes for 260,000 baht per sqm, or a starting price of 11 million baht per unit.
From 2003 through 2018, a total of 8,002 condominium unite, valued at over 40 billion baht, were launched for sale on Sathorn Road. Up to 95% were successfully sold, according to research by property agency Colliers International Thailand.
Their research also found an average condominium price on Sathorn was at 250,000 baht per sqm.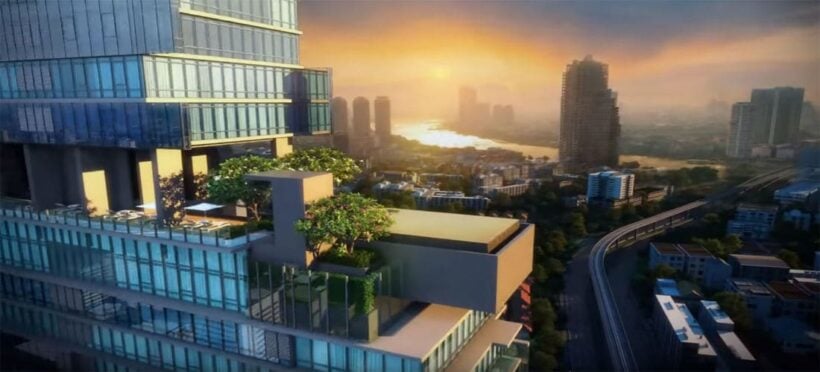 Most property firms that launched sales for over 40 billion baht worth of condos on Sathorn Road in 2018 through the first half of this year have successfully sold out, Colliers local research director Pattarachai Taweewong said.
For example, Reserve Sathorn launched mid-year and has managed to already sell out. Reflecting the demand, condominium prices also increased from the pre-booking 280,000- 300,000 baht per sqm.
Sansiri in 2017 launched the Line Sathorn worth 4 billion baht. The project combines 327 units at Bt270,000 per sqm and a starting price of 7.9 baht million. The project sold out within a day of opening up to booking. Those units now enjoy an average resale price of 285,000 baht per sqm.
Raimon Land last October introduced its 4.2 billion baht Tait 12 project on Sathorn Soi 12. At 264,000 baht per sqm, it offers a starting price 7.6 million baht per unit, and reached sales of 70% for the sales launched.
Sathorn Road is a prime location for residential property, says Pruksa Real Estate's chief executive director of premium units. Prasert Taedullayasatit pointed to the locations many lifestyle-oriented facilities, including a hospital, university, primary school, secondary school and shopping centre.
The location also boasts both MRT and BTS transit lines, giving an added boost to demand for residential projects in the area. Meanwhile, the area's limited availability of land for building residential drives up the price of land there, he said.
For 2018, land price around Sathorn Road were recorded at an average 2 million baht per square wah. Already, the price has jumped 10 per cent, while demand for residential in the location enjoys continuing strong growth, he said.
SOURCE: The Nation