SE Asia's most popular islands still 'on hold' as they wait to re-open to international tourists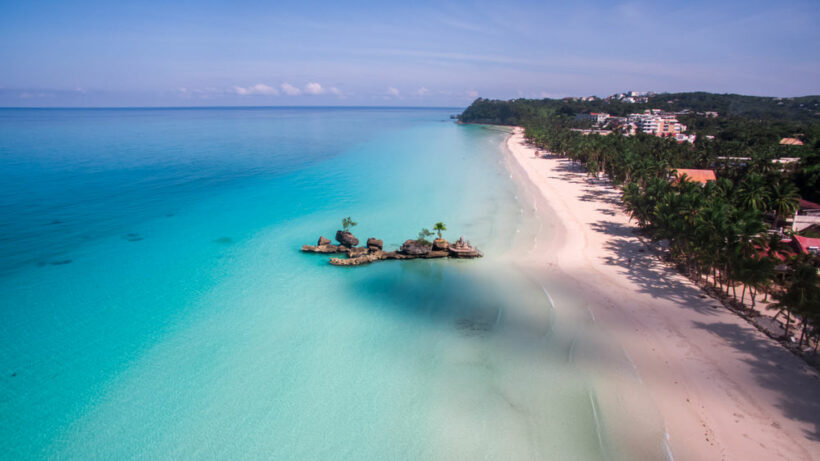 Foreign tourists may be allowed back on to Boracay's famed beaches in the Philippines as early as October. Meanwhile the Indonesian beach resort of Bali has shelved any immediate plans to re-open the island. In Thailand, the beaches of Phuket remain largely empty whilst the provincial government tries to promote the island as a "safe and sealed" destination to limited tourism, again with an intended October 1 launch.
The region's most popular beach destinations have suffered the full ravages of Covid-19 lockdowns with their tap of regular tourist flow turned off back in March.
Boracay is trying to be the first island travel bubble in the region as local authorities consider prying open the doors to foreign tourists as early as October. In April 2018, the Philippine resort island was temporarily closed to the general public as part of the government's efforts to rehabilitate and redevelop island infrastructure. As part of the closure Boracay was closed for 6 months, except to registered residents and employees. The Philippine's President famously described the island as a "cesspool" and ordered sweeping upgrades to the popular beach destination at the time.
Negotiations with South Korea are underway, and barring no further Covid spikes in either South Korea or Boracay, officials are confident the first flights could begin in October. But a spike in infections in South Korea over the last 3 days could jeopardise talks and leave negotiations with any country hanging on the vagaries of the virus.
The main requirement for potential travellers focuses on strict RT-PCR testing of all passengers before boarding flights to the Philippines. Flights will be conducted exclusively by Philippine Airlines. The national airline wold fly between Incheon and the Kalibo International Airport, closest to Boracay.
There are still a few obstacles to overcome, such as the the island's hotels being asked to offer a 75% discount off published rates for the duration of the tourist bubble program.
Boracay, renowned for its powdery white sand beach, is currently open to tourists from Western Visayas, one of the the Philippines 6 provinces, under modified general community quarantine.
In Phuket, the Thai Tourism and Sports Minister, Phiphat Ratchakitprakarn, says his ministry hopes to kick-start a "careful and limited" re-opening to international tourism to the island from October 1. Phiphat's ministry is meeting with the Public Health, Interior, Foreign and Transport ministries on August 27 to discuss the introduction of the "Safe and Sealed" campaign. The campaign aims to revive tourism from international provinces or cities considered "low-risk" for Covid-19. The program is being considered for other popular Thai tourist destinations, equally hard hit.
Further south, Bali's tourism industry may have to be content with domestic travellers until the end of the year.
Plans to open Bali to wider international tourism in October has faded as Indonesian government officials announced this week that international tourism would be postponed until much later in the year, or even the start of 2021.
Tourism and Creative Economy Minister Wishnutama Kusubandio, concurrently the Head of the Tourism and Creative Economy Agency, says that economic recovery in Indonesia's tourism sector will be upgraded to become a major government program in 2021.
The program will prioritise marketing and promotions in 5 priority Indonesian destinations – Lake Toba, Borobudur, Mandalika, Labuan Bajo and Likupang.
📱 Download our app on Android or iOS for instant updates on your mobile
📧 Subscribe to our daily email newsletter
👍 Like/Follow us on Facebook
🔔 Subscribe to or Join our YouTube channel for daily video updates
Indonesia to introduce new GeNose Covid-19 test for foreign visitors to Bali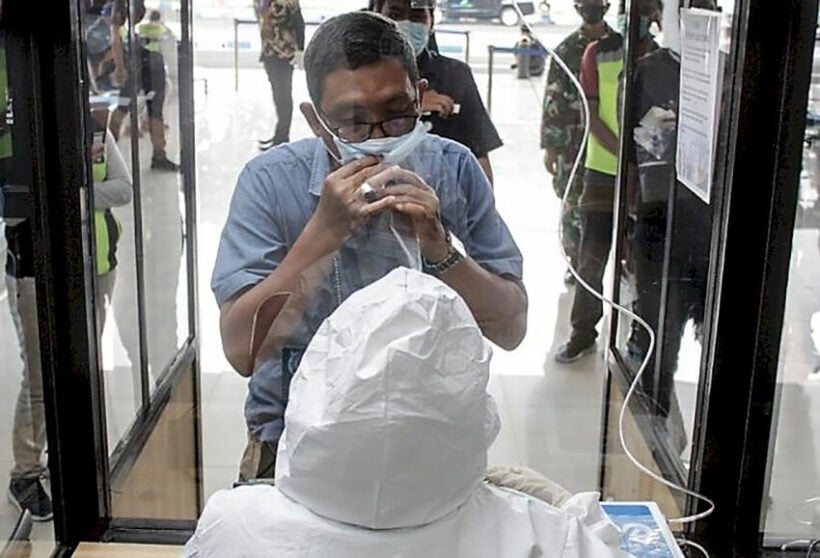 The Indonesian government says that from next month, it will allow the use of the GeNose Covid-19 detector for foreign visitors to the island of Bali. This will replace the previous requirement for a negative PCR test or antigen rapid test obtained within 2 days of arrival. From April 1, foreign visitors will be able to take the GeNose Covid-19 test either at their point of entry at the airport or harbour, or in the departure terminal before travel. They will need to obtain a negative result before they can continue their journey.
According to a report in Coconuts, the GeNose Covid-19 detector was developed at Gadjah Mada University in the city of Yogyakarta on the island of Java. The device uses artificial intelligence to detect Covid-19 through human breath. Indonesia's Health Ministry approved its use late last year.
The introduction of the device represents a significant cost-saving for travellers to Bali. Each GeNose test costs 30,000 Indonesian rupiahs (approximately 65 Thai baht). For comparison, an antigen rapid test costs 250,000 rupiah (approximately 540 baht), while a PCR test costs 900,000 rupiah (approximately 1,940 baht).
Officials say if anyone appears to be showing symptoms of Covid-19, despite a negative test result, they will not be able to continue with their journey but will have to take a PCR test and self-isolate until the results are known. Foreign visitors are also still required to complete a Health Alert Card. However, it's understood children under the age of 5 will not need to take any test. Indonesia will implement the new requirements effective April1 until further notice.
The governor of Bali recently designated 3 areas of the province to welcome foreign visitors. Ubud, Sanur, and Nusa Dua have all been labelled "green zones", as part of a Covid-free corridor, with plans to vaccinate all residents.
SOURCE: Coconuts
📱 Download our app on Android or iOS for instant updates on your mobile
📧 Subscribe to our daily email newsletter
👍 Like/Follow us on Facebook
🔔 Subscribe to or Join our YouTube channel for daily video updates
Indonesian police may have found officer missing since 2004 tsunami in mental health facility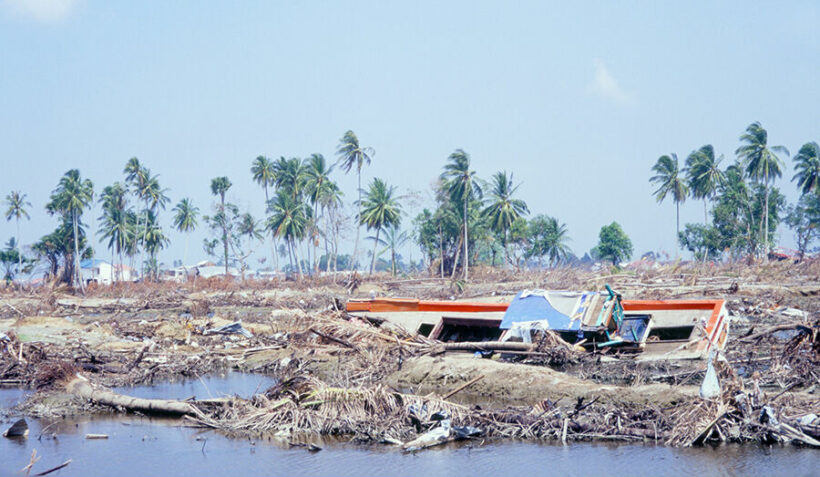 Officials in the Indonesian province of Aceh believe they may have found a police officer who has been missing since the Indian Ocean tsunami struck 16 years ago. The 2004 Boxing Day tsunami was one of the world's worst recorded natural disasters, killing around a quarter of a million people in several countries around the Indian Ocean. Aceh was the worst hit area, with around 170,000 people killed and 38,000 missing.
Now, Aceh police suspect that a patient at a mental health facility may be one of the missing. Police officer Zainal Abidin, also known as, "Asep" and originally from West Java, was stationed at Banda Aceh in 2004. He has not been seen since the tsunami struck on December 26 that year.
According to a Coconuts report, in 2009 a village chief found Asep wandering in the area. His identity could not be confirmed and villagers would not take him in, so the chief had him admitted to the mental health facility. It's not known where he spent the 5 years in between the tsunami and the chief finding him in 2009.
Reports that he could be the missing police officer began to surface on social media recently, as people compared photos of the mental health patient with a photo of the officer taken years ago. Aceh Provincial Police launched an investigation, but have not officially confirmed the man is Asep, with a spokesman saying they still need to do some final checks. It's understood the missing police officer's family will be flown in from West Java.
"We will verify with his family in West Java and his unit. We will also perform a DNA test on the patient, as well as fingerprint analysis and other identification methods."
The man's mental health condition is not known at this time, but if his identity is confirmed, his story would rank among many other miraculous tales of survival from the Boxing Day tsunami.
SOURCE: Coconuts
📱 Download our app on Android or iOS for instant updates on your mobile
📧 Subscribe to our daily email newsletter
👍 Like/Follow us on Facebook
🔔 Subscribe to or Join our YouTube channel for daily video updates
Indonesian and Thai foreign ministers meet with Myanmar counterpart, seek peace after coup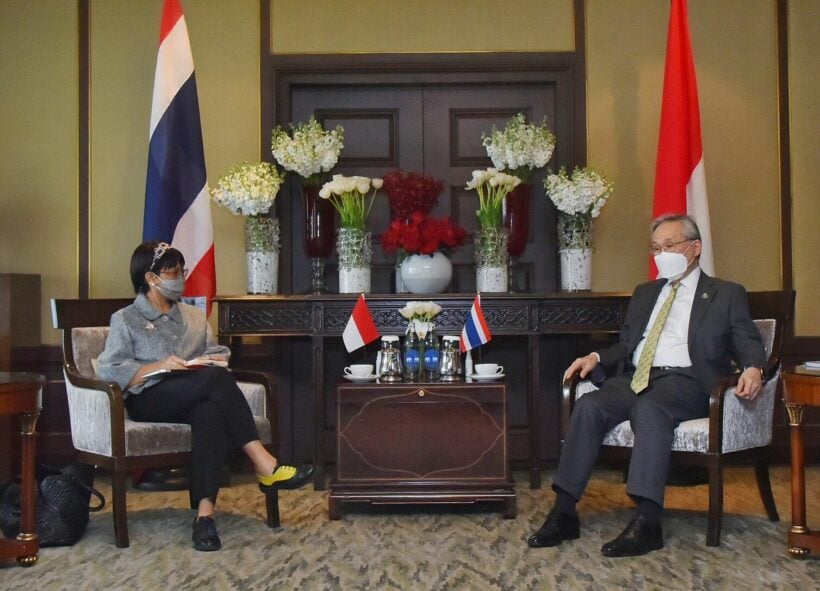 To seek a peaceful solution in Myanmar after the country's military seized power, foreign ministers of Indonesia and Thailand met with the new, military-appointed foreign minister of Myanmar Wunna Maung Lwinat at Bangkok's Don Mueang Airport for a brief, 20 minute discussion.
Both the Indonesian and Thai counterparts say they want peace, but the Indonesian foreign minister says Thailand has a "special position" to play because of its proximity to Myanmar and the number of Burmese nationals in Thailand. The Thai-Myanmar land border is 2,400 kilometres long. There are around 2 million Burmese people who live in Thailand.
With the elected civilian government pushed out and many political leaders arrested, including Aung San Suu Kyi, who won the election for state counsellor in a landslide and also served as the foreign minister, there have been daily protests in Myanmar. A strike on Monday shut a number of businesses. Burmese nationals living in Thailand have even held demonstrations in Bangkok. Some rallied outside the US Embassy in Bangkok, calling on the American government to step in.
The meeting between the 3 foreign ministers was the first overseas visit for a senior Myanmar official since the military coup on February 1. A spokesperson for the Thai Foreign Ministry, Tanee Sangrat, says the ministry insists on peace and stability in Myanmar and hopes to see the situation improve.
"It was also a good opportunity for Thailand to directly listen to Myanmar about issues that Myanmar prioritizes, as well as exchanging opinions on issues important to the people for both countries."
At a press conference in Jakarta, Indonesian Foreign Minister Retno Marsudi said she asked her Myanmar counterpart to "prioritise the safety and wellbeing" of the people. She says all 10 members of the Association of Southeast Asian Nations must respect the principles in the ASEAN Charter which outlines principles of democracy as well as protection for human rights and fundamental freedoms.
"This shuttle diplomacy is surely not easy to do during the times of pandemic, but Indonesia has to do it because there are some principles that must be respected…Indonesia chooses not to stay silent…To do nothing is not an option."
Indonesia has been pushing for a special ASEAN foreign ministerial session to discuss the Myanmar situation. Thai and Indonesian foreign ministers also discussed potentially holding an informal ASEAN meeting in August. The forum has not met in person since the Covid-19 pandemic.
SOURCE: Kyodo News
📱 Download our app on Android or iOS for instant updates on your mobile
📧 Subscribe to our daily email newsletter
👍 Like/Follow us on Facebook
🔔 Subscribe to or Join our YouTube channel for daily video updates