Popular UK website canes Mövenpick Resort in Bangtao, Phuket for its use of a baby elephant to entertain guests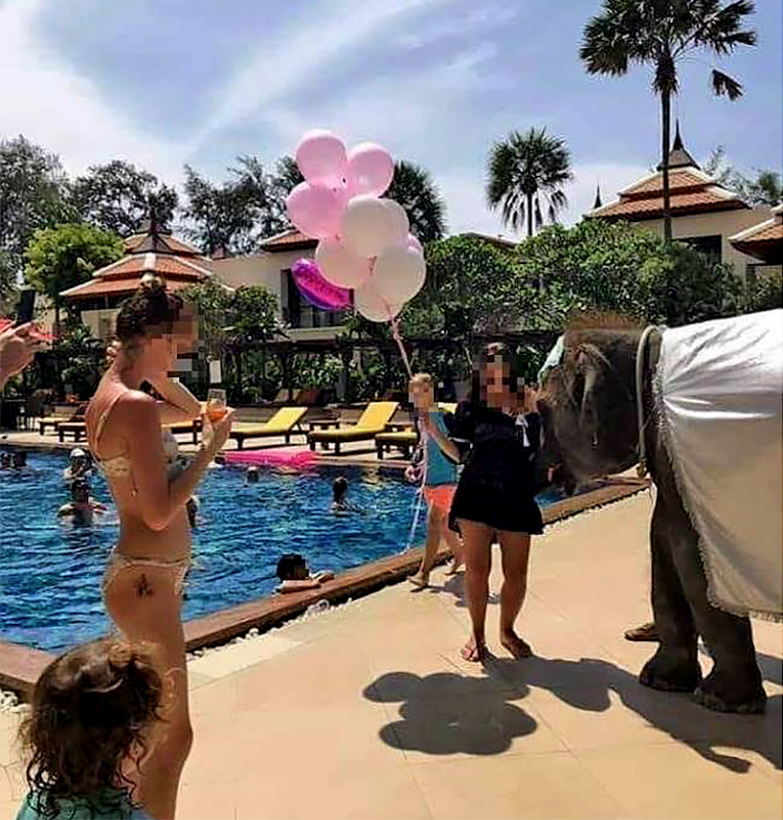 A big international social media and entertainment website based in the UK, LADbible.com, which attracts around 18-20 million clicks a month, has caned a Phuket hotel over some photos of guests interacting with a baby elephant.
The photos and story was circulated locally last week but has now been picked up by the popular website, spreading the poor publicity for the Mövenpick Resort in Bangtao to a much larger and broader international audience.
"A shocking photograph shows a baby elephant, allegedly being forced to entertain guests at a five-star resort in Thailand. In the picture, the endangered animal can be seen covered in a white sheet as it is led out to a party by the pool at the Mövenpick Resort Bangtao Beach hotel in Phuket".
(Since 1986, the Asian elephant has been listed as Endangered on the IUCN Red List, as the population has declined by at least 50 percent over the last three generations, estimated to be 60–75 years. It is primarily threatened by loss of habitat, habitat degradation, fragmentation and poaching.)
The use of 'animals for tourism' is controversial in Thailand where many animals are kept captive to entertain tourists – dolphin shows, bird shows, crocodile and reptile shows, tiger shows and zoos. Many of the country's larger, and hugely popular, cultural stage shows also use animals in their presentations.
And the use of elephants for tourism has been around for half a century as Thailand, which has banned forest logging (where elephants used to be used as the beasts of burden), now has many, many elephants, and their offspring, with little to do… except entertain tourists.
Many of the Thailand tourist demographic mix don't have the same sensitivity to 'animal tourism' as others in the west. The animal shows in Thailand are mostly legal businesses and the use of animals for financial gain in the tourism industry has provided a popular cultural experience for some tourists in the past.
In the LADbible.com article Amy Jones from Moving Animals notes that elephants are sensitive, intelligent animals, "not products to be used as a ridiculous party prop".
"Mövenpick Resort Bangtao Beach should not be promoting and supporting such cruelty, and this stunt will undoubtedly be bad for business as more and more tourists turn away from activities which exploit elephants."
She went on to recount another case earlier this year, also in Phuket, about an emaciated baby elephant named "Dumbo" who was filmed, under-nourished, performing for tourists. Dumbo was forced to do his party tricks at the infamous Phuket Zoo.
"Earlier this year, Phuket made headlines after Moving Animals released photographs and footage of an skeletal baby elephant, 'Dumbo', who was forced to 'rave' to music and perform tricks for tourists entertainment.
"No elephant should have to suffer from this kind of abuse, and Phuket must take steps to make sure that these beautiful animals are protected."
PHUKETA tragic end to baby elephant 'Dumbo', a real-life performing baby elephant at the notorious Phuket Zoo. The…

Posted by The Thaiger on Friday, May 17, 2019
Sadly Dumbo died. Read about that story HERE.
Mövenpick Resort in Bangtao is a five-star hotel and part of the Accor Group, situated directly across the road from Bangtao Beach.
For their part Mövenpick Resort are aware of the negative publicity and posted this response…
"We are aware of a post related to a baby elephant in our resort. We have investigated this situation and although we did not organise the party, we failed to disallow the activity and had mishandled the situation. We sincerely apologise for this matter.
We are issuing a formal communication to all staff reiterating that our hotel employees are expected to act as ambassadors by respecting and protecting our environment. We have also informed our tour operator that such activity will not be allowed at our hotel."
Some social media responders have made it clear the practice can't be tolerated. Other activists have been trolling the Mövenpick Resort by commenting on every post made by the resort, venting their anger…
I can't believe a hotel in this day and age would allow this to happen? Disgusting you all should be ashamed of yourselves – Dean
I do not understand even the stupid tourists. They don't mind animal bondage.people are absolutely without feeling. And the natives are to protect their nature and animals and not to destroy them – Lara
Boycott this place – David
Terrible this hotel has elephants for entertainment. How people still doing this shit – Ady
Disgusting and barbaric that you use elephants to entertain your guests. Shame on your resort!!!! – Susie
SOURCE: LADBible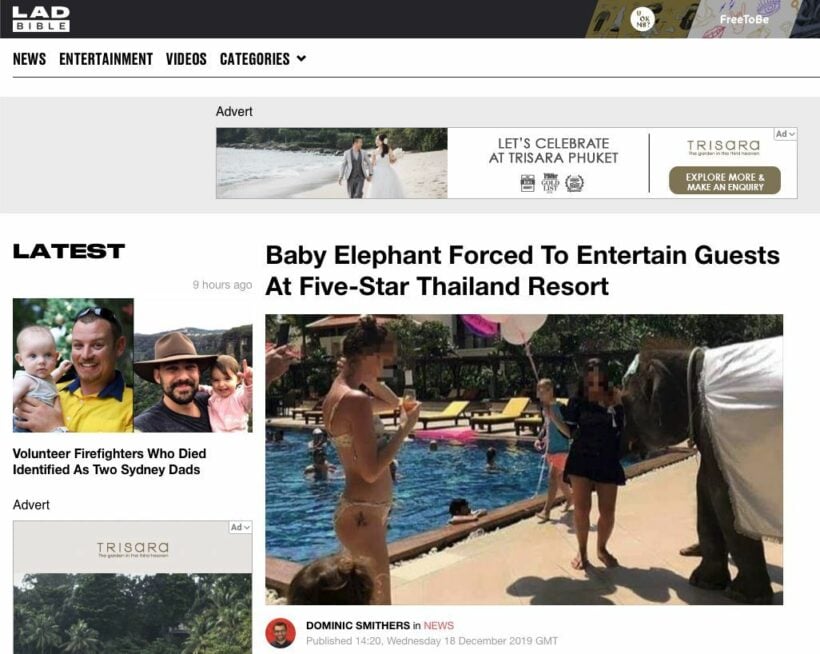 Keep in contact with The Thaiger by following our
Facebook page
.
4 year old Wuhan girl cleared of coronavirus in Phuket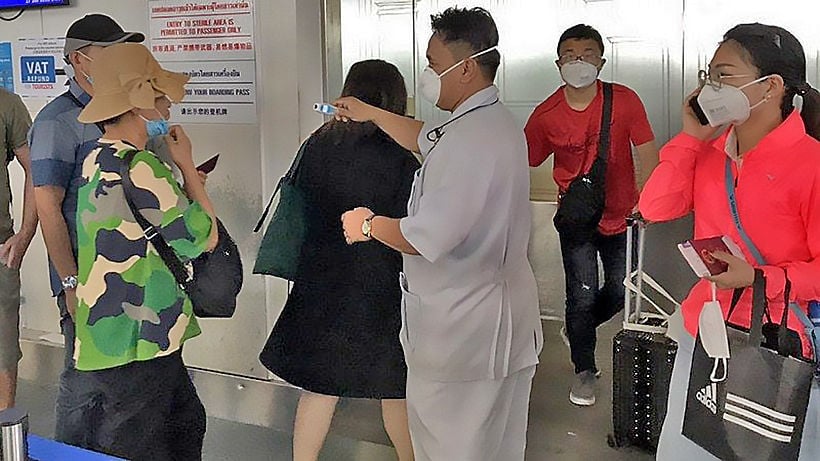 A 4 year old girl from Wuhan, who was not allowed to board her flight home on Friday, has tested negative for the Wuhan Coronavirus and been discharged from hospital.
"A fluid sample from the girl's nose was sent to the Health Control Division in Bangkok to test for the virus," local health authorities told The Phuket News.
"The test confirmed that she is not infected with the Wuhan Coronavirus. The girl's condition is improving. It is just the flu. She left hospital on Monday."
The girl landed on a direct flight from Wuhan on the night of January 19.
"She was travelling with her parents, her sister and six others on a package tour."
But when the group tried to board their flight home last Friday, a flight attendant checking passengers' body temperatures at the boarding gate found that the girl had a fever of above 38ºC.
"The girl and the rest of the group weren't allowed to board. The girl, along with her sister and parents, were sent to health officers so the girl could be tested. Health officers confirmed she had a fever and had her taken immediately to Vachira Hospital in Phuket Town to be kept under observation in an isolated area"
The girl's parents, her sister and the other six others travelling with them have not exhibited any signs of infection, and the six not related to the family left Phuket on Saturday.
"We won't follow up where she is going because this girl is normal."
Meanwhile, the chief of Phuket's public health office confirmed in yesterday morning's daily Wuhan virus report that seven people in Phuket are currently "suspected" of being infected with the virus and undergoing tests.
"All are in isolated areas under observation and receiving treatment for flu symptoms. Three at Vachira Phuket Hospital, two are at Bangkok Hospital Phuket, one is at Patong Hospital and one is at Thalang Hospital. They are still waiting for their blood tests. All seven are in stable condition."
SOURCE: The Phuket News
Keep in contact with The Thaiger by following our
Facebook page
.
The rise of the e-bicycle in Thailand, a bit of motorised assistance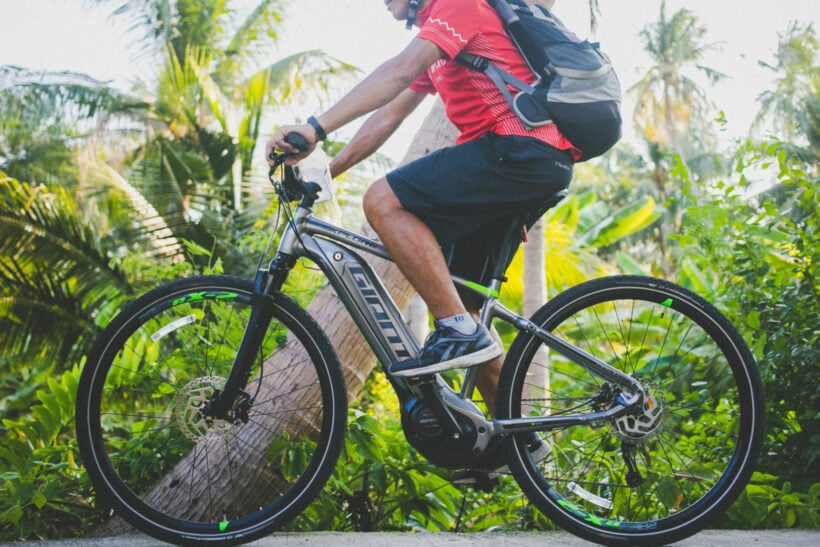 by Nicole Kash
Cycling tours offer a unique way to explore Thailand. Faster than walking but slower than driving, cycling tours cover plenty of ground while allowing cyclists to immerse themselves in the sights, smells, and culture of Thailand without the boundary of a car window.
Cycling tours can cover up to a heart-pumping 150 kilometre a day. Though exciting for many, some find longer distances daunting, especially newer cyclists or those out of practice. This is where the e-bike has begun filling a unique gap in Thailand's adventure tourism industry. Thanks to e-bikes, longer distance day tours and challenging multi-day cycling tours are no longer reserved for fitness fanatics. 
Popular in the US and Europe, the e-bike has made its way to Thailand is now thriving within the Kingdom's tourism industry. These motorised bicycles offer the option to assist cyclists with pedaling, which is especially useful for long distances and tough uphill climbs. Even with the help of the motor, cyclists still get plenty of exercise, as the pedal-assist system requires the rider to put some work in.
Unlike a scooter or motorbike, an e-bike does not run without the pedaling effort of the rider. They feature rechargeable batteries and an and off switch, allowing cyclists to challenge themselves as much as they'd like and get a little extra help when needed. 
The option of swapping our traditional bikes for e-bikes on cycling tours offer more tourists the opportunity to join in on cycling tours than ever before, growing the number of potential clients for Thai adventure tourism companies while fostering a climate of inclusivity.
Looking to join in on the fun? Here's a look into a few of the single-day and multi-day bicycle tours with e-bike options offered by Bangkok based SpiceRoads Cycling! 
Road Cycling Bangkok to Phuket (10 days)
Starting in bustling Bangkok and ending in along Phuket's sparkling coastline, this 10-day bicycle tour with e-bike options is the perfect mix of must-see sites and tucked away local spots all on smooth roads. Pedalling toward the scenic south, ride beyond the city lights and explore rural Thailand's rich culture and welcoming villages while making stops at the east and west coast's local beach spots along the way.
Rolling hills, golden sunsets, a real taste of local life, and of course serene sea views await you! This trip is fully supported with an air-conditioned van and riders can take a break and cool off while still enjoying the same views as the rest of the group. 
Phuket Highlights (½ day) 
Take a break from beach life to explore Phuket's unique and often overlooked old town on this ½ day bicycle tour with e-bike options. We start on the town's peripheral, exploring Koh Sirey's community of sea gypsies and on to see and smell the fresh catch of the day as locals bid for the best deals at the fishing port.
Then we head downtown to admire Phuket Old Town's Sino-Portuguese architecture, Jui Tui Shrine museum, and unique shops by bike. This leisurely 27 kilometre tour ends with a drive to stunning Khao Khad viewpoint for a scenic sea view and bird's eye view over where we have ridden. 
Kanchanaburi Explorer (3 days) 
Immerse yourself in Kanchanaburi's natural beauty and historic sites on this 3 day bicycle tour with e-bike options. Cycle along country roads and through local villages, enjoying mountain views and the thrill off jungle clad and dirt trails along the way.
Then explore off the bike, boarding a local train for a stunning train ride on Death Railway, visiting the historic and dark Hellfire Pass, and taking an optional boat trip to visit a Mon village. A diverse itinerary combining Kanchanburi's stunning natural sites with stops at historical must-sees on a mix of tarmac and dirt trails assures you will never get bored on this 102 kilometre bicycle tour!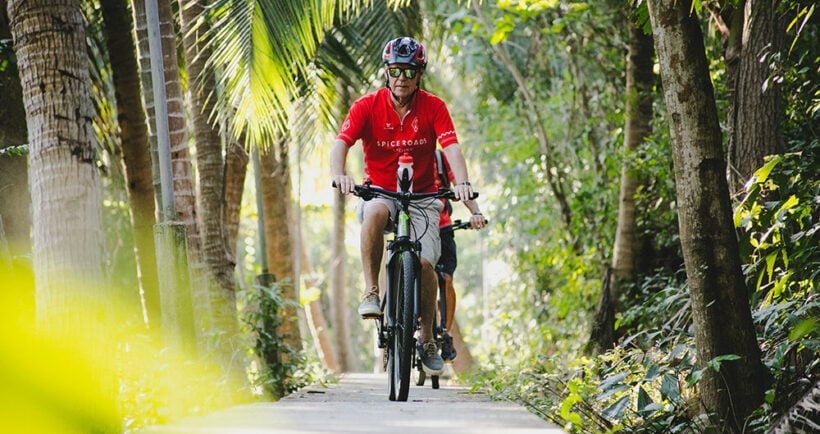 To find out more, and see more tours from the Spice Roads team, click HERE.
Keep in contact with The Thaiger by following our
Facebook page
.
Top 10 islands to visit in Thailand (2020)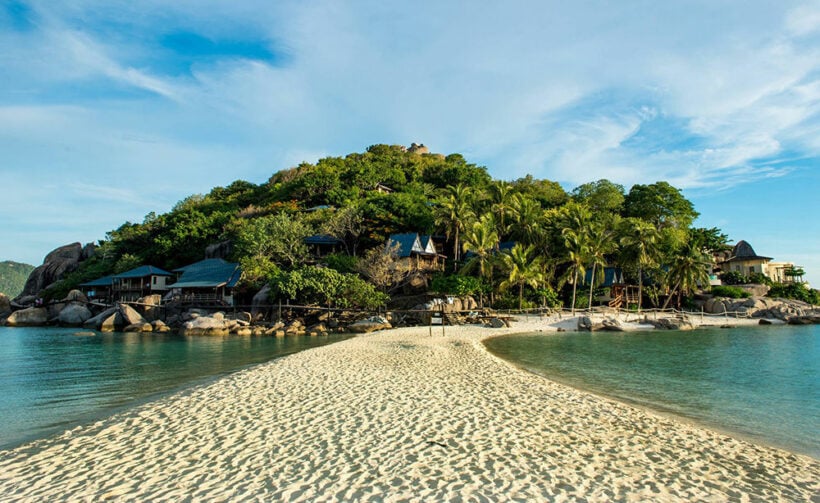 Thailand is famous for its outstanding island experiences and there are many to choose from. From sweeping stretches of clear golden sands to islands where you can dive, snorkel and stay, Thailand's islands and beaches are as diverse as they are plentiful. Let's count them down…
Koh Tao is an island that is well-known for being a great diving destination. It is also known as Turtle Island by the locals and boasts of various small and beautiful beaches that serve as the perfect holiday destinations. Diving is a pleasurable sport to be carried out on Koh Tao as it can be carried out more leisurely in a less crowded environment due to the availability of various diving spots around the island. As diving and snorkelling are the main activities to be experienced here on Koh Tao, one should be aware of the best period to travel to the island with the best conditions.
The best time to visit is during the dry season, between March and September, where the water is said to be calm, and high visibility for more fabulous diving and snorkeling experience. It is highly recommended for tourists to visit Koh Tao in October as the sea is the calmest, and water is the clearest. There are various locations that are worth visiting within reach from Koh Tao, with Koh Nang Yuan being one of those destinations. This island is unique in that three different islands are joined by white sand, making a unique experience to travel between islands or island hopping.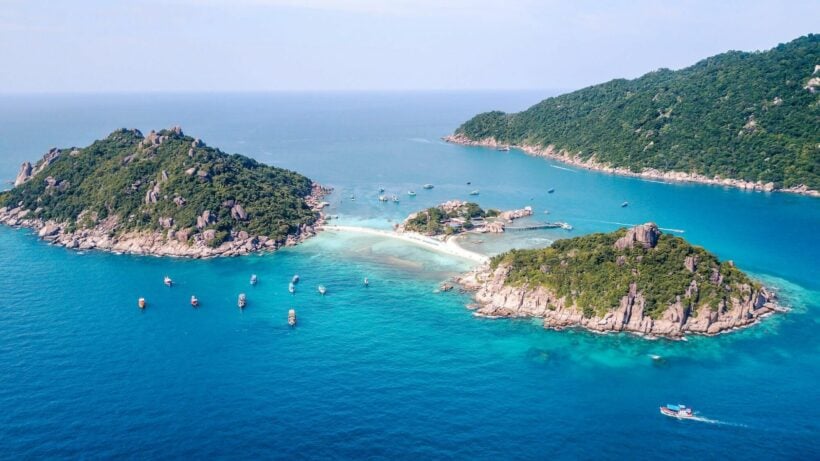 Koh Phangan is a unique destination that one should not miss, as seen in its unique blend of both natural beauty and exciting activities. The unspoiled beaches on Koh Phangan cater to the needs of tourists who wish to relax and escape from their busy lifestyle, while those seeking an exciting and unique experience should not give the Full Moon beach parties a miss. The Full Moon beach parties are according to the lunar calendar, where many party-goers gather and have a fun and exciting time. Altogether, one can experience a hippy vibe when traveling to Koh Phangan, and it is truly an experience that one can only find on this island.
Known as one of the destinations that aim to cater to the needs of all tourists alike, one can expect relaxing activities such as yoga and wellness retreats and not surprisingly, parties, which are what one would not expect from its many natural beauty. Tourists are often left amazed by the gorgeous sceneries that one can experience on the beautiful beaches on Koh Phangan, such as Haad Salad, Thong Nai Pan, Malibu, and Bottle Beach. The best time to visit Koh Phangan is during the dry weather, which falls between March and September, where one can simply relax while sunbathing under the sun on beaches and around the island.

Koh Samui is yet another wonder that most tourists would love to explore when choosing a destination for a holiday as known by its unique blend of beautiful nature and modernity. This tropical island boasts of a vast stretch of beautiful beaches often lined with tall coconut palms, which adds to the tropical vibe along with a massive land of rainforests. Koh Samui is a well-developed island with the tourism scene always on the bloom thanks to the adequate facilities available for the convenience of tourists such as an international airport, high-end resorts, and wellness retreats. Nevertheless, tourists can still experience the natural state of Koh Samui.
Perfect for those who wish to get closer to nature, one can find many choices of activities to be carried out on Koh Samui. The many viewpoints on the island promise great photographs, while those who are seeking for more adventurous activities can give hiking a try. There are also many hidden beaches and waterfalls that one can explore. Besides the fun and exciting night parties and events, Koh Samui is a favorite choice among honeymooners. Visitors often visit between March and October, where the seas are said to be calm, allowing many water activities. Diving is fun during this period, where you can even swim with the whale sharks.

Koh Lipe is a small island that does not disappoint despite being a tiny one. Do not be deceived by its size as this island provides the perfect destination for you to relax and put your hair down. The colorful coral reefs are one of the best, making the island to be one of the best diving destinations in the country. Koh Lipe has national parks and is under the protection of the marines. Therefore, tourists can experience the beauty of nature in an environment that is said to be raw and untouched. Although one can simply find pleasure by relaxing on the beach, many water activities will leave the more adventurous ones amazed where sports such as diving by beautiful coral reefs and magnificent marine creatures.
Tourists often visit Koh Lipe between November and April, but the peak season has to be in January, where many tourists come. Despite all that, Koh Lipe is still a favorite place for relaxation, as seen by its chill atmosphere. Those who are seeking more active pleasures can opt to visit the many neighboring islands around Koh Lipe, such as encountering the friendly yet cheeky monkeys on Monkey Island or rock climb on Koh Khai. Another beautiful destination that is within reach from Koh Lipe is Langkawi Island.

Koh Rok and Koh Haa are islands that offer the best experience when looking out for a holiday destination which is different yet does not disappoint. These small islands provide a lot of surprises despite the size, and they are untouched and undiscovered, appealing to those who wish for something different for a memorable holiday. The local government takes various initiatives in maintaining the underwater ecosystem here on Koh Rok and Koh Haa. Therefore, tourists can get the opportunity to encounter a variety of vibrant marine life and beautiful underwater topography with both soft and hard corals.
The best time to explore Koh Rok and Koh Haa is between November and April, where avid divers and snorkelers gather due to the best condition to explore the underwater world surrounding the islands. One such place for the best diving experience is on Koh Lanta. It is worth mentioning that the marine park is not open outside this period. Boasting as one of the most beautiful destinations in the country, one can experience gorgeous beaches and exciting water activities on Koh Rok and Koh Haa. Snorkeling on Koh Rok Noi to experience the majestic Koh Rok waterfall or diving while exploring the underwater caves and caverns are pleasurable activities to be carried out. Another place to snorkel with high visibility is Koh Haa Yai, where stunning pictures and the experience of swimming with marine creatures such as manta rays and whale sharks makes for a great underwater experience.

Check out the top 5 islands HERE
Keep in contact with The Thaiger by following our
Facebook page
.