Pattaya's Walking Street is "heaving with tourists". But…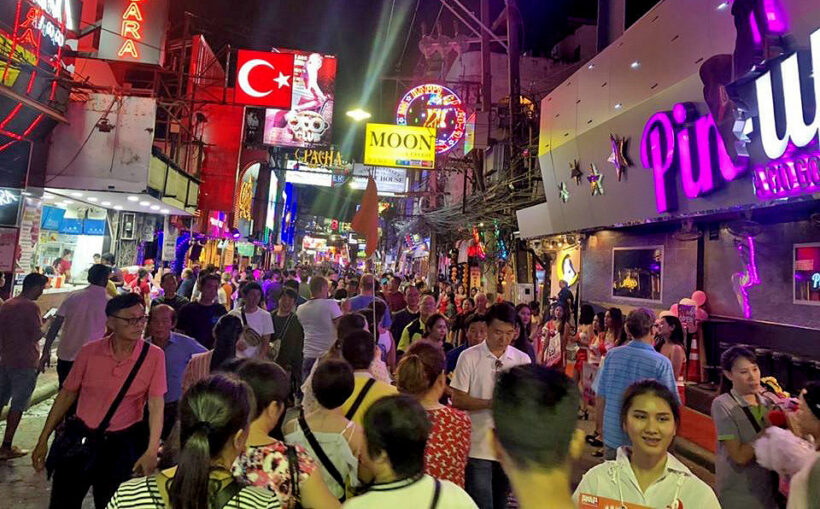 PHOTOS: Pattaya City Law Enforcement
Walking Street is "heaving with tourists". Pictures posted on the "Pattaya City Law Enforcement" site indicate an encouraging sign for tourism in Thailand's 'sin city' seaside resort. According to the post, it appears Pattaya's famous soi of 'boom boom' is having a boom in tourism numbers.
But Thai netizens say there is a backstory.
Whilst many posters painted a positive picture as high season at the resort picks up, many Thai posters on the Facebook site asked – Where are the farangs? They noted that most of those in the pictures were Indian and Chinese, and that the few Westerners in sight were probably Russian.
Others suggested that it was not as rosy as all that – most of the tourists were just passing through and not stopping for a drink in a girlie bar or buying anything. They were just there for the selfie or just a quick 'walk' along Walking Street.
"They were just tour groups on their way to be picked up at Wat Chai."
Another responder on Thai Visa remarked… "They walk up and down…usually following someone with toy on the end of a stick…they do not spend anything in the bars/entertainment venues… then back to their Chinese owned hotels."
Others claimed that where Chinese go, farangs fear to tread or don't want to tread. They brought up the animosity, imagined or real, between Westerners and Indians and Chinese. But others say that farangs were not coming because their money wasn't getting the same value as in the past in Thailand.
SOURCE: Pattaya City Law Enforcement | Thai Visa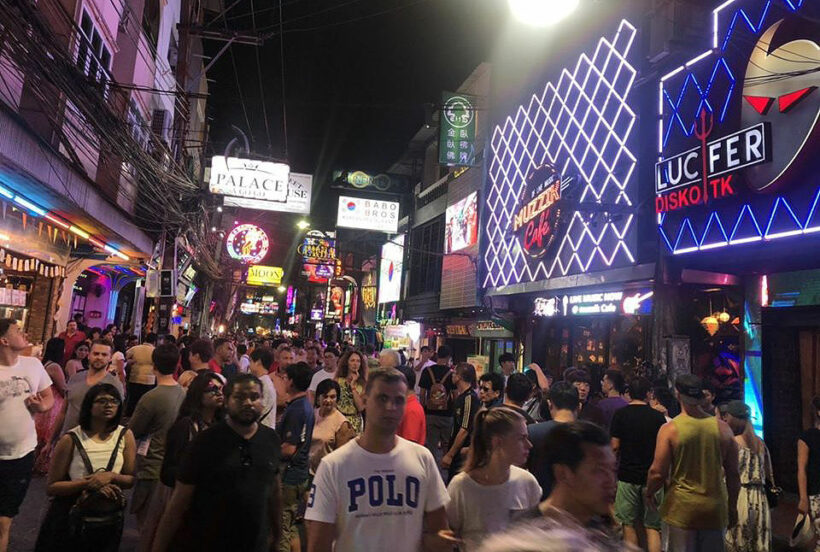 Keep in contact with The Thaiger by following our
Facebook page
.
Pattaya officials shamed into beefing up tourist security after German TV report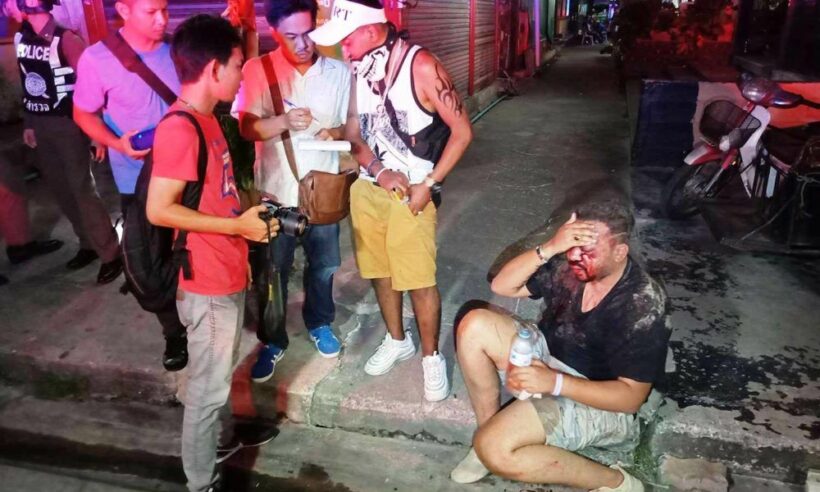 Pattaya officials are stepping up tourist safety measures after a German TV program reported widespread scams in the popular Thai 'sin city'. The Thai Interior Ministry has told agencies to tighten tourist security in what's widely seen as a knee-jerk reaction to the criticism in the documentary.
The TV show Achtung Abzocke documented scams such as taxi fare price gouging, overpriced products and services, and fake rail tickets and driving licenses. Scammers even pretend to be tourist police, according to Pattaya Deputy Mayor Ronnakit Ekkasingh as he was tackling the topics covered in the program with Thai media.
Ronnakit's comments came at a meeting that included the Tourism Authority of Thailand, tourism associations and police.
"Pattaya has annual tourism income of more than 270 billion baht from some 18 million visitors, including 10 million foreign travellers."
He told the meeting that it's important to keep them safe. Ronnakit said the meeting agreed to create an integrated command centre near Bali Hai Pier in Pattaya's south to prepare for the high season.
"Joint drills will be held to prepare against crime, floods and fires as well as accidents on land and sea. Steps will be taken to ensure fair prices for goods and services for tourists."
Pattaya previously considered setting such a up a joint centre but the plan was scrapped due to location and environmental concerns. Although a Kuwaiti tourist was beaten and robbed by three Thai men at the beach in Pattaya in November, a chief of Pattaya's tourist police said while there are many complaints of scams in Pattaya, serious crimes are rare.
"Most cases involve brawls in the streets between foreigners," he told the Bangkok Post.
He told reporters CCTV cameras have been installed to boost safety and more are coming. (It was noted in a story last week that CCTV cameras along a popular bar Soi weren't working)
He also said tourist police will work with other agencies to ensure tourist safety along Pattaya beach.
"From 10pm-4am every day, the beach will be divided into three separate patrol zones."
The first zone stretches from the Dusit School to Pattaya Klang intersection, the extends from there to Mike Shopping Mall, and he third spans from Mike Shopping Mall to Pattaya Walking Street.
"Nine officers will patrol each zone, boosting safety for tourists and helping to prevent scams."
SOURCE: Chiang Rai Times
Keep in contact with The Thaiger by following our
Facebook page
.
Pattaya hotel fire causes over a million baht in damages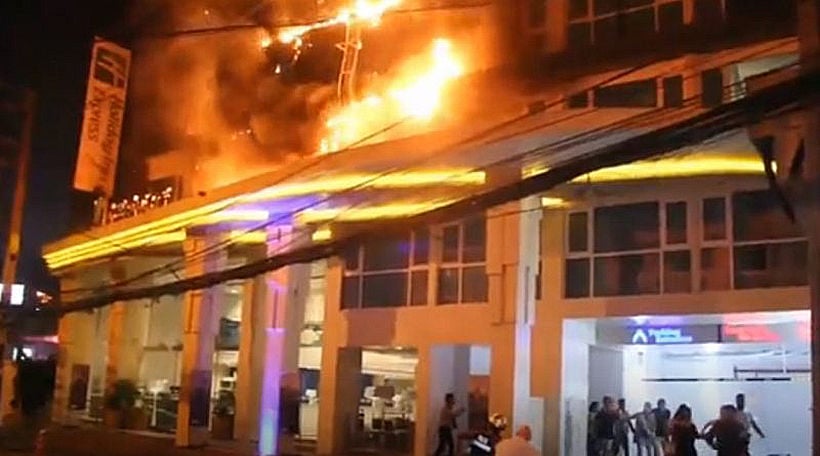 PHOTO: sanook.com
When a hotel in Pattaya caught on fire 400 foreigners, who were stating in the hotel at the time, evacuated without injury. The blaze remained isolated in the front section of the building and didn't have time to spread to guest rooms inside the hotel.
Chonburi Police were notified at 4.30am yesterday morning, December 6, about the fire at a popular Pattaya hotel in Soi Buakhao, Bang Lamung. Emergency responders and firefighters headed to the scene, along with local volunteer rescue workers and a medical team from Pattaya City Hospital.
They arrived to find the front of the 8 level hotel ablaze. Police, locals and the hotel staff helped over 400 guests, including children, seniors, and handicapped persons, evacuate safely. Everyone was accounted for and evacuated in an orderly manner, according to police. The blaze took about 30 minutes to extinguish.
The 29 year old on-duty security guard, Supatchai, told police he saw some smoke coming out from the front of the building. Not long after the flames started and were fanned by the winds that were blowing.
Firefighters headed into the burned out area at the front of the hotel to inspect the source of the fire. They told police that it started in the front of the hotel and didn't have time to spread into the rear section where hotel rooms were located. Even though the fire was isolated to the front of the building, damages are estimated to be valued around 1 million baht.
Police are now questioning witnesses and investigating what caused the fire.
SOURCE: Sanook.com
Keep in contact with The Thaiger by following our
Facebook page
.
Thai Navy rush to contain oil slick in the Gulf – three rescued off sunken vessel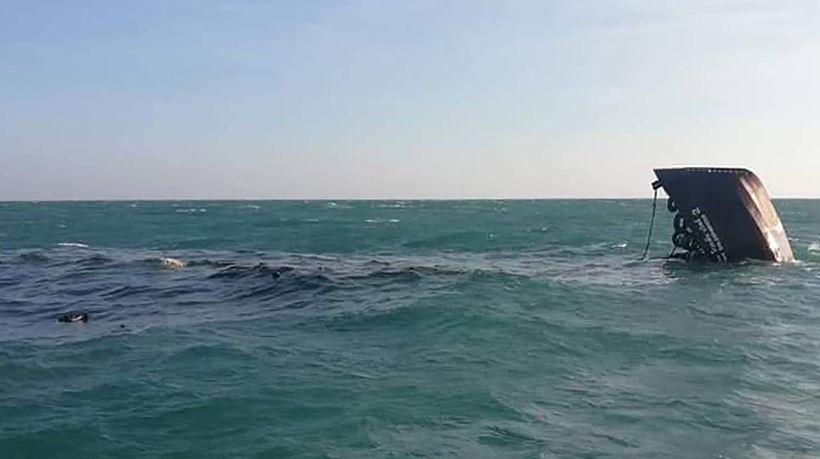 The Royal Thai Navy has sent two ships to prevent a 4 kilometre-long oil slick from advancing toward Thailand's eastern Gulf coast. The vessels are equipped with skimmers, oil booms and oil dispersants contain the spill.
The oil slick came from a sunken tanker, the Golden Bridge 2, that capsized and sank in high seas on December 3. It was about 15 kilometres from Si Chang Island off Chon Buri province moving west, according to the Geo-informatics and Space Technology Development Agency.
The slick is estimated to contain around 20,000 litres. The Golden Bridge 2 contained about 104,000 litres of oil when it capsized.
GISTDA says it's closely monitoring the slick's movement using its Sentinel 2A satellite and has been analysing the situation via radar.
The Department of Natural Resources and Environment fears the oil could damage marine life and corals around Koh Si Chang, just off the Laem Chabang coast, mangrove forests along the coasts of Phetchaburi province and even Bangkok.
Three sailors were rescued from the Golden Bridge 2 boat, on the same morning that a Burmese fisherman was rescued by the Navy after surviving ten hours alone at sea.
SOURCE: The Pattaya News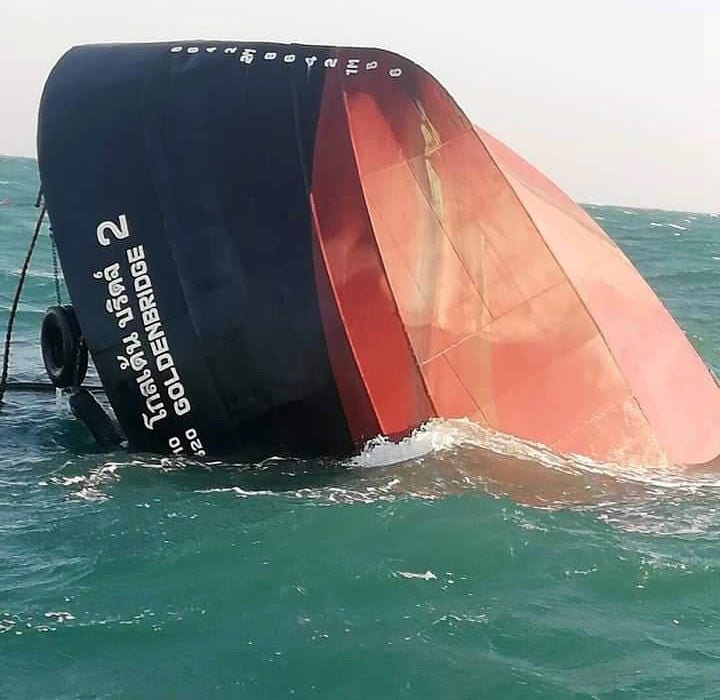 Keep in contact with The Thaiger by following our
Facebook page
.