Thai traffic jam as tourists wait for the Koh Chang ferry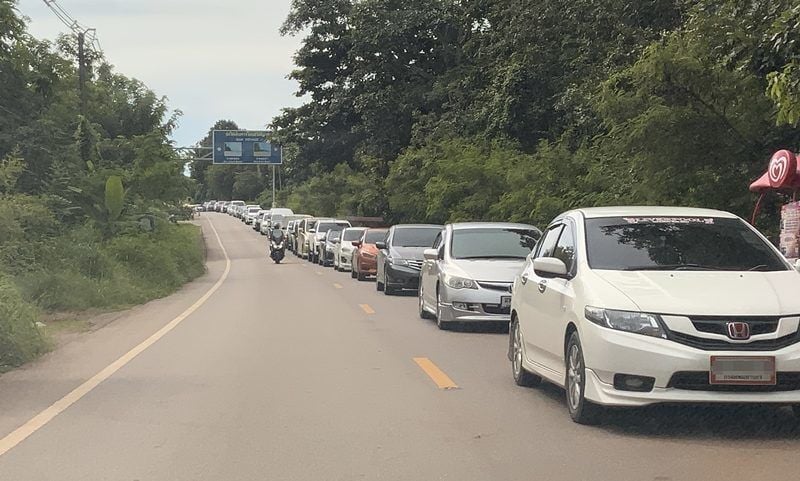 There's been a traffic jam in, of all places, Trat, as impatient domestic tourists waited for the ferry to head to Koh Chang from the mainland. The island was invaded by Thais getting out of town for the long LONG weekend and, despite the forward bookings, the traffic police and ferry operator weren't ready for the onslaught.
The long weekend runs from yesterday through to the end of Monday, 2 days public holiday to make up for the postponed Songkran celebrations in April, which were cancelled amidst the middle of Thailand's outbreak of Covid-19. Over 10,000 tourists were scheduled to arrive on the island yesterday and today. Cars lined up for more than 3 hours to catch the Ferry from Ao Thmmachat Pier to the pier on Koh Chang. The Khaosod reported that at least 1,000 cars were lined up to get on the ferry at Ao Thammachat that will take them to Koh Chang Island.
Despite being one of the country's largest islands in the Gulf of Thailand, Koh Chang has remained somewhat off the mass tourism development footprint (Phuket is the largest, Koh Samui second and Koh Chang third). In 2019 the island's hotel market hosted 1.2 million guests at its 272 tourism establishments that feature 7,617 rooms, with more on the way. Hotel occupancy for Koh Chang teeters between the mid to high 60's, though the off season sees numbers often drop by half, like other islands around Thailand.
Perhaps the biggest barrier to entry for new larger hotels in Koh Chang remains the lack of direct airlift and dependence on the privately operated Trat airport, not far from the pier on the mainland. The distance across the channel, between the 2 piers, is about 3 kilometres.
The Koh Chang Deputy Municipal Clerk said that over 10,000 tourists had been waiting to travel the island early yesterday but that 1,000 cars had already crossed over to the island before lunchtime. About 2,000 cars were estimated to have crossed onto Koh Chang in the past 2 days. The cars are expected to wait at least 3 hours just to get back onto a ferry for the ride home.
Mainland police did their best to manage the additional holiday traffic in the area. Police said they received dozens of reports from motorists complaining about the wait to get catch the ferry to Koh Chang with most reporting the wait of 2-3 hours. The piers and related officials will have to find a solution so tourists don't have to wait so long on holidays. Local residents and Koh Changians think it's high time for a bridge to be constructed from the mainland to the island so cars can drive directly into the island, just like Phuket.
SOURCE: Khaosod English
Keep in contact with Thaiger by following our Facebook page.
Never miss out on future posts by following Thaiger.
Songkran fully cancelled in Bangkok amid Covid-19 outbreaks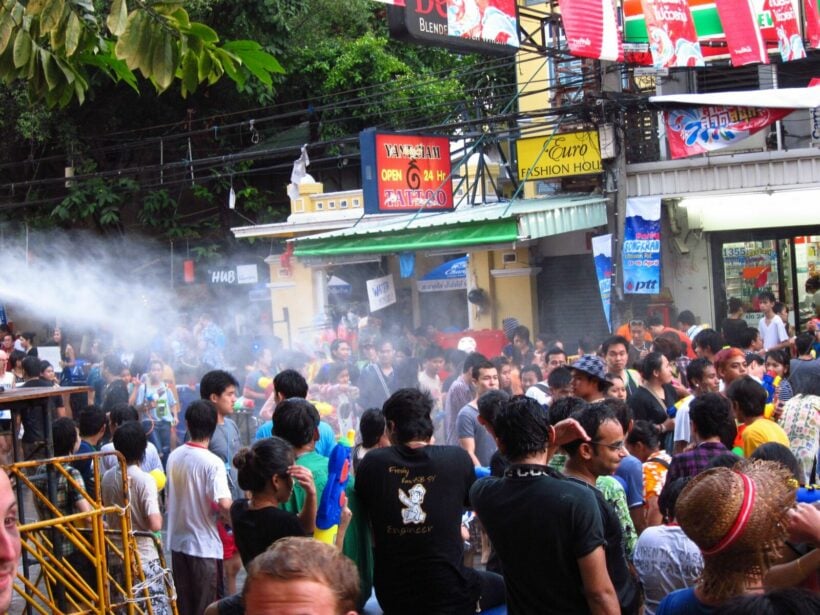 All Songkran festival activities throughout every district of the Bangkok province have been officially cancelled to prevent more outbreaks of Covid-19. The Bangkok Metropolitan Administration announced this difficult decision today in light of a rise in Coronavirus infection clusters around the country. Many of these outbreaks have been directly linked to entertainment venues, nightclubs and bars, including in Bangkok's Thong Lor and Ekkamai areas. These venues are easy targets for Covid-19 spread as they often don't follow mask-wearing and social distancing measures, and many are poorly ventilated, making a fertile breeding ground for transmission.
Deputy Governor Kriangyos Sudlabha announced the closure of all entertainment venues on Bangkok nightlife hub Khaosan Road before Songkran from April 7 to 12. Free Covid-19 testing will also be provided to all merchants in the Khaosan area.
"The Songkran activities at Lan Khon Meuang Plaza in Phra Nakhon district will be cancelled. These include an alms-giving ceremony and pouring water on the Buddha image and elders as blessings. Furthermore, activities scheduled to be held in other districts by the district office will also be cancelled. As for public and private organisations which cannot cancel their planned Songkran festivities, the BMA urges them to employ strict measures to prevent the spread of Covid-19."
Iconic massive public Songkran water fights in Bangkok and throughout Thailand, where thousands usually fill the streets and joyously spray each other with water to celebrate, are definitely out. But the new announcement curbs a lot of more traditional and calm activities from taking place in large public gathering areas. The deputy governor advises for traditional ceremonies to be performed at home, rather than at temples or public locations.
"During the Songkran festival, we advise people to perform the ceremony of pouring water on Buddha images and elders at home and avoid going out to crowded areas. If you have to travel, make sure to wear a face mask at all times, maintain at least a one-metre distance from others and wash your hands regularly with soap and water or alcohol hand sanitiser."
SOURCE: The Nation Thailand
Keep in contact with Thaiger by following our Facebook page.
Never miss out on future posts by following Thaiger.
Songkran travel okay to visit elderly relatives, not to party – Health Minister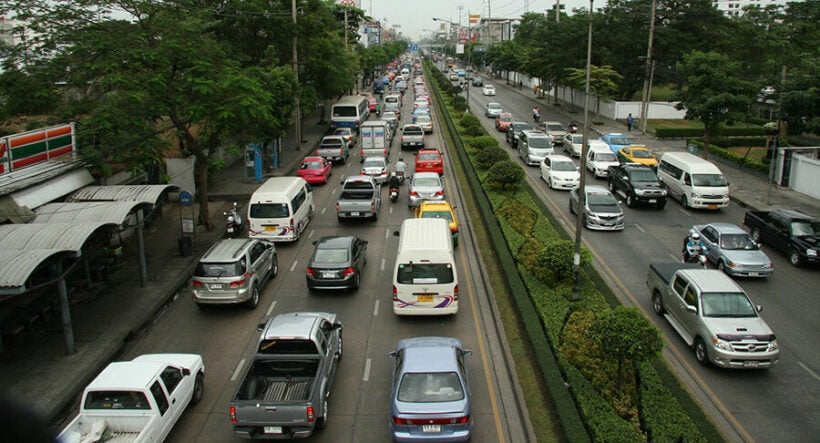 Despite rising Covid-19 infections in Bangkok and other provinces, Thailand's Public Health Minister says people travelling from the affected provinces during the Songkran holiday will not have to quarantine.
"Although provinces have been divided into zones, designated by colours according to the infection rates, none will be locked down. People can still travel to other provinces without having to go into quarantine on arrival at their destination. Only people who have been infected with the virus, or are considered to be at high risk, will be quarantined."
Anutin Charnvirakul's reasoning is that travellers will primarily be returning home to seek blessings from elderly relatives. He's calling on people to remain vigilant and not use the holiday as an excuse to party, pointing out that the latest infection clusters are the result of people doing just that.
Despite the minister's reassurances that travel is safe, the north-eastern province of Buriram is taking matters into its own hands and enforcing 14 days' quarantine on anyone arriving from the 5 red zone provinces – Bangkok, Pathum Thani, Nonthaburi, Samut Prakan, and Nakhon Pathom. That requirement will be waived if they take a 600 baht rapid Covid-19 test and are found to be negative.
The Bangkok Post reports that Opas Karnkawinpong from the Department of Disease Control has warned of the need to adhere to disease prevention measures over the holiday. He says that while there is no ban on interprovincial travel, people taking part in traditional Songkran activities, such as merit-making and pouring water over Buddhist statues and on to the palms of the elderly, must do so in well-ventilated, outdoor areas, while wearing face masks and observing social distancing.
Meanwhile, representatives from the hospitality sector have criticised the latest round of restrictions imposed in Bangkok. Thanakorn Kuptajit from the Thai Alcohol Beverage Business Association has criticised the shutdown of nightlife venues in the Bangkok districts of Klong Toey, Watthana, and Bang Khae, arguing that businesses have already ordered in fresh food supplies and hired entertainers. Thaniwan Kulmongkol from the Thai Restaurant Association says the closing time of 9pm is unfair and is calling on PM Prayut Chan-o-cha to review the proposal.
SOURCE: Bangkok Post
Keep in contact with Thaiger by following our Facebook page.
Never miss out on future posts by following Thaiger.
Thailand's Songkran headache – Bangkok entertainment venues closed days before holiday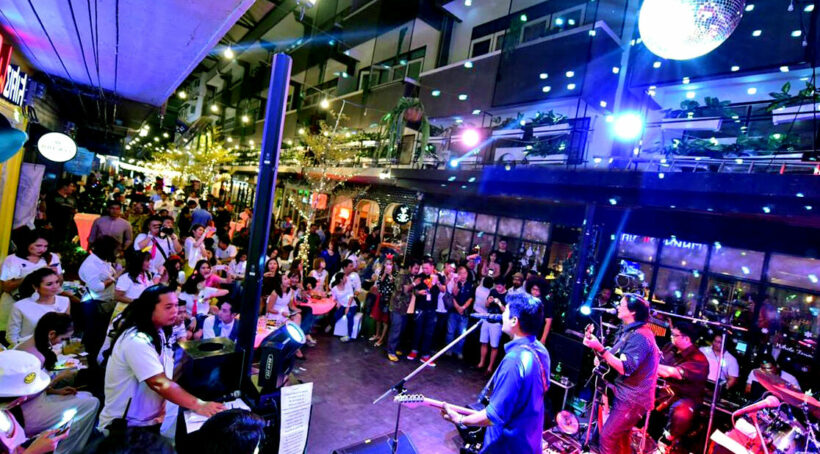 In the day's before Thailand's biggest annual party begins there's been fresh clusters breaking out in Bangkok and Chon Buri's nightlife.
Already the BMA has closed nightlife venues in three popular districts "as a precautionary measure" for at least two weeks, as of last night. Officials will meet today to mull a blanket closing time for entertainment venues and restaurants across Bangkok as well as alcohol restrictions… not the sort of start the hospitality industry was hoping for with Songkran kicking off this weekend.
The Thai government had already taken the 'song' out of Songkran with a ban on water splashing, concerts and group gatherings, including foam parties. The inference is officials want a return to a more traditional Songkran, visits to temples and gentle pouring of water over elderly relatives and Buddha images. They certainly wanted to avoid group gatherings and super-spreader events.
The Thaiger's full coverage of Thailand's Covid-19 response HERE.
After last year's cancellation of Songkran, the ban on Songkran parties certainly 'poured cold water' on the plans of millions of Thais celebrating their new year festivities. These new bans on entertainment venues in popular city party haunts is just another blow.
And whilst there have been new infections reported in Chon Buri, it hasn't yet affected Pattaya and its entertainment cash-cow. But it may just be a matter of time before officials just put a blanket ban on Thailand's nightlife until they get the latest outbreak under control.
Songkran means 'travel' as workers will flee the city for 'up country' homes to spend the extended Songkran holiday with family. The headache for officials is that the clusters in Bangkok and inner-city suburbs could easily spread into other provinces. Cancelling much of the Songkran 'splashing' won't stop Thais from travelling home during the period – airlines are already heavily booked.
Yesterday, Dr Yong, the chief of the Centre of Excellence in Clinical Virology at Chulalongkorn University, warned about a third or even fourth wave of Covid that may emerge as a result of the government policy to encourage people to enjoy themselves and spend more during the upcoming Songkran festival.
"Be prepared to see the daily infection rates jump from tens to hundreds per day after the Songkran festival."
The past week Thai media has been full of all the hoopla and announcements of the 3-part re-opening plans for the country, inviting tourists from around the world to flock back to Thailand. Now officials will be forced to keep a brave public face and continue with their re-opening schedule whilst facing a rise in cases from Bangkok's entertainment zones and a potential 'Songkran spread'.
Today the CCSA reported 250 new Covid infections, 245 of them locally transmitted and 5 imported. Thailand has reported a total of 29,321since January 2020, 95 deaths and 27,840 recoveries.
Keep in contact with Thaiger by following our Facebook page.
Never miss out on future posts by following Thaiger.