Protest leader Parit sentenced to 15 days' additional detention for contempt of court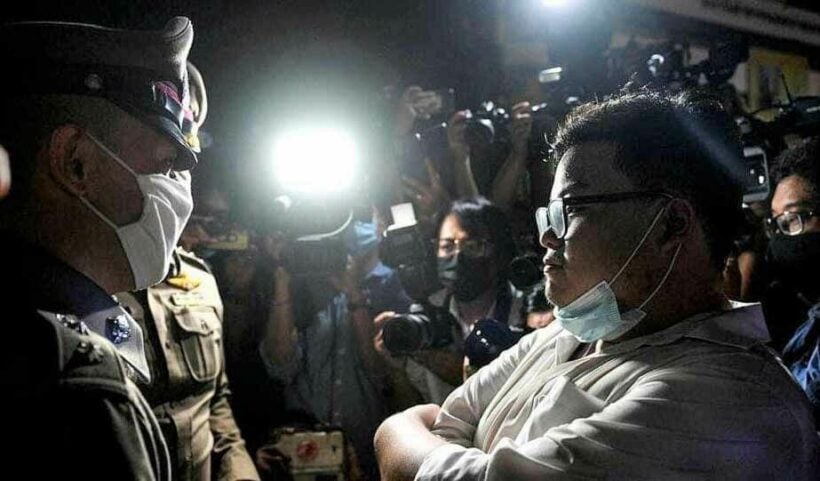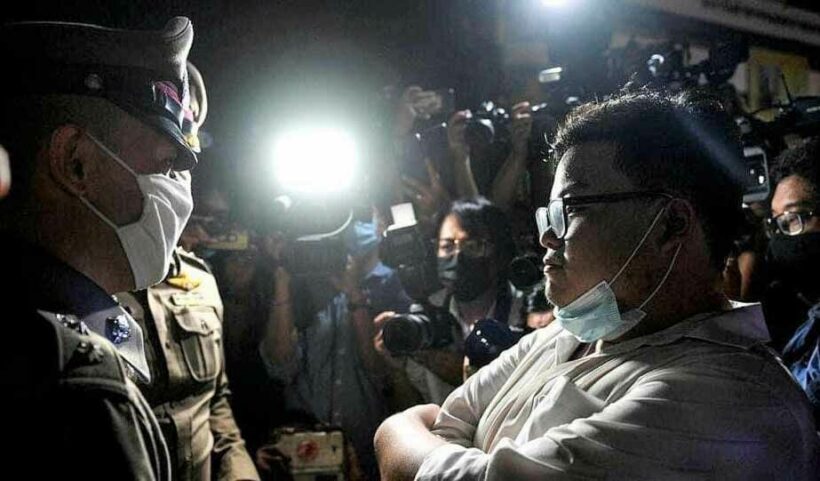 Pro-democracy activist Parit Chiwarak, aka, "Penguin", has been handed an additional 15 days' detention for contempt of court. The leader of the Ratsadon group is already being held at Bangkok Remand Prison on other charges. The new ruling relates to a March 15 incident, in which Parit tried to read a statement at the end of a court hearing, during which he threatened to go on hunger strike if he and his fellow activists were not granted bail.
It's understood the latest ruling originally sentenced him to a further month in detention, but this was reduced to 15 days due to Parit's guilty plea and the fact that he is a student without any prior convictions.
Thai PBS World reports that, during the hearing, Parit was shown video footage of his attempts to read his statement after his bail request was denied, with officers' attempts to restrain him leading to a brief skirmish and the judges walking out of the courtroom.
Parit's lawyer, Kritsadang Nutcharas, responded by telling the hearing that his client was upset his mother was not allowed to visit him and by the fact that his multiple requests for bail had been denied. According to the report, Parit arrived at the hearing in a wheelchair and appeared tired. He said he didn't want to cause trouble and has no regrets about being detained but is simply appealing for justice.
Following Parit's hearing, a letter of complaint written by Anon Nampa was the subject of a court inquiry that afternoon. In the letter, the human rights lawyer and pro-democracy activist, who is also being held at Bangkok Remand Prison, expresses concern at attempts to remove activists from their cells late at night.
Officials claim the detainees needed to be taken for Covid-19 testing. However, 2 of the activists, Chatupat Boonpatthararaksa ("Pai Dao Din") and Panupong Jadnok ("Mike Rayong"), were suspicious of why such screening would be done late at night, fearing that they might be hurt if they agreed to leave their cell.
The Corrections Department insists doing such screening late at night is normal practice in prisons and that other detainees could witness the practice. Spokesman Veerakit Harnpripan says this was the first time detainees refused to be screened.
The court is expected to rule on March 29.
SOURCE: Thai PBS World
Keep in contact with Thaiger by following our Facebook page.
Never miss out on future posts by following Thaiger.
$85 to retrieve the dead after bloody Burmese military clash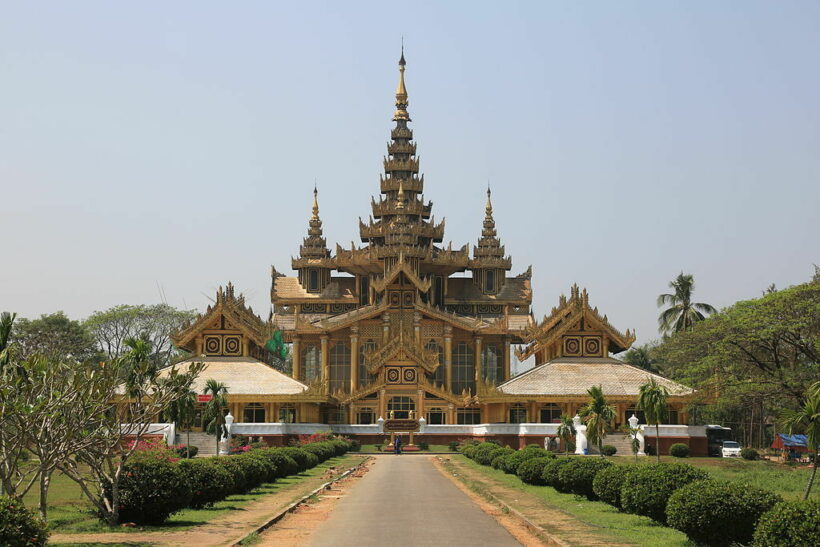 Activists say the Burmese military is charging $85 to families to recover the bodies that security forces killed in Friday's violent clash. The city of Bago, about 90 km northeast of Yangon, was raided by military forces with 82 people killed according to Assistance Association for Political Prisoners, a local advocacy group. Since the February 1 coup, the military has been systematically cracking down against peaceful protesters, detaining 3,000 people and killing over 700 more.
Eyewitnesses in Bago say the Burmese military used grenades, RPGs, and assault rifles to quell anti-coup protestors, forcing many villagers and activists to flee and go into hiding. Military security forces are going through the neighbourhoods now and have cut off internet access. Burmese forces claimed they were attacked by protestors while removing road barriers, alleging that demonstrators used homemade guns, shields, grenades, arrows and fire bottles.
In the aftermath of the bloody clash, the military charged families 120,000 Burmese Kyat (about $85) to collect the bodies of lost relatives. This was reported by Bago University Students' Union's Facebook page as well as Radio Free Asia's Burmese service.
NGO Human Rights Watch had published a call for the European Union to take action and implement strict sanctions on the Burmese military on Thursday. And yesterday the US Embassy in Myanmar joined the call, posting on Twitter, urging peace.
"We mourn the senseless loss of life in Bago and around the country where regime forces have reportedly used weapons of war against civilians. The regime has the ability to resolve the crisis and needs to start by ending violence and attacks."
A volunteer doctor who chairs the Red Cross in Bago had been detained by the Burmese military police on April 2, and yesterday a second volunteer doctor was taken after administering free medical aid to protestors, according to his family.
Meanwhile, the military's commander-in-chief and another spokesman maintain that the Burmese military are peacekeepers, trying to strengthen the democratic system of Myanmar by safeguarding the country and investigating a fraudulent election. They deny that they seized power and blame the violence and death in the country on protestors rioting.
SOURCE: CNN
Keep in contact with Thaiger by following our Facebook page.
Never miss out on future posts by following Thaiger.
Attendance on the wane for Thai democracy protests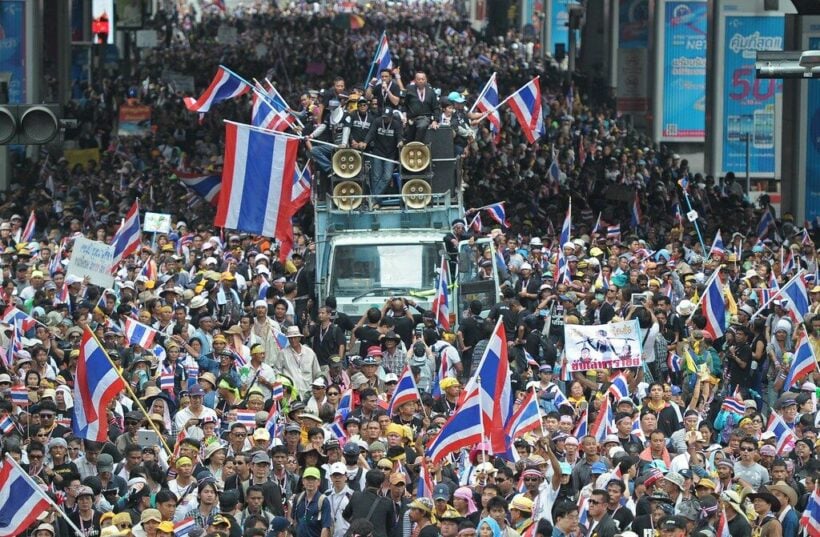 While protesters against the Thai government are continuing as they have for endless months, attendance is lessening in the face of crackdowns, coups and Covid-19. The throngs of 10,000 plus protesters, mostly energetic youth, that waved The Hunger Games 3 finger salute and demanded change in Thailand last summer have thinned to a few thousand or less these days.
The government isn't in the clear yet though, as the protester's calls to replace the current government, lessen the power of the Thai monarchy, and draw up a new constitution are still popular ideas. But a number of factors are causing protester size and vigour to wane.
The second wave of Covid in December quickly curbed the daily demonstrations for fear of spreading the virus. After that, the coup in Myanmar on February 1 has brought massive protests with international attention shifting to the growing humanitarian crisis just across the border. On top of the pandemic and the Burmese coup, the Thai government has taken a much more hardline approach to protesters in recent months.
Police began fighting back against mass demonstrations, dispersing crowds with water cannons, tear gas, and rubber bullets. And after 2 years of leniency, the government has begun prosecuting people under the strict lèse-majesté laws, where offending the monarchy can carry harsh punishment including a jail sentence of up to 15 years.
Anon Nampa, a human-rights lawyer, and Parit "Penguin" Chiwarak, a student activist, have already been arrested under this law and held without bail. Arrests like these have been demoralising for the pro-democracy movement, and have scared away a lot of Thai protesters. Many have shifted focus to more immediate efforts to demand the release of the detained protest leaders.
Even with the crowds shrinking, the protests have already brought about change, bringing once unspeakable conversations into the national conversation, and keeping pressure on Thailand's leaders. Opposition is growing, with efforts to push no-confidence votes and amendments to the constitution being constantly proposed and advocated.
SOURCE: The Economist
Keep in contact with Thaiger by following our Facebook page.
Never miss out on future posts by following Thaiger.
Burmese refugees are being aided, PM Prayut assures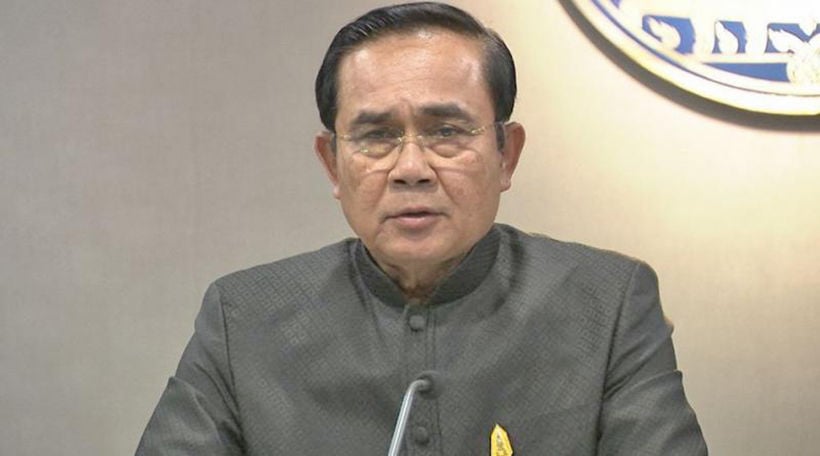 Burmese refugees along the Thai-Myanmar border are being provided with humanitarian assistance according to a statement by PM Prayut Chan-o-cha yesterday. PM Prayut spoke about the growing crisis at Government House Wednesday after a cabinet meeting. He said that the two countries, since they are neighbouring, need to be in agreement and work together and Thailand can't take sharp independent action. He believes the problem must be addressed diplomatically.
The remarks come in defence of growing concern that the Thai government is not doing enough to help Burmese refugees affected by the military crackdown. PM Prayut pointed out that there's already a government body in place designed to address and handle issues along the border, called the Thai-Myanmar Township Border Committee.
"It doesn't mean we don't care when speaking in terms of humanitarian affairs because it is about human lives. The government has suggested guidelines to solve [the crisis] via the Ministry of Foreign Affairs and ASEAN which will have a meeting shortly. We must solve the problem systematically. Because our two countries are next to each other, we can't take decisions by ourselves. As for violence, we disagree [with it]."
The Immigration Bureau Chief estimates there are about 2,000 Burmese refugees currently in the Mae Hong Son province. Several Burmese refugees have even been treated within Thailand after being injured fighting inside the Myanmar border.
The issue is exacerbated by a dual crisis with the crackdown on protests following the Burmese coup and the expanding outbreak of Covid-19 transmission. Government officials are calling for cooperation along the border and in both countries to try to resolve the refugee crisis as well as contain Covid-19 outbreaks, which are currently on the rise again.
Six more checkpoints have been reopened in the meantime along the Thai-Burmese border since March. 46 of the 97 border openings are currently open with checkpoints in operation..
SOURCE: Bangkok Post
Keep in contact with Thaiger by following our Facebook page.
Never miss out on future posts by following Thaiger.