Some secondary students use Wai Khru to make 'controversial' floral tributes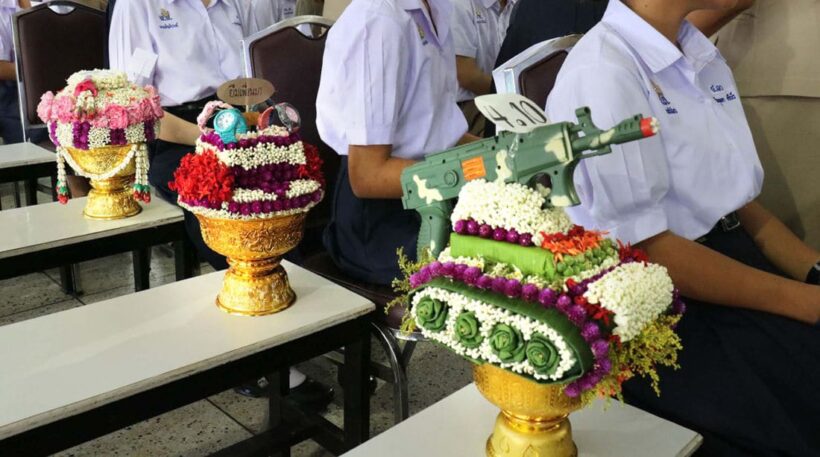 High school students have used an annual Wai Khru ceremony to make political statements via they floral tributes. The students were from the Chumphol Phon Phisai School in Nong Khai, north-east Thailand, and Phitsanulok.
The floral protests came to the attention of the current Thai deputy PM and defence minister Prawit Wongsuwan who was said to have 'taken offence'. He was speaking to the local media…
"I believe there is someone behind this. How could the kids come up with this idea by themselves?"
"I don't know who they are (the students). We have to investigate first, but we also have to respect their freedom of expression," according to Bangkok Post.
Two displays from student in Mathayom 6 (Grade 12) captured particular attention. One was a set of scales with one side marked '250 votes' and the other 'several million votes'. This was in reference to the NCPO hand-picked 250 Senators vs the country's voters. All Senators voted in a bloc to support the election of Prayut Chan-o-cha to the position of PM.
The other floral arrangement was a depiction of Bangkok's Victory Monument with a soldier standing in front.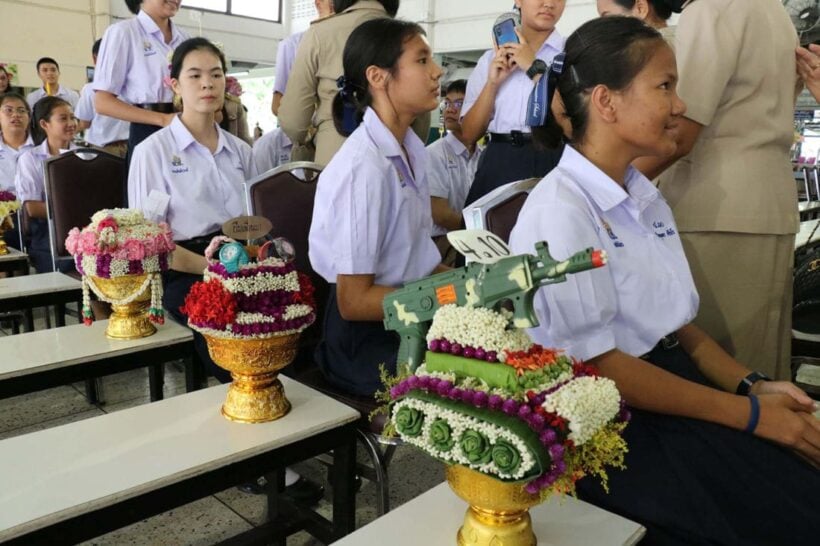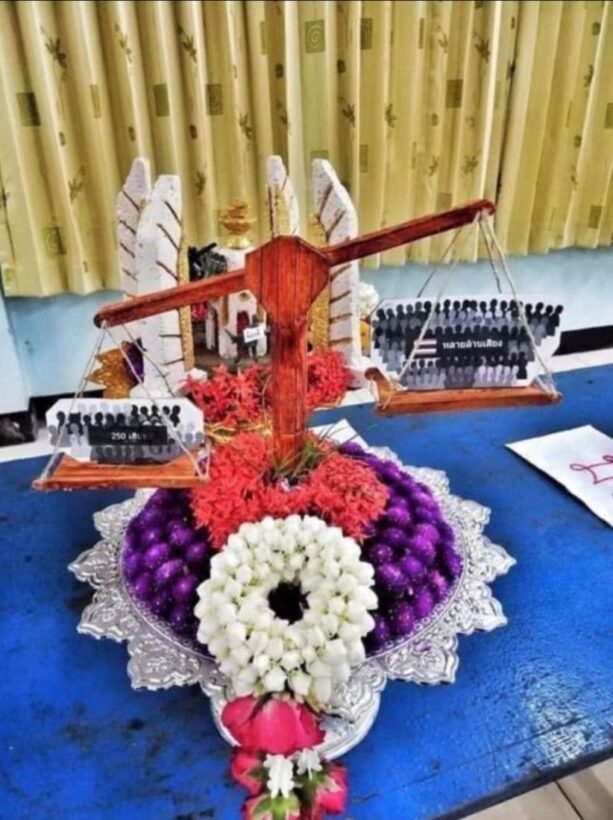 PHOTOS: Chinnawat Singha and Twitter@hanatawann
Meanwhile students in Phitsanulok were at the same game and had their floral tributes shared widely on social media. One was a beautifully-prepared Army tank and automatic rifle. Another displayed wristwatches with an accompanying message "borrowing them from a friend", a tribute aimed specifically at the deputy PM who was embroiled in controversy last year for his extensive range of luxury watches he was often seen wearing. At the time he told an enquiry "I borrowed them from a friend".
Meanwhile Future Forward's Thanathorn Juangroongruangkit got involved in the social media commentary on the student's flower-arranging skills saying "all people have the right to air their political opinions".
He also referred to a visit to the school in Nong Khai by security authorities to talk to the students who made the floral tributes. The officers asked the teens to delete pictures of their handiwork from their social media accounts.
Meanwhile Suthep Chittayawong, the acting secretary-general of the Basic Education Commission has asked schools to observe Wai Khru in the right spirit and advised teachers to make sure that the activities of their students were appropriate.
The wai khru ceremony is a Thai ritual in which students pay respects to their teachers in order to express their gratitude and formalise the student–teacher relationship. It is regularly held near the beginning of the school year in most schools in Thailand.
SOURCE: Bangkok Post
'Irishman' nabbed after 11 year overstay in north-east Thailand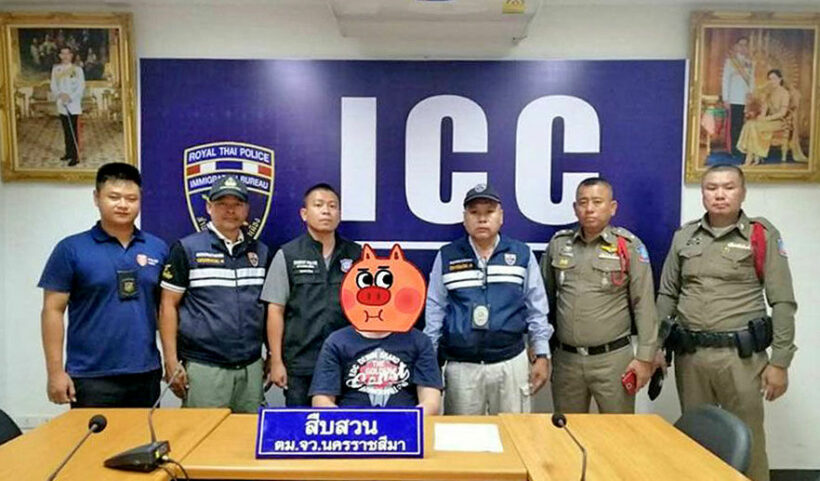 PHOTO: Naew Na
Nakhon Ratchasima Immigration, along with local tourist police, have arrested an Irishman,Samuel Caleb Birch, who has been on an overstay of 4,192 days. That's nearly 11 years and six months!
According to Naew Na, the man was arrested at a restaurant in Soi Moo Ban Yamo 5, Ban Mai, Nakhon Ratchasima, north-east Thailand.
According to his visa, he arrived in Thailand through the Malaysia border at on January 17, 2008 on a 90 day tourist visa valid up to April 15, 2008. Despite the report from Naew Na saying he was Irish, ThaiVisa reported that he was actually from Taunton in Somerset, England and was married with a Thai wife and two young children.
A GoFundMe account had been started for Samuel to raise funds to help him in his predicament but a search by The Thaiger this morning couldn't turn up an account under the name "Samuel Caleb Birch" (or other variations of the name).
The pig head in the photo has been pasted on by Naew Na
An 80 million year old carnivorous dinosaur from Thailand identified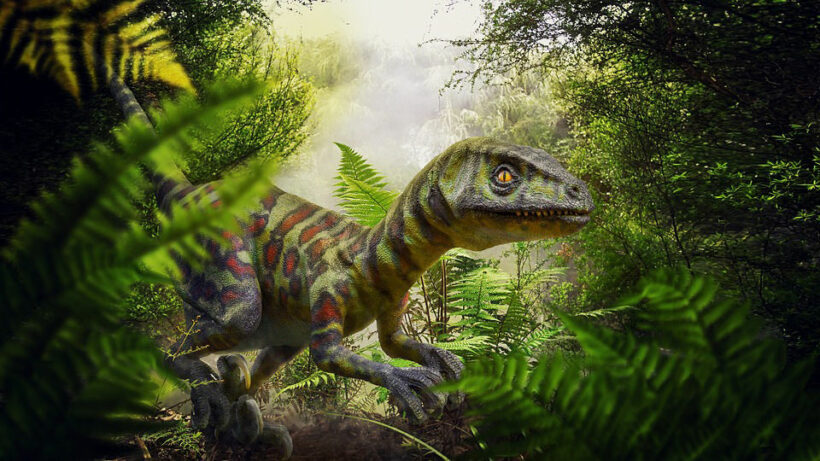 PHOTO: Thai PBS
A Thai PhD student, studying overseas, has identified some bones of a dinosaur wandering around the mountains of Khon Kaen 80 million years ago.
Fossilised bones, unearthed on a mountain in Khon Kaen nearly 30 years ago, have been identified as belonging to a previously unknown carnivorous dinosaur.
Thai PBS says the the bones were unearthed on Phuwiang Mountain in Phuwiang district in the northeastern province.
Sommai Taechaval, director-general of the Mineral Resources Department, says the dinosaur, from the Cretaceous period about 80 million years ago, was named Phuwiang Venator Yaemniyomi in honour of Mr. Sutham Yaemniyom, a retired official of the department who originally unearthed the fossilised bones.
The fossil was studied by Adul Samathi, a PhD student at Bonn University, Germany, who says he became interested after having seen the fossilised bones and was convinced that they belonged to a special dinosaur species. He suggested that the meat-eating dinosaur would have been about six metres long and its fossilised remains were found in the red sandstone layer.
A dinosaur expert at Maha Sarakham University, Dr. Suravech Sutheethorn, says the fossilised bones were found in 1993 at the 9B pit in Phuwiang national park, adding that fossils of several dinosaur species have been found in the Phuwiang district.
Sixteen dinosaur species are believed to have lived in what is Thailand today. Of these, nine were newly discovered species. They are Phuwiangosaurus Sirindhornae, Kinnareemimus Khonkaennsis, Siamotyrannus Isanensis, Siamosaurus Suteethorni, Isanosaurus Attavipachi and Psittacosaurus Sattayaraki.
If you're up around Khon Kaen in the next few weeks, don't worry, the dinosaurs all died out around 66 million years ago.
ORIGINAL STORY: Thai PBS
Thailand's Dengue Fever infections highest in five years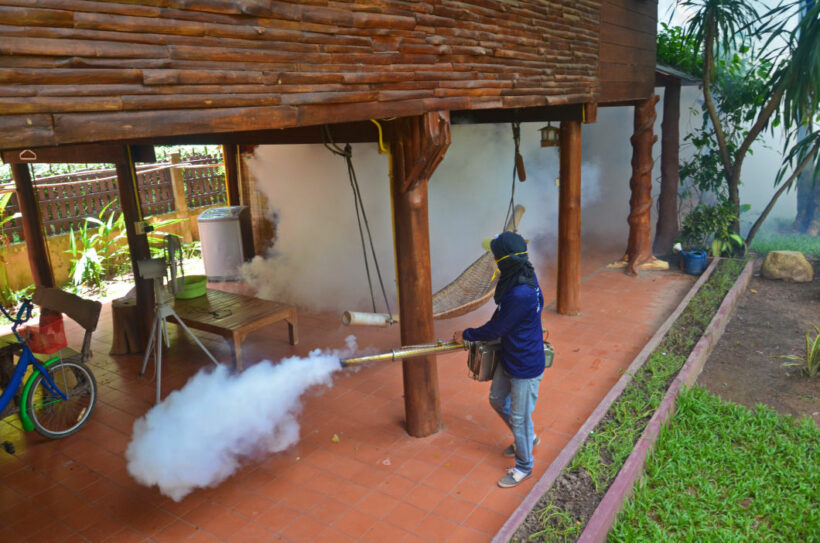 The Thai Bureau of Epidemiology, at the Department of Disease Control, reports that there have been 44,671 cases of dengue fever reported in the country, the highest number in five years, indicating that there have been 67.62 dengue patients in every 100,000 of the Thai population, which is 1.6 times higher than last year. The numbers take into account 2019 up to July 9.
Thai PBS reports that the disease has caused the deaths of 62 patients, with a concentration in North-eastern Thailand.
• There were 19,858 cases of dengue in the north-east, or 90.4 people in every 100,000 of the population of the North-eastern provinces, with 28 reported deaths.
• In the South there were 6,504 cases, or 69.41, in every 100,000 people with 11 fatalities.
• There have been 12,918 cases, or 57.92 in every 100,000 people, with 19 fatalities in the Central region
• There have been 5,391 cases, or 43.41 in every 100,000 people, with 4 fatalities in the North.
Most patients were aged 5-14, followed by those 15-34 years old and then  birth-4 years, respectively. There were some clear commonalities in the deaths –  living in communities with dengue patients, self-treatment using non-prescription medicines from local shops, not reporting to a doctor or hospital in time, or receiving NSAID and steroid injections.
The Department of Disease Control says local communities must take precautions, such as the use of mosquito nets for sleeping or resting, clearing stagnant water and using mosquito repellent. Teachers at the Ban Nong Kwoung School in Sakhon Nakhon province have even set up mosquito nets in classes to protect students.
Original story: Thai PBS
Tips for avoiding dengue fever HERE.