Polls show Thai voters sick of endless bickering over Cabinet posts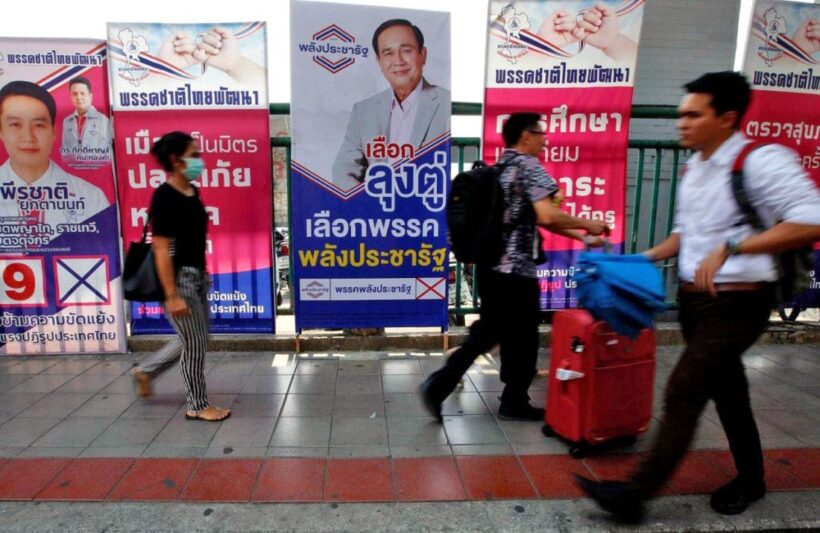 Exactly three months now since the national election for a new parliament and still no announcement of a parliamentary majority, government or ministries.
But two surveys are a strong indication of Thai voter weariness over the drawn-out process of establishing a ministerial Cabinet.
A NIDA (National Institute of Development Administration) poll shows most people (46.4%) complain that their elected representatives are focused only on securing ministerial portfolios.
More than a third of respondents (35.8%) said their MPs had not revisited their constituencies since the election.
The survey saw 1,277 people across the country, 18 years and up, quizzed on Friday and Saturday.
34% thought the MPs were playing the same old games and engaging in wars of words and invariably citing "the public interest" to justify their standpoints.
Nearly 32% say politicians in the government coalition were focused on negotiations over Cabinet portfolios, while 16.3% lamented that opposition politicians were engaging in repetitive arguments to try and topple the government.
There was a modicum of positive sentiment in the poll, with 9.2% saying their representatives often visited them and 8.7% saying most MPs were enthusiastic about working for the public interest.
Meanwhile, a Suan Dusit Poll survey out yesterday found citizens in broad agreement, with 32.8% saying the battle over Cabinet appointments was confusing, problematic and dominated by self-serving political interests.
That poll covered 1,254 people across the country between Wednesday and Saturday.
Nearly 30% of respondents said they wanted to be able to carefully check the qualifications of candidates for ministerial positions. About 24% saw nepotism at work in the Cabinet allocation process, while 15.6% complained that the process was taking too long.
Pundits believe that, with the 34th ASEAN Summit in Bangkok out of the way, the announcement of Ministries should be this week.
SOURCE: The Nation
Government unveils 12 policies – BKK street food return and a higher minimum wage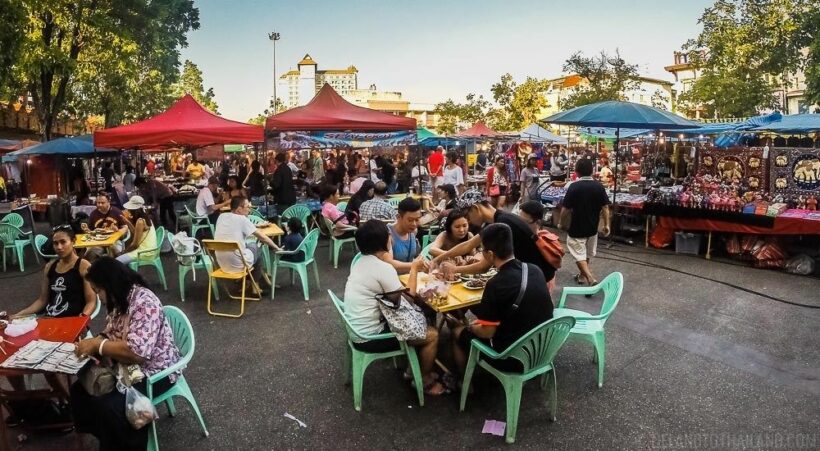 One of the new parliament's first debates, when it sits on July 25 and 26, is over a formal policy listing 12 living standard priorities. The list laid out in a briefing paper lists surprisingly progressive policies for the new coalition.
The government says it wants to reduce obstacles blocking people from earning a decent living and would utilise digital technology to help manage public transportation.
It also promised to review existing regulations that curb Bangkok's street vendors so that the city could retain its global reputation for exciting street food while at the same time ensuring cleanliness and orderliness.
This is a major reversal of the previous military government, which resulted in several popular street-food spots in Bangkok being cleared of vendors. Critics says the move – to clear the walkways in favour of pedestrians – hurt local vendors and would cost the Thai economy several billion baht a year, as well as ruining Bangkok's reputation as a top destination for street food.
The government has also vowed to address high household debt in Thailand which is slowing domestic consumption even as the global economy struggles to recover.
The policy paper says it will also review the taxation system, but offered no further signal about an election campaign promise to lower personal income tax.  Poor farmers are promised access to land and low-income people access to mortgage loans so they can buy houses.
It promises to increase the minimum wage, but stops short of committing to a hike beyond 400 baht as promised during the campaign by the Phalang Pracharat Party, which leads the coalition government.
State welfare coverage will be expanded to include support for pregnant mothers, infants and young students whose families are struggling financially. Service quality will become more standardised among the universal public health scheme, social security for workers and healthcare for state officials.
In terms of education reform, the government promises to prepare citizens for the 21st century by promoting science and technology studies, such as introducing computer-coding courses in primary schools.
Finally, the paper promises to initiate public hearings on constitutional changes, given that the current charter, written by the military, has been called undemocratic and discouraging of amendments that would enshrine basic freedoms.
SOURCE: The Nation
Ministers visit Thai southern provinces for economic brainstorming session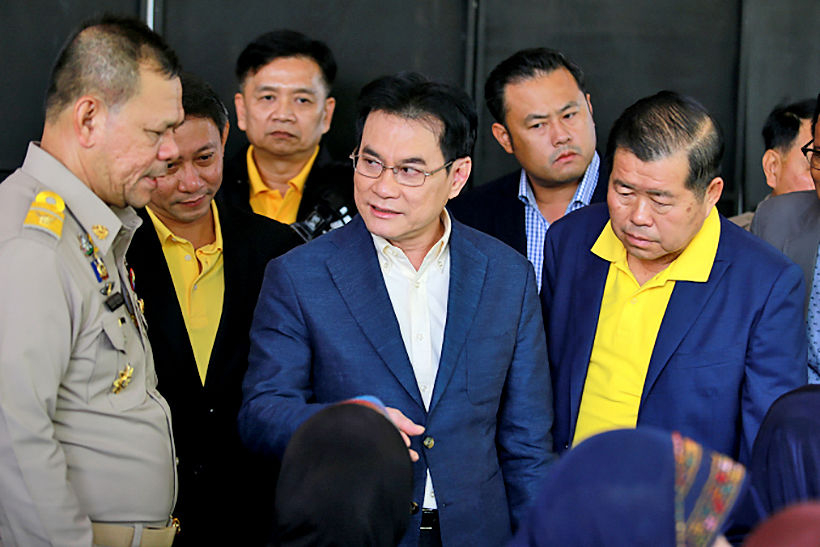 PHOTO: Commerce Minister Jurin Laksanawisit, centre, arrives for a meeting in Yala yesterday – The Nation
The new Thai Commerce Minister Jurin Laksanawisit (and leader of the Democrats), along with the Deputy Transport Minister Thavorn Senniam and Deputy Interior Minister Niphon Bunyamanee, held a multi-party discussion yesterday at the Southern Border Provinces Administration Centre in Yala province. The meeting aimed to come up with measures to boost the economy of the five southern provinces.
Jurin said emergency measures still posed a problem when it comes to development in the five provinces. Southern Thailand, particularly the three southern-most provinces near the Malaysian border, have been struggling under the violence caused by a 20 year war with insurgents. More than 6,000 people have been killed in the insurgency.
"We need to tackle the problem on three dimensions – investment, tourism and cross-border trade – which is worth about 230 billion baht."
He also mentioned that Thailand is still suffering a trade deficit in exports to Malaysia, especially when it comes to rubber products.
"The multi-party meeting aimed to seek solutions to restore and build the basic economy in the five provinces so people have a better life," Jurin, who is also deputy PM, said.
Meanwhile, Thavorn said that last week he had listened to a briefing from related parties, along with the transport minister and his deputy, and realised that a four-pronged approach will have to be taken with the development of the five provinces. The measures are…
• Developing land transport and increasing both main and secondary transportation routes as well as connections to Malaysia and Singapore in line with the government's one-belt-one-road strategy;
• Developing water transport by opening three water gateways in the South, that also connect with Malaysia and China as part of the one-belt-one-road strategy;
• Developing rail transport and connecting with other regions;
• Developing air transport in line with the Transport Ministry's plan to not open any new airports for 10 years, but to develop existing airports in the South, including plans to expand the Narathiwat airport.
SOURCE: The Nation
Constitutional Court accepts petition over Prayut's fitness to be PM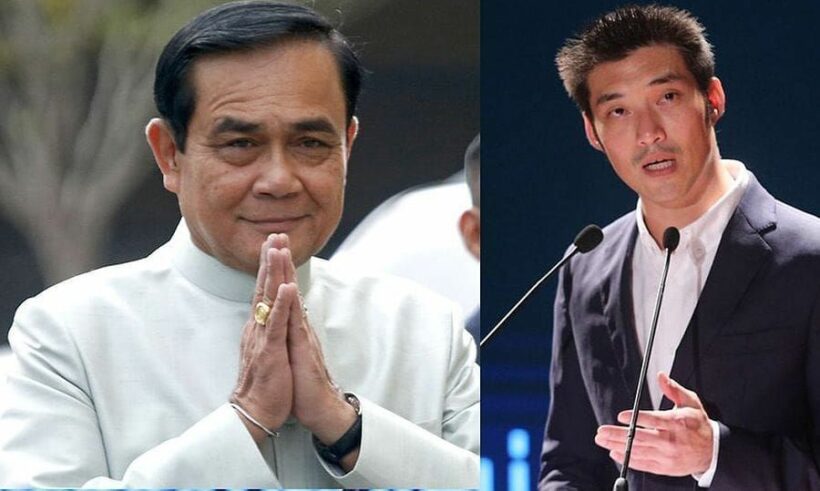 The Constitutional Court yesterday accepted a petition from opposition MPs questioning PM Prayut's "qualifications" to hold the post of Thai prime minister.
The Court announced its decision on its website, commenting that the petition had been signed by a total of 110 MPs from various opposition parties but declaring that Prayut was free to continue carrying out his duties as PM until it reached a ruling.
PM Prayut Chan-o-cha has 15 days to submit his reaction and comments about the petition.
The Court has also accepted a petition from an individual demanding the dissolution of the Future Forward Party following alleged "frequent public comments" by its party leader, Thanathorn Juangroongruangkit, and its secretary-general, Piyabutr Saengkanokkul, against the monarchy.
The two men also have 15 days to submit their rebuttal of these allegations.
Since the election both pro and anti Junta MPs have used the Constitutional Court as a blunt tool to frustrate and test the processes of the new Charter with frequent petitions, many still unheard.
SOURCE: The Nation