Thailand to ban three kinds of plastic by end of this year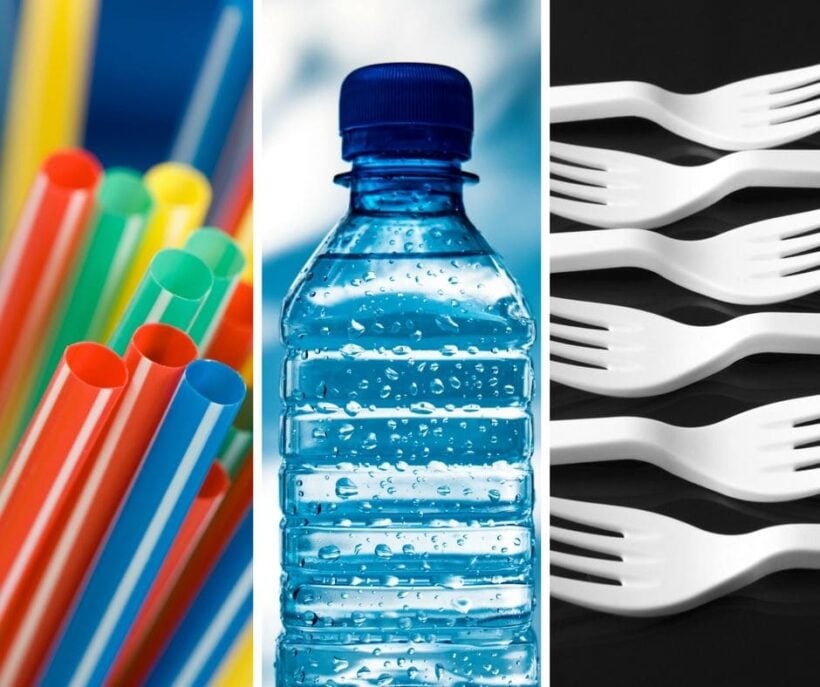 By the end of 2019 Thailand will be free from three types of plastic – microbeads, cap seals and oxo-degradable plastics.
Then by 2022 four other types of single-use plastics will also be banned – lightweight plastic bags less than 36 microns thick; styrofoam food containers for takeaways; plastic cups and plastic straws – according to a road map approved by the Cabinet.
The Plastic Waste Management Road Map 2018-2030 also includes an ambitious plan for Thailand to use 100 per cent recycled plastic by 2027 in various forms, including turning waste into energy.
The Cabinet has acknowledged the road map and assigned the Natural Resource and Environment Ministry to formulate a draft action plan for plastic waste management, so it is in line with the 20-year national strategy.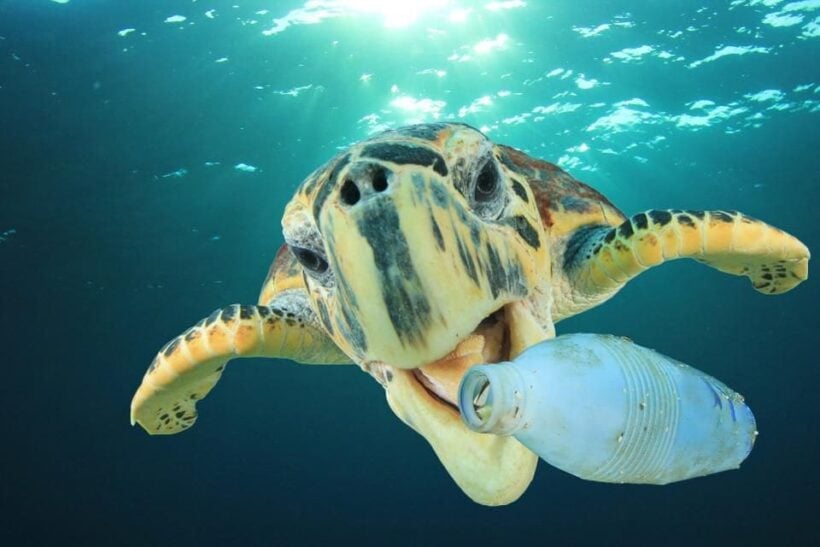 The Cabinet also called for clear details on related agencies' role in the integration of the work for managing plastic waste, which will also get huge participation from the private and business sectors. The related state agencies should create various mechanisms to propel this forward such as creating a good understanding among agencies, continuously implementing a public relations campaign via social media to achieve the set goals, the Cabinet instructed.
The work procedure must consider lifecycle plastic-waste management so steps are taken from the very start: with plastic products designed applying the "Eco Design" approach, manufacturing and post-consumption disposal which will include garbage separation, transport and storing, recycling and proper disposal.
According to the Department of Environmental Quality Promotion, Thais generate as much as 1.14 kilogram of garbage per head per day, contributing to the 27.04 million tonnes of waste per year.
One person uses approximately eight plastic bags a day – or 500 million plastic bags per day for the whole nation.
Most of the plastic waste ends up in the oceans, accounting for 16% of garbage in the seas.
SOURCE: The Nation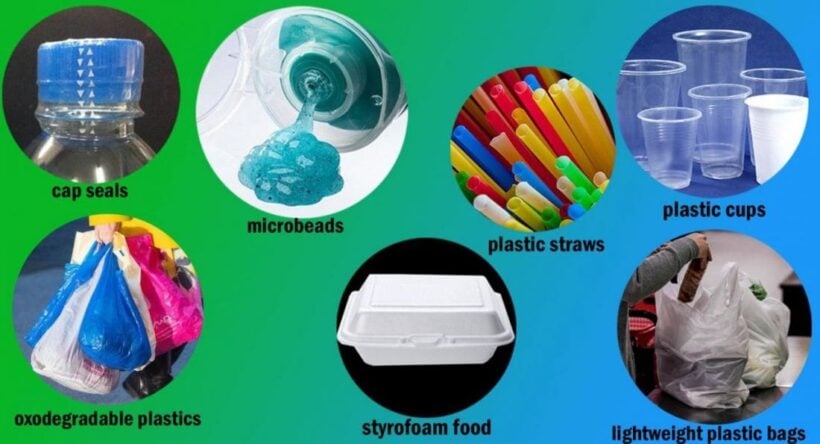 Keep in contact with The Thaiger by following our
Facebook page
.
Major corporations join the fight against plastics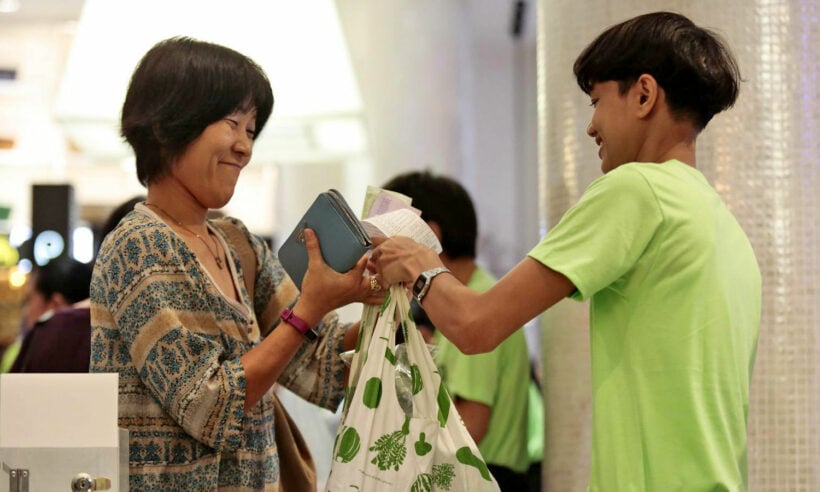 by Ghislaine Bovy
Reduce. Re-use. Recycle.
The public is now fully aware of the gigantic plastic pollution issue. They know it's time to act and act now. Many of us have already "gone" into using reusable plastic bags, refillable bottles and buy fruits and vegetables in bulk instead of in individual plastic bags, small shops don't give you a plastic bag unless you ask and pay for it!, usually.
The public is playing an important role in the fight against single-use plastics but what about the major corporations? Are they doing their part?
Consumer product companies are now adopting 'reduce, reuse, recycle' strategies and that's what I call positive news.
There is also a business reason behind this trend – consumers are demanding more sustainable goods and services. People are now ready to buy goods and services at a higher price provided they are respectful of the environment.
Unilever for example has implemented its Unilever Sustainable Living Plan as early as 2010 and they have to keep their promise since consumers will hold them accountable. Their goal is to convert all packagings to be 100% reusable, recyclable or compostable and to cut by half the use of virgin plastic and collect and process more plastic packaging than it sells by 2025.
As an example of the corporation efforts, most of Unilever home care bottles use 100% post-consumer recycled (PCR) materials.
Another consumer goods corporation, Nestlé is implementing a number of immediate actions in order to speed up the transformation of its products in line with consumer trends and choices.
Leading by example, Nestlé Indochina is now using paper secondary packaging and Nestlé worldwide is developing packagings that will reduce their environmental footprint by using climate-friendly ingredients and alternative packaging materials.
In the cosmetics industry, L'Oréal committed that by 2025, 50% of its products' plastic components will be recycled or bio-sourced and 100% of its plastic packaging refillable, rechargeable, recyclable or compostable.
"Sustainability is a new licence to operate, and it's the condition inherent to the company's long-term success and to safeguarding our planet. It's clear that corporate social responsibility is a strategic issue for L'Oréal." said Ines Caldeira, chief executive of L'Oréal Thailand.
Food operators are also joining the fight. The Oishi Group, for example, implemented "recycle and reduce" programs such as switching the company's gyoza and sushi packaging via delivery to paper boxes instead.
Hotel, Restaurant and Coffee chains are also making extensive efforts to reduce their single-use plastics usage.
The Phuket Hotels Association goes a step further than supporting the reduction of the usage of single-use plastics by their members, they are addressing the core of the problem – education.
They launched the Green Planet Learning Hub which includes a green learning centre/workshop curriculum catered for Thai students. The Green Planet Learning Hub will provide education and awareness raising programs regarding Environment & Sustainability to Thai students between 8-15 years of age in Phuket.
Their aim is to educate 5,000 Thai children per year, approximately 100 students per week. Click HERE to read.
Now that the large corporations are joining the fight and children are learning more about the environment, it's also up to you and me to do our part so let's do this!
Keep in contact with The Thaiger by following our
Facebook page
.
Anti-Prayut running event organiser hopes to avoid confrontation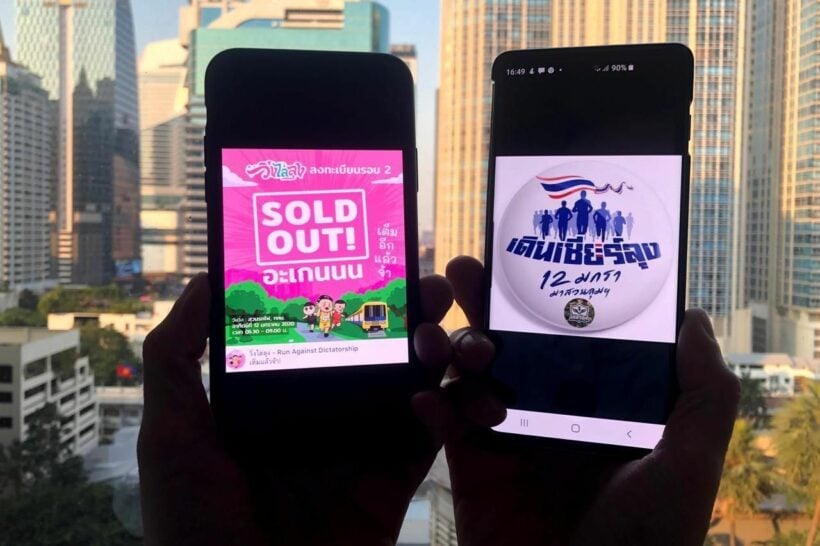 A key organiser of the proposed anti-government running event, the "Run Against Dictatorship", is urging its pro-government 'spoiler event' to ensure there's no confrontation when the rival events are held on Sunday.
"Run Against Dictatorship" is "Wing Lai Lung" (วิ่งไล่ลุง) in Thai, which literally means "Run to Oust the Uncle," a reference to PM Prayut Chan-o-cha's nickname, "Uncle Tu."
Tanawat Wongchai, the student activist behind the January 12 anti-government protest event, says he's done his part to avoid tensions, and hopes the rival "Walk to Support Prayut" group won't incite violence.
The run was originally scheduled to start at Thammasat University and include routes along Ratchadamnoen Avenue, but Tanawat says they were pressured by police to change the venue. It is now set to take place inside Wachirabenchathat Park, aka Suan Rot Fai, in north Bangkok's Chatuchak district.
"We have retreated by organising the event at a faraway location in order to reduce the risks. We've done everything to avoid confrontation."
Tanawat, who studies economics at Chulalongkorn University, says 10,000 people have registered for the run at this stage, which starts at 6:30am. Nearly two million baht has also been raised from around 3,000 runners who each donated 600 baht to cover the event's costs. Those donors will receive a T-shirt and a medallion.
Meanwhile, the pro-government Walk for Prayut will be held inside Lumpini Park in central Bangkok on the same morning. It has been mostly organised online, and it's unclear who the actual organisers are. No group or activist has stepped forward to claim credit so far. Messages to the event's Facebook page were not returned, but in a Facebook post the unnamed organisers made their position clear:
"If you oppose the orange water buffalo who hate this country, we are friends," the message read, an apparent reference to supporters of the opposition Future Forward Party, whose official logo colour is orange.
Tanawat says his group has three demands for the Prayut administration and will give them three months to respond: solve economic problems, amend the constitution, end nepotism.Depending on the government's response, or lack thereof, Tanawat says, the group will consider future actions.
"Run Against Dictatorship" has spawned similar running events in 20 provinces on the same day, mostly organised by online groups, but Tanawat insists he is not responsible for those.
"We want it to be made clear that these are different organising teams from the people organising the Bangkok event."
SOURCE: khaosodenglish.com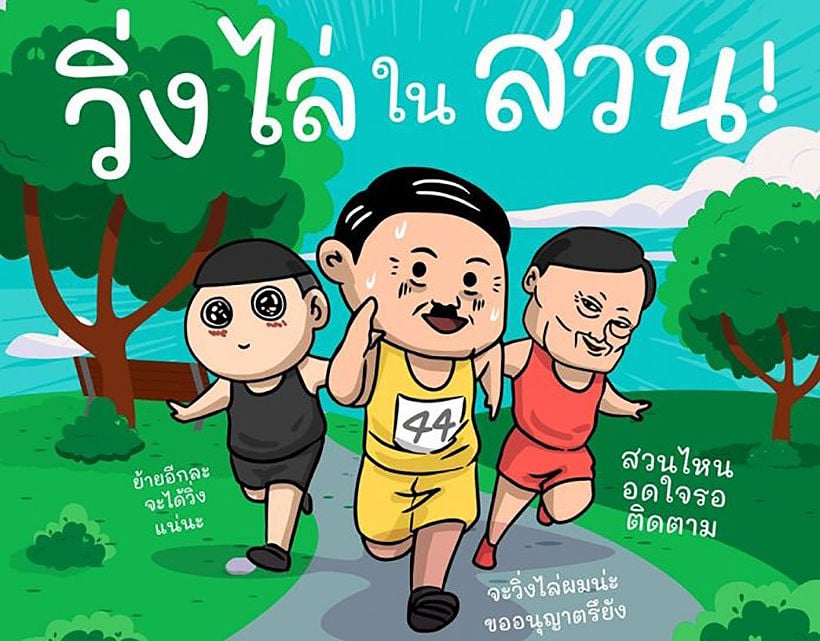 Keep in contact with The Thaiger by following our
Facebook page
.
Not all Thais are happy with plastic bag ban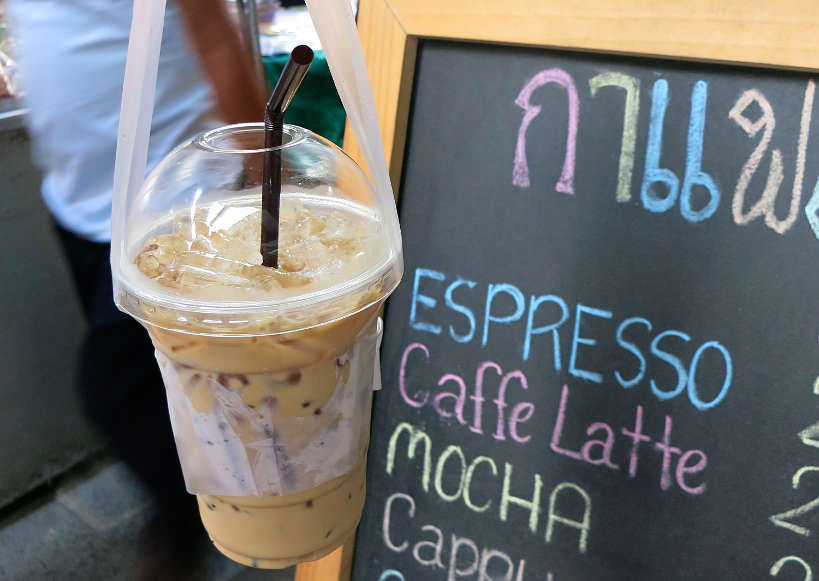 "There are also thousands of street side vendors of drinks, including the most popular Thai iced coffee and Thai tea, which come in a plastic cup, with a plastic lid, with a plastic straw, in a plastic bag."
After many positive reports, including from The Thaiger, it now seems that many Thai customers and vendors pushing back against the January 1 plastic bag ban and pointing out that not all Thais are happy, and for some it's just damn inconvenient. 75 major Thai retailers have banned the passing out of plastic bags to customers.
But traders and customers at a fresh market in Prajuab Khiri Khan, near the Burmese border, have been telling local media that going without plastic bags is "inconvenient" and cloth bags are "useless for liquids and sticky stuff."
Some say the ban only benefits big retailers and convenience store chains, who will save money, not the average Thais. One coconut milk seller lamented that banning plastic bags was terrible for her business. She said the very nature of selling different milk products necessitates many plastic bags. She doubted whether her customers would adapt and bring their own bags.
There are also thousands of street side vendors of drinks, including the most popular Thai iced coffee and Thai tea, which come in a plastic cup, with a plastic lid, with a plastic straw, in a plastic bag. Plus the array of other assorted drinks which are served directly in a plastic bag, with accompanying straw, for convenient carrying on a motorbike.
Vendors worry that it will be difficult to package other foods as well, like sugar, nuts and curry paste. And what about all those wet curry-style Thai takeaways?
A pork ball vendor also complained, saying he has to buy 10 kilograms of meat per day and carry it 40 kilometres to market.
"What if the stuff seeps out or gets damaged on the way back?"
SOURCE: Thai Rath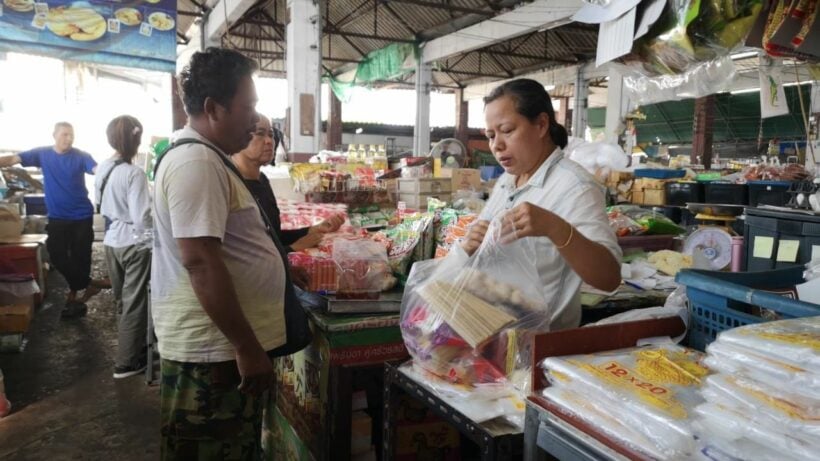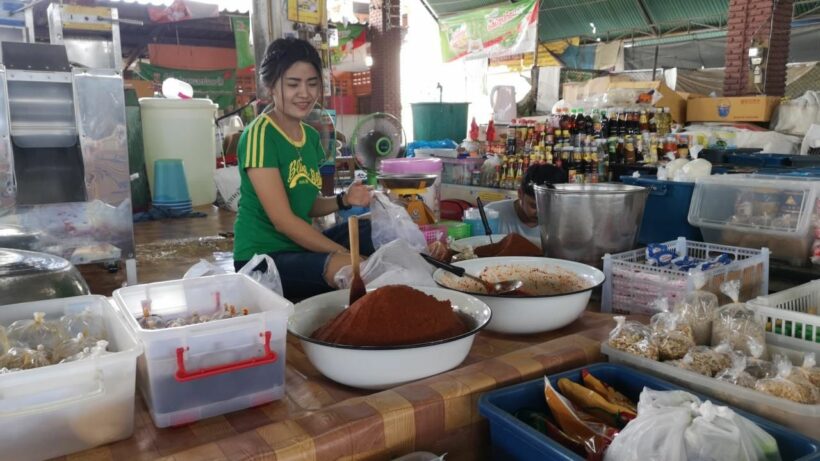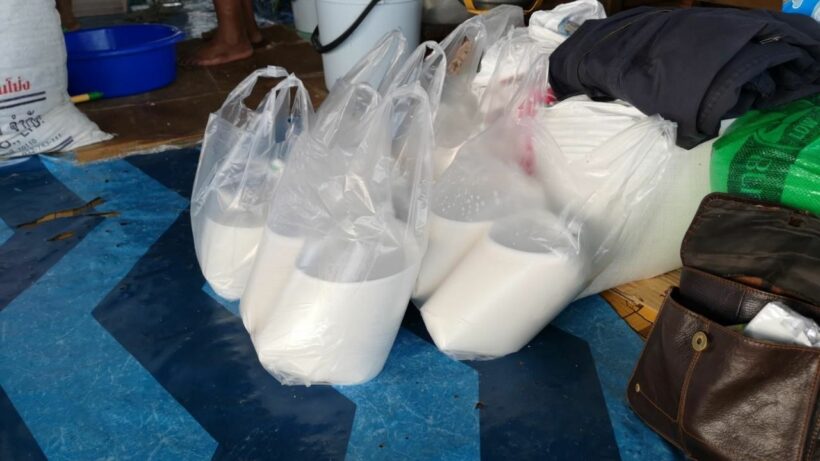 Keep in contact with The Thaiger by following our
Facebook page
.