Pope Francis calls for action on exploitation of children, human trafficking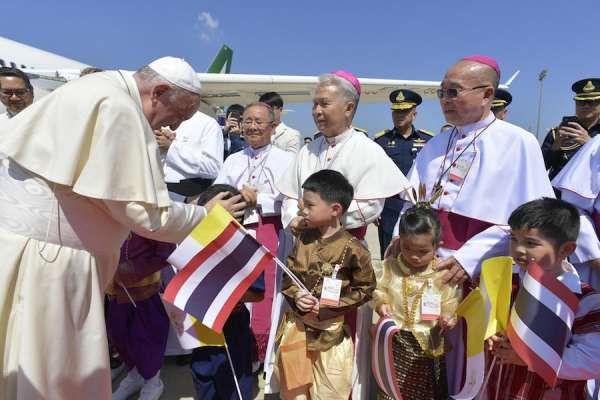 PHOTO: Government House
Pope Francis was making calls for migrants to be made welcome and women and children to be protected from exploitation and abuse. The comments were made during the second day of activities for the leader of the world's catholic church in Thailand today.
The irony of the Pope's comments would have surprised many with the Catholic Church still embroiled in litigation over decades of abuse by Priests on younger members of their church, mostly boys and young men. The Church leadership, all men, also preach antiquated dogma and interpretations of Christian teaching forbidding abortion, contraception or allowing women to become leaders within the church.
The church, itself, has been forced to investigate more around 3,000 of its priests over accusations of sexual abuse, with thousands more being taken to court around the world.
Meanwhile, His Holiness pleaded for action against one of the region's greatest scourges, human trafficking to fuel the forced labour and sex trade industries.
He praised the Thai government's efforts to fight human trafficking in a speech delivered at the PM Prayut Chan-o-cha's Government House offices. He also appealed for greater international commitment to protect women and children "who are violated and exposed to every form of exploitation, enslavement, violence and abuse".
He called for ways to "uproot this evil and to provide ways to restore their dignity".
"The future of our peoples is linked in large measure to the way we will ensure a dignified future to our children.'
The US State Department has faulted Thailand for failing to fully crack down on traffickers who induce young Thai girls into pornography, as well as the exploitation, including via debt bondage, of migrant workers in commercial fishing enterprises. The Thai government has insisted it has made significant progress in cracking down on human trafficking and has vowed continued cooperation with international bodies to improve.
Francis has made the fight against human trafficking an important issue of his papacy, describing it as "a crime against humanity". The Vatican has hosted several conferences on eradicating trafficking, featuring women freed from forced prostitution.
While Thailand has a tradition of taking in migrant labourers and sheltering people fleeing from danger in neighbouring countries, it also has a checkered history of deporting foreigners who are in the country illegally, even if they are recognised by the United Nations as refugees who are fleeing persecution. In addition, up until it signed an agreement with the UN refugee agency this year, Thailand held child asylum-seekers in detention centres.
In his comments made alongside Thai officials, Francis thanked the country for its historical role welcoming migrants from across the region, who are drawn to Thailand for economic opportunities. But he said all countries must do more to resolve the conflicts that fuel the "tragic exodus" of forced migration.
"May every nation devise effective means for protecting the dignity and rights of migrants and refugees, who face dangers, uncertainties and exploitation in their quest for freedom and a decent life for their families."
SOURCE: Bangkok Post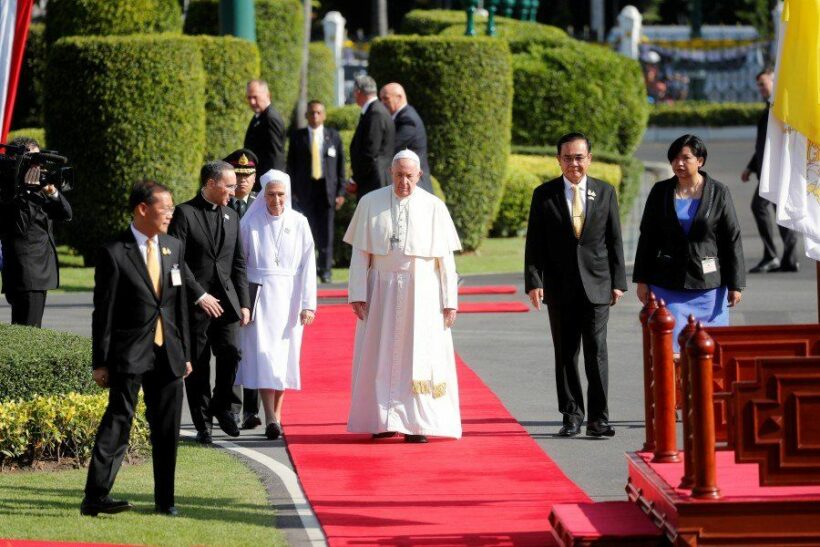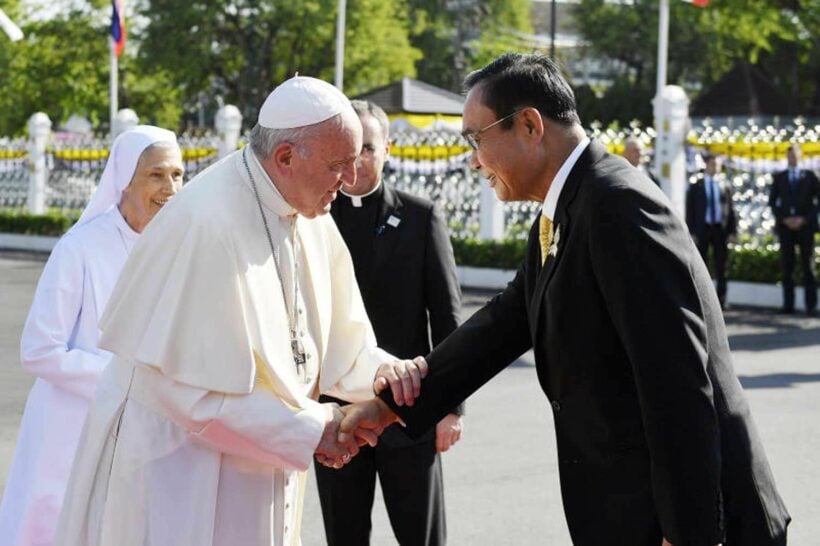 Keep in contact with The Thaiger by following our
Facebook page
.
Free transport for the Royal Barge Procession in Bangkok – December 12
PHOTO: National News Bureau
Travel will be free on all mass transit rail services and selected BMTA bus routes tomorrow (December 12), for the Royal Barge Procession on the Chao Phraya River. The rare and grand event will be presided over by His Majesty King Maha Vajiralongkorn as the final act in this year's auspicious coronation that took place between May 4-6.
And the weather looks perfect for the grand spectacle.

Sixteen areas, on both banks of the Chao Phraya River, including six with stands, are being provided for spectators. Those attending are advised to dress appropriately for a Royal event, with yellow shirts for men and yellow dresses for women. Please note that black or bright shirts of other colours are prohibited.
To facilitate the Royal Barge Procession and the motorcade around the city by HM the King and HM the Queen, the Rama VIII and Pinklao bridges will be closed to all traffic from 3.30pm-5pm.
Eight roads will be closed to traffic from 4.30pm-6pm. They are…
Rajinee Road from Pinklao Bridge to Pan Phipob intersection
Na Phra That Road
Chan Road
Na Phra Lan Road
Maharat Road
Thai Wang Road
Rajdamnoen Road
Sanam Chai Road from Pom Padet intersection to Ror Dor circle
The BTS skytrain, MRT including the Purple Line, Airport Rail Link and the bus rapid transit lane (BRT) operators have announced free rides all day to help people attend the historic event.
The Bangkok Mass Transit Authority said about 200 buses on 19 routes will also transport people without charge to locations by the river where people can enjoy the event.
The State Railway of Thailand will also run some free trains…
Train No.320 leaving Ayutthaya for Hua Lamphong at 9.30am and returning train No.321 leaving Bangkok at 8.15pm; train No.322 departing Nakhon Pathom for Thon Buri at 9.55am, and train No.333 leaving Thon Buri for the return at 8pm (information from Bangkok Post).
Train No.326 leaving Chachoengsao for Bangkok at 9.20am and return train No. 325 scheduled to leave Bangkok at 8.05pm; Train No. 4322 leaving Mahachai at 9.35am to Wong Wian Yai station, and the return trip, train No.4347, departing Wong Wian Yai at 8.10pm (information from Bangkok Post).
The royal barge procession is the last in a series of events to mark the coronation of HM the King. The processions starts at 3.30pm, leaving from Wasukree Pier to Wat Arun (the Temple of Dawn), with HM the Queen and royal family members also attending the ceremony.
For security reasons, all spectators will need to pass through security checkpoints and show their ID cards or passports. There's also a hotline about traffic arrangements available by dialling 1194 around the clock.
There will be extensive coverage of the spectacle on Thai TV tomorrow. The Thaiger will provide a link when it becomes available.
SOURCES: Bangkok Post | Thai PBS World
Keep in contact with The Thaiger by following our
Facebook page
.
Bangkok less popular, Taipei heads the list – World's favourite city for expats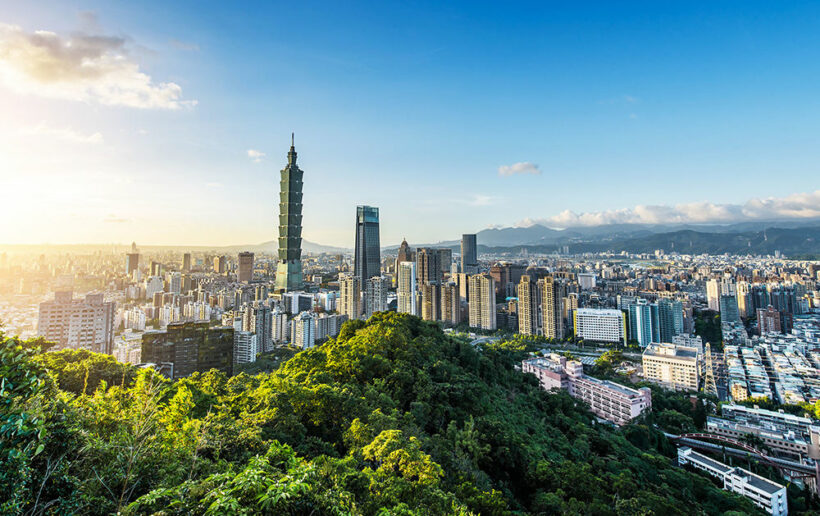 PHOTO: This year's #1 city for expats – Taipei, Taiwan – Time Out
Bangkok has dropped from #5 (in 2018) to #20 this year in the annual Expat City Ranking – a big drop from its former position as a darling of the world expat community. But Asian cities continue to dominate the annual global Top 5 in the Expat City Ranking 2019. Italian cities Rome and Milan join Kuwait City at the bottom of this year's rankings.
Taipei managed to defend its first place from last years list. Kuala Lumpur is rated the best city for getting settled and is second overall. Ho Chi Minh City ranks first in the Finance & Housing Index but third in the overall survey. Singapore and Montreal fill out the top five spots this year.
Bangkok experienced a significant drop compared to the 2018 edition of the list, where the Thai capital ranked 5th worldwide and 4th in Asia.
"Poor environmental management and horrendous traffic conditions eventually took a toll on Bangkok ratings."
Bangkok, as an "expat-friendly city", now faces fierce competition with Taipei, Kuala Lumpur and Ho Chi Minh City taking the lead ahead of the longtime favourite.
Ranking fifth out of all the cities surveyed in Asia, Bangkok ranks third in the Finance and Housing Index, but the Big Mango's rankings were shot down by poor scores for environmental quality and political stability. 59% of the respondents in the survey say Bangkok's environment is poor, and 36% worry about political stability.
Singapore's fourth place further adds to Asian destinations dominating the Expat City Ranking 2019. The four top cities all do very well regarding finance and housing, with Singapore receiving the "worst" result here – a 15th rank mostly due to the expensive housing in the city-state.
Bangkok, the Thai capital, stays in the top 3 in the Finance & Housing Index for another year although the city has dropped from second place in 2018 to third place in 2019.
With regards to how easy it is to find housing in Bangkok, 80% of respondents give agreeable answers. The ease of finding a new, reasonably priced home appears to be an attractive aspect for expats moving to Bangkok; 58% of respondents find that the housing in the city is affordable.
With its second place in the Expat City Ranking 2019, Kuala Lumpur makes it into the global top 3 after consistently ranking among the top 10 cities in the past few years. Expats rate Kuala Lumpur as the city where it's easiest to get settled, as well as one of the best cities worldwide when it comes to finance and housing.
Following a 4th place out of 72 cities in 2018, Ho Chi Minh City manages to further improve its result to rank 3rd out of 82 in 2019. Expats rate Vietnam's most populous city as the best place for finance and housing, with the city ranking first for all but one of the underlying factors. HCMC places second regarding the affordability of housing.
In the Expat Insider 2019 survey, over 20,000 participants were asked not only to rate their respective host country but also to share insights regarding their city of residence. Respondents rated more than 25 different aspects of urban life abroad on a scale of one to seven, with the rating process emphasising expats' personal satisfaction with these aspects.
SOURCE: Internations.org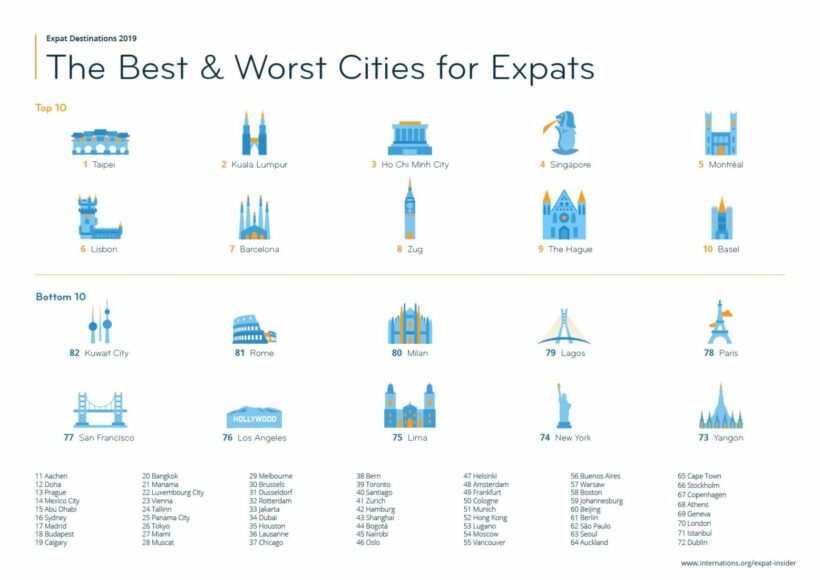 Keep in contact with The Thaiger by following our
Facebook page
.
Bangkok air pollution on the rise again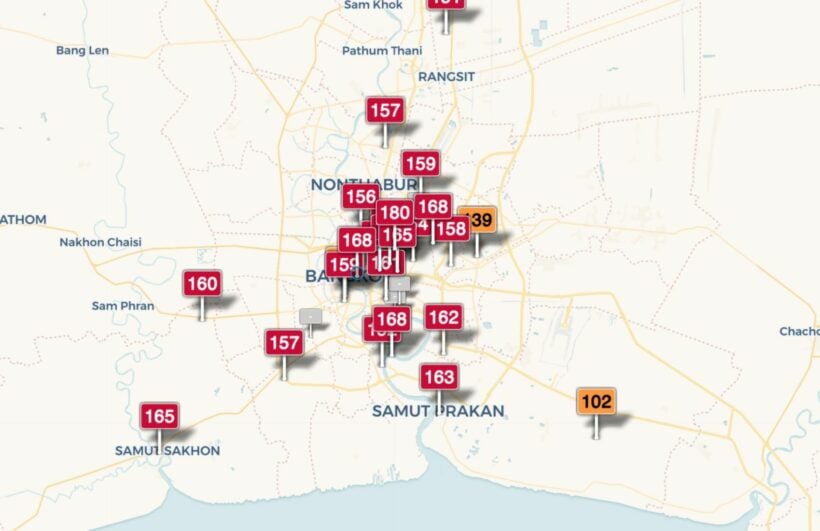 Flimsy paper face masks will be the only winner in the latest round of air pollution smoking up Bangkok at the moment. The Thai Pollution Control Department reports that excessive PM2.5 particulate is currently on the rise in the capital, suburbs and two neighbouring provinces.
PM2.5 particulate is the term used to describe very fine dust particles that reduce visibility and can make the air hazy and smoky. Studies show that an increase in PM2.5 can cause or worsen respiratory problems such as asthma and bronchitis, with those exposed to excessive levels at increased risk of heart and lung disease.
Thai PBS World reports that The Pollution Control Department puts the air in Bangkok and surrounding areas as below standard, with PM2.5 exceeding 100 microns in some areas, up to 180 in one location.
Bangkok, Samut Prakan, and Samut Sakhon have all recorded PM2.5 at 29-63 microns, with 50 microns detected in Pathumwan, Bang Kor Laem, Khlong Sarn, Phasi Charoen, Bang Khen, Bangsue, Laksi, Tambon Mahachai of Samut Sakhon's Muang district, Tambon Om Noi of Krathum Ban district of Samut Sakhon and Tambon Paknam of Samut Prakan's Muang district. (Latest readings from aqicn.org on the link)
Residents in those areas are advised to protect themselves while outdoors.
The usual response from the BMA and Thai government is to roll out the water cannons and requests for people to only use their cars if necessary. Meanwhile, the main polluters – factories, dirty diesel buses and regional burn-offs – continue unabated.
SOURCE: Thai PBS World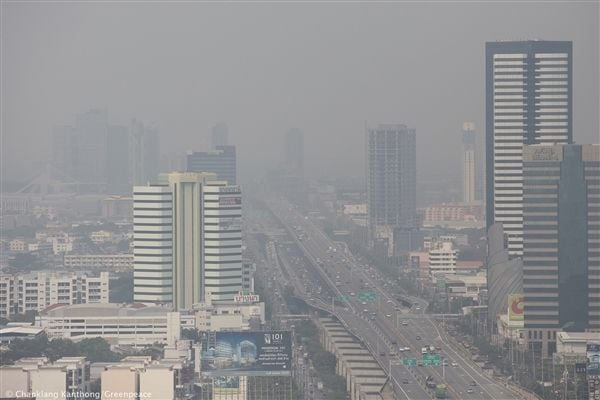 PHOTO: Thai PBS World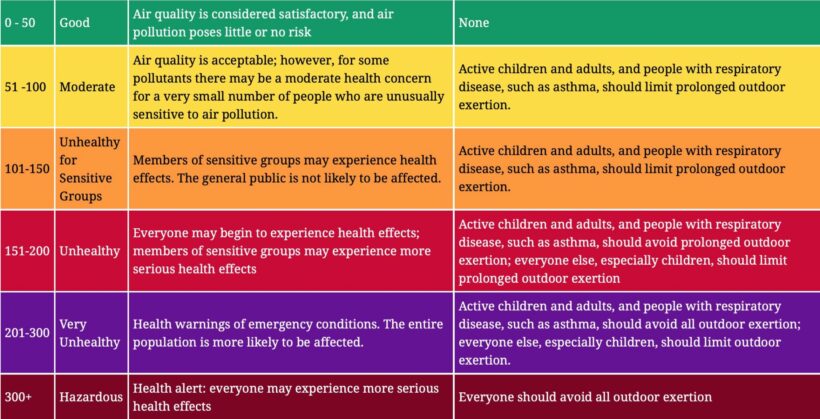 CHART: aqicn.org
Keep in contact with The Thaiger by following our
Facebook page
.