Phuket Vegetarian Festival events 2019 – schedule and history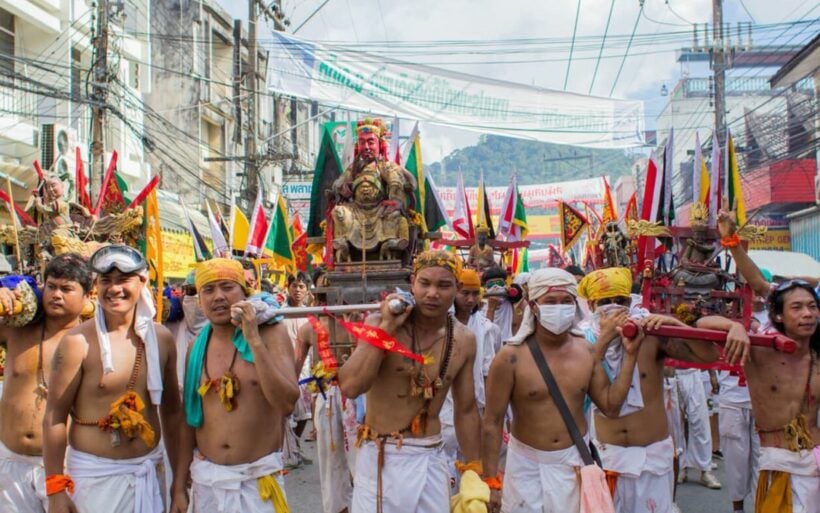 The annual Phuket Vegetarian Festival, aka. 'Nine Emperor Gods Festival', always runs during the ninth lunar month. For expats and tourist 'newbies' the Vegetarian Festival is a lot to do with parades, firecrackers, bizarre ceremonies and spiritual mystiques piecing themselves, and little to do with vegetarian food.
Whilst we've tried to provide a program here, any time schedule at individual shrines is extremely fluid. But typically the ceremonies begin at the temples early morning and then the parades start winding their way through the streets mid to late morning. But, really, they can happen at any time of the day. The spirits appear little concerned with worldly concepts like 'punctuality'.
The traditions of the annual festival are steeped in ancient Chinese traditions, fused with religious rites and local embellishments. Ask any local Thai-Chinese on the island and you'll get a hundred different versions of what it all means. Best not to try and understand it – simply appreciate the dedication to the cause, the colour and noise, the baffling and brutal piercings and the most WTF event you're likely ever see anywhere in the world.
The parades feature the 'mah song', a 'possessed' man or woman who leads the parade with body piercings that can be from mild to grotesque. Some of the parades are not for kids! These days the parades are trailed by first-aid teams who help some of the mah songs who succumb to their self-inflicted injuries and other devotees who get too close to the fireworks. Occupational health and safety is NOT a big feature of the annual celebrations.
In the wake of the passing parade is the stench of acrid fireworks smoke, red firecracker casings, bits of food, often blood and colourful flags that just get trampled in the frenzy.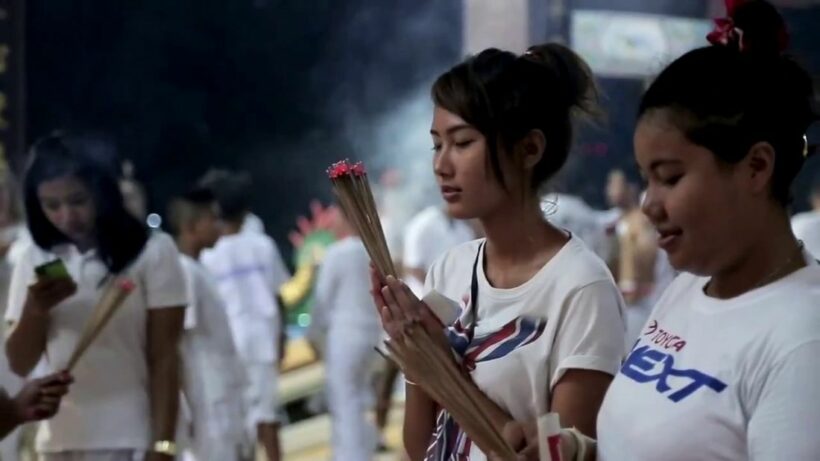 Phuket was a popular trading port for the Chinese over four centuries so that half of the island's residents are descendents of Thai/Chinese families. Whilst the annual parades, ceremonies and fire-walking displays are just an annual fixture for the locals, they are are an eye-popping week of sensory overload for newcomers to the week of traditions.
Whilst the Vegetarian Festival is celebrated in other parts of Thailand its focus is Phuket where Chinese tourists flock to enjoy the event, along with an increasingly curious bloc of western tourists.
On a typical day during the festival, devotees assemble at Chinese shrines – there are many around the island. There are food stalls lining the streets near the shrines where you can buy any number of vegetarian dishes. Usually it's just lots of noodles with a few vegetables thrown in, tofu, stir fried and served on a plastic plate. There are hundreds of dishes but they all taste much the same.
The 'vegetarian' aspect of the festival is to 'cleanse' your body of evil spirits and eat a vegetarian-only diet for the ten days each year. Local cows and chickens rejoice as many locals do indeed go 'veggie' for the term of the celebration – some even keep it going until the end of the month.
The festival main event kicks off the ten days of celebrations (tonight), with everyone dressed in white gathered at their local shrine. A giant bamboo pole will be raised, meant to invite divinities to come down to earth. The mah songs wear bright and highly ornate outfits – the rest of us wear white. It you don't have anything white be assured there are hundreds of shops you can get a 'vegetarian festival-appropriate' costume.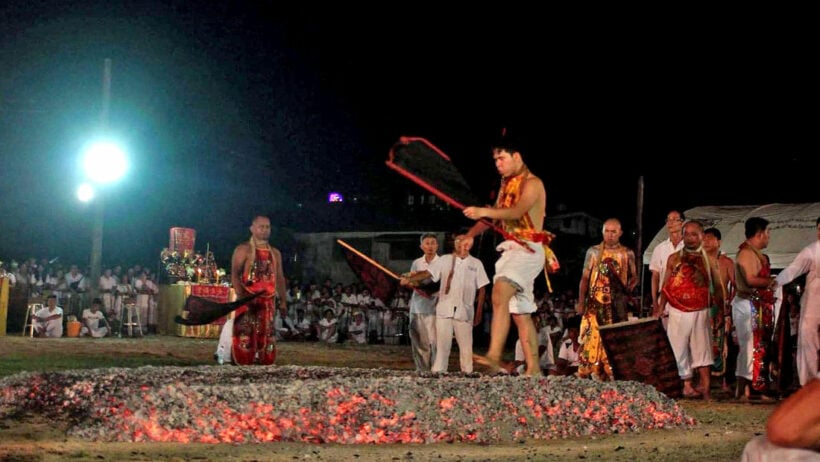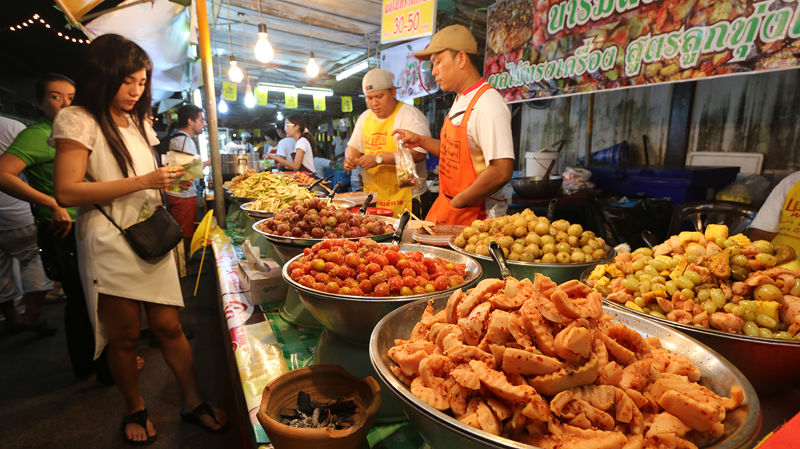 Devotees will follow the main rules for the week – mostly wear white, won't eat meat, won't drink alcohol, won't have sex. Women having periods should not attend events or even watch the festival, according to the beliefs.
Each day of the Phuket Vegetarian Festival, processions start from one of the leading shrines around the island. Locals will flock to the temples in a chaotic crowd trying to get close to the mah song or even a selfie.
From early morning, the mah song will enter a trance at their favourite shrine and pierce their cheeks with, well, just about anything they can poke through their cheeks. Spikes, swords, car parts, tools, petrol nozzles… as the years pass the more excessive and grotesque the display of human piercing.
The procession will then wind their way through the streets. You'll know they're coming – traffic will be stopped and the mah songs and white-clad devotees will travel from one shrine to another. Locals (the Thai-Chinese anyway), will prepare food offerings on small tables outside their homes and shops, receive blessings from the mah song and suffer the deafening noise as the parade passes by.
Firecrackers get thrown around, all elements of safety or crowd control completely vanish and a good time is had by all – usually.
The mah songs say they are possessed by ancient spirits for the period of the parades and claim they suffer no pain when the articles are pierced through their cheeks. Spirits, good drugs or just hocus-pocus, the mah songs are the main player in the absorbing marches that are the feature of the parades all over the island. There are also fire-walking displays later in the week where devotees (and usually a few drunk tourists who would be advised not to try!) walk across red hot coals to display their protection from being burned by the 'spirits'.
Whilst events may pop up anywhere around the island, the main focus is Phuket Town and Kathu where most of the Chinese shrines and temples are located.
More history of the Phuket Vegetarian festival HERE.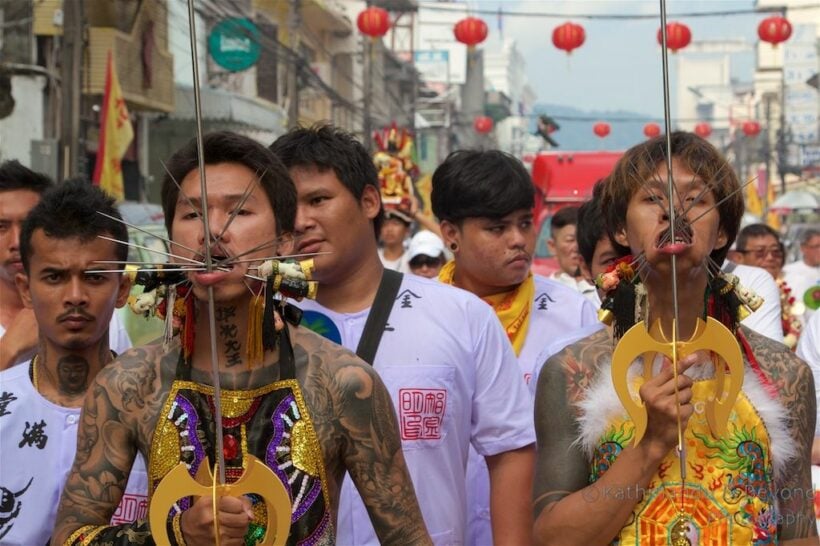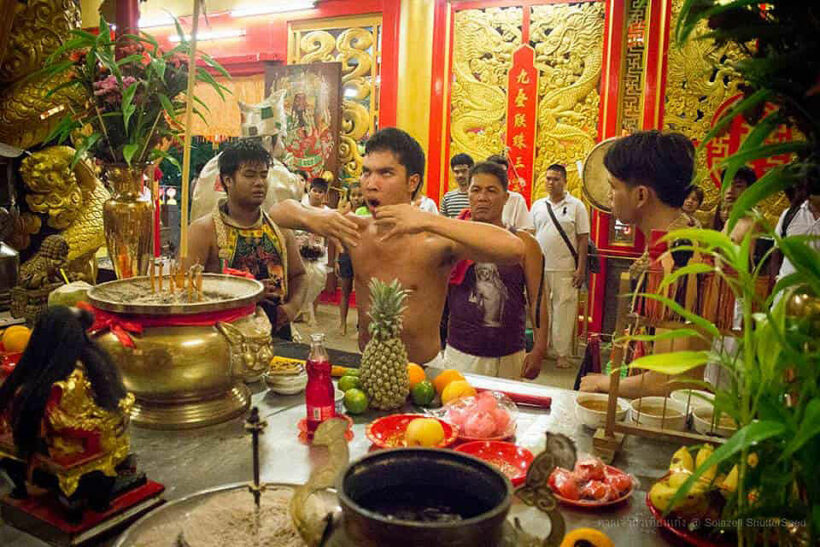 Activities for this year's Vegetarian Festival
Monday, September 30
• Hun Jong Aam Joh Su Kong Naka Shrine, Wichit
Tuesday, October 1
• Sam Pai Kong Shine, Bang Khu
• Guan Tae Kun Shrine, Sapam
• Sang Lang Tong Shrine, Baan Muang Mai
Wednesday, October 2
• Tae Kun Shrine, Baan Nabon
• Lim Hu Tai Su Shrine, Samkong
• Tai Houd Tong Shrine, Surin Beach
• Bu Sent Tong Shrine, Cherng Talay
Thursday, October 3
• Tai Seng Pud Joh Shrine, Chalong
• Jeng Ong Shrine, opposite Vachira Phuket Hospital
• Ban Tha Rua Shrine, Tha Ruea
• Tae Koon Tai Tae, Baan Pasak, Cherng Talay
• Hun Jong Aam Joh Su Kong Naka Shrine, Wichit
• Sang Lang Tong Shrine, Muang Mai, Thalang
• Guan Tae Kun Shrine, Sapam
Friday, October 4
• Bang Neow Shrine, Srisoonthorn
• Gim Tsu Ong Shrine, Baan Don
• Sam Ong Hu Shrine, Cherng Talay
• Jong Ngie Tong Shrine, Ton Sai Waterfall
• Tai Houd Tong Shrine, Surin Beach
Saturday, October 5
• Jui Tui Shrine, Phuket Town
• Gim Tsu Ong Shrine, Baan Don
Sunday, October 6
• Lai Too Shrine, Kathu
• Tae Gun Shrine, Ban Nabon
• Hai Yian Keng Shrine, Baan Mai Khao
• Yok Ke Keng Shrine, Soi Pa-niang
Monday, October 7
• Ngoh Hian Tai Tae, Cherng Talay
• Sui Bun Tong Shrine, Phuket Town
• Sam Pai Kong Shrine, Bang Khu
Fire-walking ceremonies
Friday, October 4
• 8:09pm Jui Tui Shrine
• 8:09pm Jeng Ong Shrine
• 8:30pm Ban Tha Rua Shrine
• 8:45pm Guan Tae Kun Shrine
• 8:45pm Yok Ke Keng Shrine
• 9:00pm Sui Bun Tong Shrine
• 9:00pm Tae Gun Shrine
• 9:00pm Hai Yian Keng Shrine
Saturday, October 5
• 9:00pm Tai Houd Tong Shrine
• 9:00pm Bu Sent Tong Shrine
Sunday, October 6
• 2;00pm Kim Su Ong Shrine
• 8:00pm Bang Neow Shrine
• 8:00pm Tae Koon Tai Tae
• 8:09pm Lim Hu Tai Su Shrine
• 9:09pm Jong Ngie Tong Shrine
• 8:15pm Sang Lang Tong Shrine
• 8:30pm Sam Ong Hu Shrine
• 8:30pm Tai Seng Pud Joh Shrine
Monday, October 7
• 3:00pm Lai Too Shrine
• 7:30pm Sam Pai Kong Shrine
Tuesday, October 8
• Closing of the Vegetarian Festival 2019.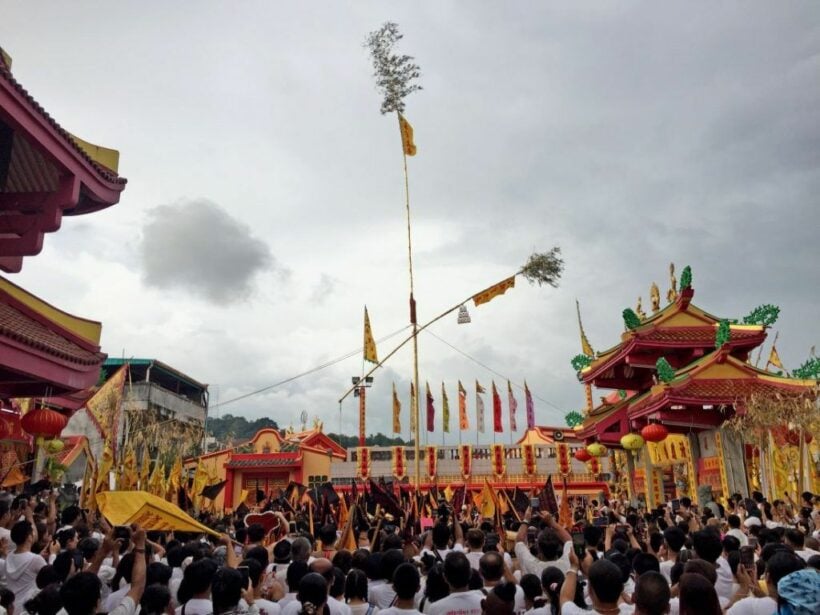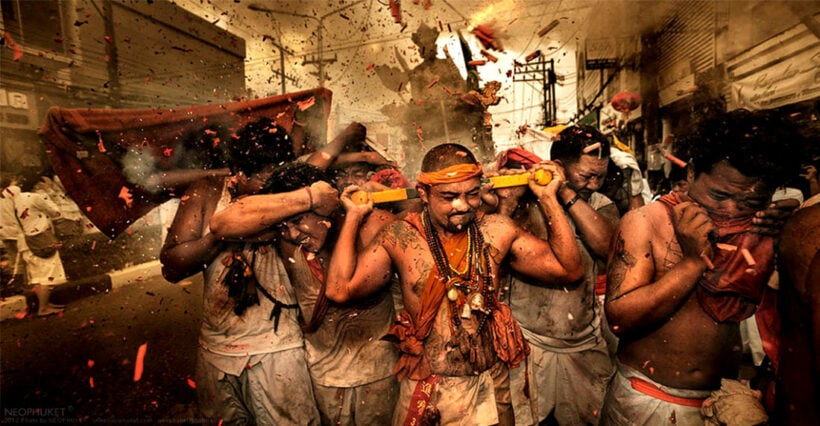 Keep in contact with The Thaiger by following our
Facebook page
.
Bangkok's legendary Scala cinema is closing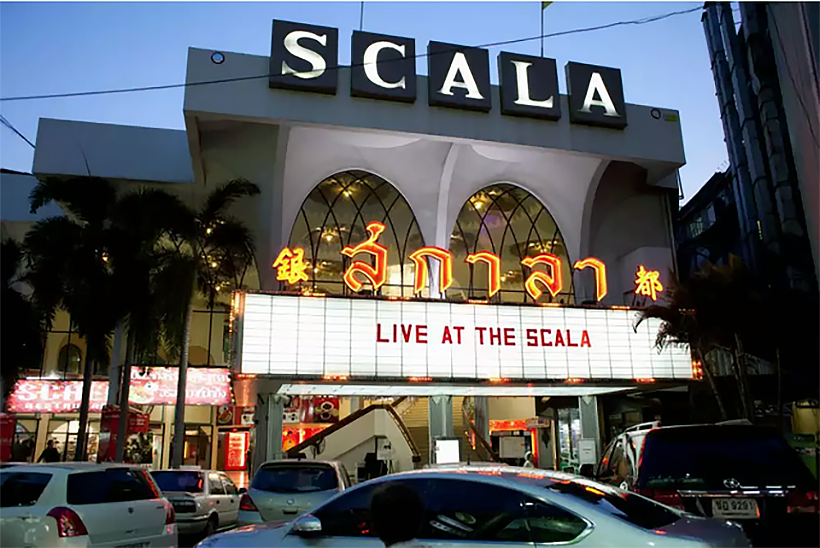 Bangkok's venerable Scala cinema announced yesterday that it will stop its movie showing operations and let other businesses rent the venue for their activities or special screenings until the end of 2020, when its land contract expires. Scala, located in Pathumwan district, is the last standalone movie theatre in Bangkok.
The 1,000 seat cinema was built in 1969 and named after Milan's Teatro alla Scala. It's owned by Apex Group, which used to operate 3 other standalone cinemas in Bangkok: Sala Chalermthai Theatre, which was demolished in 1989; Siam Theatre, which shut down in 2010 after being damaged in a fire, and Lido Multiplex, which closed down in 2018 when its contract expired.
Scala had earlier announced that it would close temporarily, from March 18 until May 31, in line with the Emergency Decree to prevent the spread of Covid-19. Among the businesses that were ordered shut were movie theatres, restaurants, massage parlours, fitness centres and others. The restriction was lifted for several businesses, including movie theatres, on June 1, but sadly the Scala is bringing down the curtain on half a century Bangkok's cinema history.
SOURCE: Nation Thailand
Keep in contact with The Thaiger by following our
Facebook page
.
Bangkok braces for Black Lives Matter rally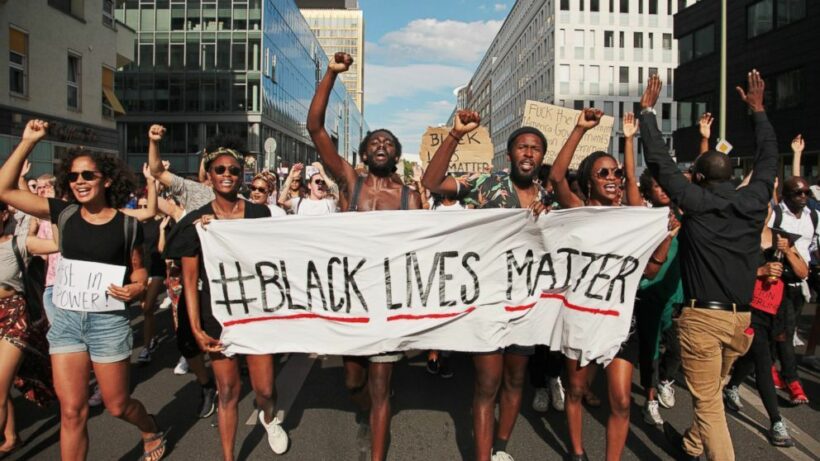 The death of black American George Floyd at the hands of police burgeoned into a storm of protests reaching across the globe; one that will reach Bangkok this weekend. The vast majority of demonstrations over the past 8 days in the US have been peaceful, but some have turned violent and curfews have been imposed after looting in a number of US cities. "Justice for George Floyd (Peacefully Paying Our Respects)," a rally in support of the Black Lives Matter movement, is expected to be held Sunday from 1pm-3pm at a location to be confirmed.
Attendees are encouraged by the event's organisers to wear black, wear masks, bring signs and practice social distancing. The event was announced Tuesday, and more than 800 people have so far expressed interest. Reached for comment this afternoon, organisers said the event is more likely be held "virtually". Public assembly is currently banned in Thailand under the Emergency Decree enacted to fight the spread of Covid-19.
Thailand, which has its own history of police brutality, denied using using that decree last month as a pretext to quash an anti-government rally.
New charges have been announced against all of the sacked US police officers present at George Floyd's death in Minneapolis, Minneota. The charge against the officer who held his knee on Mr. Floyd's neck, has been elevated to second degree murder. 3 other officers, previously uncharged, now face counts of aiding and abetting murder.
SOURCES: Coconuts Bangkok | BBC
Keep in contact with The Thaiger by following our
Facebook page
.
Huge Nike flagship store opens in Bangkok's Siam Center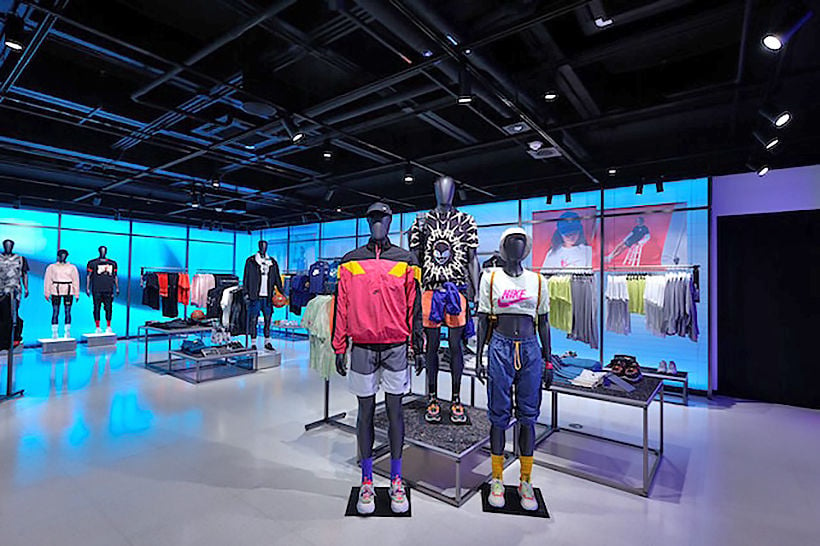 A massive Nike flagship store is now open in Bangkok's Siam Center, with a 'footprint' spanning more than 836 square metres of prime retail space in the capital. Intended to showcase Nike's innovation across multiple product categories, the store offers the brand's first "Nike By You" in-store customisation service in Thailand.
Retailers are now pulling out all stops to lure you back to their stores. The rise on online retail is having a massive effect on retail traffic – the Covid-19 pandemic isn't helping either. But Valiram, the Southeast Asian luxury and lifestyle retail specialist, who have opened the store are defying the trend and invested in a stunning shop-front in one of Bangkok's more sophisticated shopping precincts.
According to the director of Nike stores for Southeast Asia & India…
"Nike Bangkok at Siam Center exists to offer everyone the ability to make sport a daily habit, ensuring they are inspired and committed to staying active. The top Nike offerings have been carefully curated for this community, and the store has been conceptualised with multiple touch points for a fully immersive and seamless Nike experience that is truly personalised and unique."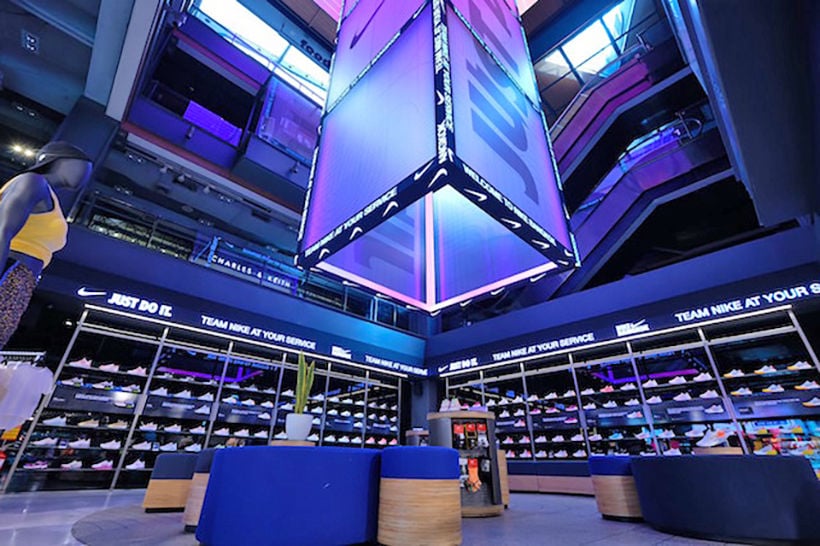 Services like head-to-toe apparel fitting and footwear trial are offered to provide consumers opportunities to deepen their connection with the brand and select products suited to their needs. Customers can also book one-on-one sessions with running experts and styling specialists.
Valiram describes the new store as a "truly unique and immersive experience that pushes the boundaries of retail, empowering consumers to engage with Nike products in new ways."
"Creating a world-class retail environment is a Valiram hallmark and the opening of Nike Bangkok at Siam Center in partnership with Nike reaffirms that."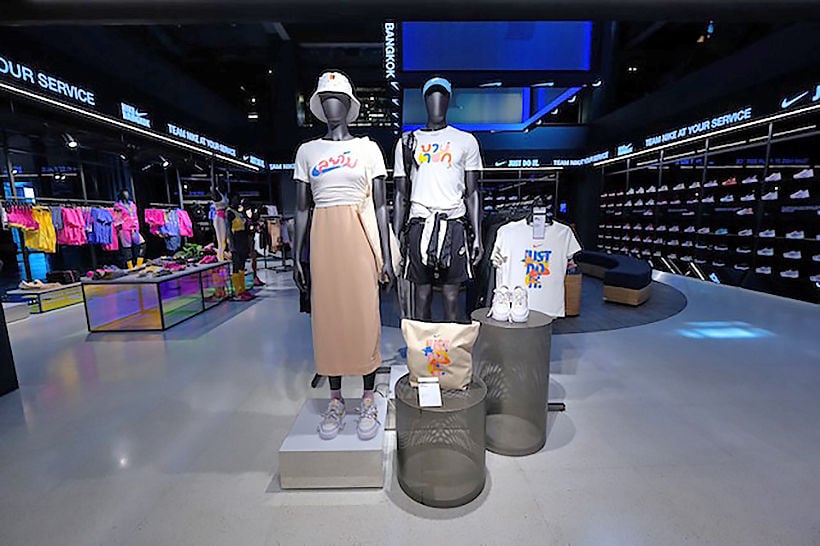 SOURCES: thaivisa | insideretail
Keep in contact with The Thaiger by following our
Facebook page
.