Khon Kaen University students in anti-government demonstration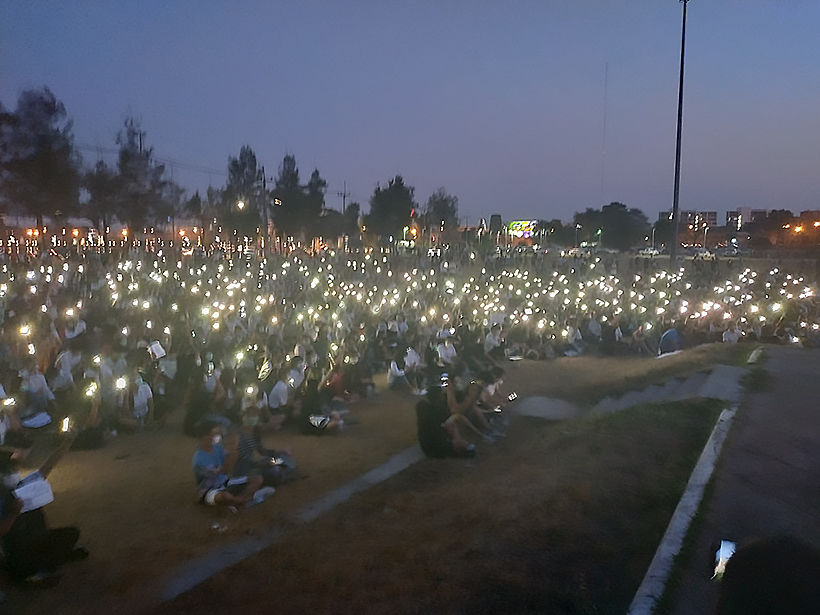 "We are afraid of the virus. But, we are also duty-bound to study and seek the government's ouster."
Adding to a growing trend, students at Khon Khaen University in northeastern Thailand held a second demonstration last night, despite fears of the Covid-19 coronavirus spread, saying they've "had enough" of the government. Students from all departments gathered at the multi-purpose ground near the Law Faculty at about 6:30pm. Large sheets of white cloth were laid at the entrance for students to write messages to the government and express their opinions.
Student leaders made speeches attacking the government's handling of various situations, including the spread of the coronavirus, which they said clearly showed failures in the administration of PM Prayut Chan-o-cha. They called for the government to step down for its inability to effectively handle the country's problems.
Face masks and hand sanitiser gel were distributed to everyone who attended as a precaution.
SOURCE: Bangkok Post | Prachatai

Keep in contact with The Thaiger by following our
Facebook page
.
Natcha from Phuket crowned Miss Hooters Thailand 2020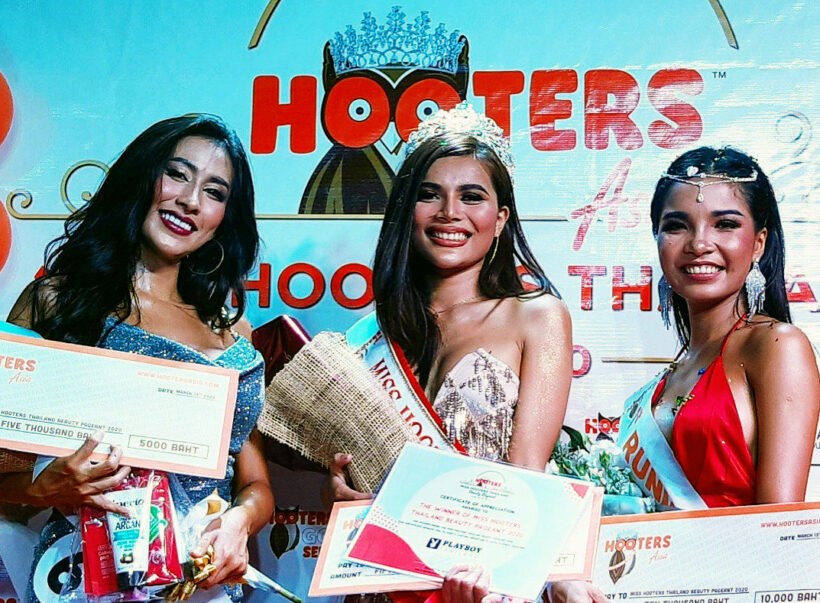 Meanwhile, somewhere in Phuket…
Beauty Pageant was recently held at Hooters Pattaya, for the fifth year running. This is event is one of Hooters biggest events that attracts audiences from across the world. Khun Ekasit Ngampichet, President of Pattaya Business and Tourism Association, came to give an opening speech and wished Hooters Asia for every success in helping together to promote Pattaya's tourism industry.
Winners from the heats held around Thailand competed for the title of "Miss Hooters Thailand 2020" at the Grand Final. A title where the winner will represent Hooters Thailand in the "Miss Hooters International Pageant 2020". Winner of that pageant gets to globally represent the franchise as a brand ambassador.
The winner, Natcha Nunoochan – earlier a month prior to the Grand Finale won the heat of Miss Hooters Phuket also went on to win the title of Miss Hooters Thailand 2020.
Natcha will represent the Kingdom in the 24th Annual Hooters International Pageant at Lake Tahoe in the US this coming June.
"Winning this is an honour. I'm so grateful and I wish to thank everyone for the support," said Natcha, who is a Hooters Girl at Hooters Phuket.
"The girls are like my family and we work hard everyday to serve our guests with the best experience of coming to Hooters. I am very proud to represent Hooters Thailand in the Annual International Pageant at Lake Tahoe this year. I will take that task on with pride and honour to represent my beautiful country.
"Being a Hooters Girl is more than just being a waitress," said Gary Murray, CEO of Destination Eats, which franchises Hooters Asia.
"They are fun, beautiful and smart, they are hardworking and good entertainers"
The final contestants were evaluated based on responses to interview questions, their personality and overall contribution to the iconic Hooters brand, including beauty and dance coordination in three separate rounds. The rounds represented Hooters uniform, evening gowns and swim wear.
The heats and the Grand Final supported The Destination Kids Foundation. All money raised from voting sales was donated to the charity who supports orphanage children with education, medical support and guidance for a brighter future.
(The event was held before the closure of all entertainment venues in Phuket)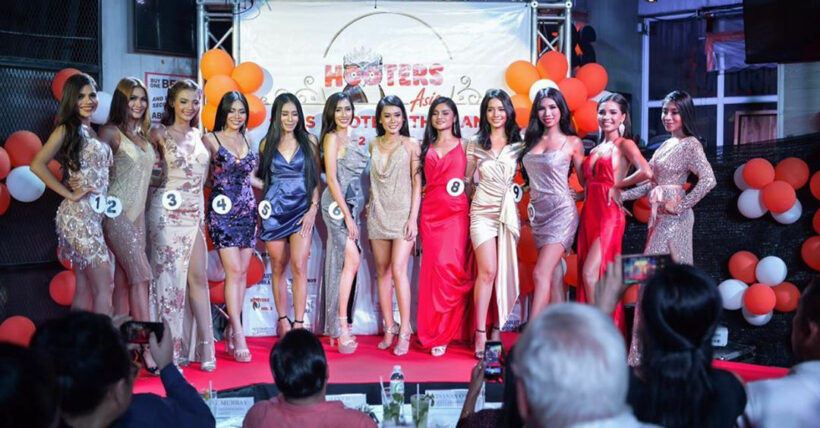 Keep in contact with The Thaiger by following our
Facebook page
.
7 swim to Koh Samui to raise marine ecosystem awareness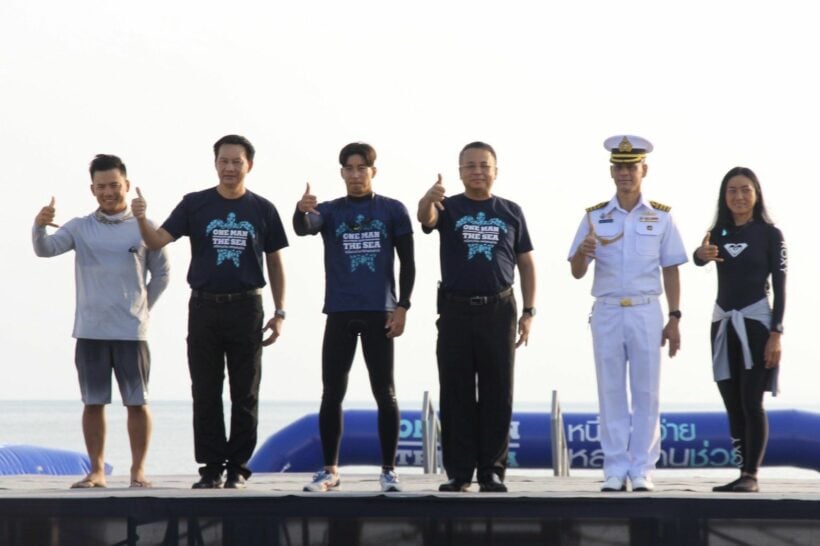 7 swimmers, including actor and singer Phakhin Khamwilaisak, also know as "Tono", have begun an 82 kilometre ocean swim for over 18 days to increase public awareness of the environment and the need to reserve Thailand's marine ecosystem. They are also raising money to buy equipment for hospitals treating rare marine animals. The campaign hopes to raise the profile of the marine ecosystem and the need to stop dumping garbage into the sea.
Director general Sophon Thongdee of 'Marine and Coastal Resources Department' together with Surat Thani's governor Witchawut Jinto launched the campaign "One Man & the Sea'' at a pier in Don Sak district of Surat Thani province this morning.
The 7 swimmers will stroke their way from the pier to Koh Samui, stopping at 12 small islands, for a distance of 82 kilometres over 18 days, predicting to complete the marathon on April 5.
The 7-member team, who are accompanied by a coach, swam to Koh Likan, a distance of 1.6 kilometres, this morning. It took them about 30 minutes. Today they are heading to Koh Nok Phao, another 6.4 kilometres, and staying overnight on the island, having completed a total of 8 kilometres for the day.
33 year old Tono says he was excited to see pink dolphins swimming near Don Sak pier.
"Almost 100 celebrities had earlier shown interest in taking part, in the mass swimming campaign was cancelled due to the spread of the coronavirus."
On the first day of the campaign, donations quickly reached 1.3 million baht.
Keep updated on the official campaign Facebook page, "Kebruk". Donations can be made via internet banking or by SMS.
SOURCE: Bangkok Post
ถ่ายทอดสดการว่ายน้ำในช่วงที่สองระยะทาง 2 กิโลเมตรของโครงการ One Man And The Seaหนึ่งคนว่ายหลายคนช่วยสดจากเกาะริกัน จ.สุราษฏร์ธานี.ช่องทางบริจาคธนาคารไทยพาณิชย์ สาขาเพชรบุรีตัดใหม่ชื่อบัญชี: มูลนิธิบูรณะชนบทแห่งประเทศไทยฯ เพื่อโครงการเทใจ (TRRM FOR TAEJAI)เลขบัญชี 043-272833-9…บริจาคผ่านทาง SMS ครั้งละ 25 บาท พิมพ์ T แล้วส่งมาที่ 4545909 (ทุกเครือข่าย)…ติดตามการถ่ายทอดสดตลอดกิจกรรมได้ทาง เฟซบุ๊กแฟนเพจ "เก็บรักษ์" รวมถึงข้อมูลของโครงการได้ทางอินสตาแกรม "เก็บรักษ์"…#OneManAndTheSea#หนึ่งคนว่ายหลายคนช่วย#โลกเปลี่ยนได้เริ่มที่เรา

Posted by เก็บรักษ์ on Thursday, March 19, 2020
Keep in contact with The Thaiger by following our
Facebook page
.
Tourism officials ponder moving Songkran to July, boosting domestic tourism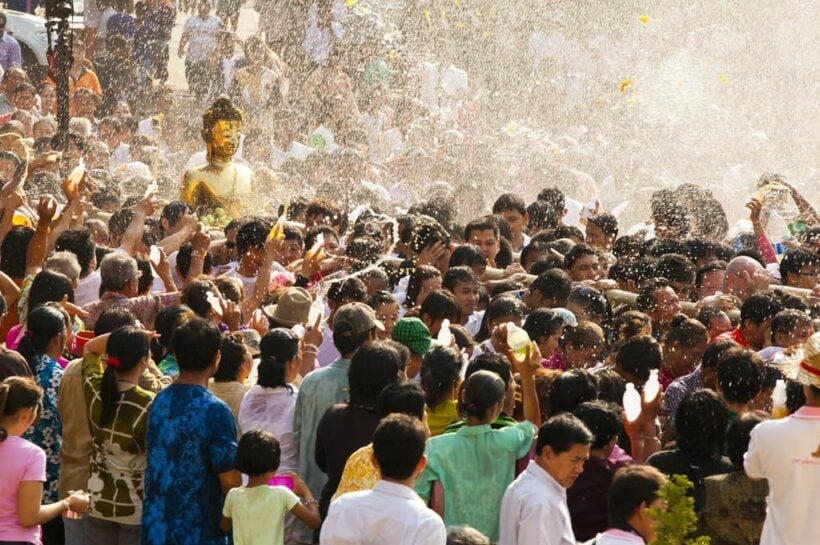 Joint ventures with the Tourism Authority of Thailand (TAT) and the Tourism Council of Thailand (TCT) are trying to solve worst case scenarios of losing over 1 trillion baht in revenue and 10 million in inbound guests to celebrate Songkran. The TAT has set a optimistic target of 172 million domestic trips this year, generating 1.13 trillion baht in revenue. They're also examining the postponing of Songkran celebrations to July 4-7 this year. The idea already has the nod from Tourism and Sports Minister Phiphat Ratchakitprakarn but still needs approval from the Culture Ministry and cabinet.
Meanwhile, the President of The TCT Chairat Trirattanajarasporn acknowledge TAT's prediction – the decrease in revenue and inbound guests.
"The greater challenge for Thai tourism is to boost the number of domestic trips to maintain jobs for workers in the industry until the coronavirus crisis passes. The TCT has set a lofty goal for local tourists to take 200 million domestic trips this year, also that tourism operators from the private sectors should make more effort to attract domestic tourism".
"As the cabinet has encouraged state agencies to arrange meetings and seminars within the country instead of outbound trips."
Mr Chairat says he believes this segment can support tourism from April – June. He did not rule out the possibility of raising the number of domestic trips to 200 million, as the circumstances are drastically different with Thais unable to currently travel abroad.
TAT governor Yuthasak Supasorn says the growth target of 4% for the domestic market is already beyond reach.
"As in the past few years the growth rate lingered below 3% and now virus fears are constraining travel. Last year, Thais took 166.84 million trips nationwide, spending 1.08 trillion baht. To achieve 200 million trips will require an additional 33.16 million trips or at least 20% growth this year.
"This is hard for all of us, but it's worth trying. We need a lot of cooperation from the TCT and the private sector to build sentiment among tourists who still have travel ambitions and purchasing power but do not want to take risks outside the country."
SOURCE: BangkokPost
Keep in contact with The Thaiger by following our
Facebook page
.