"Green heart passports" to promote eco-tourism around Thailand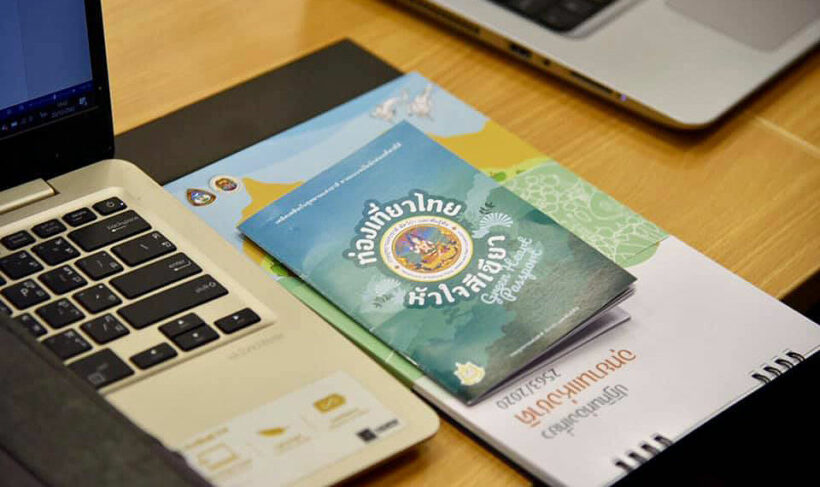 Visitors to Thailand's 155 national parks over the New Year holidays have a special surprise in store: the Department of National Parks, Wildlife and Plant Conservation will distribute one million "green heart passports" to promote environmentally friendly tourism.
The passports will be valid until December 31, 2020. Visitors to national parks can show their "passport" at the entrance, along with their canteens, drinking cups, lunch boxes or reuseable bags, to have their passports stamped with two stars.
Upon reaching ten stars, passport holders will get free entrance to a park.
These sorts of loyalty programs are very popular with Thais.
The director of the Office of National Parks says the project is intended to instil a sense of environmental awareness and an understanding of how visitors should behave to avoid harm to Thailand's environment.
Those wishing to obtain the passport can call the Office of National Parks on 025610777 ext. 1742 or visit the office's Facebook page.
SOURCE: Thai PBS World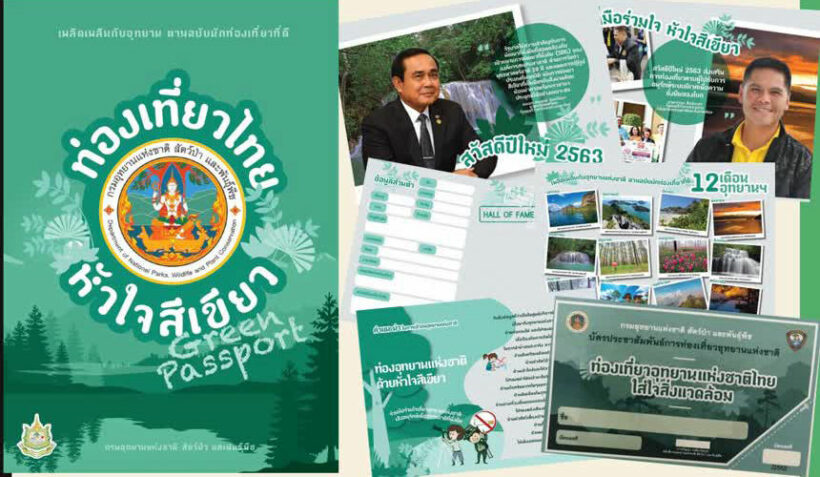 Keep in contact with The Thaiger by following our
Facebook page
.
The year's first leatherback turtle hatchling emerges in Phang Nga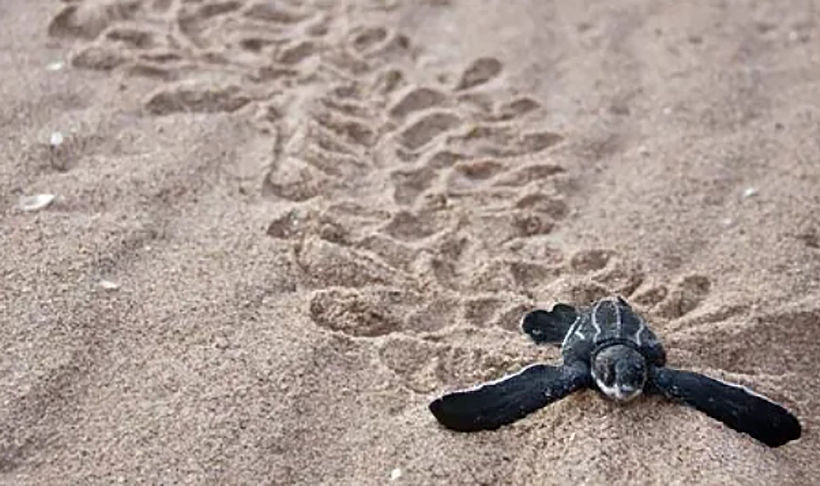 Officials from the coastal National Park in Phang Nga, southern Thailand, are delighted after the first leatherback turtle hatchling hatched and emerged from the nest. Whilst it was headed to the Andaman Sea, marine officials took it to a nursery to be raised, giving it a much higher chance of survival when it is eventually released to the sea. According to the Department of Marine and Coastal Resources, the baby turtle was spotted climbing out of its nest this morning just after 6am.
Park officials have been keeping an eye on the nest with CCTV and expect more baby turtles to emerge today and the next few days.
104 leatherback turtle eggs were found at the nest on the Phang Nga beach outside the territory of the national park in November last year. 85 of them proved to be healthy and viable and were taken to another nest within the park's territory to prevent them from being stolen by poachers
The Phang Nga Office of Marine and Coastal Resources was informed by villagers that they had found a turtle nest, believed to be that of a leatherback, at Bo Dan beach. Marine officials went to check and but left the eggs at the location, confident that the nest was safe enough.
SOURCE: Thai PBS World
Keep in contact with The Thaiger by following our
Facebook page
.
Second death in China from virus concerns officials with the CNY holidays looming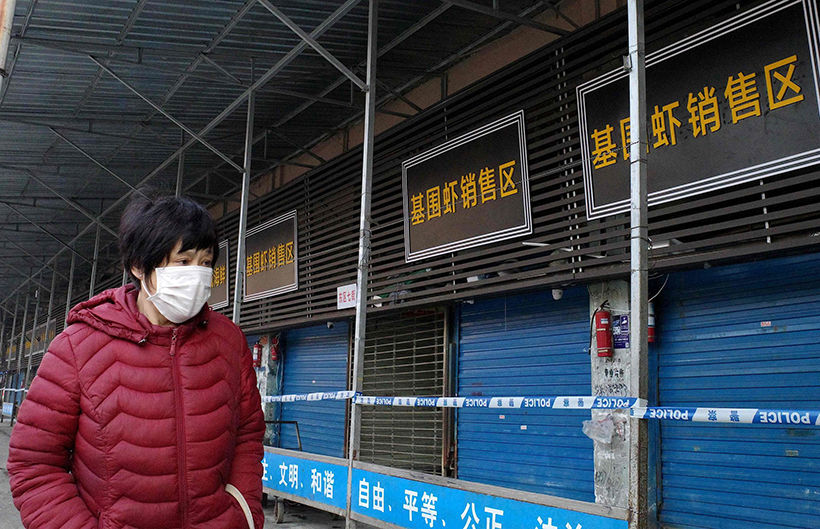 "At least 41 people have now been diagnosed as being infected this latest flu-like strain."
Medical officials in China's Wuhan city have announced that another man had died after being infected by the new coronavirus strain. Thailand and Japan have now reported new cases of a the Chinese Coronavirus that has already killed two and infected at least 40 in China. There are growing concerns about the spread of the virus beyond Chinese ahead of the Chinese New Year holidays. Chinese New Year will be celebrated on January 25 this year but many Chinese, and people of Chinese ethnicity, travel before and after this date, including trips over seas.
The Chinese man, reported to be aged 69, was admitted to a Wuhan hospital on December 31 with "abnormal renal function". The man died from pneumonia linked to the new strain of the coronavirus outbreak in the central China province.
Chinese scientists identified the illness as a new strain of coronavirus, which is in the same family as the deadly severe acute respiratory syndrome (SARS) and Middle East respiratory syndrome (MERS). Symptoms of coronaviruses can range from fever and coughing to kidney failure, and in some cases lead to death.
At least 41 people have now been diagnosed as being infected this latest flu-like strain, earlier called the "Wuhan Flu", and now referred to as Chinese Coronavirus.
Five patients still remain in a serious condition. Chinese medical officials state that no cases of human-to-human transmission of the new viral strain have been confirmed so far.
Keep in contact with The Thaiger by following our
Facebook page
.
Salty tap water and dirty air – Bangkok's environmental woes continue today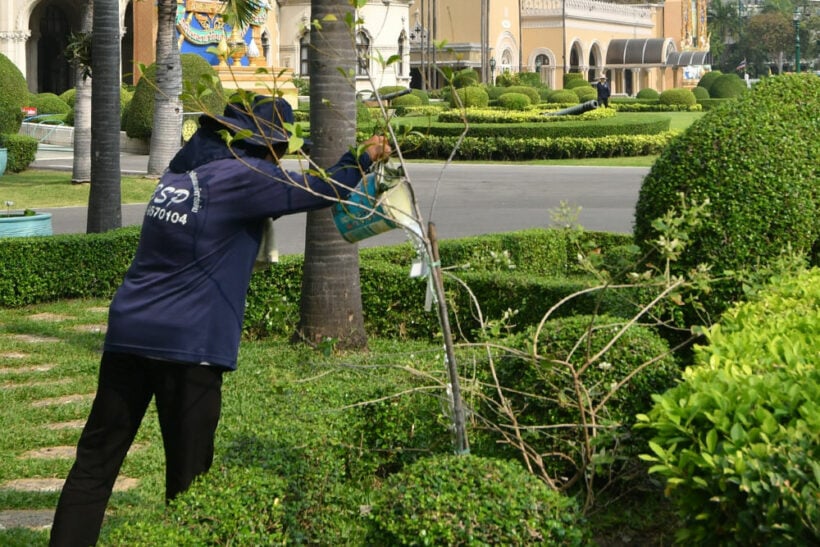 Brackish tap water, with increased salinity caused by seawater back-flowing into the Chao Phraya River, is threatening the gardens in and around the Government House compound. Government House officials are seeking assistance from the Agriculture Department.
Several small tree species – Lamduan, Chor Sumalee, Rachavadi, Nom Maew and Hom Muenlee – are more vulnerable to brackish tap water. The gardens are watered from a supply pumped in from the Chao Phraya.
It's been noted tha the saline level was around 400 milligrams per litre, still within the 1,000 mg/litre standard, but some of the species were already intolerant to the rising salinity.
Officials are seeking advice from the Agriculture Department about long-term measures to replant with species which would be more tolerant to the rising salinity of the water – situation they acknowledge will need to be managed in the short to medium term.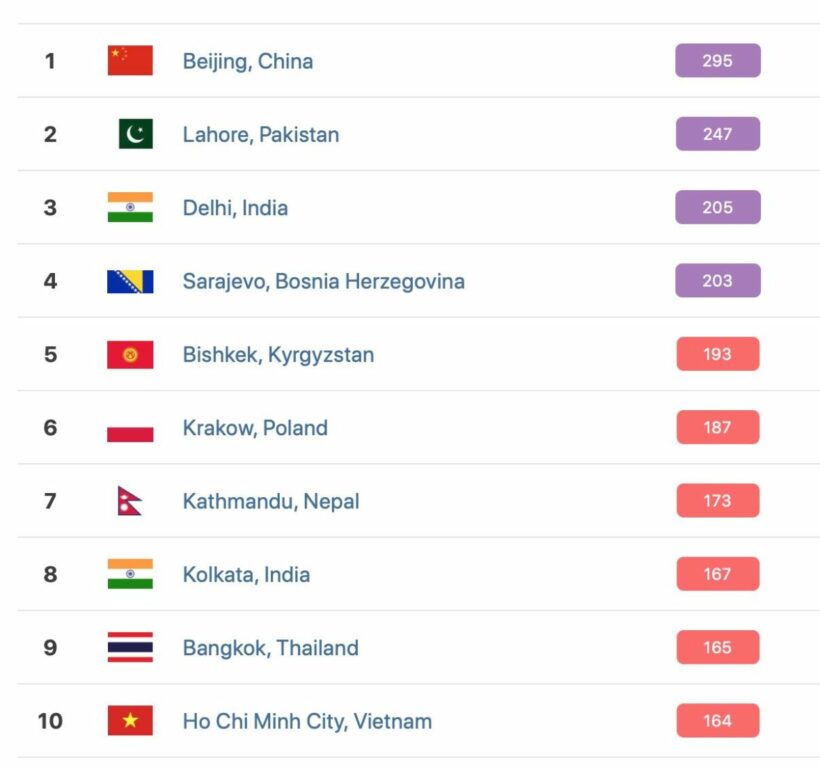 SCREENGRAB: Air Visual
Meanwhile, air around the capital today continues to be universally poor to very poor with readings as high as 187 near Suvarnabhumi Airport. Light airs, dust problems from northern-easter provinces and hot continental air flowing across the capital, continue to haunt Bangkok. Even with many factories closed today, and traffic lighter than weekdays, Bangkok's air has been recorded as the ninth worst city in the world for air pollution.
Right across the city the air quality readings are into the 'unhealthy' zone.
Chiang Mai, Lampang and Central Thailand are fairing no better – all with readings at least 3 times the Thai upper safe limit of 50 microns of 2.5micron particulate per cubic metre. The World Health Organisation sets its limit even lower at 25.
Pattaya has air quality readings today of 162, whilst even Phuket, in the south, is registering readings between 100 and 145 with reduced visibility today.
SOURCE: Thai PBS World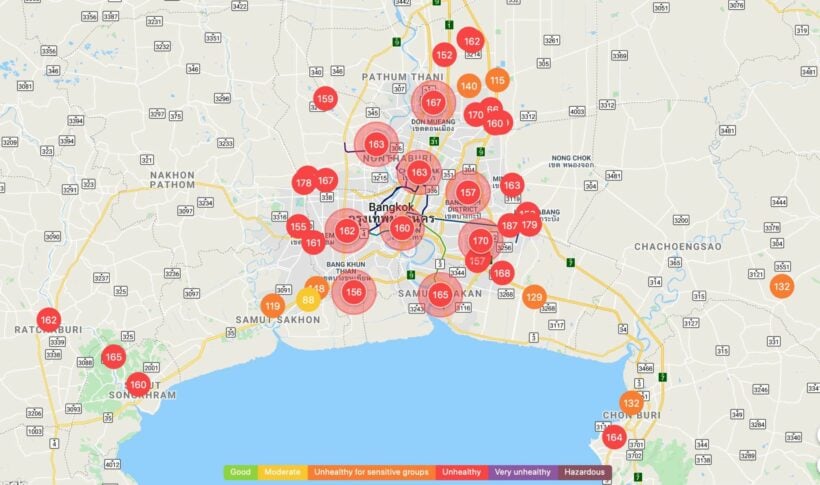 Keep in contact with The Thaiger by following our
Facebook page
.