Fires continue devouring Thailand's North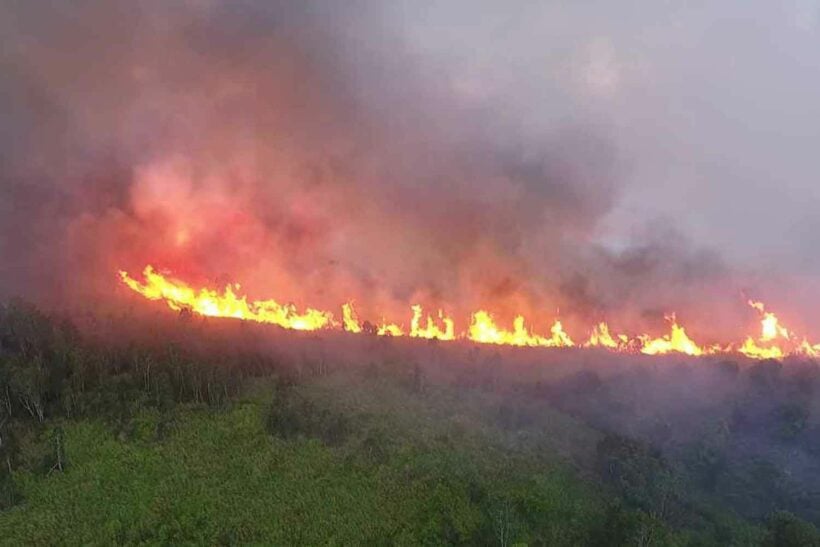 Despite prohibitions on agricultural burning, wildfires continued ravaging forests across Thailand yesterday, especially in the North. Satellite images charting the progress of large fires yesterday morning showed the number of hotspots in the north had risen from 823 on Friday to 1,334. A total of 3,238 forest fires were recorded nationwide.
Mae Hong Son province had the highest number of large-scale blazes with 340, followed by Uthai Thani in the central region (209) and Tak (205), also in the north. The Pollution Control Department's air monitoring stations showed the overall level of PM2.5 pollution in Mae Hong Son rose to 96 microgrammes per cubic metre, nearly double Thailand's "safe" threshold of 50µg/m³. The threshold set by the World Health Organisation is 25µg/m³
Also hard-hit was Lampang province, where fires continued ravaging national park and wildlife sanctuary areas. Lampang's provincial governor says that despite the fires, levels of PM2.5 have remained normal there, but he expects them to rise again in the coming week.
Officials of the Doi Pha Mueang Wildlife Sanctuary in Lampang say the fires wiped out 13 rai of forest in a single day, including seven rai of in conservation areas of Tham Pha Thai National Park.
Meanwhile, the director-general of the Department of Disaster Prevention and Mitigation said yesterday two helicopters were deployed to battle fires in inaccessible mountain areas in Lampang, Chiang Mai and Phrae provinces.
SOURCE: Bangkok Post
Keep in contact with The Thaiger by following our
Facebook page
.
Chiang Mai chokes as fires rage in the north of Thailand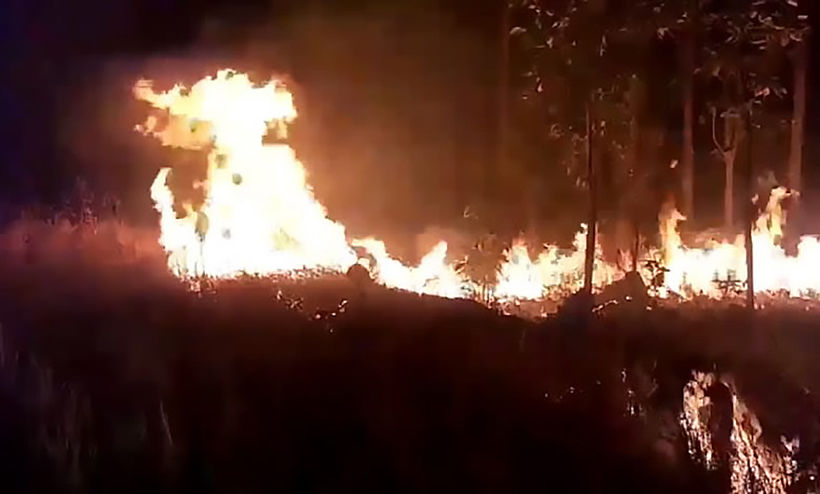 Northern Thailand is choking under a toxic shroud and it's not getting any better. Air pollution across the upper North remains "at critical levels," in many areas, including some of the main population centres. Authorities are monitoring almost 400 active hotspots in Chiang Mai alone yesterday.
The air quality didn't improve this morning, with IQAir recording "very unhealthy" air quality and hazardous PM2.5 dust levels at around 200 in parts of Chiang Mai and up to 270 around Chiang Rai today (below).
Thailand's official safe level is 50: the World Health Organisation sets it at 25. Though it's improved somewhat during the day, Chiang Mai once again rated world's worst for air quality.
According a 2019 report, PM2.5 caused 23,800 premature deaths in Thailand in 2017.
Government spokeswoman Narumon Pinyosinwat says fires have definitely affected air quality, with 17 provinces in the North reporting an increase in levels of PM2.5 pollutants yesterday. Only two, Nakhon Sawan and Uthai Thani in the north-east reported PM2.5 readings below the Pollution Control Department's "safe" threshold.
Chiang Dao district in Chiang Mai reported the highest PM2.5 reading in the North yesterday at 360.
Narumon says the worsening pollution is due to a combination of factors which include arson, drought and wind patterns which trap pollutants right over Thailand. Others say agribusiness, with its annual plantation field burnings, continues to exacerbate the problem.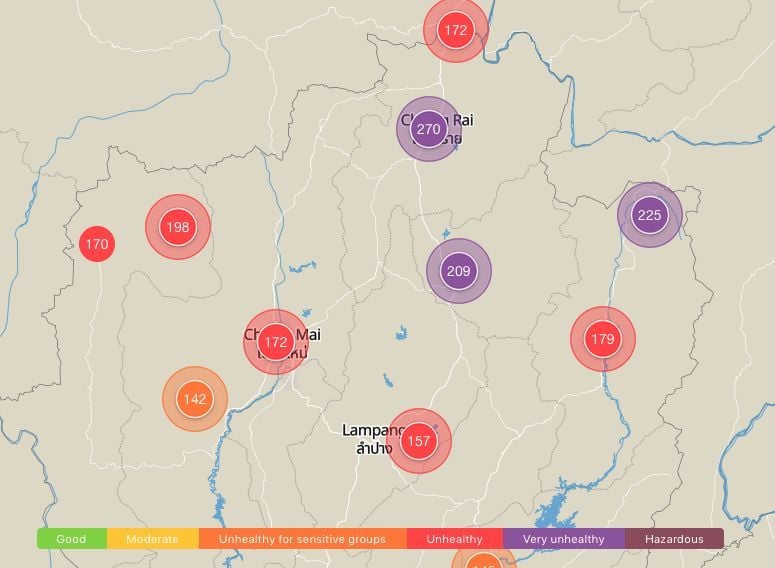 According to satellite data, on Saturday there were 3,809 hotspots in Thailand, 5,061 in Laos and 10,061 in Myanmar. As of yesterday, 398 hotspots, nearly 10% of the country's total, were found in Chiang Mai.
Most of the blazes were related to a continuing bushfire in Doi Suthep-Pui National Park, which suddenly raged out of control late on Saturday after burning for about a week.
SOURCE: Bangkok Post
Keep in contact with The Thaiger by following our
Facebook page
.
Potential catastrophe facing Thailand's elephant camps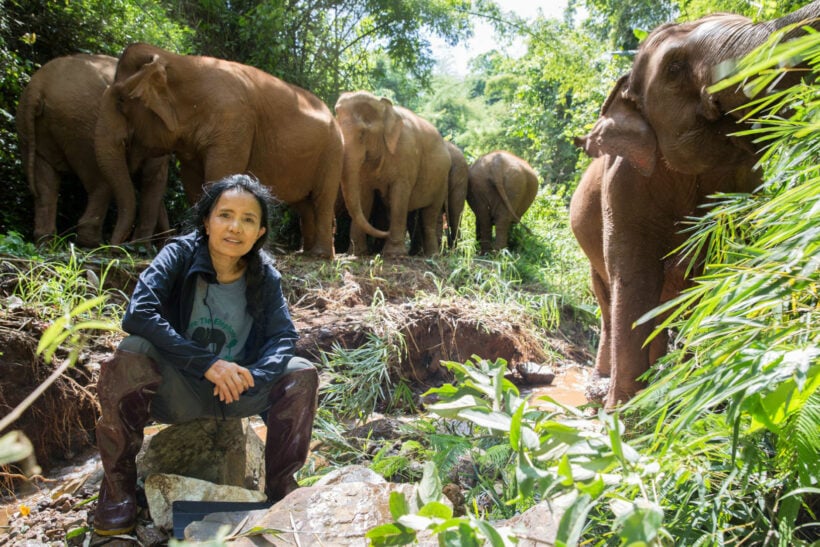 Elephant Nature Park in Chiang Mai, along with many other camps in Thailand, have been forced to close their doors due to the current Coronavirus situation in Thailand. Apart from resulting in hardship for the elephants, it will seriously hurt Thailand's tourism industry in the future if no support is forthcoming soon.
And whilst we're hunkering down in our homes waiting for the virus crisis to pass, what becomes of the elephants?
Saengduean "Lek" Chailert, owner of Elephant Nature Park and founder of Save Elephant Foundation, believes many of the closures will be permanent.
"I have been to visit many of the camps and the situation is very serious."
"The elephants have been chained up since the tourists stopped coming. They are very stressed and upset. Some have started to attack each other from being chained up all day and several have bite wounds as they are fighting over food. The pregnant elephants are also stressed and not doing well at all."
What does that mean for the future?
"If there is no support forthcoming to keep them safe, the elephants will either starve to death or may be put onto the streets to beg. Alternatively, some may be sold to zoos and some may be returned to the logging business (which officially banned the use of elephants in 1989). It's a very bleak outlook unless some financial help is received immediately."
At Elephant Nature Park, which houses more than 3000 animals, many disabled or emotionally unstable, a frantic fund-raising effort is underway for food and medical needs. Some of the elephants need intensive, regular veterinary care.
Lek thanked donors on her Facebook page saying…
"I have been in touch with more than 30 elephant camp owners to help them find a way out. My ability to help these animals is an extension of your generosity, I cannot do it without your help. There is no amount too big or too small to impact the lives of these animals. 100% of each donation is tax deductible and goes directly to Elephant Nature Park. I will share these donations with elephants in other camps as appropriate."
HOW TO DONATE
TRUNKS UP is a certified supporting organisation which is currently MATCHING all donations, dollar for dollar, up to US$45,000. Donations can be made via the site.
Where the money will go…
US$30 will feed an elephant for a day
US$20 will feed a dog or cat for one week
US$10 will feed a pig, cow or buffalo for one week
US$8 will feed a monkey for one week
US$5 will feed a rabbit for one week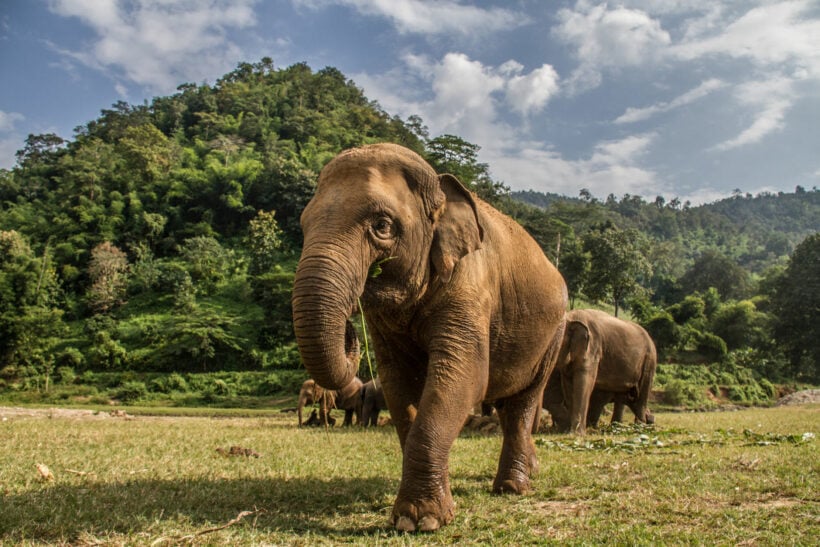 Keep in contact with The Thaiger by following our
Facebook page
.
Forest fire hikes up PM2.5 in Chiang Mai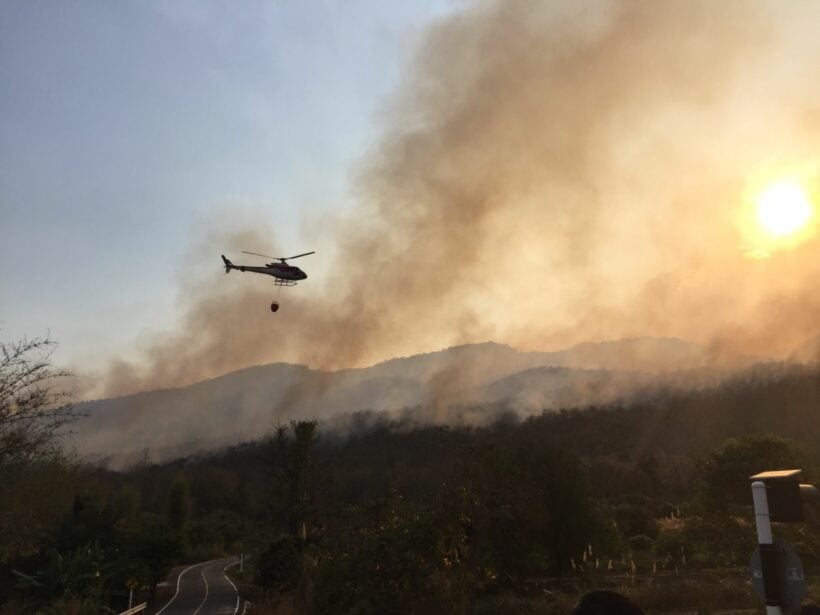 Yesterday some 200 firefighters were struggling on a Chiang Mai mountain slope to extinguish a forest fire that was pouring more hazardous PM2.5 smoke particles into the skies and, eventually, into the lungs of northern Thailand residents. And smoke from the forest and plantation fires, the vast majority deliberately lit, ends up in the capital when the winds are blowing in the right, or wrong, direction.
Read more HERE
The Ministry of Natural Resources and Environment sent up a helicopter to get more information so they can attempt to track down smoke, extinguish fires and prosecute land owners. Another helicopter made a total of 30 passes to extinguish a large fire on a mountain slope, with the help of 10 water tankers. It still took five hours to bring the fire under control.
Much of northern Thailand has been roasting with temperatures of 39 or 40 most of this week. And there's been no rain, or little to no rain for many months.
It is believed that this inferno began as a small fire set by a local person seeking out edible plants in the mountain. The PM2.5 air pollution levels in the North ranged from 37-189 micrograms per cubic metre on Wednesday, with 50 micro grams the safe limit recognised in Thailand.
Today they were higher with Chinag Mai, again, scoring a podium position as one the cities in the world with the worst air pollution.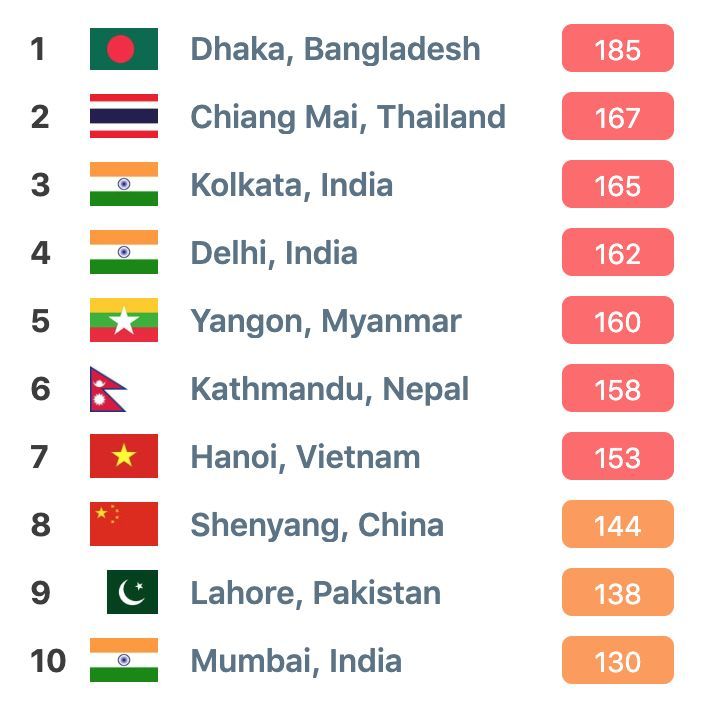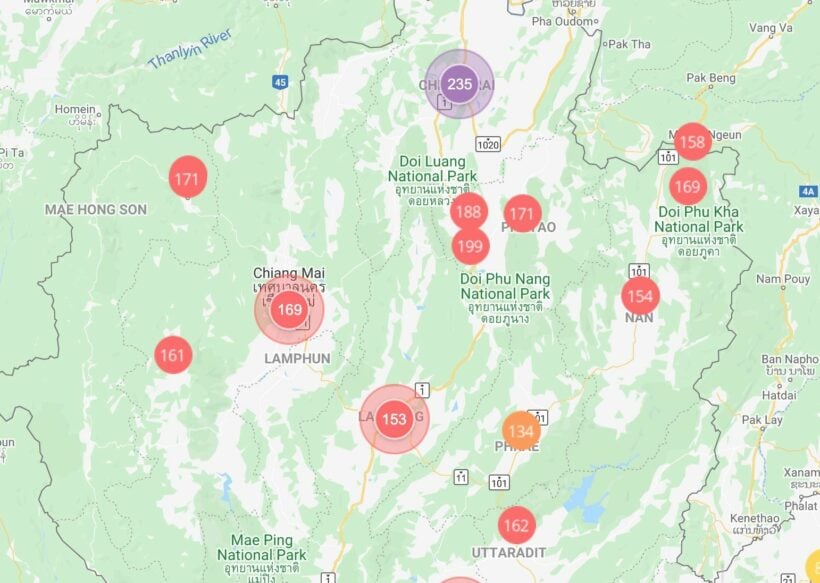 SOURCE: The Nation
Keep in contact with The Thaiger by following our
Facebook page
.