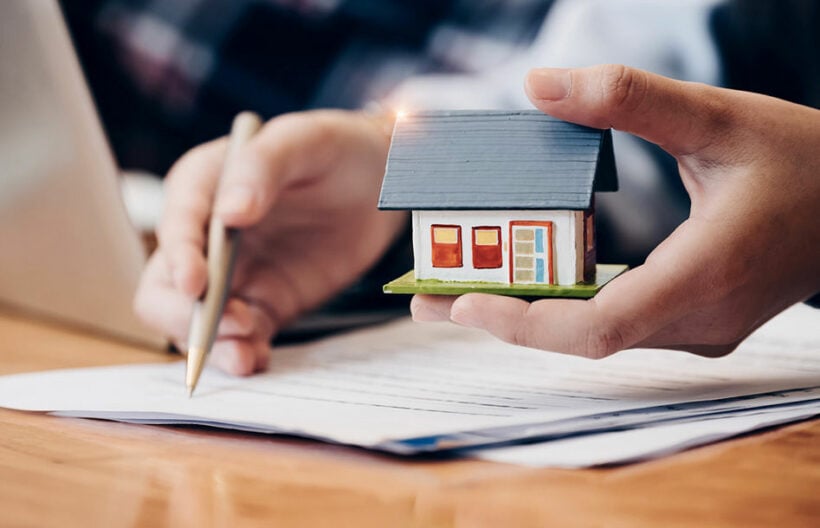 Ever since the Thai government enforced the higher loan-to-value ratios on property lenders last April, borrowers and developers have been generally unhappy with the result – a sluggish new home-buyer market. But some commercial lenders, particularly some of the larger ones, have still reported strong lending growth for the first nine months of 2019.
Kasikorn Bank says its housing loans surged nearly 11% for the first nine months this year, well above the average industry growth in 2019 of 4%. That 11% growth also surpassed KBank's target for the full year of 7%.
KBank targeted 64 billion baht in new housing loans for 2019 – 52 billion baht already lent for the first nine months. The bank foreshadows no additional marketing expenditure for 2019 because of the excellent result.
"The bank plans to expand its salaried-employee customer base to 60% of our new home loan applicants from 50% now, in line with risk management strategy," according to KBank's executive VP, as reported in the Bangkok Post.
It's also hoped that the government's new property stimulus scheme will support KBank's mortgage growth for the rest of the year if the measures are implemented.
Last week the government approved a new Thai property stimulus package consisting of a property transfer fee cut to 0.01% from 2% and mortgage fee reduction to 0.01% from 1%. But the fee reductions apply to homes priced no more than 3 million baht.
Whilst Kiatnakin Bank enjoyed 13.2% growth in its housing loans for the first nine months this year, Bank of Ayudhya (Krungsri) expects only single-digit growth in mortgages over the same period, slowing from double-digit growth in the past few years.
A Bank of Ayudhya spokesperson says the slower growth forecast could be attributed to the sluggish economy and the central bank's new Loan-to-Value regulations implemented last April.
Meanwhile the co-president of Siam Commercial Bank say they expect mortgage lending for the rest of 2019 to improve from Q3 thanks to seasonal factors.
SCB says that the property stimulus measures are expected to boost demand for homes priced 3 million baht or less, which comprises the biggest slice of the mortgage market, but potential homebuyers may postpone their housing loan applications until next year to take advantage of the fee cuts.
SOURCE: Bangkok Post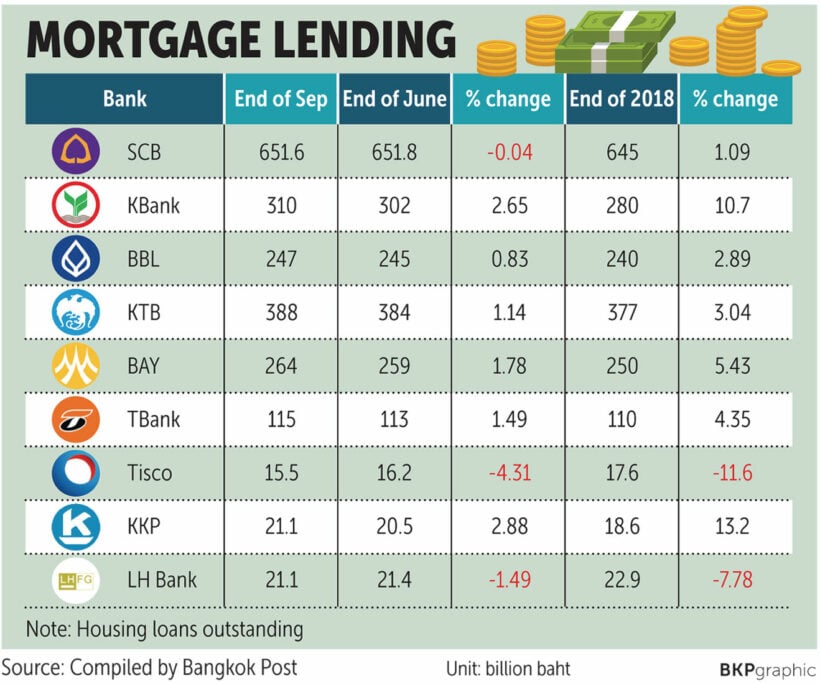 GRAPHIC: Bangkok Post