TAT launches "White Vest" tourism campaign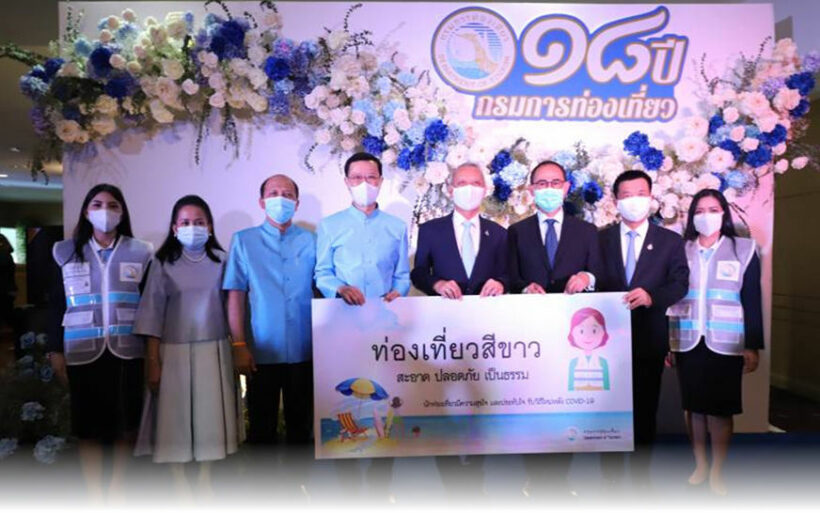 The Tourism Authority of Thailand this week launched its "White Vest" tourism campaign this week, based on intensive training to promote safety, hygiene and world class customer service at tourist spots throughout the country.
Those who pass the campaign will be awarded a white vest and a certified ID badge that they can wear to signify to all tourists, both foreign and domestic, that they are highly trained in customer service and safety and hygiene skills.
The TAT is starting the newest campaign with training beach vendors, including chair and bed vendors, across the country. Tourists will be instructed to look for vendors wearing the vest as this will signify they have passed the intensive training courses.
The Minister of Tourism and Sports says the initiative is the first effort to improve the Thai tourism sector in the post-Covid era, before the country fully reopens to international visitors. A TAT press release says:
"The campaign will target individual tourism businesses and workers in direct contact with tourists, such as retail vendors, beach chair renters, and parking providers, who have not been covered in previous tourism quality improvement campaigns."
"Under this campaign, workshops will be arranged at key tourism destinations across the country, providing targetted businesses and workers training on general management, accounting, capital management, health and hygiene, and hospitality."
The TAT hopes visitors and tourists who have previously lodged complaints or concerns about the customer service level at resorts will seek out those in white vests to ensure the best possible experience.
SOURCE: The Pattaya News
Keep in contact with The Thaiger by following our
Facebook page
.
Never miss out on future posts by
following The Thaiger
.
Phuket residents going hungry after local government assistance runs out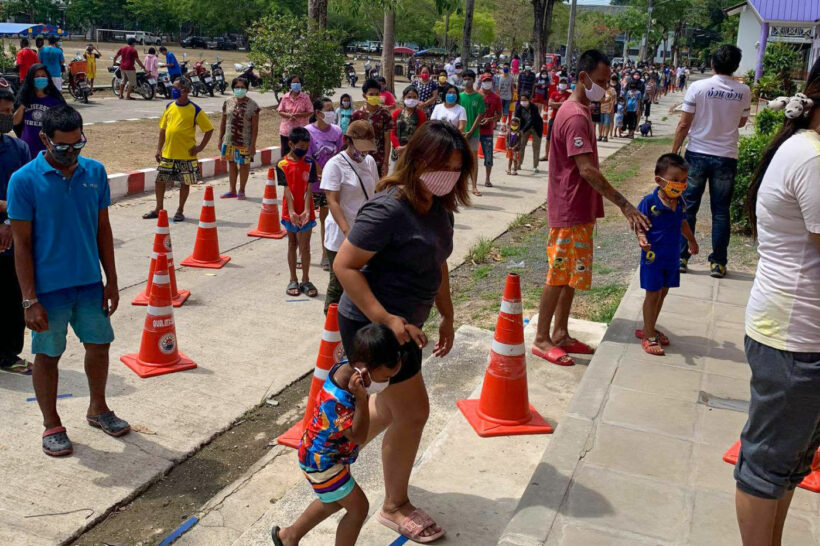 Residents in Phuket, particularly those living in and around the west coast townships, are reportedly going hungry as the government's municipal budget to provide food has been depleted. Despite efforts to revive tourism in the area, thousands of people are still in need of donated food to survive and continue to queue up for donated food every day. A public relations staff member at the Patong municipality says, sadly, there is no budget to do any more food handouts in the near future and that there is no word on when or if there will be any more handouts.
The Phuket Town Deputy Mayor told The Phuket News that there has only been 2 handouts since the pandemic struck the tourist-reliant area. One handout was in March while the last handout was in June with the mayor saying 28 million baht was spent in those 2 handouts. Meanwhile a number of foreign residents in the town have been providing supplies for food queues for many months to help the impoverished residents.
One Phuket expat says the majority of those affected in the Patong area are Burmese migrant workers, with long queues for private donations still being seen on the streets of Patong. Such private donations are a result of charity events that are being held across the island with the assistance of dedicated volunteers.
Like Thailand's Mental Health Department, many are concerned about the impact that food insecurity is having on those struggling. According to the department, 2,551 people had killed themselves across Thailand in the first half of 2020, a 22 % increase, year on year. In response, the National Reform Committee on Labour was ordered on September 11 to issue an amnesty on all outstanding debts, while providing financial support anyone who remains unemployed on the island.
At a recent meeting, other requests were made that include the government giving incentives for more Thais to visit the island and to use social security funds and soft loans as support for local business owners. For now, the situation is grim as Phuket residents are resorting to relying on private charities for food donations.
Phuket's vice governor Phichet saysd that Phuket has been badly affected by the Covid crises, and delivered 3 requests to the Senate Standing Committee on Tourism… to extend the financial support by the Social Security Office for a further 3 months, allow workers from other provinces to transfer their house registration to Phuket so the Phuket government can receive more funds to provide better care for them, and ask the Ministry of Labour to provide assistance to at least 1,000 unemployed in Phuket.
Whilst the government unveiled plans for a "Phuket Model" to revive tourism on the island, it came to nothing, despite a high power delegation of Ministers and Bangkok officials who visited Phuket 2 weekends ago.
One such charity is set to record a song by leading Phuket musicians with the hopes of continuing to help feed those in need on the island.
SOURCE: The Phuket News
Keep in contact with The Thaiger by following our
Facebook page
.
Never miss out on future posts by
following The Thaiger
.
Laid off workers ask for financial assistance after Thai Airways' flight suspension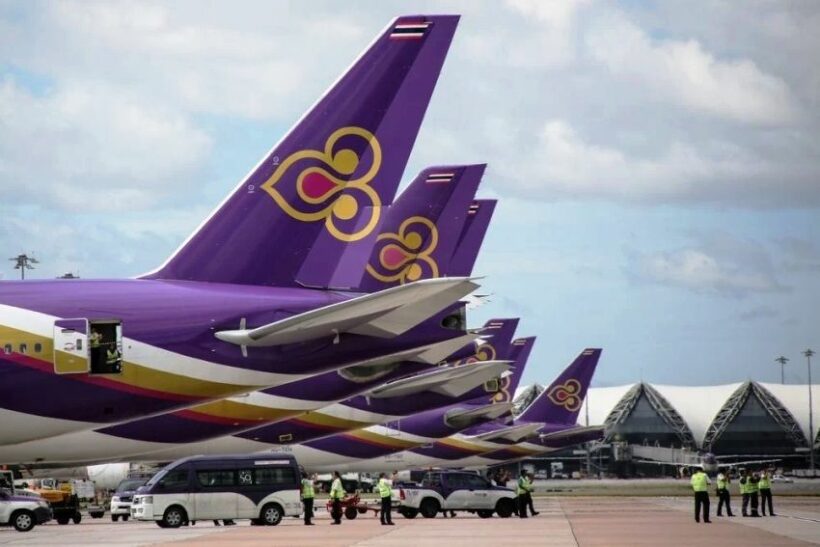 Almost 2,600 laid off employees of the Thai Airways subsidiary company Wingspan have filed complaints with PM Prayut asking for financial assistance. The State Enterprises Workers' Relations Confederation stated that the company had let go the employees as of September 1 due to THAI flights being suspended since the end of March this year.
The complaints of the sacked workers came in letter form as about 150 former employees of Wingspan and the Serc secretary-general submitted the request at the Government House in Bangkok to the PM. Wingspan provides employee recruitment services for Thai Airways, and up until recently, has employed over 3,000 people until its suspension on April 1.
This week the administrators of the Thai Airways' restructure plan, aka. the bankruptcy accounting team, invited debtors to start sending them outstanding invoices so they could begin the process of prioritising debts and payment schedules.
Many passengers, who previously had flights booked with Thai Airways, have also been waiting for refunds.
SOURCE: Bangkok Post
Catch upwith the latest daily "Thailand News Today" here on The Thaiger.
Keep in contact with The Thaiger by following our
Facebook page
.
Never miss out on future posts by
following The Thaiger
.
Budget airlines ask for lifeline, no answers from PM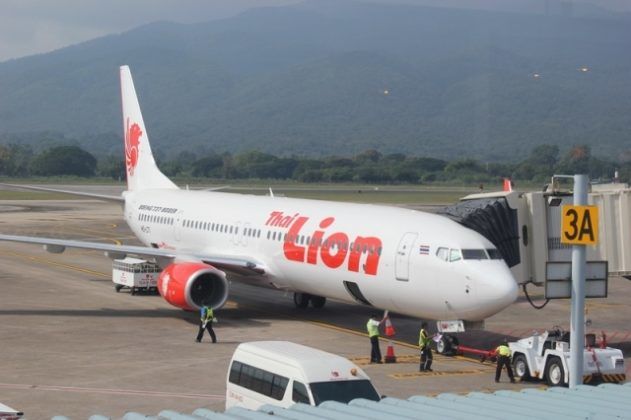 No surprise that one of the biggest industries to suffer from the border closures and travel restrictions was the airlines. Whilst there has been a gradual reboot of domestic travel within Thailand, there is still a 'fear' factor and reticence to travel. And the carriers are restricted to the domestic routes and have lost an entire sector of their businesses – the international flights.
Things are not looking good, particularly for the Thai budget airlines. The Covid-19 pandemic crippled the industry and some say they're barely surviving. They say the Thai PM promised a lifeline of billions of baht in soft loans, but he hasn't followed up. At the same time, tax reductions on jet fuel are ending, which will dramatically increase operating costs.
Last month, PM Prayut Chan-o-cha agreed to allocate 24 billion baht in soft loans to 7 of Thailand's domestic budget airlines, but there's been no word on how or when the money would be allocated. Thai AirAsia, Thai Smile (the domestic 'budget' offshoot of Thai Airways), Thai Lion Air, Thai Viet Jet, Bangkok Airways and Nok Air all requested aid.
Although nothing has been said yet, Thai AirAsia officials expect to hear more details by next week. Executive chairman of Asia Aviation, the largest shareholder of the airline, Tassapon Bijleveld, told the Bangkok Post the PM is "following developments frequently."
"We will face a real threat in the fourth quarter if Thailand cannot reopen to foreign tourists … Even though the government has approved a special tourist visa scheme, the action plan afterward is more important because tourism operators don't have a clue how to start."
Some reports say that Thai AirAsia and Bangkok Airways will be the only airlines getting the soft loans but Tassapon says he believes the other 5 airlines will get support, "it just might not be as much money as they wanted".
Thai Lion Air is running on "self survival mode," according to the head of commercial operations Nuntaporn Komonsittivate. She says the airline is maintaining domestic revenue and streamlining operating costs.
But it seems like the airline is barely surviving. Nuntaporn says flights need to be 70% full to prevent losses, but most weekday flights have been below 50%. Before the pandemic, flights typically hit 98%. Nuntaporn says it's hard for any airline to get close to that mark.
On top of that, an excise tax reduction on jet fuel is ending this month. Jet fuel prices will go from 0.20 baht per litre back up to 5.1 per litre if the Finance Ministry does not extend the tax cut. Nuntaporn says it's unlikely the ministry will extend it.
"The government asked us to reduce airfare to attract more local tourists, but the average selling price is already aligned with operating costs … And we have to bear a higher cost from excise taxes starting in October after just two months of reductions."
SOURCE: Bangkok Post
Catch up with the latest daily "Thailand News Today" here on The Thaiger.
Keep in contact with The Thaiger by following our
Facebook page
.
Never miss out on future posts by
following The Thaiger
.