Democrats say, as far as they're concerned, nothing has changed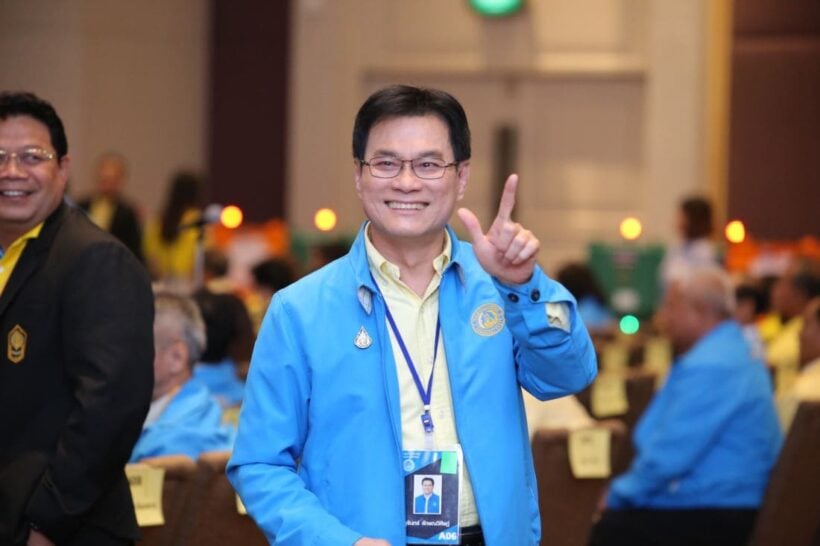 "Everything is OK. There have been no changes to ministry portfolios. The Democrat seats in Cabinet are secure."
Democrat Party leader Jurin Laksanavisit has been dismissive this morning about weekend reports of factional members within Palang Pracharat wanting to reclaim ministries in the new parliament. He says confusion over the ministerial portfolios in the new government arose after members of a Palang Pracharat faction said that the allocations hadn't been settled.
Jurin conceded that there had been numerous postings over the weekend, and duelling Tweets between a spokesperson from Palang Pracharat and the Bhumjaithai leader, saying that the allocation of cabinet ministers had not been concluded.
Mr Jurin says that the Democrats will discuss the issue of their MPs acting as ministers for the new Cabinet. He said this would follow the confirmation of the election of Prayut Chan-o-cha in parliament last week receiving royal assent.
Speaking to the Bangkok Post, Jurin said that the new PM was entitled to consider the cabinet line-up before it was submitted for royal approval.
Keep in contact with The Thaiger by following our
Facebook page
.
Never miss out on future posts by
following The Thaiger
.
Some Thai students decide to boycott their graduation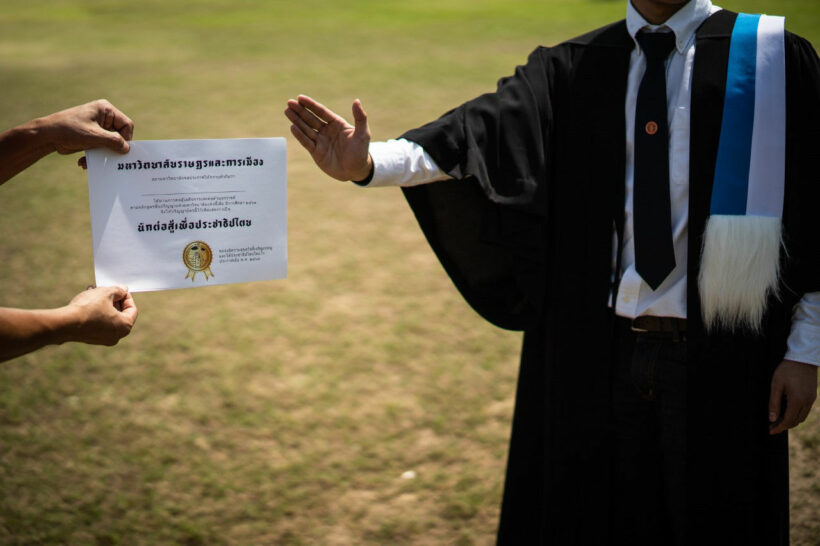 Their Majesties the King and Queen of Thailand will attend Thammasat University's graduation ceremonies tonight and tomorrow evening. But there's been a growing contingent of graduates who are boycotting the ceremony as a personal protest in relation to current rallies around Thailand about government and constitutional reform.
The night, the biggest night of a student's schooling, is a special event for many Thai students when a member of the Royal Family frequently attend the ceremonies to confer the degrees in a parade of passing students.
The protests, that started back in July by a core of university students, openly mentioning the reform of the Thai Monarchy for the first time, have now morphed into a common thread of discussion in social media. The role of the Thai Monarch, in the past a taboo topic for polite conversation in Thailand, is now being subjected to frequent media coverage and discussion.
Usually a night to remember for many students, it's not completely uncommon for graduating students to miss the commencement ceremony. The highly choreographed graduation ceremonies are voluntary although the chance to accept their certificate from a member of the Royal Family, including the photo that would take pride of place in homes around Thailand, is usually not passed up.
Now a rump of students, not only at Thammasat, are taking the opportunity for a significant personal protest, and deciding to forgo the ceremonies and make their own symbolic statement about the current protest issues. In most cases the events involve an entire day of rehearsals, culminating in mere seconds as they receive their rolled-up certificate in a regimented, solemn and formal ceremony. There can also be quite a lot of costs involved with the hiring of graduation garments with strict dress codes surpassing the wardrobes of many of the young students.
One post itemised the costs including up to 500 baht for a new skirt, a 1,000 baht for hair and grooming, including a hair cut and dyeing their hair back to black if they'd decided to go 'colour' during their studies, and a pair of shoes for up to 1,000 baht. Then there's make-up fees, a photographer (some graduation photos can be 'event' in themselves), both adding another 6,000-10,000 baht to the costs.
Some protesters earlier this month announced on social media posts that they were missing their graduation describing it as a "superfluous and onerous event". Although plenty of graduates have missed the ceremonies in the past for various reasons, now they're posting about their boycott, complete with explanations calling for reforms for the role of Thailand's Head of State.
Some graduates have also taken to social media explaining why they will be attending the graduation ceremonies, in most cases saying they will attend for the benefit of their parents.
Keep in contact with The Thaiger by following our
Facebook page
.
Never miss out on future posts by
following The Thaiger
.
Man arrested for allegedly driving with monitor lizards tied to his motorbike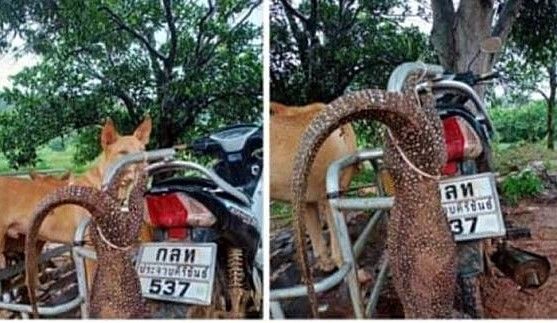 A man was arrested on animal abuse charges for allegedly catching water monitor lizards, tying them to his motorbike and driving around Prachuap Khri Khan, south of Phetchaburi province.
The man, who is identified as Chaowalit, posted photos on Facebook of lizards tied up to the back of his motorbike. One photo shows a large monitor lizard tied up to the back of the bike, hanging upside-down. Apparently, Chaowalit has been posting photos for about 4 months now on Facebook page on wildlife hunting.
Officials from the Kui Buri National Park were notified about the photos and a team of special unit officers were sent to Chaowalit's house to arrest him. He was charged with catching and harming protected wildlife as well as violating the Wild Animal Reservation Protection Act. If found guilty, he could face up to 10 years in prison and a fine up to 1 million baht.
SOURCE: Nation Thailand
Catch up with the latest daily "Thailand News Today" here on The Thaiger.
Keep in contact with The Thaiger by following our
Facebook page
.
Never miss out on future posts by
following The Thaiger
.
Phuket tops travel destination list of cheapest hotel prices – Dertour 2020 Price Index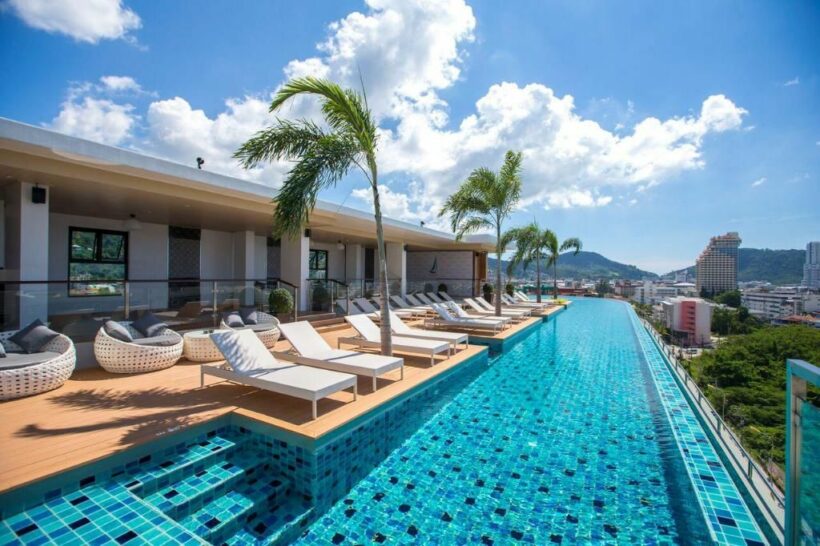 Phuket tops a list of the cheapest travel destinations with a 1 night stay at a hotel costing on average less than $30 USD, according to a study by the German travel company Dertour. Phuket is going through what some say is a "crisis", certainly a current tourist vacuum. The island province largely relies on income from foreign tourists, but with travel bans over the last 7 months, hotels and other businesses in the tourism industry have been at a loss.
For domestic tourists, Phuket currently offers a serene, peaceful tropical stay where you'll have a lot of the island to yourself. There are plenty of daily flights to the island, but all from domestic locations at this stage – the international terminal remains closed.
Along with being listed as hotels with the lowest price, Phuket also made the top 5 cities with the largest price drop from 2019 to 2020, according to Dertour's 2020 Accommodation Price Index. The company studied hotel prices for 75 popular tourist destinations around the world. Bangkok was just above Phuket at the fourth city with the largest hotel price drop. Bangkok hotel prices dropped by 34.6% while Phuket's hotel prices dropped by 33.8%.
Prices will continue to be low, CEO DER Touristik Central Europe Ingo Burmester says…
"Travel itself will be cheap in 2021… Although it has been a challenging period, we have seen a great deal of interest in domestic travel. We also predict a major catch-up effect for Mediterranean destinations, European trips and long-haul routes in 2021 as soon as travel restrictions are lifted."
Phuket ranks as the destination with the cheapest accommodation prices at an average price of $29 USD, according to the list. Average prices for 3-star hotels are $26 USD and an average of $54 USD for 5-star hotels.
Bangkok followed, ranking fifth on the list of cities with the lowest hotel price at an average of $43 USD per night. 3-star hotels in Bangkok average at $30 per night and 5-star hotels average at $93 USD.
Top 5 destinations with the lowest price in accommodation
Phuket: Average of $29 USD per night
Delhi: Average of $34 USD per night
Kuala Lumpur: Average of $36 USD per night
Bali: Average of $36 USD per night
Bangkok: Average of $43 USD per night
Top 5 destinations with the largest price drop in accommodation
Amsterdam: Dropped by 51.6%
San Francisco: Dropped by 39.2%
Vancouver: Dropped by 37.1%
Bangkok: Dropped by 34.6%
Phuket: Dropped by 33.8%
To read Dertour's full report, click HERE.
Catch up with the latest daily "Thailand News Today" here on The Thaiger.
Keep in contact with The Thaiger by following our
Facebook page
.
Never miss out on future posts by
following The Thaiger
.