Teacher suspended for sexual abuse at Nakhon Pathom school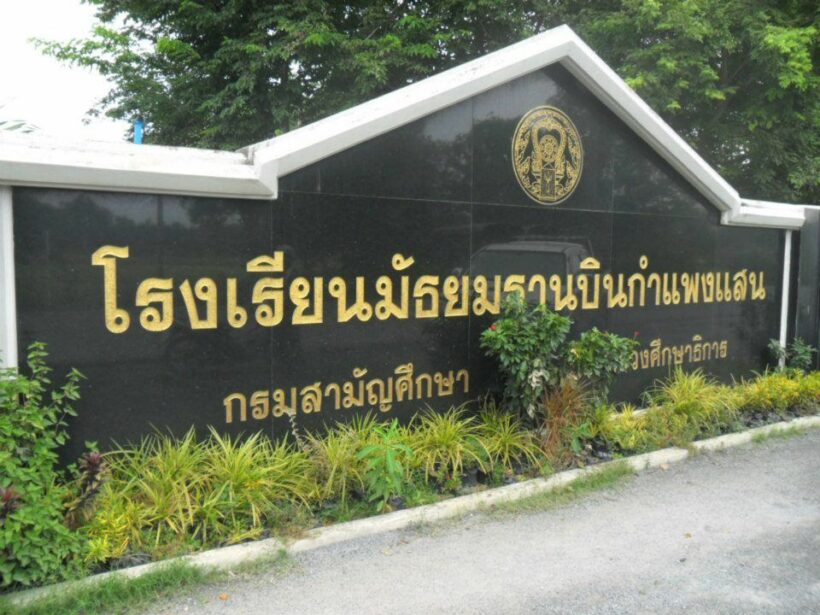 A teacher in Nakhon Pathom province just west of Bangkok, identified by students as a serial sexual predator, has been suspended an education official said yesterday.
The teacher at Matthayom Than Bin Kamphaeng Saen School, whose name was not supplied, was transferred to an inactive post and placed under investigation, according to secretary-general of the Office of Basic Education Commission, Amnat Wichayanuwat. The move came after students at the school aired their complaints on social media.
"I have been informed of the incident. I ordered a local office to remove him from active duty and set up an investigation committee. This a serious offense. If found guilty, he will be fired and we will take legal and disciplinary action against him."
Details of the teacher's alleged abuse emerged after students' rights groups Education for Liberation of Siam posted a photo showing the teacher embracing a male student inside a classroom. It read:
"A Nakhon Pathom teacher asked students to masturbate and endure molestation in exchange for their grades. He would ask students to come into a locked classroom one by one. One of the abused students said he didn't want to see the teacher, but he also didn't want to get an F."
The group added that the man had been abusing male students for some time: screen captures posted by the group showed he also posted pick up lines on students' Facebook pages.
It is unclear how long the abuse took place, or how many students were abused. The school's director Supranee Yhulerk said she could not disclose details as the investigation is ongoing.
"We are not hiding the truth, but it's a matter of protocol. The school is doing our best to protect the students."
Sexual assault in educational institutions is not uncommon in Thailand. Last year, 17% of the participants in a survey of over a thousand Thais said they have experienced sexual harassment in school.
In 2016, a teacher was suspended for posting videos of him having sex with students on his Twitter account, but he reportedly returned to teaching two years after being exposed.
Matthayom Than Bin Kamphaeng Saen School is a public school located inside an air force base in Nakhon Pathom province. It is attended by about 2,500 students.
Keep in contact with The Thaiger by following our
Facebook page
.
Not recommended: Smoking marijuana at a police checkpoint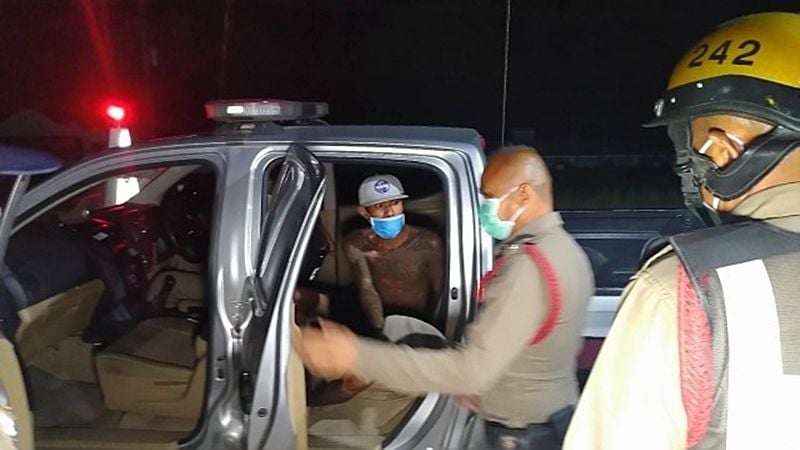 Most of us approach a police checkpoint with a bit of anxiety and apprehension but sometimes the "sabai sabai" approach makes for a more interesting interaction when you roll down your window.
Last night in Chaiyaphum province, central Thailand, a tattoo-adorned man was stopped at a checkpoint in Kaeng Khro district around 9pm. His behaviour led police to believe he may be under the influence of drugs and the officers decided to question him and submit a field sobriety test – usually described in the police report as 'acting suspiciously'.
After the interrogation, the police discovered he is 33 year old Mr Montri Thepmongkolkul. The officers checked his temperature to comply with Covid-19 safety protocol when suddenly Montri returned to his vehicle, pulled out a homemade bong and with reckless abandon started smoking marijuana.
Montri demanded that the officers take him to prison while he prepared all the stuff he would need while imprisoned which including a cutting board he uses to separate the seeds and stems from his marijuana (aka. 'essential items').
After he was all packed, he sat down in his pick up truck to enjoy some well deserved munchies. Baffled by the boldness, officers complied with his request but it was when officers took him to the police station that reality set in for Montri and he went berserk and had to be contained.
Afterwards, the police found that the alcohol level in his blood exceeded the legal limit and he was formally arrested and his wish was granted.
SOURCE: The Nation 
Keep in contact with The Thaiger by following our
Facebook page
.
Police hunt Burmese man accused of killing Chon Buri boy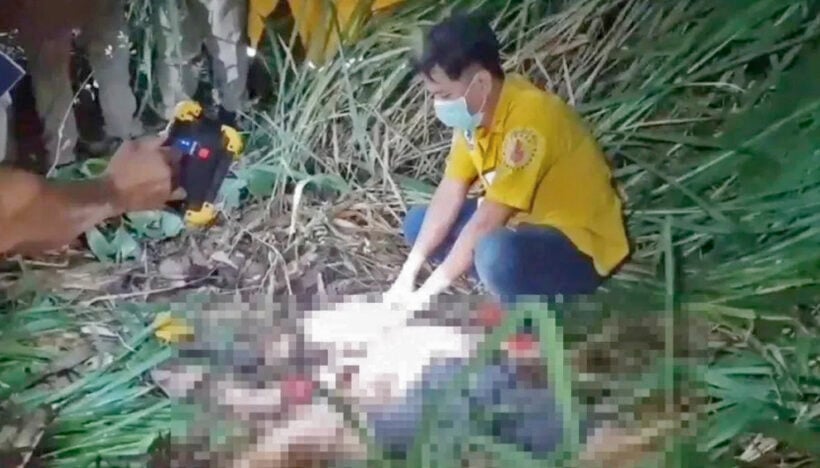 Police in Chon Buri have launched a manhunt for a Burmese worker who is a suspect in the murder of an 11 year old boy. The boy's body was found in a cassava farm in the province's Sri Racha district on Sunday.
Police believe the 49 year old Burmese national known only as "Wan," may still be hiding in Chon Buri.
The search was launched after the boy's mother, known as "Malika," told police that Wan had recently threatened to harm her and her son.
She told police that Wan had been dating her 62 year old mother for more than 10 years, but their relationship turned sour 2 months ago. After seeing Wan beat up her mother, she told her to leave him. When Wan found out, he threatened to hurt her and her son.
Police raided the suspect's home but found only his ID documents. So police believe that he may still be hiding somewhere in the province. Nevertheless, police have alerted immigration authorities that the suspect may try to cross the border to Myanmar.
SOURCES: Bangkok Post | 77kaoded
Keep in contact with The Thaiger by following our
Facebook page
.
Surat Thani village headman kills monk and his assistant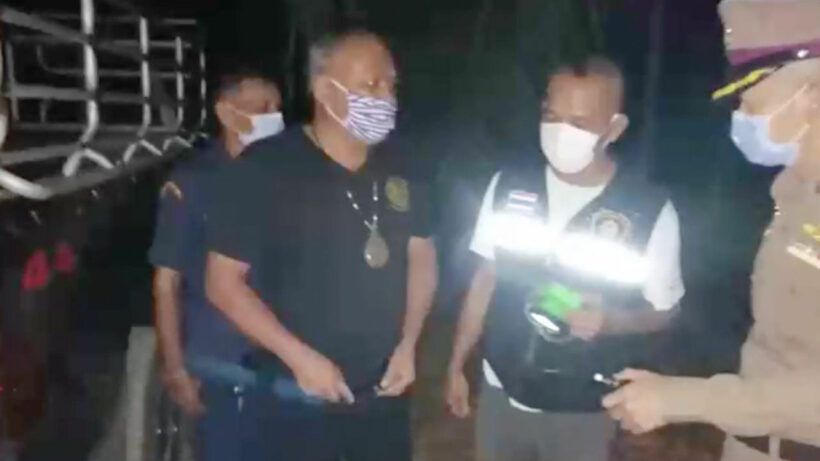 A 'Phu Yai Barn' or village headman has been arrested after allegedly killing a monk and his assistant near the entrance to Khao Phela monastery in Tha Chana district, Surat Thani Province. The Chief of Tha Chana district reported that around 2 am this morning he was accompanied by the Thana Chan police chief and other police officers to the crime scene.
When they arrived they found a pickup truck loaded with torches, fuel and coconut husks parked on the road. A man identified later as 48 year old Churat Khongkhlai was lying dead on the back of the vehicle with a gunshot wound to his neck.
10 metres away was the dead body of a monk found on the ground, later identified as 49 year old Phra Chonlathan Thavaro Kanchanabut, a monk of the Khao Phela monastery. He had two gunshot wounds, one in the back of his head and the other in his chest.
A .32 handgun was found near his body.
55 year old Manop Kopin, the headman of a village in tambon Samor Thong, was waiting for authorities and surrendered himself.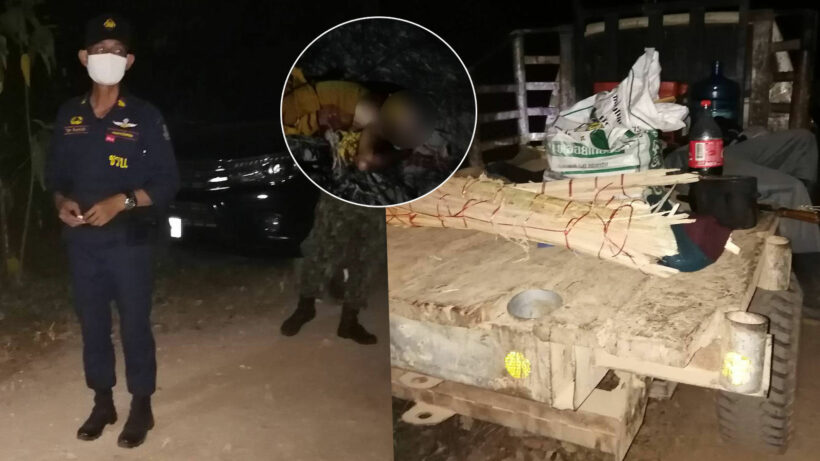 Assistant district chief Panyaporn Wattanapramote said they received a report from the chief of tambon Samor Thong, Thasaphon Thipsak, that two people had been previously arrested at 12.30am for leaving their homes during curfew hours. He led a team to the area and found Mr Manop and his team had already detained Churat and Phra Chonlathan. They had also seized a truck and equipment used for catching bees.
Panyaporn says "while he was reporting the curfew violation to the district chief over the phone, he heard gunshots. He went to check and found the village head had shot dead the monk and the layman."
Mr Manop told police that he saw the monk pulling out a pistol and Mr Churat grabbing a knife. He said he was frightened and thought they would attack him, so he fired three shots at them.
Police have detained the village headman as the investigation continues.
SOURCE: Bangkok Post | Thai Rath
Keep in contact with The Thaiger by following our
Facebook page
.