More human remains found submerged in metal casket in suspect's pond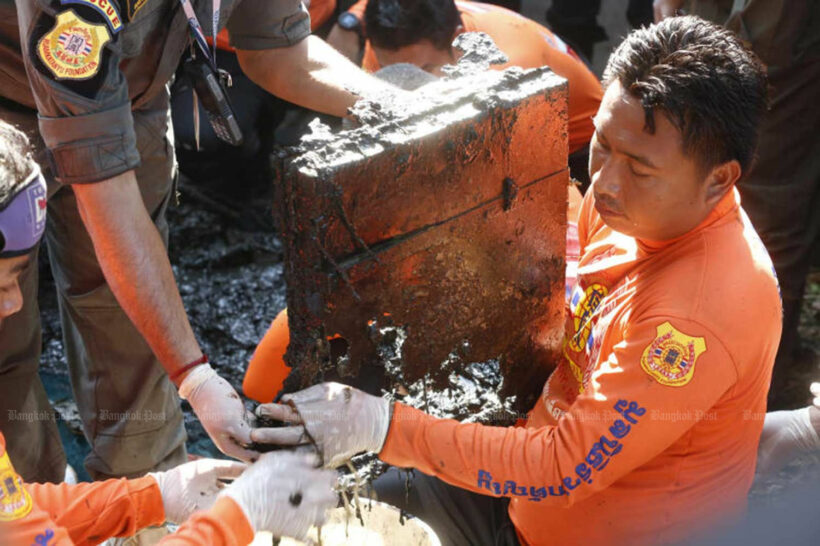 In a story that grows grislier with each new discovery… now an old metal casket with more than 30 human bones has been retrieved from a pond at the Bangkok home of Apichai Ongwisit, dubbed "Ice Heep Lek" (metal casket killer), who has already been charged with murdering his girlfriend and disposing of her corpse on his property.
Nearly 300 human bones have already been retrieved from the lake. At least 40 divers from various agencies participated in the search of the pond in Bang Khae district, west of Bangkok city. The pond, covering about two rai, was split into 14 separate zones for the search. After only 30 minutes divers recovered 10 bones and a knife.
Then around 2:20pm they discovered and brought to the surface an old metal casket containing at least another 30 human bones, including a skull, an eight kilogram dumbbell, a chain, T-shirt and pair of shorts and some rope.
Piya Uthayo, Thailand's assistant national police chief, were present during the increasingly grisly search. He says the skull and bones might be those of a small woman. The chief of Bangkok's Metropolitan Police Bureau said the bones appear to belong to a woman over 18 years old.
Police now believe there could be three or more corpses.
Last Friday, divers retrieved the bones from the pond, about five metres away from where they found a human skeleton a week earlier. The skeleton was wrapped in clothes and a bedsheet and hidden under a massive metal object and fastened to dumbbells by chains.
40 year old Apichai Ongwisit was arrested at his house earlier this month after police found the body of 22 year old Warinthorn "Kuk-kik" Chaiyachet from Sakon Nakhon in the northeast.
Apichai has reportedly admitted to killing the woman in August last year. According to local media reports, Apichai used drugs and began an intimate relationship with the woman and soon fell in love with her.
He reportedly ordered her to sleep in a metal casket, which he locked to ensure she did not leave him. When he opened the casket in the morning, he found she had died from suffocation, or so the narrative goes in the Thai media.
31 year old Chanchai Nakhiew-ngam, a former girlfriend of Apichai, told police he has a violent temper and she believes there are more corpses on the grounds of his sprawling, 20 rai property, but denied any involvement in the deaths, according to police.
SOURCE: The Bangkok Post
Keep in contact with The Thaiger by following our
Facebook page
.
Canadian murder suspect to be extradited to US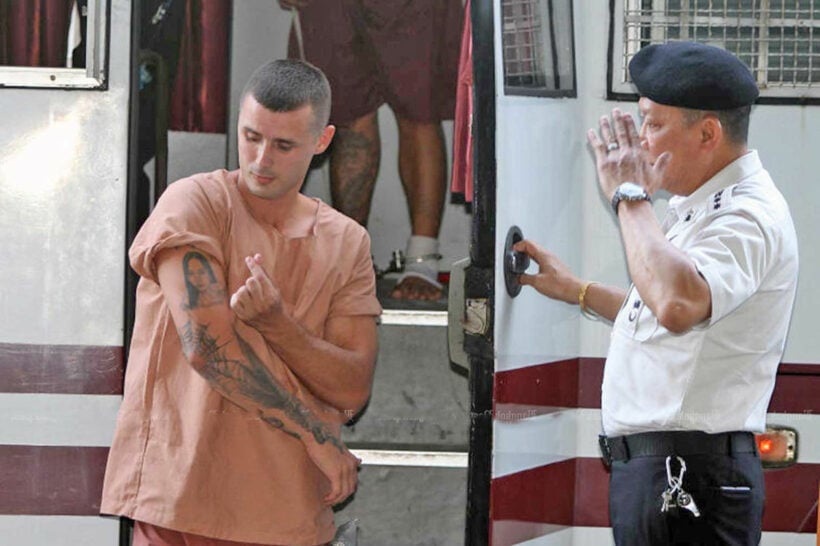 A murder suspect from Canada has lost his appeal against extradition to the United States after Bangkok's Appeal Court upheld a lower court's ruling, sending him to face a murder charge there. The ruling was handed down this afternoon. The extradition was sought by the Office of the Attorney-General against Matthew Alexander McGowan, accused of fatally shooting another person in September 2017 in the US state of Florida. He was arrested in Thailand in November 2018 and all bail requests have been denied. The US sought his extradition soon after his arrest but McGowan has refused to be extradited.
Accounts given by Florida police and prosecutors in Florida handling the case, as well as an image of the suspect captured in CCTV footage strongly support McGowan having been involved in the crime.
McGowan was brought to the Criminal Court yesterday from the Bangkok Remand Prison, where he has been held since his arrest in November 2018.
In June 2019, the Criminal Court ordered his extradition to the US. McGowan appealed the extradition, insisting he was not the person described in the extradition request. But a witness, a diplomat, testified before the court that the defendant was in fact the person in the arrest warrant issued by the US court. Immigration police say investigation shows the defendant is the person wanted by the US.
The Appeal Court upheld the lower court's ruling to extradite McGowan to the US, on the grounds that he is the person on the arrest warrant and it is not a political case.
After hearing the verdict, McGowan asked the court whether he could appeal the ruling again, but the court said the ruling is final.
SOURCE: Bangok Post
Keep in contact with The Thaiger by following our
Facebook page
.
Thai family of three are focus of local coronavirus outbreak in northern Bangkok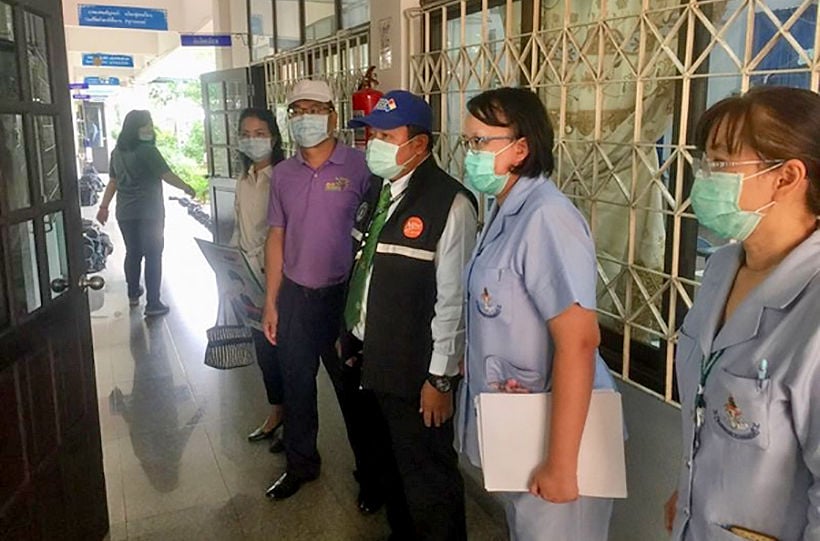 UPDATE
Three worrying new Thailand coronavirus cases are being reported as coming from the same family. A 65 year old man, the grandfather in the family, had returned from Japan with his wife but didn't disclose his situation or travel history to health workers when he took himself to hospital with a fever. The grandfather tested positive and his workplace, B.Care Medical Centre in Bangkok's Sai Mai district, has been closed down. The grandson, who is also confirmed as being infected by the virus, potentially infected 50 children in his classroom and possibly more at his school.
Officials quizzed and tested 30 students and 11 teachers at Phraharuthai Donmuang School in Bangkok's Don Meuang district who had had contact with the man's grandchild. They were advised to quarantine themselves at home for 14 days. The school's other 100 students were asked to avoid public activities and crowded places.
Meanwhile the Thai health ministry is asking Thai people not to be tempted by cheap flights "but travel within Thailand instead". The spokesman claims "that a cheap holiday could turn into an expensive problem". He said at-risk countries include China, Macau, Hong Kong, Taiwan, South Korea, Singapore, Italy, Iran & Japan.
And TMB Thanachart bank is confirming this afternoon that a family member of an employee of the Don Mueang branch has tested positive for coronavirus. The bank says the branch is closed for disinfecting "because the grandfather's son works there". The son is also now in self-quarantine, according to The Nation and The Nation.
(In this latest update there are confusing alternative reports which have reported the grandson as a granddaughter, and various branches of banks included in the reports. The Thaiger will try and clarify the confusion as soon as possible.)
EARLIER STORY
Two new coronavirus (Covid-19) cases have been confirmed in Thailand, bringing the total number of cases to 37. Of these, 22 have made full recoveries. The new cases are a 31 year old woman whose relative had visited Guangzhou, China, and a 29 year old driver who chauffeured Chinese tourists.
Sukhum Kanchanapimai, permanent secretary for public health, says the woman is a maid and was initially diagnosed with pneumonia of unknown cause. Later, doctors learned she had a relative who'd returned from Guangzhou. She is now being treated at Rajavithi Hospital.
The man showed up with fever and a cough after being in close contact with Chinese tourists, and was admitted to Bamrasnaradura Infectious Diseases Institute in Nontha Buri province just west of Bangkok. Health officials are investigating whether friends and family of the patients are also infected.
"We found more confirmed cases because the Public Health Ministry improved its surveillance on February 18, increasing the number of countries, visitors and provinces under close watch."
The good news, Sukhum says, is that another coronavirus patient has fully recovered and been discharged in Krabi. The patient was a 32 year old Chinese woman who had landed in Bangkok before Wuhan airport was locked down. He said that of the 37 confirmed cases, 22 (60%) have been discharged, 12 of whom were Thai.
1,580 patients have so far been "under investigation." Of these, 1,160 were diagnosed with influenza and discharged under monitoring. The other 420 remain in hospital.
SOURCE: Bangkok Post
Keep in contact with The Thaiger by following our
Facebook page
.
22 areas of Bangkok found with excessive PM2.5 dust in the atmosphere today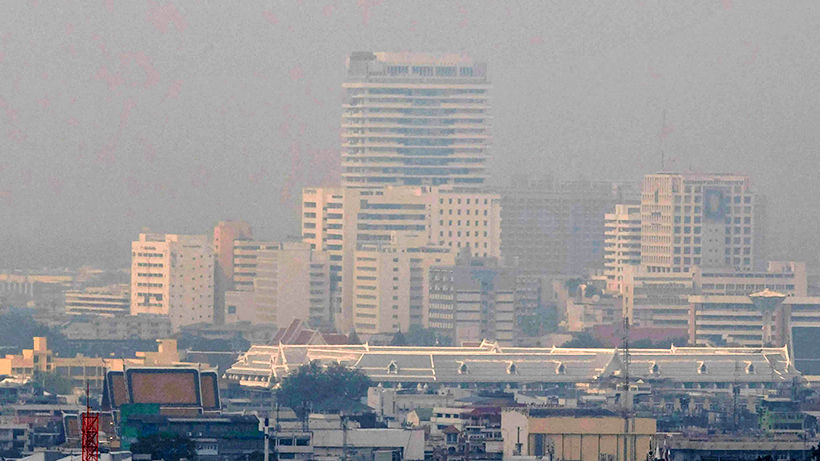 Bangkok was blanketed with excessive PM2.5 dust yesterday, measuring between 55 and 90 microns per cubic metre (µg/m3), above Thailands "safe" threshold of 50. Air quality has improved slightly today, with only 22 areas found to have PM2.5 dust above 50 microns. The limit set by the World Health Organisation is 25 µg/m3.
The Pollution Control Department (PCD) announced the levels of PM2.5 dust in the atmosphere today were measured between 38 and 79 microns, with excessive dust in 22 areas, including Lat Phrao Soi 95 in Wang Thong Lang district, which recorded the highest level, 79 µg/m3.
Bangkok Municipality spokesman Pongsakorn Kwanmuang said today that several Bangkok private schools couldn't suspend classes because their students are in the middle of final exams and that they've been warned to wear face masks to school. All Bangkok public schools were ordered shut until Friday
Bangkok areas with excessive PM2.5 dust today include:
Tambon Hirunrujee in Thon Buri district
Kanchanapisek Road in Bang Khun Thian district
Tambon Bang Na in Bang Na District
Tambon Khlong Chan in Bang Kapi district
Tambon Din Daeng in Din Daeng district
Tambon Chong Nonsee in Yan Nawa district
Rama IV Road in Pathumwan district
Intharapitak Road in Thon Buri district
Lat Phrao Road in Wang Thong Lang district
Din Daeng Road in Din Daeng district
Tambon Plabpla in Wang Thong Lang district
Tambon Bang Kruay in Bang Kruay district of Nonthaburi
SOURCE: Thai PBS World
Keep in contact with The Thaiger by following our
Facebook page
.