UPDATE: Makha Bucha Day massacre – 25 killed, 31 injured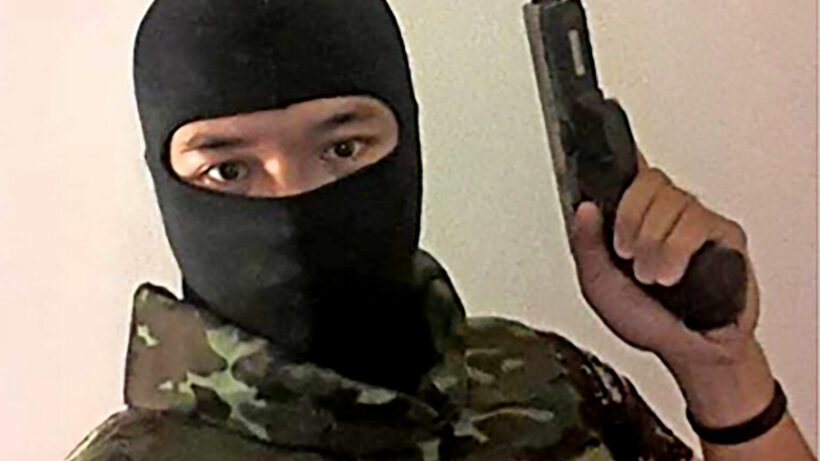 Hundreds of people were evacuated from Korat's Terminal 21 shopping mall by late last night following a late afternoon shooting spree that's currently claimed the lives of 25 and another 31 injured. As of this morning the gunman is still holed up in the shopping mall, apparently with hostages. The shopping centre, and surrounding areas, remains in complete lockdown and under the control of the crack 'Hanuman' unit from the Crimes Suppression Division (CSD).
Television footage showed hundreds of shoppers, some with young children, running from the shopping centre. Countless social media streams also broadcast the confusion and news across the internet, including a livestream from the suspect. Crowds of people have been donating blood at local hospitals in response to request to help the many injured patients that started turning up at the Korat hospitals.
This is the way events unfolded yesterday…
The carnage began around 3.30pm when the Thai Army soldier shot dead his commander and two others at the Surathampithak army base in Nakhon Ratchasima, north east Thailand, before stealing weapons, ammunition and a 4-wheel drive Humvee.
The slain commander was identified as 48 year old Col Anantharot Krasae. Thai media reported that the gunman had some sort of conflict over money with his commanding officer, that escalated into an argument. The reported motive has not been verified by authorities at this stage. A 63 year old woman was also killed at the camp, along with another soldier.
The gunman then headed into town, shooting randomly at citizens along the way, as he made his way to the Korat Terminal 21 mall.
The suspect was identified early as 32 year old Sgt-Maj Jakrapanth Thomma, an ammunition battalion officer working for the 22nd Ammunition Battalion, according to defence ministry spokesman Lt. Gen. Kongcheep Tantravanich speaking to Thai PBS World.
Around 6.30pm there was a flurry of social media showing the soldier getting out of the stolen 4-wheel drive in front of the mall and firing a volley of gunshots, sending people scurrying for cover. The gunfire was ringing out clearly on the streamed footage.
The gunman fired at a cooking gas cylinder. It exploded and burst into fire. He paused for a moment and took a selfie with the fire in the background.
The gunman's Facebook page was taken offline a few moments later, around 7.20pm. Facebook later confirmed that it had removed the account and "would also take down any other violating content related to this attack".
Facebook announced in a statement… "Our hearts go out to the victims, their families and the community affected by this tragedy in Thailand. There is no place on Facebook for people who commit this kind of atrocity, nor do we allow people to praise or support this attack."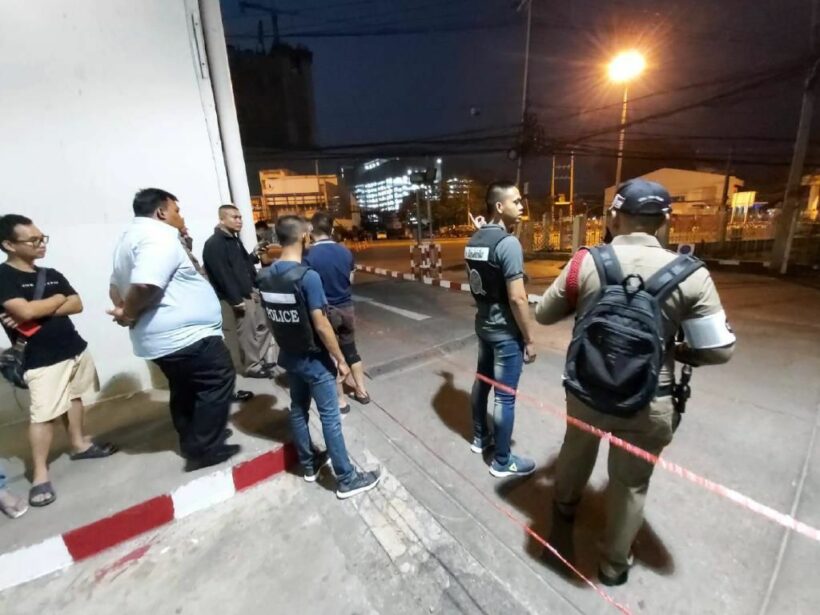 The Hanuman unit responded swiftly and arrived from Bangkok by helicopter. They quickly had the shopping centre and environs in a complete lockdown. Police also brought the suspect's mother from Chaiyaphum province, just to the north of Nakhon Ratchasima, hoping she may be able to assist in negotiations.
Around 8.30pm the Unit said they were preparing to "engage" the shooter inside the shopping centre. In the meantime they helped evacuate as many people as they combed the lower floors of the mall.
"It's still unclear on which floor or where the gunman is in hiding."
It has since been reported that the assailant is holding 16 people hostage on the fourth floor of the mall.
At 11.30pm a police spokesperson announced that they had taken control of the Ground, 1st, 2nd and 3rd floors of the mall.
During the evening the army asked local media and netizens to stop streaming live coverage in order to "avoid giving the suspect information about official activities".
The NBTC (National Broadcasting and Telecommunications Commission) also warned that people streaming inside the mall "were a potential threat to security operations".
Random posts from the shooter included comments like…
"Nobody can avoid death"
"Should I surrender?"
"Oh shit, I've got cramps in my hand."
"Being rich from taking advantage of others, do they think they can use money in hell?"
SOURCE: Thai PBS World
ช่วงที่ยิงหน้าห้าง ก่อนเข้าไปในห้าง pic.twitter.com/rpD5lbzZQK

— ฮุก31 นครราชสีมา Hook31 (@Hook31_Thailand) February 8, 2020
Keep in contact with The Thaiger by following our Facebook page.
Never miss out on future posts by following The Thaiger.
Police say at least 2 people to be arrested in Bangkok bomb attack- Update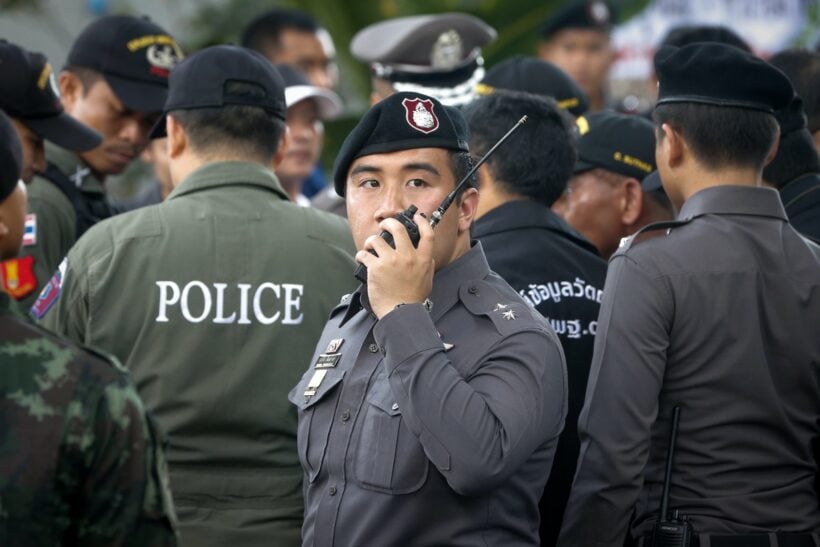 Police say they will issue arrest warrants for at least 2 people in connection to yesterday's bomb attackin Bangkok. According to Thai PBS World, the people are suspected of throwing a ping pong bomb into a group of police officers in front of the Chamchuri shopping mall that injured 3 policemen and 1 reporter. But previous reports by Khaosod English say the bomb attack saw only 2 policemen injured out of a total of 4.
Piya Tawichai, the deputy commissioner of the Metropolitan Police Bureau, says it is believed that the perpetrators threw the bomb from a vehicle on the flyover heading towards Hua Lampong railway station. Police say they found nails, wire and black electrical tape at the scene of the explosion.
The attack occurred at 6pm, during a pro-democracy rally over the government's enforcement of the lese majeste law, which has seen over 43 people arrested, including students, since November. Just last week, a Thammsat University student was arrested in his dorm room over lese majeste charges. Ironically, the reason for his arrest was reportedly due to his calling for such a law to be abolished.
Earlier today, a group of pro-democracy protesters and Ratsadon guards rallied in front of the Internal Security Operations Command head office in Dusit district, demanding for the release one of the guards, who has been missing since last night.
ISOC spokesman Thanathip Sawangsaeng responded to the claims by saying that ISOC had nothing to do with Mongkol's disappearance because it is "not responsible for maintaining peace and order in the city."
Now, Thai Lawyers for Human Rights have reported that that Mongkol has been released in the Bangpoo area. Mongkol and his lawyer went to notify the police at the Muang district police station and say that Mongkol will be sent for a physical and psychological evaluation.
SOURCE: Thai PBS World
Keep in contact with The Thaiger by following our Facebook page.
Never miss out on future posts by following The Thaiger.
Police hunt for those behind Bangkok bomb attack near pro-democracy protest site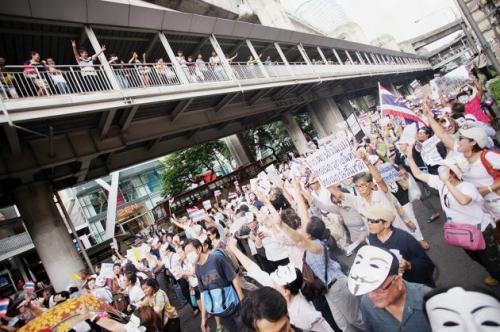 Police are hunting for those responsible for yesterday's bomb attack that hit near a pro-democracy protest site in Bangkok. The attack occurred at Samyan Intersection at around 6pm, leaving 4 people injured, including 2 policemen. Bangkok police chief Phukphong Phongpetra says the device used appears to be a pingpong bomb, which was filled with nails.
Demonstrators gathered yesterday in front of Samyan Mitrtown shopping mall to protest enforcement of Thailand's royal defamation law, which has been used sweepingly since the protests started up again last year. Riot police were deployed to the site as well as to Victory Monument, where police dispersed a group of activists earlier yesterday.
Since November, at least 43 people have been charged with lese majeste, including underage students, with most being comprised of activists that helped organise the protests in Bangkok calling for monarchy reforms.
"The government does not wish to see a rise in infections caused by political rallies. Therefore, we'd like to ask for cooperation from the public to comply with measures to prevent the spread of COVID-19."
The cooler weather is expected to last for another 2 days, after a cold spell from China washed over Thailand, with the northern part of the country expected to see a drop of up to 8 degrees Celsius in temperature.
Authorities are banning any unauthorised gatherings under the Emergency Decree, as Anucha confirms the need to carry out the decree as well as Thailand's Communicable Disease Act measures.
SOURCE: Khaosod English
Keep in contact with The Thaiger by following our Facebook page.
Never miss out on future posts by following The Thaiger.
Thai laws, how to stay out of jail in Thailand | VIDEO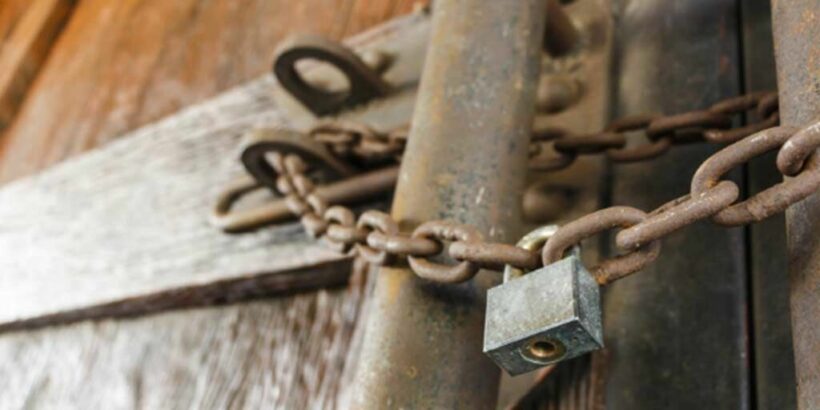 Thailand has plenty of laws, some of them applied more vigorously than others. Some not at all. But the ones they do apply can get you in hot water or, at worst, in a Thai jail. You DON'T want to end up there. Here's a few of the better and lesser known Thai laws from The Thaiger. You can visit all our videos, and subscribe to our channel HERE.
https://www.youtube.com/c/TheThaiger/videos
Keep in contact with The Thaiger by following our Facebook page.
Never miss out on future posts by following The Thaiger.