Arrested Lop Buri murder suspect was a provincial headmaster

The director (headmaster) of a Sing Buri school is now in police custody as a suspect in the case of the lone of being the lone gunman in a gold shop robbery at the Robinson's Shopping Centre in Lop Buri province on January 9. Three people, including a two year old boy, were shot and killed, another four were injured as a result of the shooting.
The armed gunman, carrying a 9mm pistol and fitted with a silencer, escaped after his shooting rampage, with gold jewellery valued at 450,000 baht worth of (some media report higher amounts up to 680,000 baht).
The 38 year old suspect has been identified as Prasitthichai Khaokaew, and is currently in custody. Police allege the man has confessed to the crime.
Amnart Wicchayanuwat, secretary-general of the Office of Basic Education Commission, says they will set up a committee to consider dismissal of the school director if he is found guilty of the offences, as charged.
In the days after robbery, the Royal Thai Police issued a shoot-to-kill order and a bounty was offered for information leading to his apprehension. Over the weekend police reported that had been speaking to a suspect over the incident. It has not been confirmed if Prasitthichai Khaokaew was the man who police were questioning over the weekend.
SOURCE: Thai PBS World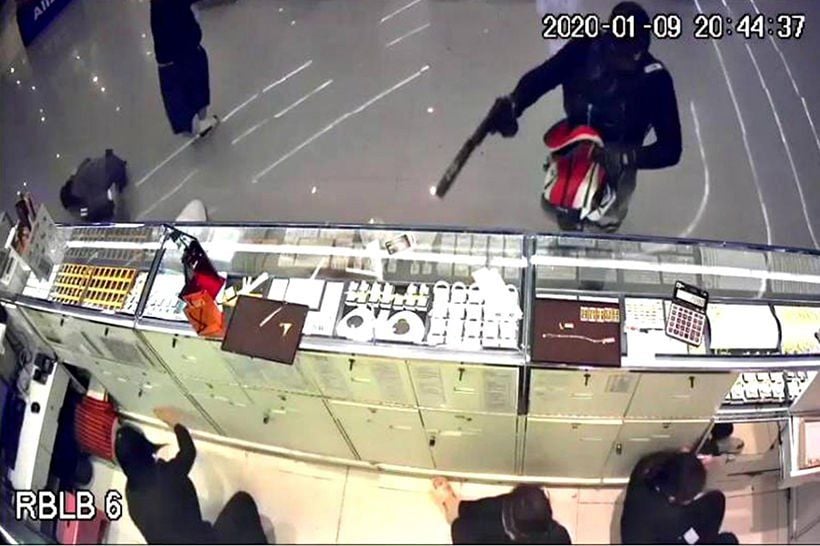 Keep in contact with The Thaiger by following our
Facebook page
.
At least 30 injured in head-on train collision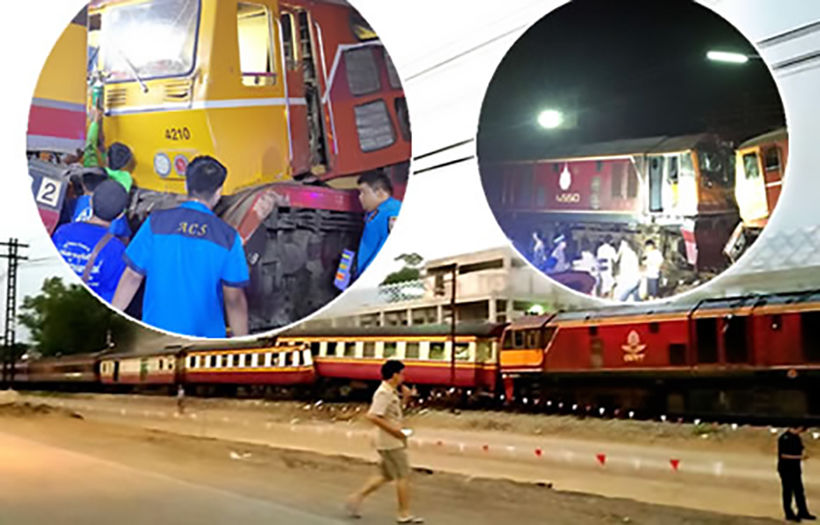 A train collision yesterday at Pak Tho station in Ratcha Buri province, just west of Bangkok, has injured at least 30 people, including three railway staff. Traffic Police radio and local Jor Sor 100 radio reported the crash between a passenger express train and a freight train express train, which took place around 6:30pm.
Thai media report that station staff could not switch the tracks in time for one of the trains to pass on the main track while another was waiting on another track. According to INN, at least 30 people were injured, but no fatalities have been reported.
The driver of the northbound freight train tried frantically to slow down but ultimately could only help to lessen the impact as the two trains collided. He has been named as 37 year old Pakorn Mananan. An operation using cutters had to take place to retrieve the badly injured man from the wreckage.
There are reports that the man was badly crushed. The southern line in the province is temporarily closed.
SOURCE: Bangkok Post | Thai Examiner
Keep in contact with The Thaiger by following our
Facebook page
.
Lop Buri gold shop gunman pleads guilty to all nine charges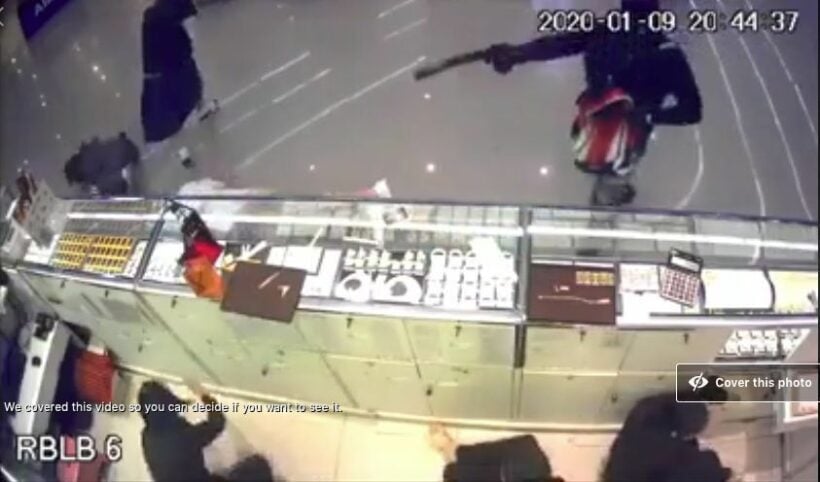 The school principal, who gunned down three people, including a 2 year old boy, and injured four others during a robbery in Lop Buri province on January 9, has pleaded guilty to all charges.
38 year old Prasitthichai Khaokaew, stormed into the Robinsons shopping centre and strode up to the Aurora Gold Shop brandishing a pistol and silencer and calmly shot at staff and customers. He was wearing a military-style combat uniform and bike helmet and escaped on a 110cc motorbike after shooting a security guard as he fled the crime scene.
The three people killed were the security guard, Mr. Thirachat Nimma, an employee of the gold shop, Ms. Thidarat Thongthip and the young boy, Panuwit Wongyu. The gunman escaped with 33 gold necklaces valued around 665,000 baht. These items were recovered the day after the man's arrest at his parent's home.
The gunman was identified as the principal of a Sing Buri public school and arrested on January 21. Prasitthichai was yesterday indicted on nine charges, including pre-mediated murder, attempted murder and robbery to illegal possession of firearms and carrying firearms in public without permission.
The shootings and murders shocked Thai society.
Prasitthichai was escorted from prison to the Criminal Court in Bangkok yesterday morning to hear the nine charges filed against him. He pleaded guilty to all nine charges. The first hearing is scheduled for March 23.
SOURCE: Thai PBS World
Keep in contact with The Thaiger by following our
Facebook page
.
Deputy village chief in trouble over racy Facebook photos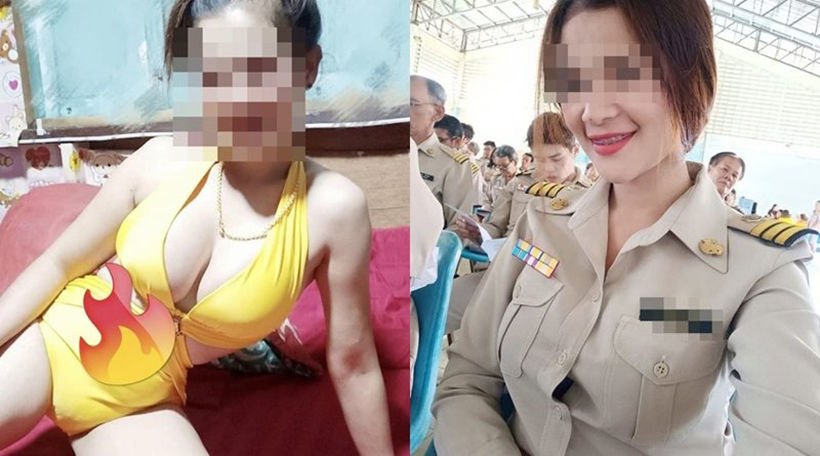 What was she thinking?! A deputy village chief in the central province of Ang Thong has found herself in hot water after her sexy Facebook photos were shared online yesterday, Khao Sod reports.
"I think what she did was a disgrace for our religious and community leaders, who must take action against her," wrote one Facebook busybody member, who posted two photos of the woman, one in an official uniform, the other in a swimsuit.
Pattama Nuamjit, the village chief, says she's received numerous phone calls from local residents who "demand the deputy face disciplinary action." Pattama says a report will be sent to the district chief for further consideration.
SOURCE: Thai Residents
Keep in contact with The Thaiger by following our
Facebook page
.