Defence team will seek royal pardon for Burmese pair facing death penalty over Koh Tao murders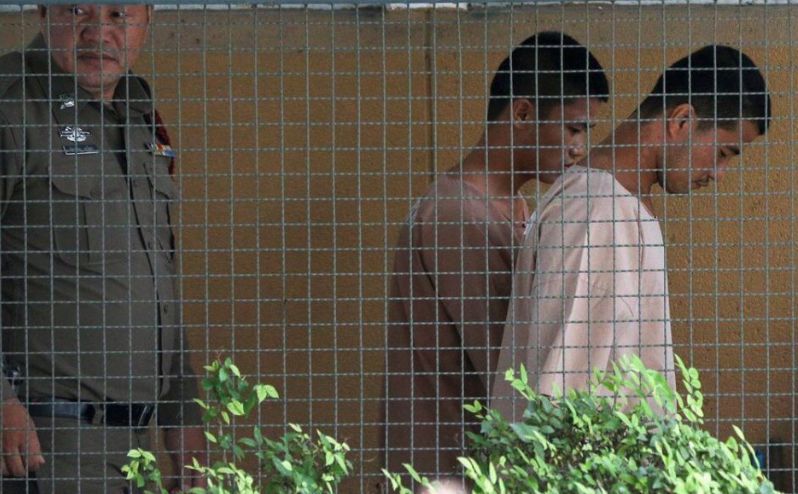 Yesterday the Thai Supreme Court decided to uphold the death sentences handed down previously to the two young Burmese men for the September 2014 murder of two British tourists on Koh Tao. The defence team says they will now seek a royal pardon for the pair in the next 60 days.
The defendants, now 26 year old, were escorted from Bang Kwang Central Prison to Nonthaburi Court to hear the verdict.
The verdict, which took nearly two hours to deliver, said this case has clear, credible and detailed evidence against the pair, including DNA matches, so "it is not convincing that the police will fabricate evidence to frame the pair as claimed".
Noting that the forensic evidence was carefully collected to prevent contamination and had been tested by a credible agency, and also that DNA tests were done on many Thais and foreigners in the vicinity, the court ruled that the defendants were not being targeted and found them guilty as charged.
The pair were escorted back to the Bang Kwang prison after hearing the verdict.
The Rakhine migrant workers were arrested nearly three weeks after British tourists 23 year old Hannah Witheridge and 24 year old David Miller were found bludgeoned to death on September 15, 2014. Autopsy results also showed that Witheridge had also been raped.
Although the suspects, facing charges of assault, murder, rape and theft as well as illegal entry into Thailand, reportedly confessed initially, they later retracted their confessions saying they had been tortured into doing so.
Zaw Lin and Wai Phyo were sentenced to death by the Koh Samui Provincial Court in December 2015, resulting in protests outside the Royal Thai Embassy in Myanmar. Later, in March 2017, the Court of Appeals Region 8 also upheld the pair's convictions. Their lawyer then appealed to the Supreme Court, alleging that the police had failed to carry out proper procedures in search for DNA evidence and had forced the pair to confess to the murders.
SOURCE: The Nation
Want more from the Thaiger family?
📱 Download our app on Android or iOS for instant updates on your mobile
📧 Subscribe to our daily email newsletter
👍 Like/Follow us on Facebook
🔔 Subscribe to or Join our YouTube channel for daily video updates
American arrested for alleged murder in Chiang Mai has past record of abuse in Colorado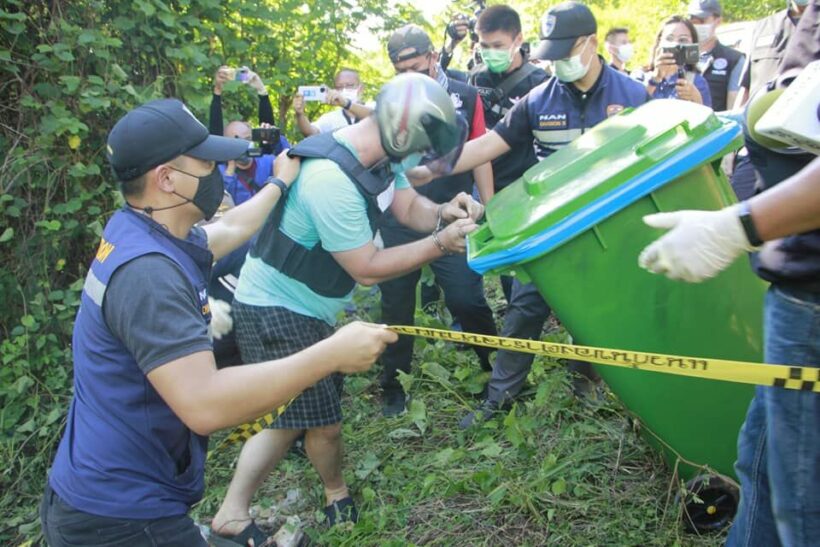 The American man who was recently arrested for allegedly murdering his pregnant Thai wife in Chiang Mai had been sentenced to 2 years of probation back in 2019 on assault charges after his gun went off while he was threatening a woman in Colorado. A report from the Associated Press says it appears to be the same woman.
Jason Matthew Balzer, 32, had initially faced attempted murder charges for assaulting a woman in Longmont, Colorado, but those charges were dropped. A Boulder District Attorney's Office spokesperson told a local reporter in a previous report that "in every case, we need witnesses to testify at a trial. Unfortunately, due to issues with the victim's availability, the higher charge had to be dismissed."
The victim had called the police saying Jason had asked to have sex and then assaulted her when she said "no," according to the arrest report. She told police he hit her face and slammed her head onto the bed's headboard several times before taking out a revolver and threatening to kill her, the report says. The woman told police she pushed the gun and it went off near her head.
Balzer pled guilty to third-degree assault in December 2019 and was sentenced to 2 years of probation. In December 2020, Jason was arrested in Colorado after police allegedly found 73 guns in his van. Possession of firearms is a violation of probation. It's unclear when Jason travelled to Thailand.
Since the case in Colorado involved a victim of domestic violence, the name was redacted in public court records, but a spokesperson for the District Attorney's Office told AP reporters that the victim has the same name as the woman killed in Thailand. Based on photographs, the spokesperson says they appear to be the same person.
On Thursday, Jason was arrested in Chiang Mai. Reports say he confessed to stabbing and killing his wife, 32 year old Pitchaporn Kidchop, who was 3 months pregnant. Police say Jason sealed his wife's body in a garbage bin before taking it to the woods about 5 kilometres away. In Thailand, a murder charge carries a maximum penalty of death.
Local police posted photos of the crime reenactment on Facebook. In Thailand, it is common for suspects to admit to crimes and reenactment the crimes to law enforcement officers and the press.

SOURCE: Time Call | Associated Press
Want more from the Thaiger family?
📱 Download our app on Android or iOS for instant updates on your mobile
📧 Subscribe to our daily email newsletter
👍 Like/Follow us on Facebook
🔔 Subscribe to or Join our YouTube channel for daily video updates
Thai woman admits to stealing lottery tickets from blind ticket seller in Bangkok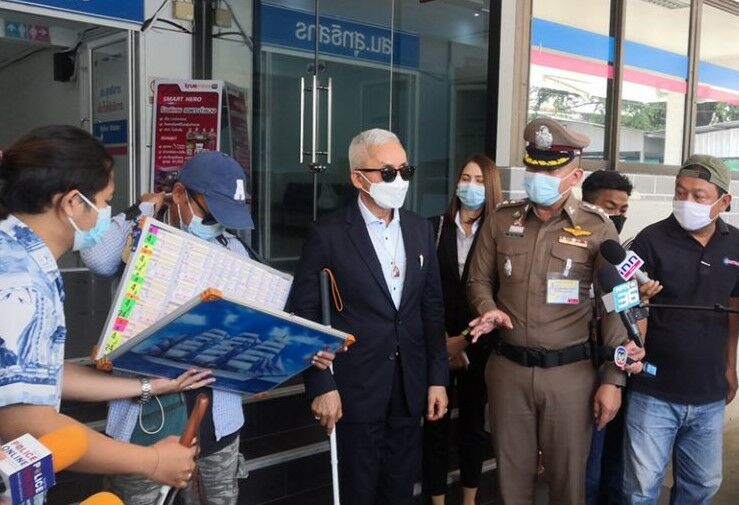 A 57 year old Thai woman is admitting to stealing lottery tickets from a blind seller in Bangkok. The woman, Sumali Muangpluem, is now under arrest for allegedly stealing from the disabled seller in the underground Sutthisan Station train between November 25-27 of last year. Sutthisan police say they collected evidence of the same type of theft in many districts, leading them to issue an arrest warrant for Sumali.
Police say their investigations revealed that the suspect would approach blind lottery ticket sellers while holding several tickets in her left hand. She would then use the right hand to pretend she was choosing a ticket and pull all of the tickets off at once so that the lottery seller would only hear one ticket being pulled. She would then hand some tickets to the seller while she hid the rest so onlookers wouldn't notice. She would then put the tickets in her bag while talking to the seller at the same time to keep her from noticing.
They say the suspect would then tell the seller she would be back to get the tickets and would leave money for the seller in the form of a deposit. One seller said he was keeping in regular touch with police as the same woman kept stealing lottery tickets from other blind sellers. He says he is afraid the suspect may hurt him because he filed a police report against her.
Police say Sumali has stolen about 450 tickets, valued at over 45,000 baht. They say she has stolen tickets at Victory Monument, Payathai, and Bang Na train stations in Bangkok.
SOURCE: Thai Residents
Want more from the Thaiger family?
📱 Download our app on Android or iOS for instant updates on your mobile
📧 Subscribe to our daily email newsletter
👍 Like/Follow us on Facebook
🔔 Subscribe to or Join our YouTube channel for daily video updates
American man arrested in Chiang Mai for allegedly killing pregnant Thai wife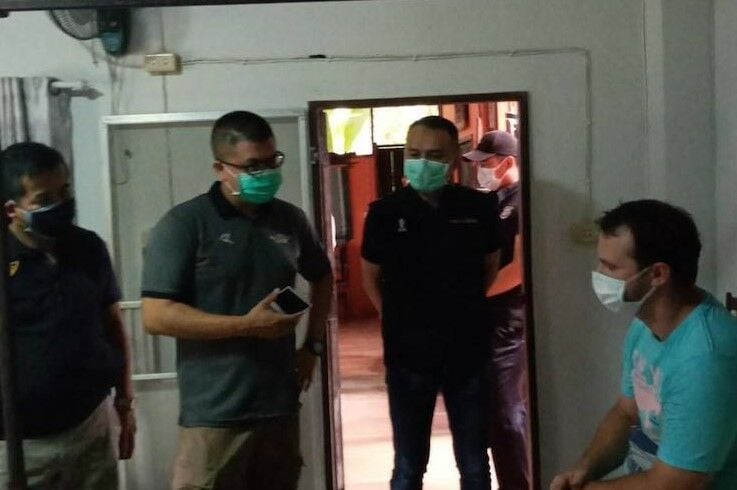 An American man has been arrested for allegedly murdering his pregnant, Thai wife and hiding her body in a rubbish bin. Police say 32 year old Jason Matthew Balzer then dumped his deceased wife's body in a field in northern Thailand. 32 year old Pitchaporn Kidchob's mother became concerned for her daughter's welfare after seeing Balzer flee their home on a motorbike. She then went inside the home to check on her daughter and found multiple bloodstains throughout the house.
After her mother notified police, they checked CCTV cameras and saw Balzer fleeing the area. They gathered a team of officers and sniffer dogs to go out looking for Pitchaporn's body in a field about 15 kilometres from their house. There, they found her body stuffed inside a garbage bag. A report by Siam Rath says police arrested Balzer yesterday afternoon in the Hang Dong district of Chiang Mai, who then confessed to killing his wife and dumping her body.
Balzer moved to Thailand in 2019 after being previously charged in the state of Colorado in America for attempted murder at the age of 30. A report from TimesCall.com included details from the incident:
"The woman said she was sleeping in her bedroom when Balzer came in and wanted to have sex. The woman said she was tired, and Balzer became angry and took her phone.
She said Balzer then grabbed her arms and squeezed then and then hit her in the face and slammed her head into the bed's headboard five times, according to the affidavit.
She told police Balzer then grabbed a revolver out of a desk drawer in the room and pointed it at her head saying, "I will kill you." The woman was able to push the gun to the side, at which point it went off next to her head. She was able to get the gun away from Balzer and threw it under the bed.
The woman said that while Balzer tried to begin covering up the bullet hole in the wall, she fled to a neighbor's house.
When police responded to the apartment, they found a fresh drywall patch in the ceiling and bullet damage to the kitchen floor, kitchen ceiling, bedroom floor and mattress. An officer also found the revolver under the bed."
Balzer was arrested on suspicion of attempted, second-degree murder, felony menacing, second-degree assault, third-degree assault, criminal mischief, obstruction of telephone use, tampering with physical evidence, criminal tampering, domestic violence, and aiming a firearm at a person.
It is not known what type of visa Balzer obtained to enter Thailand. Police say he is in custody and is waiting to be transferred back to Nan province after fleeing to Chiang Mai.
SOURCE: Thai Visa
Want more from the Thaiger family?
📱 Download our app on Android or iOS for instant updates on your mobile
📧 Subscribe to our daily email newsletter
👍 Like/Follow us on Facebook
🔔 Subscribe to or Join our YouTube channel for daily video updates