7 charged with libel, allegedly spread false information about PM's daughters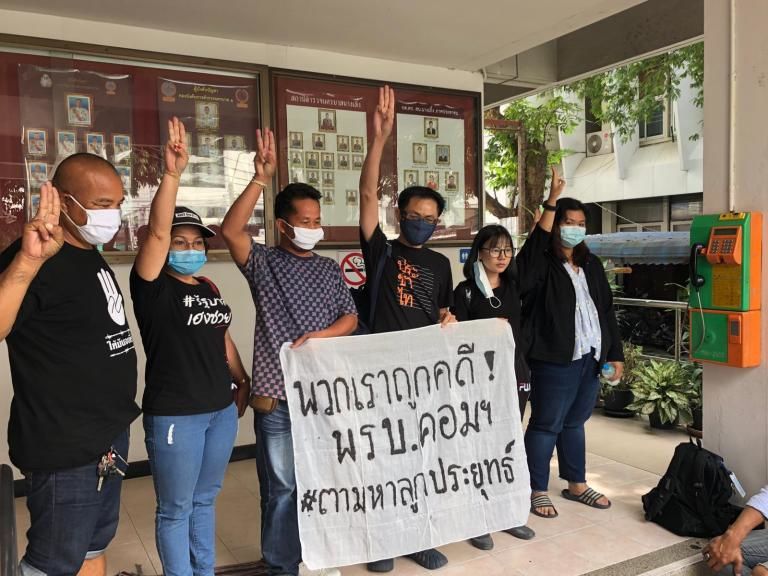 7 people turned themselves into police following a defamation lawsuit filed a few weeks ago by PM Prayut Chan-o-cha's twin daughters, Thanya and Nittha. The lawsuit was filed against more than 100 social media accounts for spreading false information about the women.
6 of the 7 who face charges were photographed at the police station, protesting their charges and holding up a sign with a hashtag translating to "Finding Prayut's children." They raised their hands up in the 3 finger salute, a symbol of resistance against the military run government.
The 7 people who reported to Bangkok's Nang Lerng Police Station were charged with violating the Computer Crime Act. The prime minister is not involved in the lawsuit, but he told reporters in a previous interview that his daughters have a right to protect their reputations.
Many people on the internet have been trying to track down the daughters. A Thai Enquirer opinion writer called it a "witch hunt."
Many rumours have been spread on social media. The twin's lawyer Abiwat Khanthung said in a previous interview that 100 social media accounts are facing libel charges under the Computer Crime Act and Criminal Code. It's unclear how many social media accounts the 7 people are associated with.
Many of the rumours are posted on Twitter. One post claimed the daughters failed their master's degree exam. Abiwat says that's false. The twins never even pursued a master's degree so there was never a test to take, he says. Some say the daughters helped their father launder money. That's also not true.
SOURCES: Nation Thailand |Thai Enquirer
Catch up with the latest daily "Thailand News Today" here on The Thaiger.
📱 Download our app on Android or iOS for instant updates on your mobile
📧 Subscribe to our daily email newsletter
👍 Like/Follow us on Facebook
🔔 Subscribe to or Join our YouTube channel for daily video updates
No room at the inn – Bangkok hospitals turning away people seeking Covid tests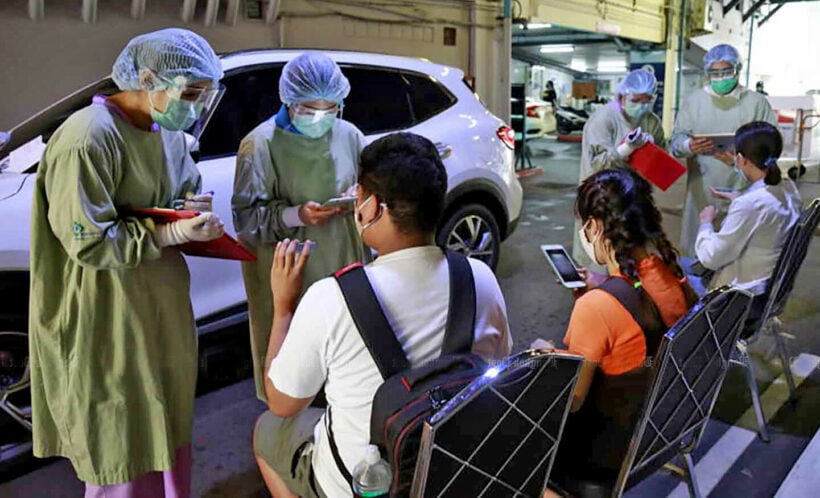 Today's drop in newly reported infections by the CCSA has dampened Thai's desire for a Covid test in and around Bangkok. Now, many hospitals around the city are restricting the numbers of patients tested. And if you want to be tested, Thai or foreigner, you better be ready to pay for it.
Thai Enquirer is reporting that at least 3 private hospitals are not accepting new Covid patients, including BNH Hospital, Praram 9 Hospital and Paolo Hospital in Phaholyotin. But even the latter, who had received a new batch of test kits, said they will take walk-ins but only from 0800 – 1700. The cost at Paolo Hospital is 4,500 baht.
According to Thai Enquirer, the city's public hospitals are also limiting the number of new Covid tests. Thammasat University Hospital and King Chulalongkorn Memorial Hospital are doing tests but only on who they consider 'at-risk' communities, and only 100 tests per day. Taksin Hospital, on the west side of the Chao Phraya, is providing free Covid testing but, again, only people they consider 'at-risk' patients. None of them are providing the popular drive-through services. For the majority of the hospitals charging, costs for the tests are between 4,000 – 6,000 baht, depending on the patients and their perceived risk levels.
293 new infections were detected in Bangkok over the past 24 reporting period. 210 more cases were reported from provinces directly adjacent to Bangkok. Around the country there were 1,390 new cases reported this morning, down on yesterday and Saturday's numbers but still well in excess of the numbers being reported in Thailand's first and second waves.
📱 Download our app on Android or iOS for instant updates on your mobile
📧 Subscribe to our daily email newsletter
👍 Like/Follow us on Facebook
🔔 Subscribe to or Join our YouTube channel for daily video updates
Thailand provincial figures for Monday's Covid cases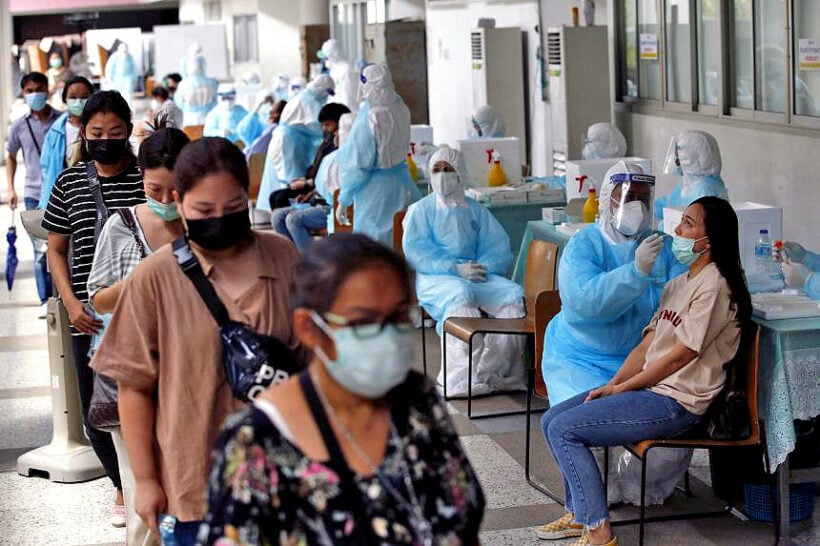 The NBT has published an infographic including all the provincial data on new Covid infections over the past 24 hours in Thailand. Note that some of the data is released by the provinces one day but not reported by the CCSA as a national tally until the following day.
Bangkok, Chiang Mai and Chon Buri, again, lead the way with the latest report. The provinces around Bangkok also feature heavily with today's numbers. 63 of the country's 77 provinces have all reported additional cases in the past 24 hours.
The CCSA earlier reported a total of 1,390 new Covid infections today. The tally is a welcome drop in new case reports after the last 5 days' record levels of new infections. Yesterday there were 1,767 new infections reported.
3 more people have died of Covid-related illnesses, 14,851 people remain under state supervision.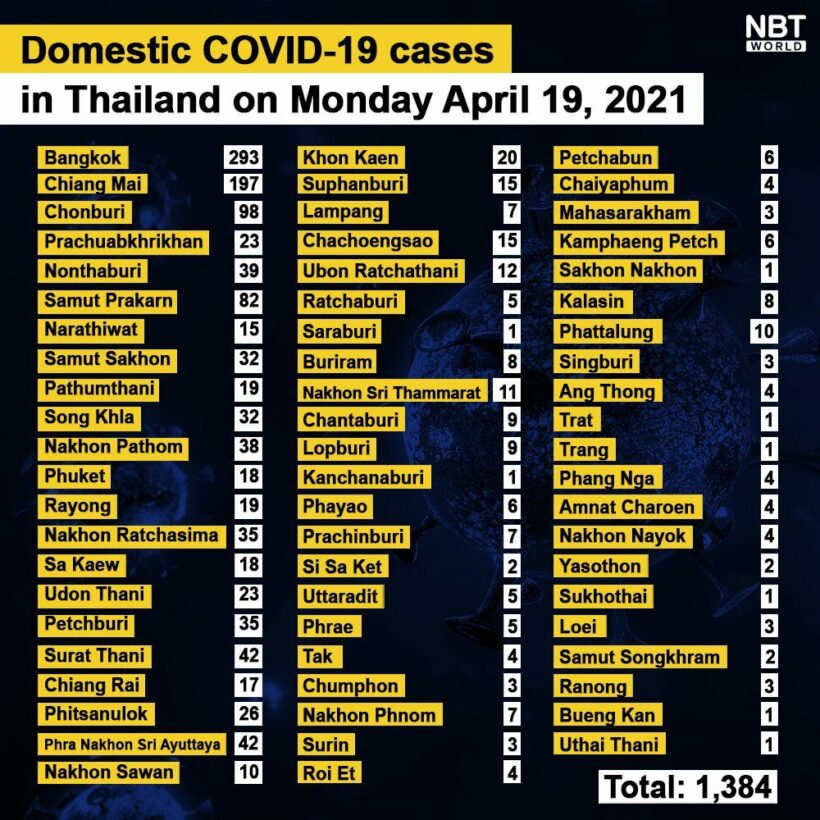 📱 Download our app on Android or iOS for instant updates on your mobile
📧 Subscribe to our daily email newsletter
👍 Like/Follow us on Facebook
🔔 Subscribe to or Join our YouTube channel for daily video updates
Website, self-quarantine for post-Songkran Bangkok travellers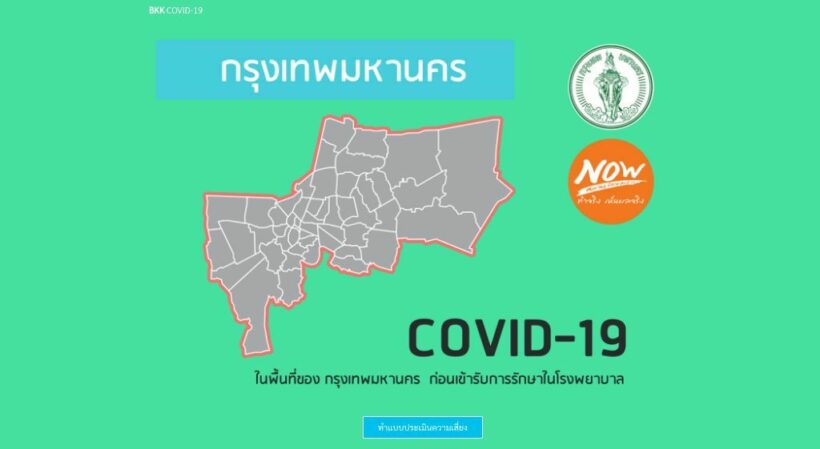 Bangkok is taking proactive steps to deal with the likely surge of Covid-19 cases after the Songkran holiday, asking those returning to Bangkok to submit their timelines online and self-quarantine 14 days. Bangkok Governor Aswin Kwanmuang is urging all people entering Bangkok to visit a website where they can perform a self-evaluation to assess their Covid-19 risk.
The website, bkkcovid19.bangkok.go.th, allows travellers returning to Bangkok to input their travel timelines and their personal information after scanning a QR code. The system will help with contact tracing, aggregating all the travel information to make following any threads of Covid-19 spread much more efficient. Health officials will be able to access and contact anyone thought to have come in contact with a Covid-19 infected person.
Songkran is usually one of the busiest travel periods of the year with millions of people going on holiday or visiting relatives. The government launches road safety campaigns to combat the swell in traffic and accidents. And even with Covid-19 cancelling most Songkran celebrations, Bangkok still saw nearly 8 million vehicles coming and going this festival period. A swell in Coronavirus infections spread throughout the country is likely as people travelled all over Thailand and back to celebrate the Thai New Year's holiday.
Governor Aswin explained the platform is hoped to help contain possible outbreaks by providing crucial information to health officials to trace Covid-19 spread. The system will analyze infection risk for each person who registers and give them instructions on how to proceed. People deemed to be at risk will receive a free Covid-19 swab test from Bangkok health officials, while low-risk cases will be instructed to self-quarantine for 2 weeks.
SOURCE: The Pattaya Mail
📱 Download our app on Android or iOS for instant updates on your mobile
📧 Subscribe to our daily email newsletter
👍 Like/Follow us on Facebook
🔔 Subscribe to or Join our YouTube channel for daily video updates