Bangkok resplendent in yellow for this weekend's Royal Coronation
Decorations are adorn houses and buildings around Rattanakosin Island, lining the route of the Liap Phranakhon Royal procession, as people prepare to celebrate this once-in-a-lifetime spectacle. The last time Bangkokians welcomed a newly-coronated King was on May 7, 1950.
With help and funds from City Hall for renovation and decoration, properties along the route look new and lively.
Portraits of His Majesty proclaiming "Long Live the King", along with yellow flags sporting the royal emblem, can be seen everywhere along the Rattanakosin Island streets and elsewhere around the capital.
While many shops are decorated with yellow flags and portraits of the King, one building stands at a corner of Asadang Road and Bamrung Mueang Road, attracting bystanders not only for its old structure and classic architecture but also for displaying a series of large photos of His Majesty in the windows.
Mana Aubattikrn, contractor and caretaker of the building, said that while renovating the building, he was approached by Phra Nakhon district director Wuthichai Boonsith who wanted to decorate the building for the coronation.
"The director gave me those photos from his personal budget. I put them on the old wooden window shutters on the second and third floors, and now the building looks so striking," said Mana.
The 22 photos depict King Rama X from his childhood to adulthood.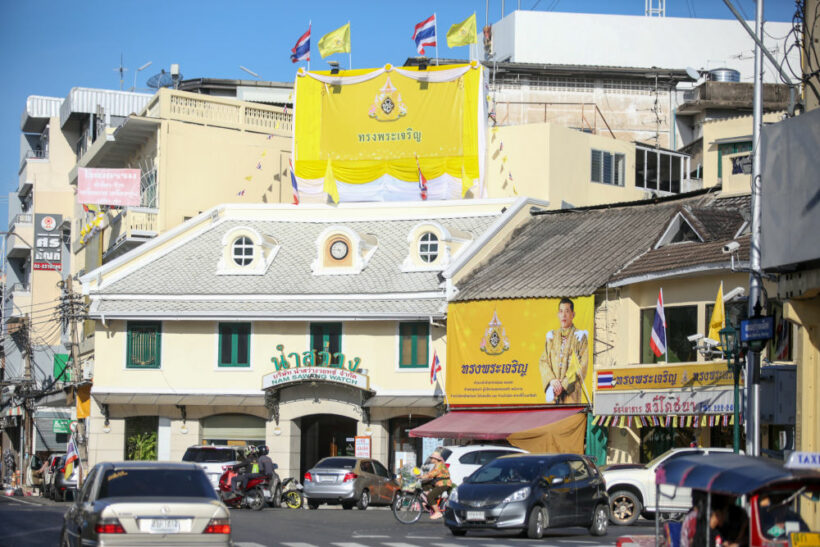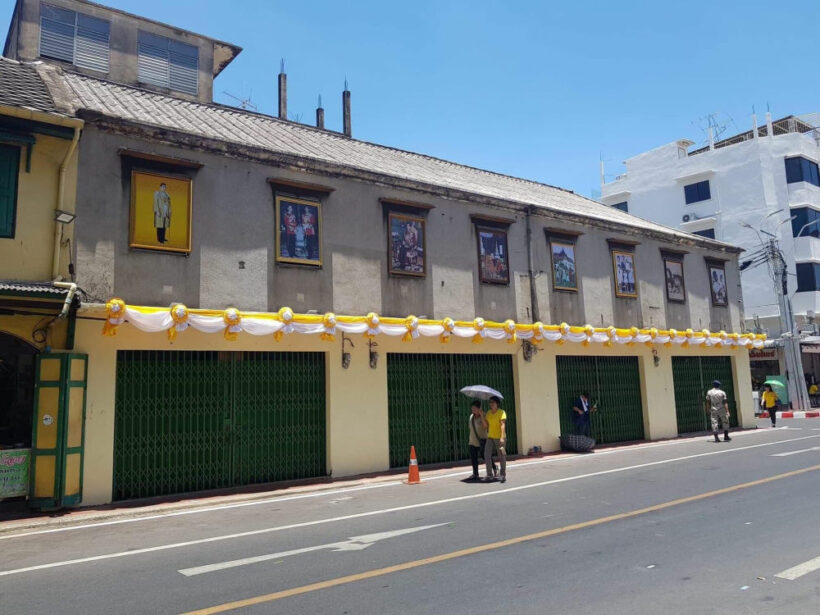 Built in 1896 during King Rama V's reign, the edifice was named the Fazal Building and housed the EM Katib department store in those days, Mana said. The store sold cut-glass containers, porcelain and perfumes imported from Europe.
Mana said his boss had acquired the building three years ago and planned to turn it into a cafe. Once the renovation is completed, he plans to display all the King's portraits on the second floor for young generations to see and know their history.
The coronation of the 66 year old monarch will run from tomorrow through Monday. Hundreds of thousands of people are expected to attend the historic event, capping a weekend of coronation ceremonies.
Forty roads around Rattanakosin Island are closed to traffic until Monday. While shops along the route are allowed to open for business as usual, they have been asked by the authorities to keep their display neat and clean in honour of the event.
Thiwawan Songsaeng, a 48 year old shop caretaker, said her massage shop on Feung Nakhon road will be open for business on the day, adding that since the procession will pass by quite late in the evening, she will be able to watch it.
She added that the authorities have said the staff in the shop can wear their uniforms as usual, and that it was not necessary to dress in yellow.
The procession will take a 7-kilometre route from the Grand Palace, stopping at Wat Bovoranives, Wat Rajabopidh and Wat Phra Chetuphon (Wat Pho), and is expected to take around six hours. The King will disembark the palanquin at these temples to pay his respects at the main ubosot and to the ashes of his ancestors.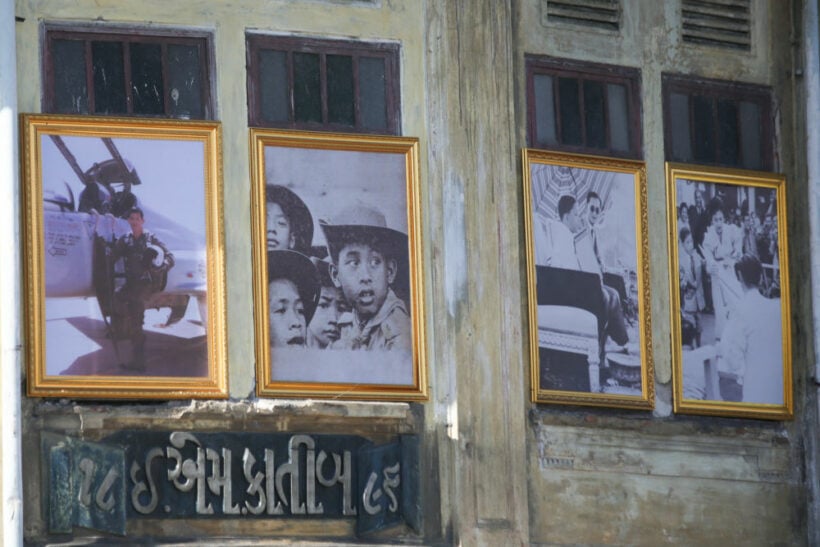 SOURCE: The Nation
Bangkok's 'Backpacker Central' gets a makeover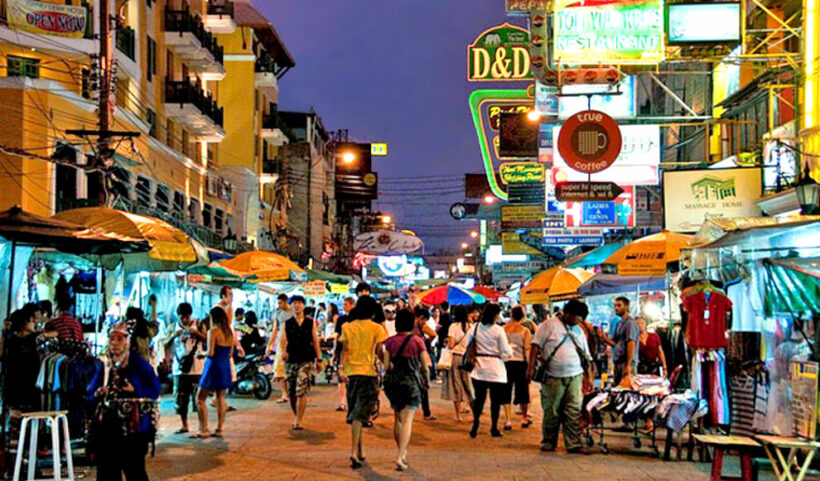 Khao San Road in Bangkok, which has become famous (and slightly infamous) over the years without much interference, is about to get fully-fledged make-over with the help of the Bangkok Metropolitan Authority.
Thai PBS reports that works are scheduled to begin in March next year with a budget of 48 millon baht set aside for the work.
Bangkok's Deputy Governor Sakonthee Patthiyakul says the renovation of Khao San Road will include granite repaving, raising of the road surface to the same level as the footpaths, landscaping and rezoning of approximately 240 pavement stalls.
Khao San Road is a 400 metre strip packed with bars, restaurants, guest houses offering cheap accommodation, hotels, souvenir shops and pavement stalls. It also had a reputation for offering a few fake items in the past, from brand name clothing to 'passports' and fake licenses.
Last year there was an ongoing battle between City Hall and roadside vendors as officials tried to 'clean up' the area but were castigated for not consulting the strip's many traders. City Hall eventually caved in to the pressure and stepped back from their proposed changes.
City Hall plans to rezone and re-manage the 240 pavement stalls by grouping the stalls of similar type, such as clothing, souvenirs and food, together. The deputy governor said that the operating hours of the pavement stalls will be from 9am to 9pm and the contracts for the pavement traders will be renewed every two years, so that new traders will have a chance to do business in the popular tourist spot.
To prevent a monopolization of the pavement stalls, each trader will be allocated only one stall, by means of drawing lots, and the stall rental fees will be paid to City Hall. Push carts selling drinks, fruit or food will not be allowed into Khao San Road.
For the next step, Sakonthee said that the city administration will apply the Khao San model to the nearby Rambutri Road.
SOURCE: Thai PBS
Co-working spaces in Bangkok are re-shaping small to medium business office options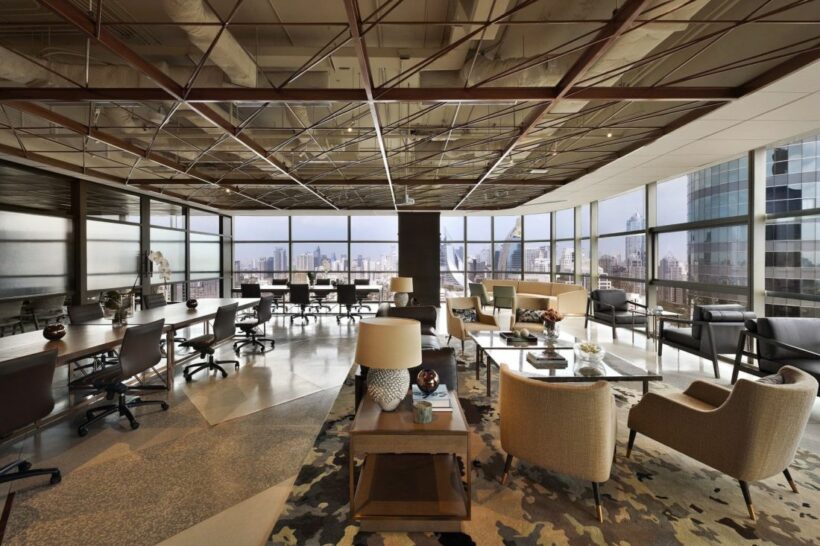 PHOTO: The Great Room
Co-working spaces are opening up around Bangkok and providing a more flexible framework for businesses to grow. Advances in technology, a more mobile workforce, and unpredictable economic growth are reshaping the business environment.
In the Bangkok office market, a traditional three-year lease with options to renew and the tenant fitting out the space remains the typical way of leasing office premises for most occupiers. CBRE reports that multinational firms, with offices in different countries, are increasingly looking for flexible lease terms as real estate costs continue to be one of their major concerns.
Companies are also looking at agile working where staff no longer have allocated desks and, in some cases, it is easier to get third parties to design, build, and operate this space rather than companies doing it themselves.
Some of the current pricing being offered by co-working space operators is very competitive and the cost combined with flexibility is making leasing from third parties more attractive than companies leasing space, fitting them out, and managing their own premises.
In Bangkok, co-working space has continued to be an emerging source of office demand and CBRE has leased over 44,000 sqm, accounting for around 25% of CBRE's total new office letting volume in the last 2 years, to co-working space operators.
International operators like JustCo, WeWork, Spaces, and The Great Room have opened multiple centres over the recent year and more are scheduled to open this year. The aim of these operators is to revolutionise the way occupiers source office accommodation. They want to provide office space as a service rather than a traditional lease.
CBRE believes that co-working space operators are not just targeting startups companies but also multinational firms especially those seeking to build more flexibility into their real estate portfolio. The use of co-working space can provide flexibility for companies to accommodate fluctuation in space requirements.
Accounting rules have changed and rent payable under leases must now go on the balance sheet, whereas it appears that sourcing office space as a service does not count as a lease and therefore need not be on the balance sheet.
This means occupiers do not need to commit to a traditional three-year lease term. Instead, they are paying their rental as a service fee on a per desk or membership basis rather than per square metre. Co-working space operators are also providing tailor-made solutions with companies enjoying exclusive use of the space and not sharing it with others, making this a viable alternative to a traditional lease for large local and multinational companies.
As millennials will become the largest generation within the workforce in the future, CBRE foresees that companies are forced to re-think their workplace quality to make it capable of encouraging collaboration and innovation as well as promoting employee wellbeing. More companies will transform their offices into agile workplaces either doing it themselves or relying on a coworking space operator to provide the solution.
SOURCE: CBRE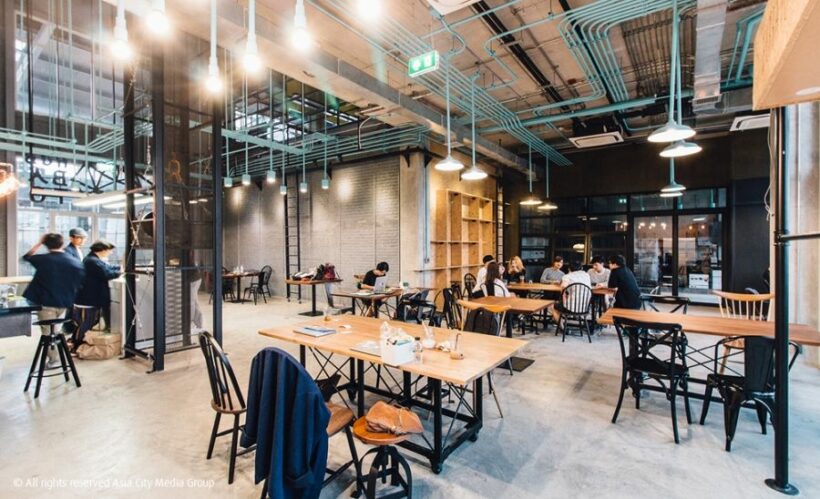 PHOTO: Soimilk
15 baht flat fares for BTS Skytrain – Transport Minister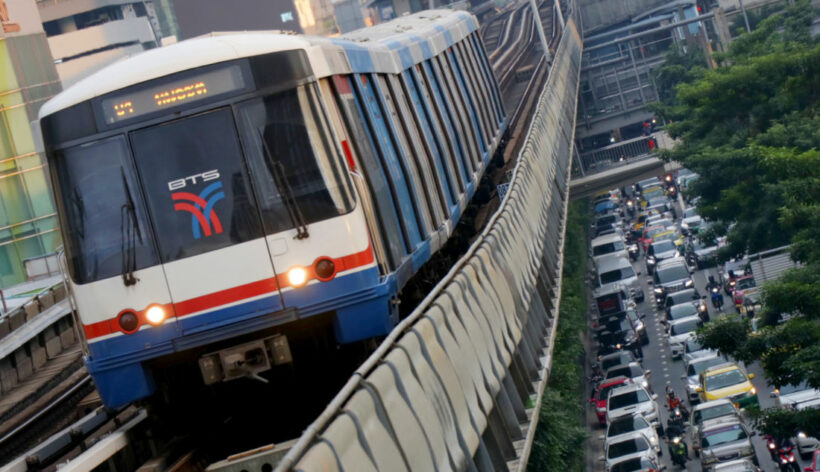 The government's new Transport Minister, Saksayam Chidchob, has reiterated its intention to reign in the costs of the city's Green Line trains, the BTS Skytrain, around Bangkok. They're even mooting a capped flat fee of 15 baht per ride. The policy was proposed by the Democrats during the election campaign and accepted as party platform for the new coalition in deals done before the vote for the PM in Parliament in June.
But the Mass Rapid Transit Authority of Thailand governor say it can only happen if the government agrees to subsidises the remainder of the costs for the private operators of the rail routes. The governor, Pakapong Sirikantaramas, agreed it would be a bonus for commuters and bring down their public transport costs on the electric train systems around the city but needed to be budgeted as an ongoing cost for the new government.
He said they're also looking at other alternatives to bring down the high costs of using the BTS Skytrain for commuters. He announced a committee has been set up to evaluate the 'proper and fair' fares for the city's Green Line. The 'Green Line' services around the city have grown in popularity by more than 50% in the past decade.
In another policy proposal, legalising Grab Car (widely used but not officially legal as yet), would help relieve the city's pressure on the train systems. The Bhumjaithai party's secretary-general Saksayam Chidchob, now head of the transport ministry, has also foreshadowed rolling out policies like allowing students to complete some projects from home and not having to travel to school all the time to help reduce congestion.
Part of his party platform has also promised to oversee all transport projects are contracted out in a transparent and fair manner.