Cambodia burns, Bangkok chokes, schools closed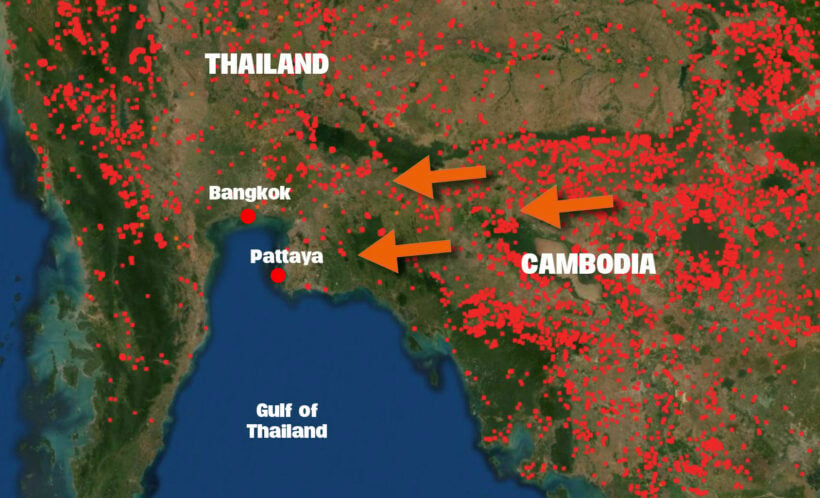 Bangkok mums and dads will need to sort out what to do with the kids for the rest of the week after the Bangkok Metropolitan Administration closed public schools from today because of the excessive air pollution. Most of the smoke and haze is blowing in from Cambodia with light easterly winds.
All schools under the supervision of the BMA will close until Friday. Air quality in the capital has worsened over the past two days with Bangkok recurring the world's 5th worst air pollution yesterday (today it is 10th). The forecast today is for light winds and poor air circulation which will compound the accumulation of PM2.5 dust and smoke particles.
In other measures City Hall is asking high-rise construction and electric train construction sites to suspend their operations until Friday.
And on the transport front Police have been asked to prevent trucks with six wheels or more from accessing the Ratchadapisek ring road until midnight on Thursday and to set up roadblocks to check vehicle exhaust emissions.
Most of these measures will do little to improve the overall situation as the poor air quality in the capital is caused by plantation burn-offs from sugar, corn and rice fields in the central, north and north-east, plus easterly airflows blowing in the same burn-off smoke from Cambodian farms.
Back in the city, district officials and municipal police will patrol open areas to make sure there is no burning outdoors, while city workers will spray water in the air and on roads to wash away dust.
The whole of Bangkok and its vicinity were found to contain excessive amounts of PM2.5 dust and smoke particles yesterday, measuring up to 188, nearly 4 times the upper safe limit imposed by the Pollution Control Department, and nearly 8 times the limit set by the World Health Organisation.
62 air quality measurement stations in Bangkok and neighbouring provinces, including Samut Prakan, Samut Sakhon, Nonthaburi and Pathum Thani, show the health threatening levels of PM2.5, which exceed the 50-micron safety threshold. The highest level was found at Tambon Paknam in Muang district of Samut Prakan.
This morning the highest readings around Bangkok are 160 but out to the west, in the Ratchaburi province, readings are up to 208. Pattaya has readings up to 159. Up in the north, Chiang Mai has a reading this morning of 165, and central Thailand's Kampaeng Phet measured the country's worst today at 218. The windflower map shows the easterly winds blowing the forest and plantation smoke from Cambodia and Laos into Thailand. Chiang Mai is listed as the world's 5th worst air pollution today.
Check out the actives fires, principally responsible for causing the air pollution around Bangkok today, HERE.
Read The Thaiger's editorial about the air pollution 'elephant in the room' HERE.


Air pollution readings from AirVisual.com
Keep in contact with The Thaiger by following our
Facebook page
.
Lockdowns, closures mean cleaner air in European cities

Lockdowns, travel restrictions and factory closures due to the Covid-19 coronavirus pandemic are having some unexpected positive consequences. Satellite images show that cities around Europe, including Brussels, Paris, Madrid, Milan and Frankfurt, are showing a huge reduction in air pollution average levels of noxious nitrogen dioxide over compared with the same period last year.
New images, including heat maps, released by the European Space Agency and analysed by the nonprofit European Public Health Alliance, show the changing density of nitrogen dioxide, which can cause respiratory problems and cancer. (Weather events can influence air pollution, so the satellite pictures took a 20 day average and excluded readings where cloud cover reduced the quality of the data.)
In Madrid, average nitrogen dioxide levels decreased by 56% week-on-week after the Spanish government banned nonessential travel on March 14.
In abandoned Venice, dolphins were supposedly spotted in spotted in the city's legendary canals, though this turned out to be "fake news." The canal water, nonetheless, is clearer because of the huge decrease in boat traffic.
The EPHA says people living in polluted cities may be more at risk from the virus because prolonged exposure to bad air can weaken the immune system, making it harder to fight infection.
"That connection is very likely, but because the disease is new, it still has to be demonstrated."
China also recorded a drop in air pollution in its major cities during February, when the government imposed draconian lockdown measures to contain the epidemic.
But in some regions of Poland, pollution levels remained high during the period despite its lockdown, possibly due to the prevalence of coal based heating. EEA data show that air pollution causes around 400,000 premature deaths each year in Europe.
SOURCES: Thai PBS World |Reuters
Keep in contact with The Thaiger by following our
Facebook page
.
Chiang Mai chokes as fires rage in the north of Thailand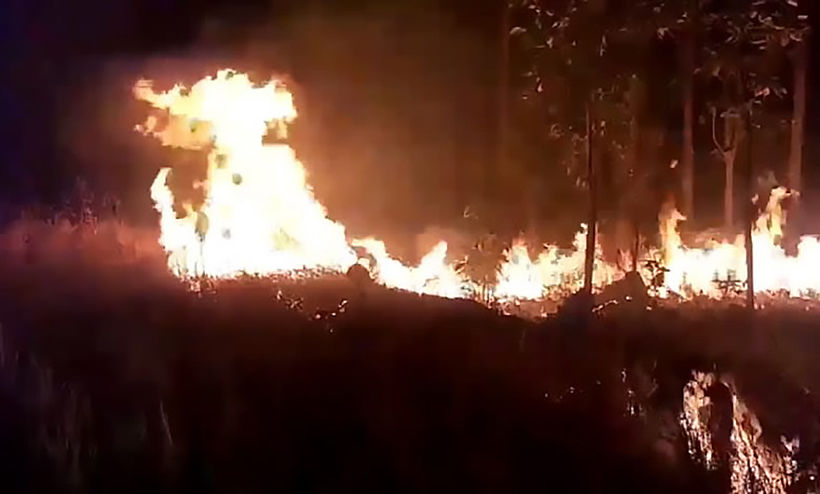 Northern Thailand is choking under a toxic shroud and it's not getting any better. Air pollution across the upper North remains "at critical levels," in many areas, including some of the main population centres. Authorities are monitoring almost 400 active hotspots in Chiang Mai alone yesterday.
The air quality didn't improve this morning, with IQAir recording "very unhealthy" air quality and hazardous PM2.5 dust levels at around 200 in parts of Chiang Mai and up to 270 around Chiang Rai today (below).
Thailand's official safe level is 50: the World Health Organisation sets it at 25. Though it's improved somewhat during the day, Chiang Mai once again rated world's worst for air quality.
According a 2019 report, PM2.5 caused 23,800 premature deaths in Thailand in 2017.
Government spokeswoman Narumon Pinyosinwat says fires have definitely affected air quality, with 17 provinces in the North reporting an increase in levels of PM2.5 pollutants yesterday. Only two, Nakhon Sawan and Uthai Thani in the north-east reported PM2.5 readings below the Pollution Control Department's "safe" threshold.
Chiang Dao district in Chiang Mai reported the highest PM2.5 reading in the North yesterday at 360.
Narumon says the worsening pollution is due to a combination of factors which include arson, drought and wind patterns which trap pollutants right over Thailand. Others say agribusiness, with its annual plantation field burnings, continues to exacerbate the problem.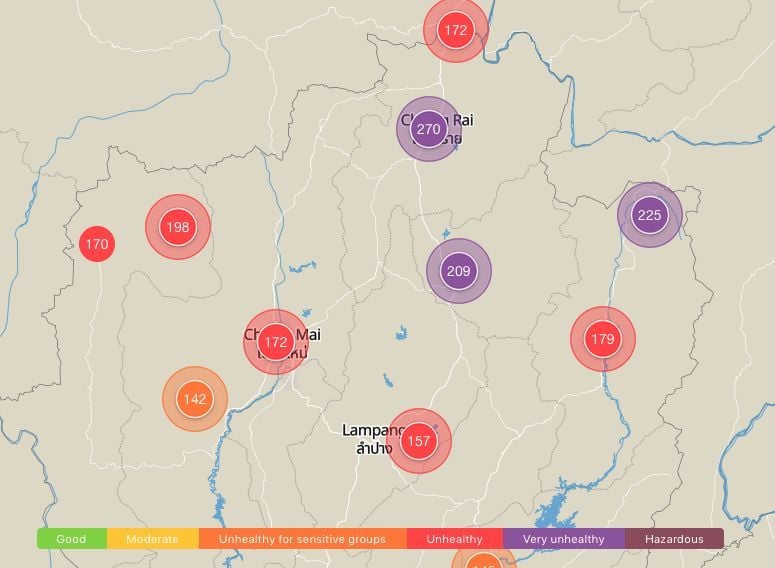 According to satellite data, on Saturday there were 3,809 hotspots in Thailand, 5,061 in Laos and 10,061 in Myanmar. As of yesterday, 398 hotspots, nearly 10% of the country's total, were found in Chiang Mai.
Most of the blazes were related to a continuing bushfire in Doi Suthep-Pui National Park, which suddenly raged out of control late on Saturday after burning for about a week.
SOURCE: Bangkok Post
Keep in contact with The Thaiger by following our
Facebook page
.
Northern Thailand's air pollution reaches hazardous levels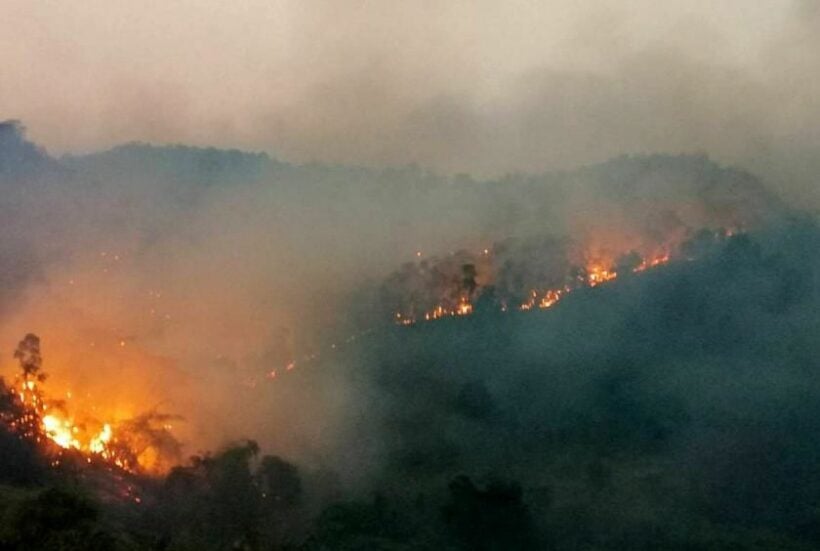 Air quality in the north of Thailand is actually 'hazardous' today, as bushfires in Chiang Mai's Doi Suthep-Pui National Park have caused air quality to become nearly 20 times higher than Thailand's already lax "safe" limit of '50'. PM2.5, (dust particulate matter with diameter of 2.5 microns or lower), rose to 925 micrograms per cubic metre in some locations yesterday. It has dropped this morning but still remains 'hazardous' in many locations around the region.

Due to the Covid-19 coronavirusoutbreak, all national parks, wildlife sanctuaries and other protected areas in Thailand are closed until further notice. Some tourist destinations such as the Similan Islands and Surin Islands are within national parks and are also closed.
The bushfires in the parks and crop burning, in plantations and farms in the region and in neighbouring countries, has pushed air pollution readings in Chiang Mai and other provinces in the region up to nearly 1,000 micrograms for short periods, specifically near the areas of the fires.
Not helping the situation is a week of temperatures around 40C every day (with more on the way), and no rain (the temperatures are from stations in the city area, not in the mountains surrounding the main town). The fire at the national park near Chiang Mai also poses dangers to residents as it has raged near communities in and many landmarks, such as temples.
Hundreds of officials and soldiers have been called in to fight blazes over the past week. Helicopters have dropped water to control one fire that's been raging since Wednesday evening around the Doi Suthep area, north west of Chiang Mai city, in the Doi Suthep Pui National Park.
"They've spent more than 14 hours a day trying to being the blaze under control."
Local officials say the massive fire has now been "brought under control," but the air pollution persists with more smog from plantation fires burning in the area and to the north in neighbouring Myanmar.
PM Prayut Chan-o-cha has expressed concern over massive damage caused by the fire, primarily for the health of the elderly and children. He's asked them to avoid going outside because of the smoke and poor air quality.
Chiang Mai isn't the only northern province plagued with air quality issues. The PM2.5 dust index also revealed severely unhealthy levels of air quality in Chiang Rai, Mae Hong Son and Nan provinces.
The government says it's working with Myanmar officials to address the issue.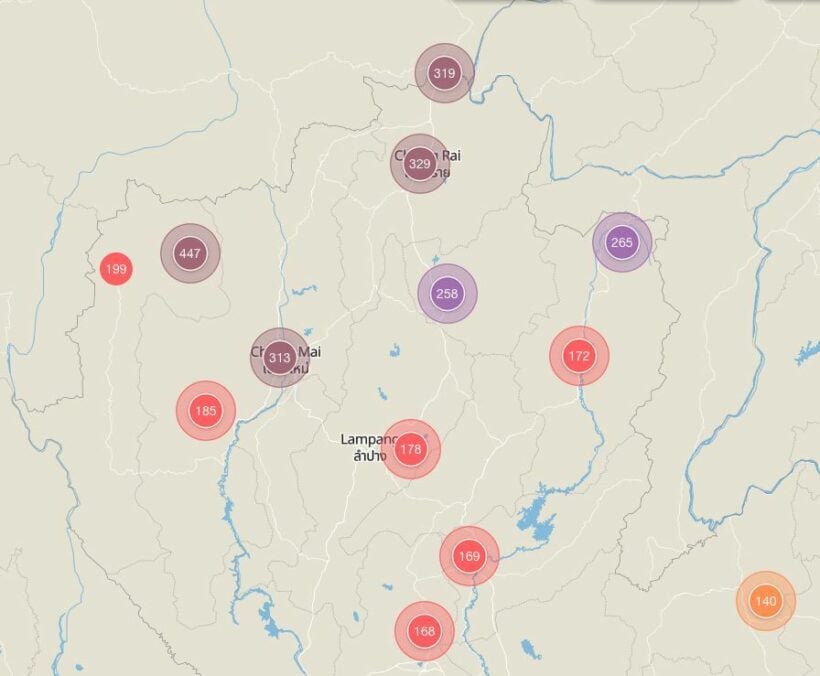 Airvisual.com (Sunday morning 9am – Thai Time)
SOURCE: Chiang Rai Times
Keep in contact with The Thaiger by following our
Facebook page
.