Where to buy cheap cannabis in Bangkok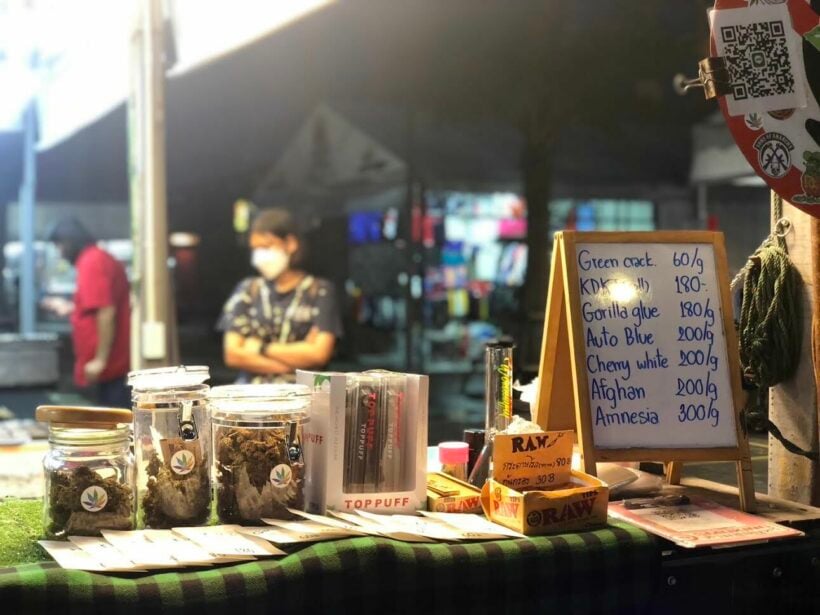 Where to buy cheap cannabis in Bangkok
Bangkok is brimming with cannabis cafes and dispensaries selling high-quality, imported buds of every strain of marijuana under the sun, which can often come with a hefty price tag. Hidden away, there are some lesser-known spots selling decent quality, Thai-grown cheap cannabis in Bangkok.
The major cannabis cafes in Bangkok are appealing as most of them offer a place to roll up and smoke. You'll also know exactly what you're getting. Lined-up jars containing imported, aromatic bright green buds come with information placards telling you the name, whether it's an indica (sleepy effect) or sativa (energising effect), or a hybrid. You will also know the exact percentage of CBD and THC in each strain.
Mostly catering to tourists, the staff at the well-known cannabis hotspots have good English skills and are knowledgeable about their products. The drawback is that you'll be looking at paying anywhere between 700 – 1000 baht per gram for the strong stuff (18%-30% THC) in most major cafes. Sometimes, you will also be hit with an unexpected added service charge. However, most cannabis cafes do offer discounts if you bulk buy.
If you're a regular cannabis consumer, you might be looking to get more bang for your buck. The cheapest weed available in the kingdom is called "brick weed." It's grown outside and then compacted tightly into bricks – seeds, stalks, and all. Before the legalisation of cannabis, compacting weed into bricks helped smugglers sneak weed across country borders.
Being grown outside, brick weed is almost brown in colour and it doesn't smell nice. You'll never know exactly what's in it, but it's cheap and gets you high so some people like it. The big cannabis dispensaries don't sell it, but you can buy it at some night markets or order it online for cheap, if you wanted.
The following stores recommended by The Thaiger offer good-quality, sweet-smelling cannabis sold at happy prices.
At these stores, you will find various strains of naturally-green, cheap cannabis grown indoors in controlled conditions in Thailand. Some also sell imported cannabis.
Wherever you are, you can ask to take a sniff of each strain to see if it tickles your fancy before you buy.
WeedVeeW (Srinakarin Train Night Market)
WeedVeeW is a stall located inside Talad Rot Fai Srinakarin, aka Srinakarin Train Night Market, selling weed as cheap as 60 baht per gram. The highest price tag currently on the menu is just 350 baht per gram.
Note that Srinakarin Train Market is closed on Mondays, Tuesdays, and Wednesdays. It opens Thursdays, Fridays, Saturdays, and Sundays from 5pm to 1am.
Current menu at WeedVeeW…
Green Crack ฿60/G
Blue Dream ฿180/G
Cherry White ฿200/G
Siski You Gold ฿200/G
Sour Diesel ฿200/G
Dance Hall ฿250/G
Amnesia ฿300/G
Peach Fi ฿350/G
Dark Crystal ฿350/G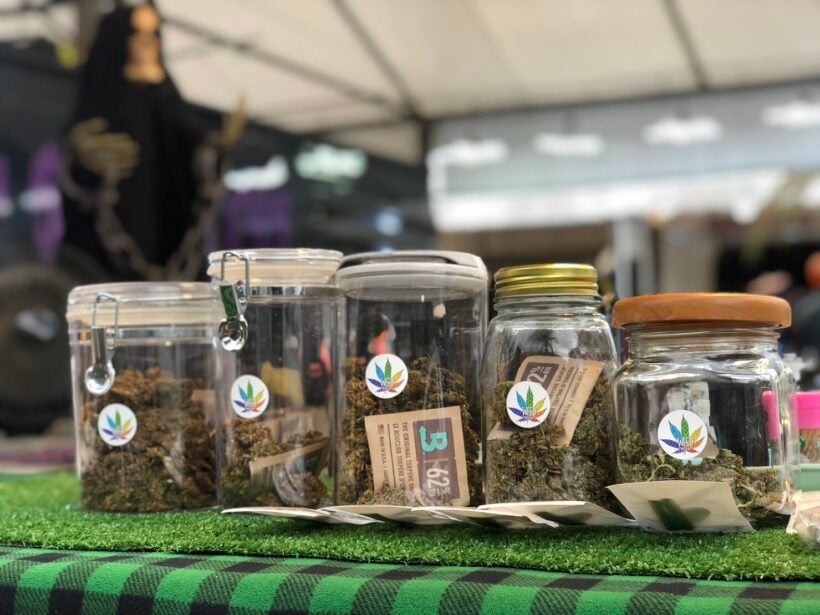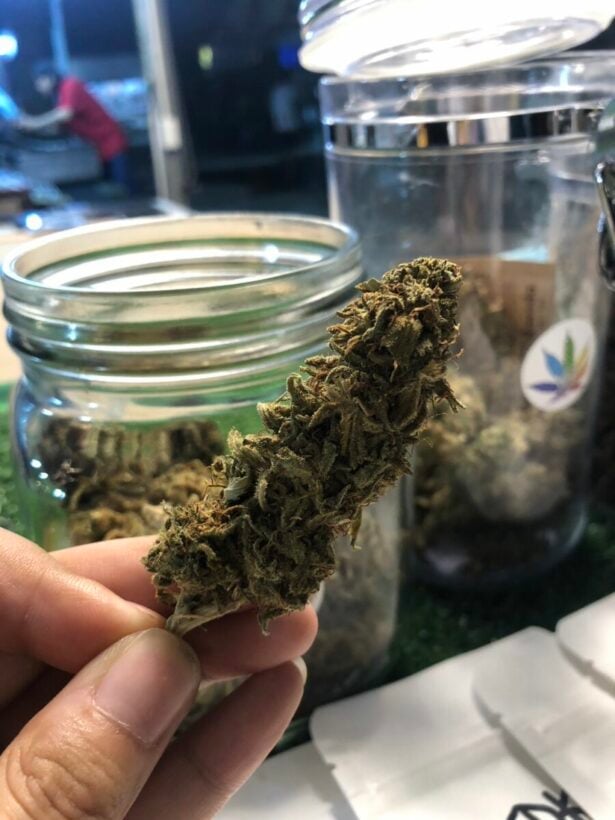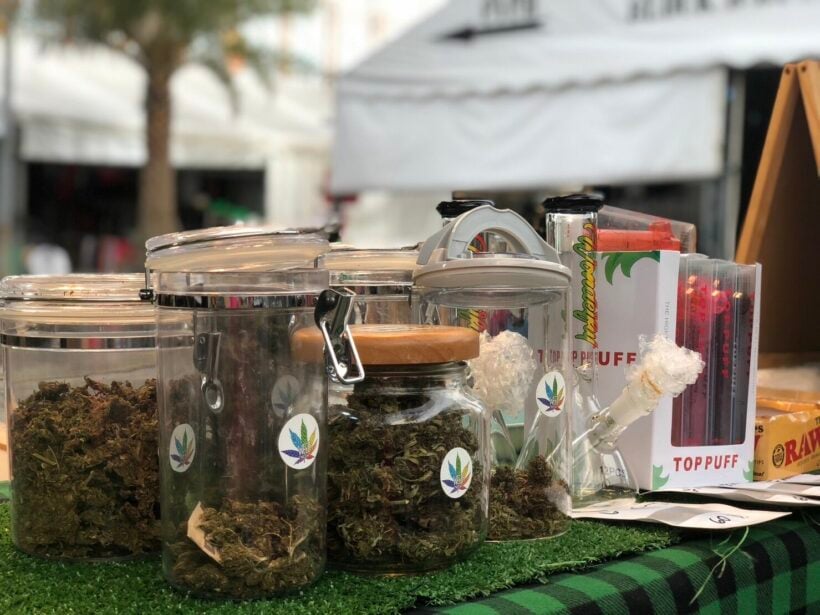 Weed Society (Khao San Road)
Cannabis being sold at Bangkok's notorious nightlife hotspot 'Khao San Road' is no secret. Tourists aplenty, you might expect the buds on offer to be pricey. Some stalls are an obvious rip-off, but you might be surprised to find some really good deals for weed on Khao San Road.
One stall called Weed Society sells decent quality cannabis flowers starting at 150 baht per gram. The staff weigh it in front of you so you know you're not getting swindled. They also sell one-gram joints.
The menu at Weed Society…
Thai ฿120/G
Northern ฿300/G
OG Haze ฿350/G
Gorilla Glue ฿400/G
OG Kush ฿450/G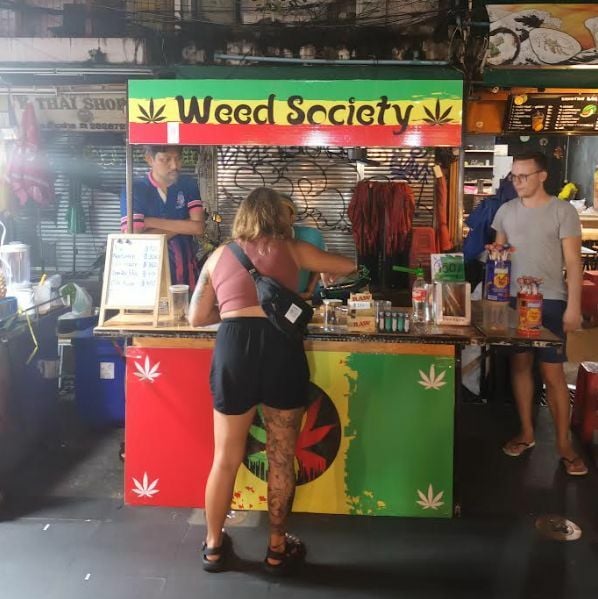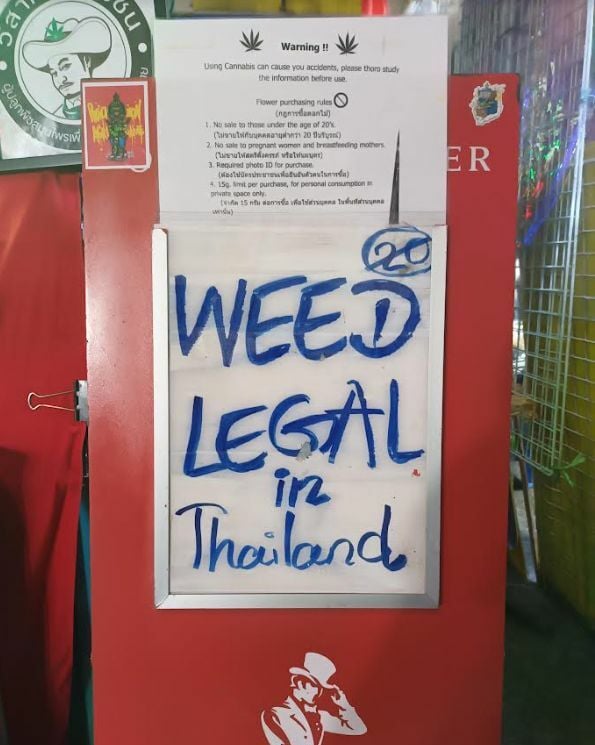 420 Cafe x Booze 21
420 Cafe x Booze 21 is a weed cafe and bar located at Asoke intersection, just down from the BTS station, on Sukhumvit 21. Adorned with fairy and neon lights, the place has a warm and welcoming atmosphere. You can roll and smoke your joint upstairs, drink a beer and watch the traffic go by.
Weed at 420 Cafe x Booze 21 costs between 250 – 650 baht per gram. The cheap strains are 'Thai-grown' and the expensive ones are imported.
The current menu is…
Sour Diesel ฿250/G (Thai-grown)
Blue Dream ฿250/G (Thai-grown)
Amnesia ฿350/G (Thai-grown)
Charlotte Angel ฿500/G (Imported)
Twisted Helix ฿600/G (Imported)
Blueberry Ghost ฿650/G (Imported)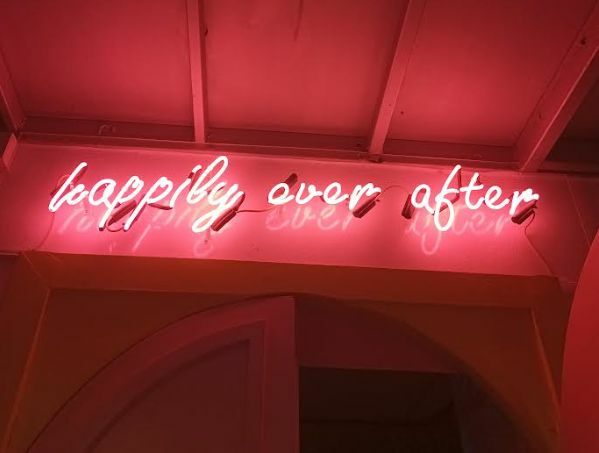 Dr Green Bangkok
An anomaly on the list is Dr Green cannabis cafe and dispensary. Dr Green is also located in Asoke, about 20 feet away from 420 Cafe x Booze 21 on Sukhumvit 21.
Dr Green has built up quite the reputation in the area as a major player in the industry that sells nice weed and doesn't rip you off. The cafe offers everything from cheap and cheerful Thai-grown weed to top-quality imported weed.
Prices range from 60 to 850 baht per gram and the store offers a good discount if you bulk buy.
According to ThaiWeedGuide, "Dr Green is a medical cannabis dispensary who's goal is to provide a very wide range of cannabis flowers."
The second floor has a chill area where rolling papers, grinders and roach cards are provided for free. A free drink if offered with every purchase too.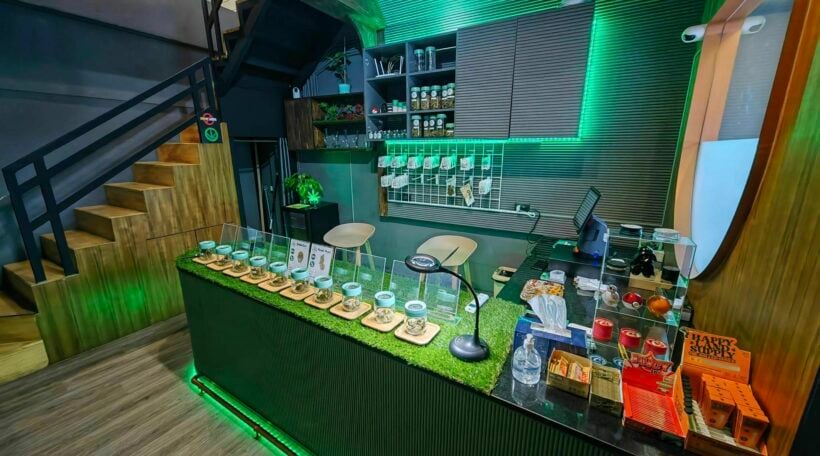 ---
Where can you get high-quality cannabis in Bangkok
Needless to say, Bangkok is full of great places to buy cannabis. But with so many options, it can be hard to decide which one offers the best quality weed at the best prices. So, here is Thaiger's recommendation on where to get high-quality cannabis in Bangkok. Please note that there are sponsored entries.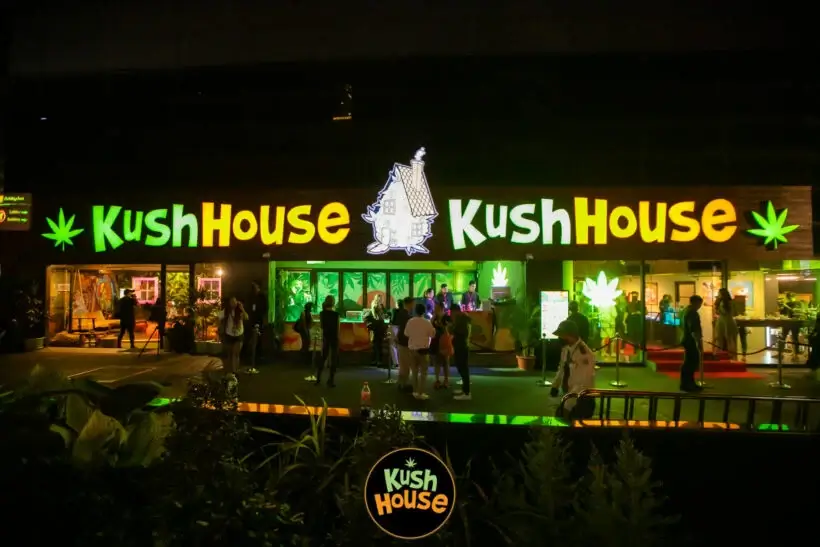 OG Canna Retail Company offer high-quality cannabis products in hip and cool immersive settings that encapsulate the energy of Bangkok while blending it with cannabis culture. Each of their 5 locations offers laboratory-certified marijuana officially graded by Mahakan Biotech. Kush house is OG canna's 5th brand and 6th location.
OG Thai
If you prefer to buy your cannabis online, OG Thai is a great option. They've operated since 2020, after the legalization of CBD and items containing CBD legal in Thailand. Today, they operate one of the few major online telemedicine dispensaries in Thailand and have various indoor cultivations as well as greenhouse cultivations located all across the country.
Website: https://og.co.th/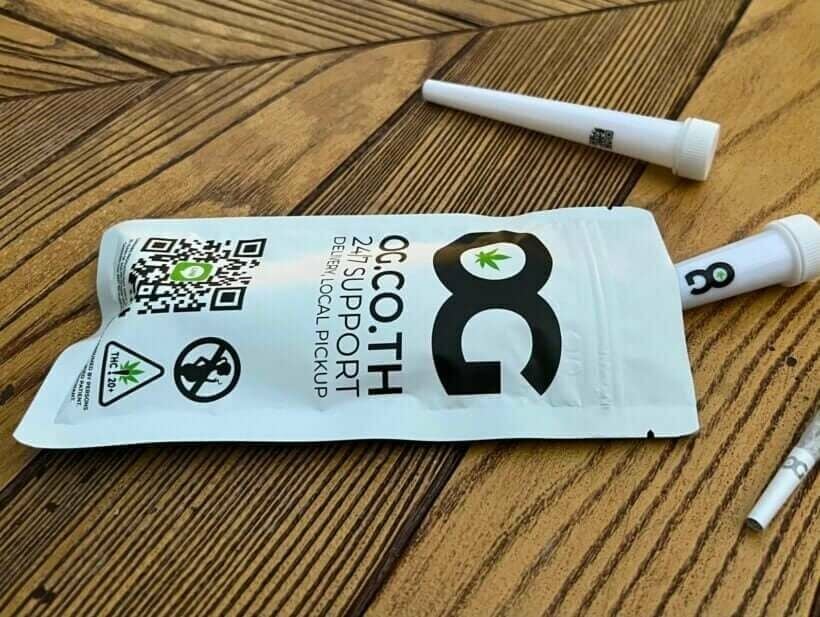 Alchemi Botanics is a leading provider of quality cannabis in Thailand. In fact, it's one of the first cannabis shops in the country. Alchemi Botanics takes pride in its large selection of strains at reasonable prices and strict quality control measures, which ensures that everything they sell is of high quality. Crowned as the "Peoples Shop" by many locals and expats, the Founding team boasts a longtime cannabis industry experience from cultivation to processing with degrees in agriculture and cannabis-related research.
Phra Khanong branch: Click Here to Google Maps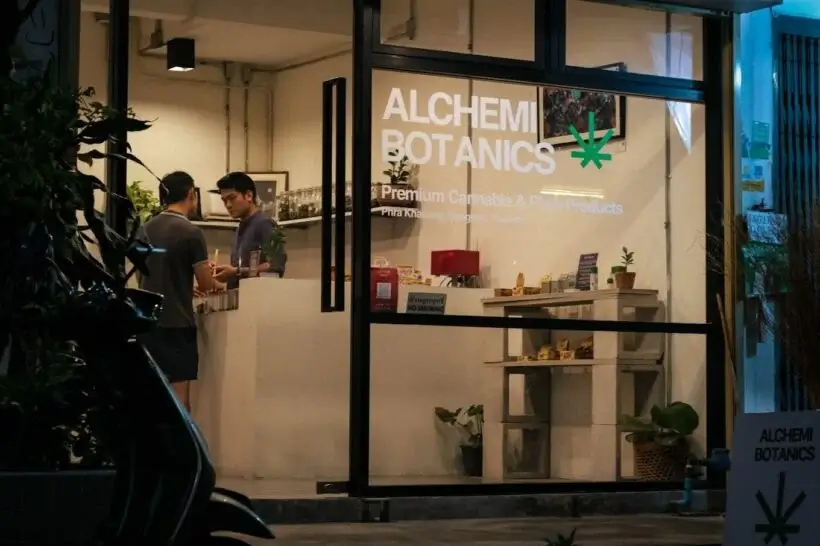 Inspired by 80's retro Vaporwave and Hip-Hop culture, Blaze is a beacon for weed enthusiasts across Bangkok. The store is a multi-story complex in the heart of Bang Chak. You won't only find high-quality buds at decent prices here but also a rooftop garden lounge, movie area, and arcade machine that you can enjoy while blazed.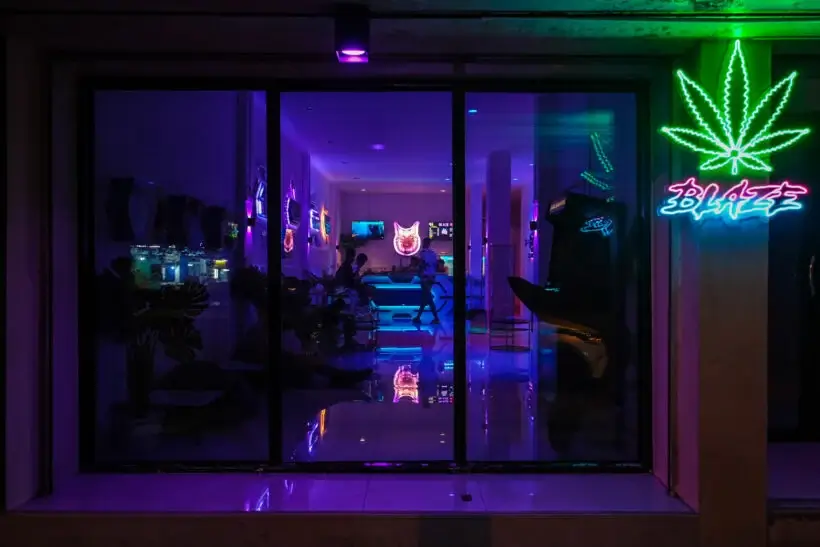 Just a few steps away from BTS Udomsuk Exit 3, you'll find Mabuhigh, a women-owned cannabis shop that sells premium cannabis straight from Thai farmers. They are proud to offer highly selected flowers with pre-roll options.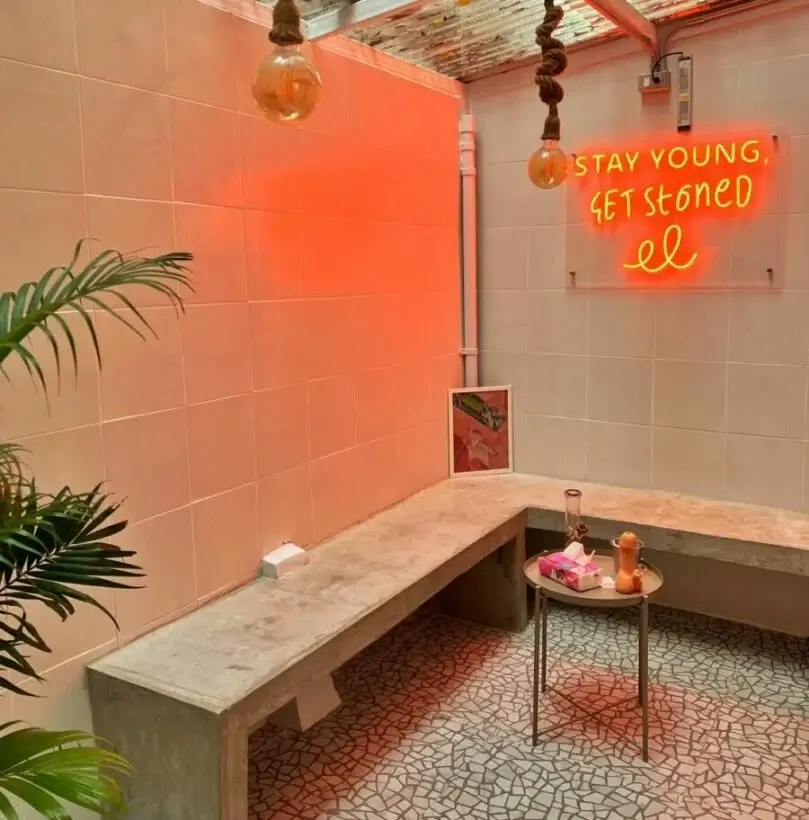 What makes Cannabangka stand out from other cannabis shops in Thailand is that they have their own farm, to produce their own suppliers. They also partner with other local growers to have their products in the dispensary. But besides local products, you'll also find high-quality imported products at Cannabangka since they have international suppliers.
Ramkhamhaeng branch: Click Here to Google Maps
Sathorn branch: Click Here to Google Maps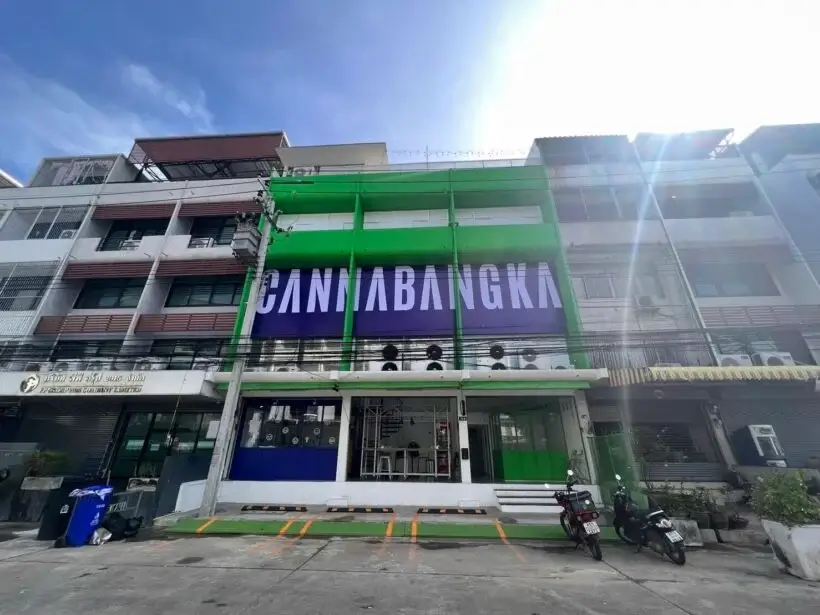 At Medlab Dispensary, you can find high-quality flowers for sale, from Runtz to Blue Xanax to Wedding Pie, and much more. The products here guarantee pungent flavours. Shopping here is definitely an interesting experience since the flowers are featured in speciality design boxes.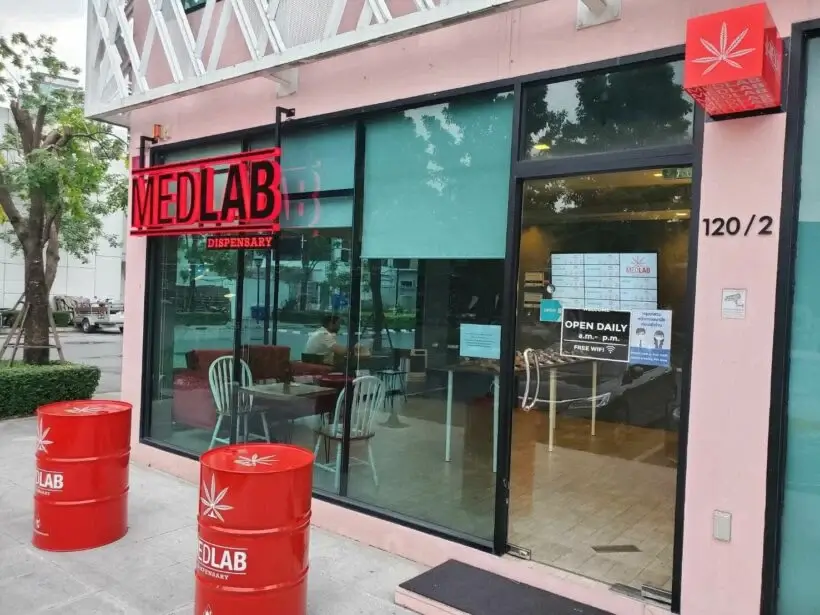 High Society Cannabis Club takes cannabis shops to a whole new level with their new lounge concept of privacy and comfort. Besides the immaculate vibes, you can trust them for their high-quality, selected cannabis flowers. They hold quality imports and local organic greenhouse-grown flowers from Chiang Rai, with pre-roll options and a smoke lounge.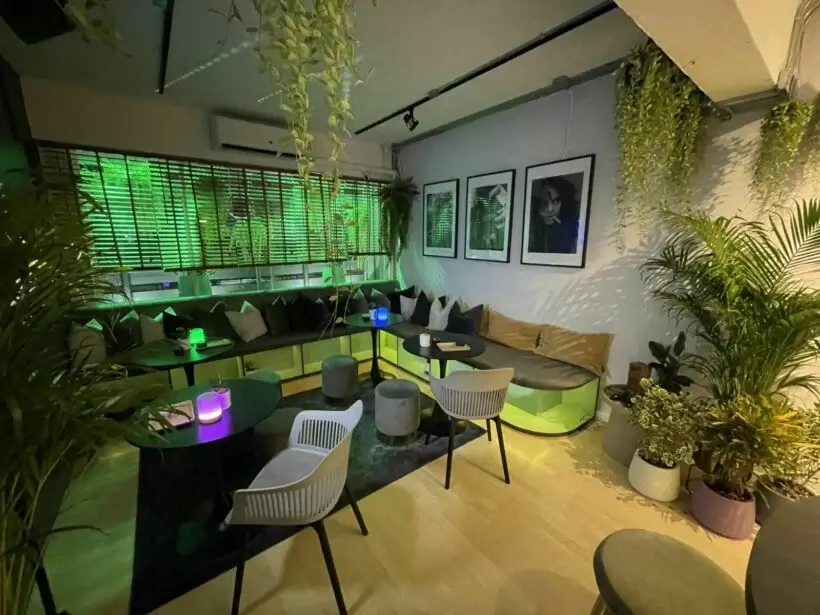 In search of a chilled-out place to shop and smoke discreetly? You should definitely check out Stash Dispensary. Of course, the highlight of the shop is their 30 different strains starting from 100 Baht. You'll also find pre-rolls, CBD products, kratom soda, and capsules. What's more, Stash is always innovating and coming up with new ideas. They're currently working on building a community with different events and activities around DJs, gaming, meetups, and more.
Ari Branch: Click Here To Google Maps
Sukhumvit Branch: Click Here To Google Maps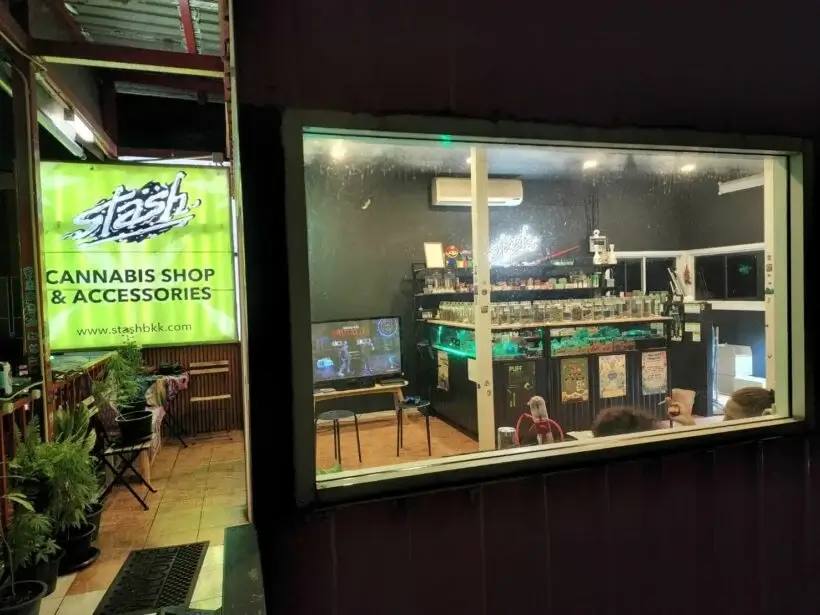 With the goal of creating a safe environment for all users by bringing the right products to the right consumers, Greenday Dispensary only offers high-quality products. They are the official dealer of Boveda, a two-way humidity control technology from the USA. Among the many products you'll find in this dispensary are Tightvac (vacuum container patented product from the USA), Magical Butter machine (cannabis butter-making machines suitable for all types of oil), and Shine Gold rolling papers and accessories.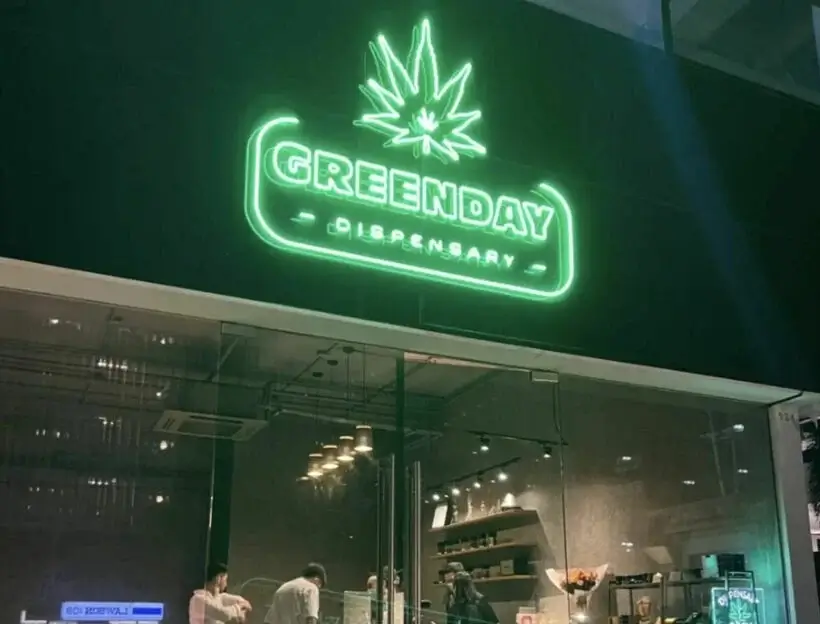 You can try high-quality flowers from 550 Baht in different flavours, such as Hybrid ( Pink Runtz, White Truffle etc.), Indica (Pink Panties, Ice Cream Cake etc.), and Sativa (Sour Diesel, Strawberry Cough etc.). Joints are also available. The shop also has a spacious smoking area for customers to chill.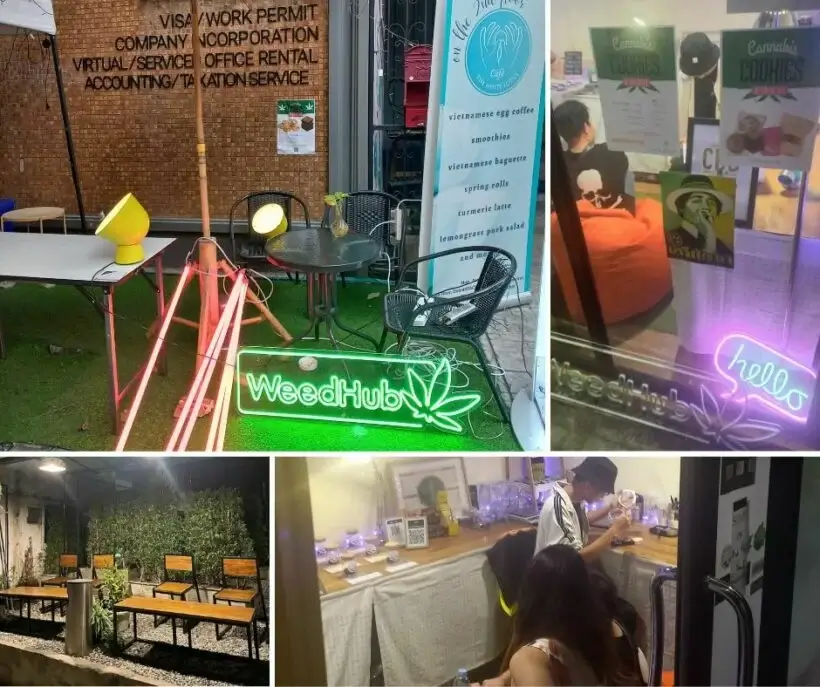 At The Joint, you'll meet expert budtenders who know their cannabis like the back of their hand and are always up to date with the latest trends in the industry. With their wealth of knowledge, they'll guide you through the extensive selection of premium cannabis strains, edibles, oils, and accessories. Everything they stock is top-notch quality, and they've got the lab results to prove it; the products are meticulously tested for THC, chemicals, and terpenes.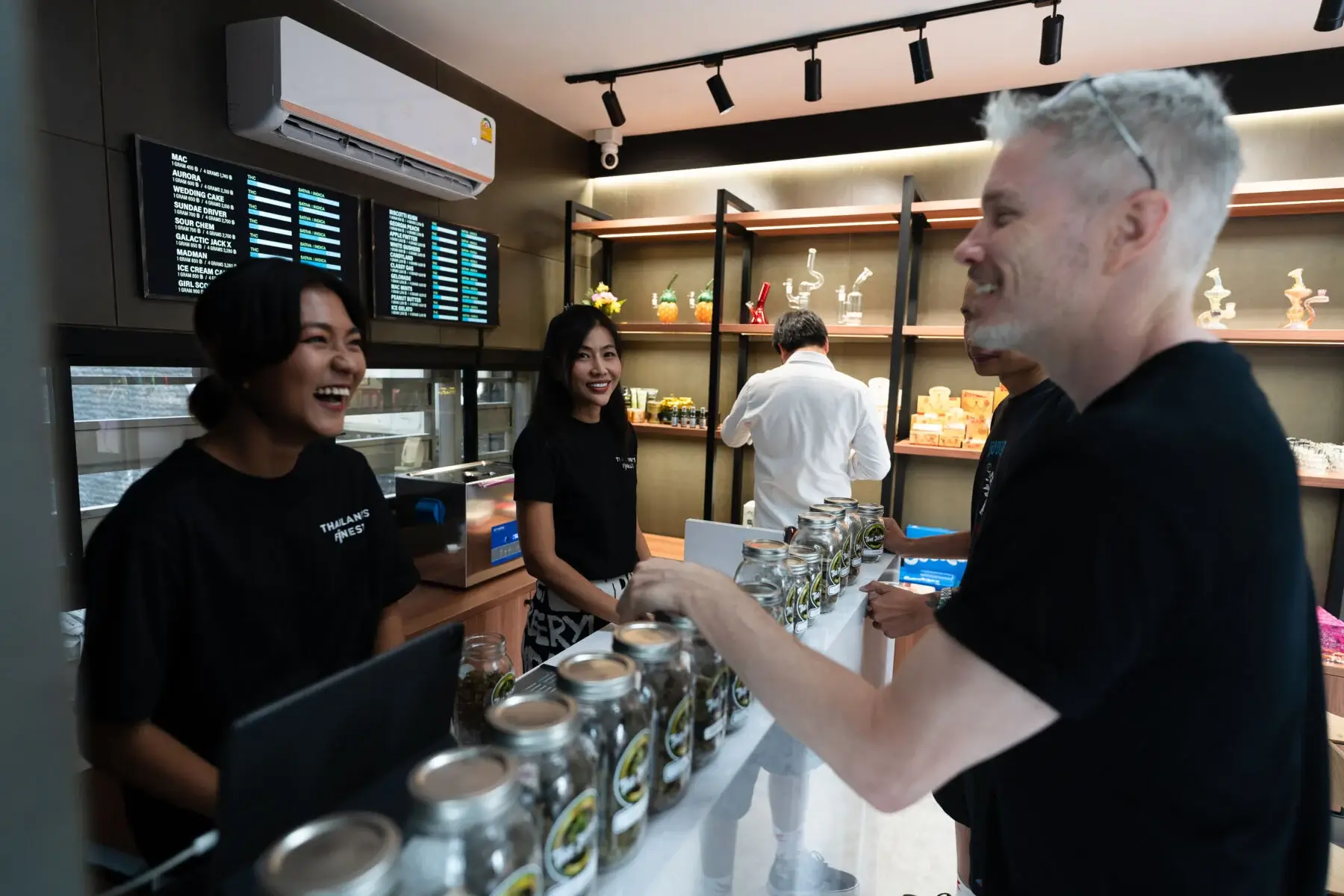 Lollipop Farm is a renowned cannabis farm in the Golden Triangle region, devoted to delivering high–quality, safe, and effective cannabis and hemp products to customers in South East Asia. Lollipop's Cannabis Premium Quality Outlet opened its doors on the 4th of March, 2023.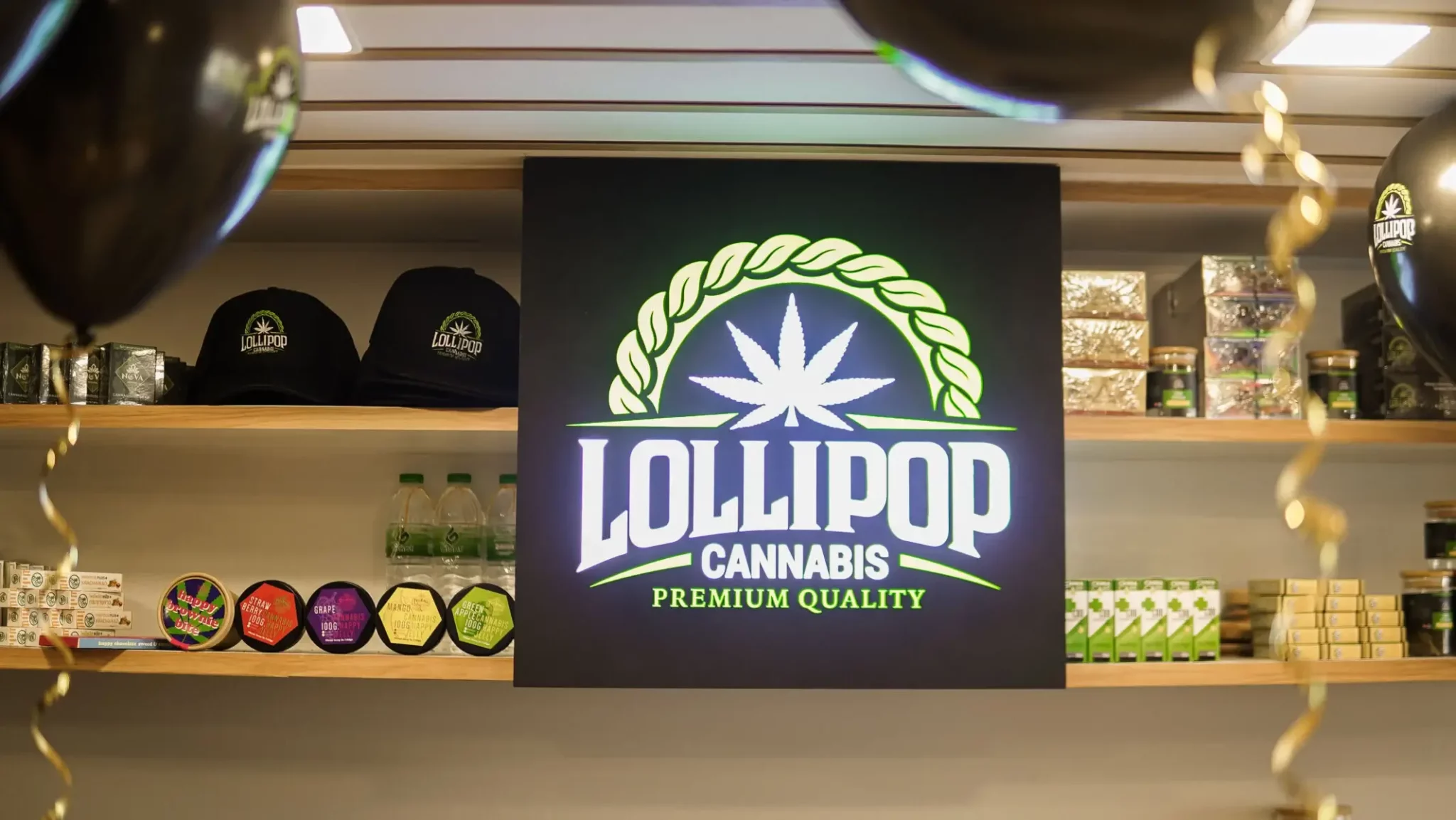 Neverland takes pride in offering only the finest quality cannabis products. Their rigorous selection process guarantees the utmost quality of each strain. Their experts carefully source a wide variety of top-tier strains from the best suppliers.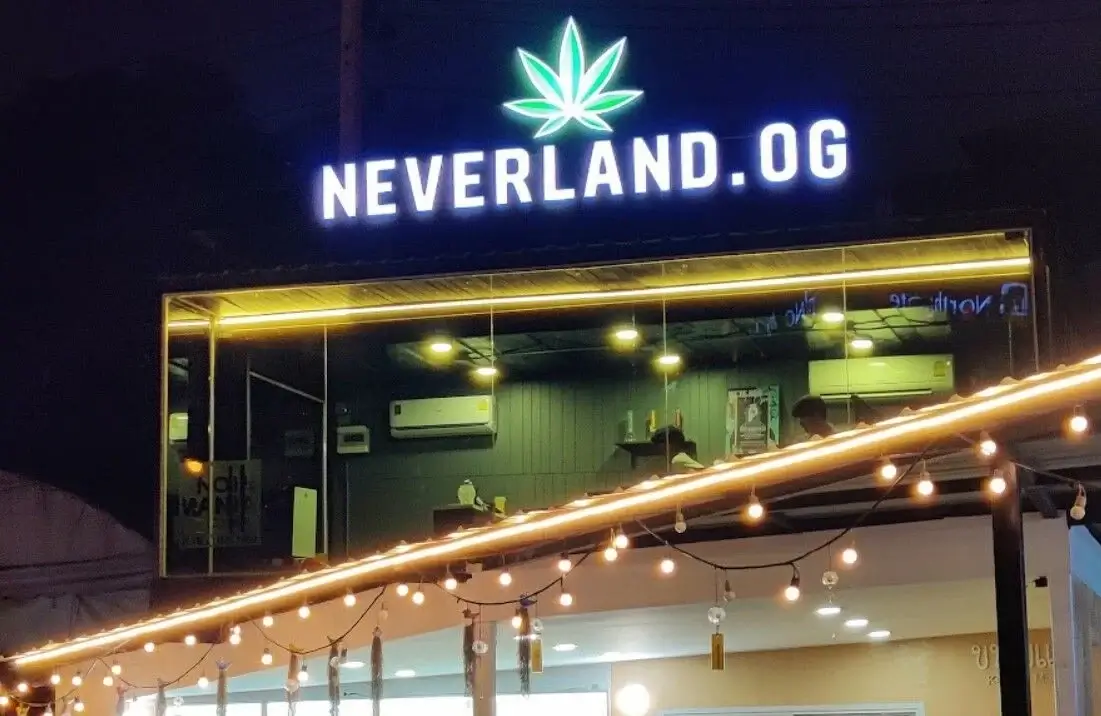 Cloud Nine catches your eye from afar, luring customers in with its dreamlike decor, comfortable seating, exquisite lighting, projecting mapping and glowing displays showcasing paraphernalia – as well as, of course, aromatic cannabis flowers.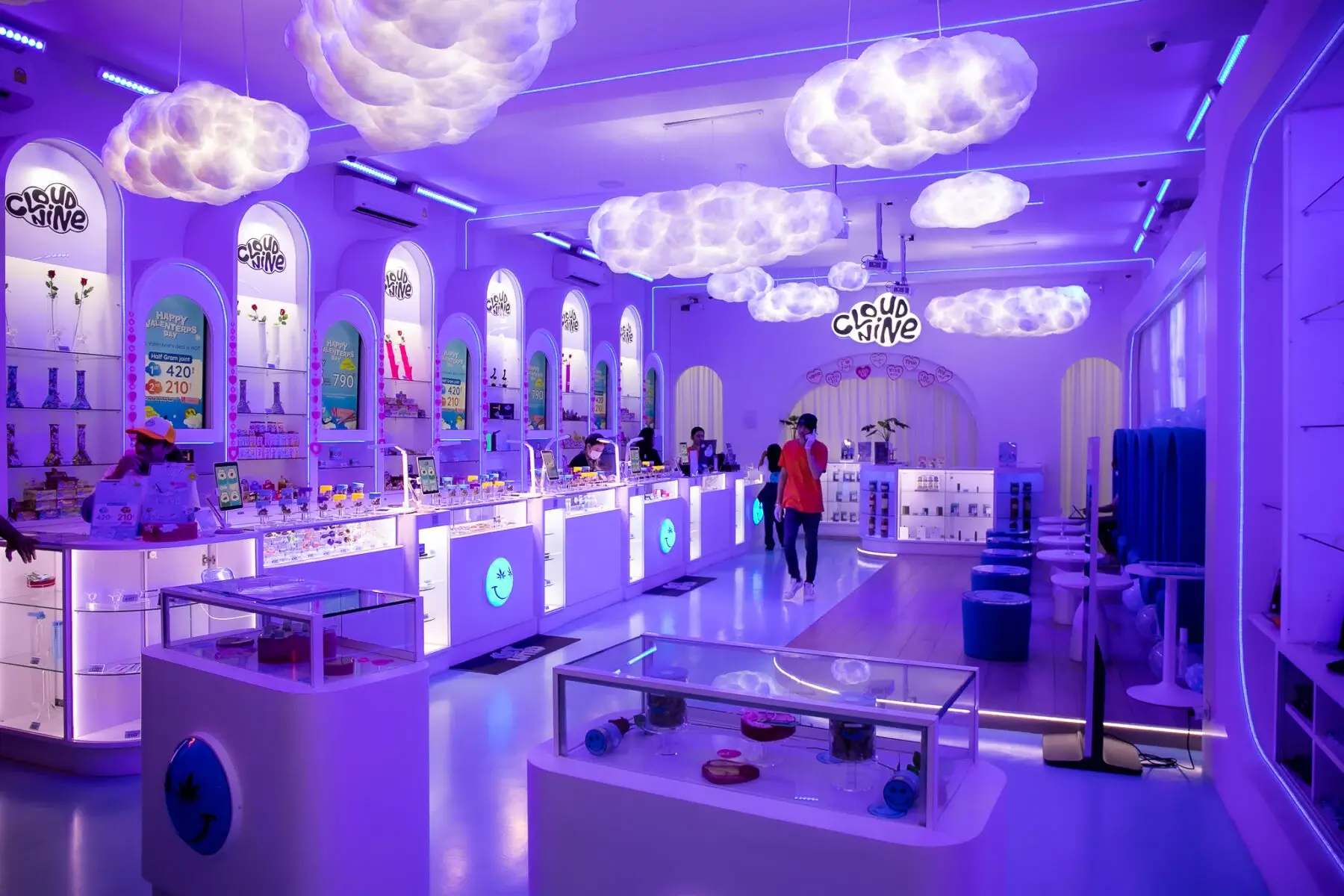 A licensed medical-grade cannabis dispensary in Bangkok, Best Buds provides premium quality flowers suitable for your needs. Whether you want to chill out with sativa, relax with indica or a little of both with a hybrid, Best Buds has it all!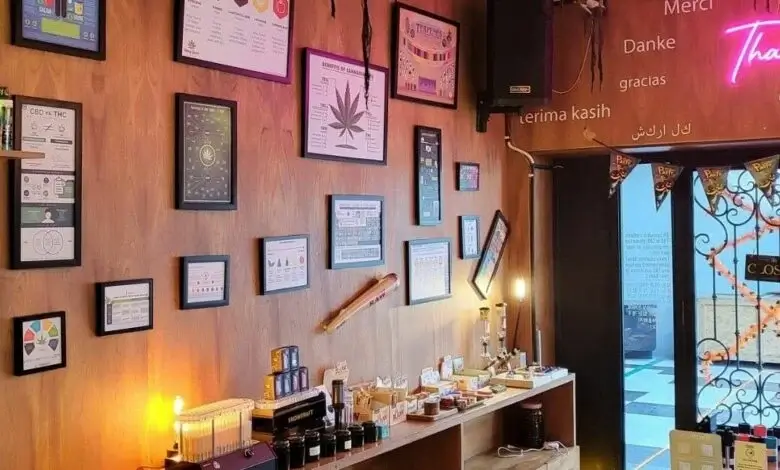 Fourtwenty goes above and beyond your average dispensary experience. CEO of Fourtwenty, Tai, and his dedicated team have honed their cannabis expertise to cultivate one-of-a-kind strains that are sure to spark your curiosity and elevate your senses.
Amongst the enticing strains on offer, there's one that truly stands out – the legendary Laughing Buddha. This is a rare, 100% Sativa gem with 22% THC content. A unique blend of Thailand and Jamaican landrace varietals, Laughing Buddha promises an energetic, uplifting high that will leave you rejuvenated and ready to seize the day.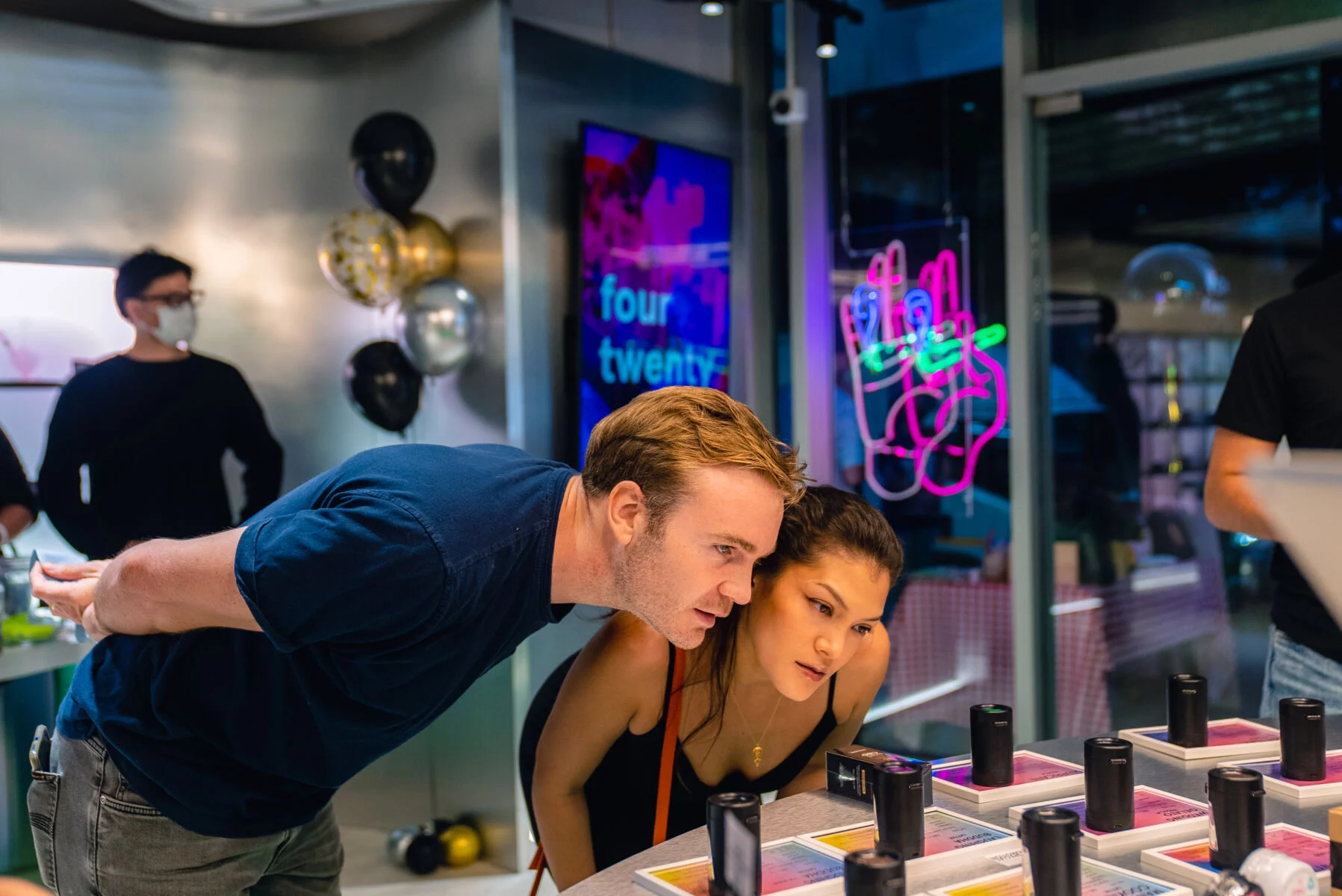 Izumo Green, nestled in the buzzing Asoke area, will greet you with a warm 'Irasshaimase' and introduce you to a world that is 100% organic and incredibly inviting. Their premium products range from locally grown flowers to high-end Japanese whiskey found in their cosy bar and lounge. Supporting the local Thai economy, this dispensary sure knows how to blend two cultures in style.
One product that's creating quite the stir is their signature strain called 'Geisha'. This mysterious and enticing strain boasts a 90% sativa dominance and a whopping 25% THC. Not only is it organically grown in Thailand, but it also offers users a sense of genki – a powerful, joyful feeling that leaves you relaxed yet energised.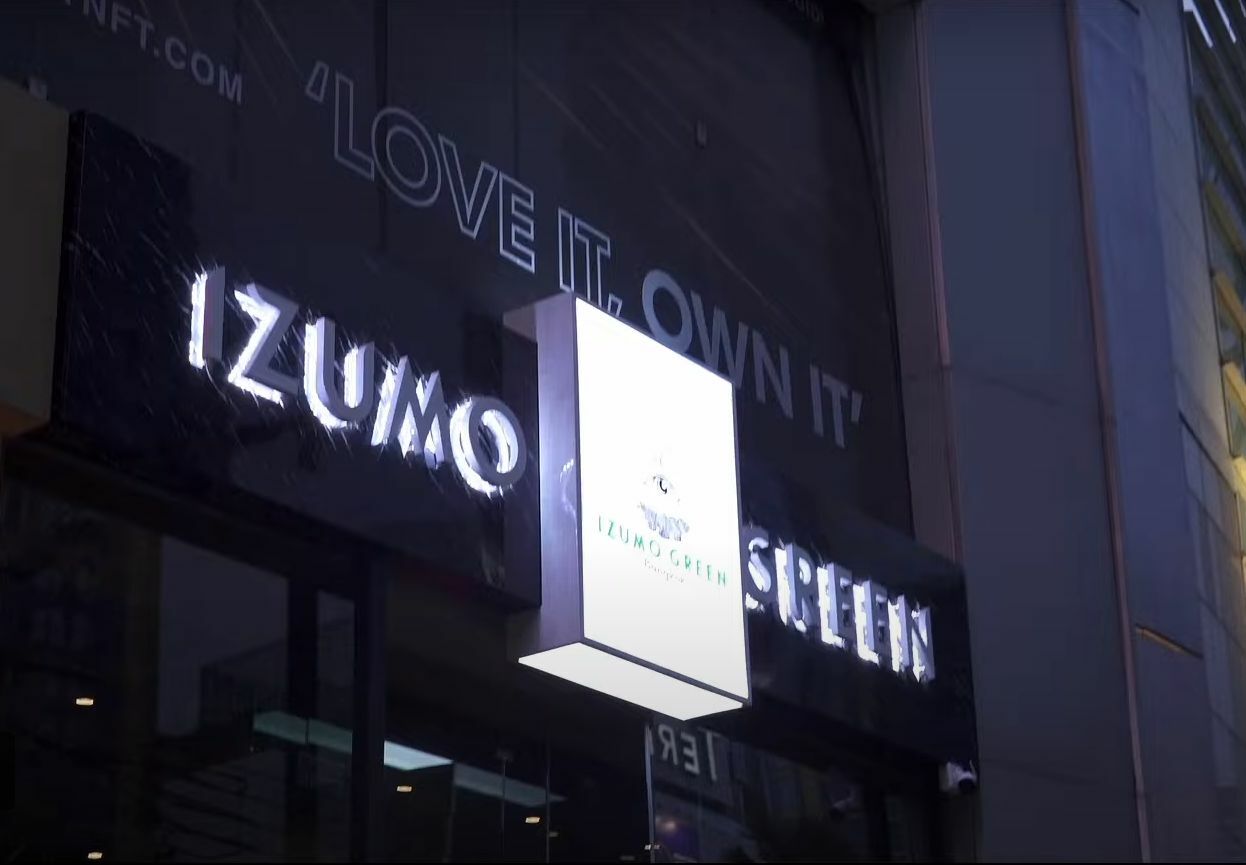 The dispensary is located in the bustling heart of Silom. Known for the locally-grown White Rainbow. This intriguing hybrid sativa stands out with a 25% THC potency. The delightful flavour profile, combining sweetness, cake, and ice cream, is not only a treat for your palate but also perfectly pairs with outdoor activities. Expect to feel awakened and energised in the most chilled out way possible.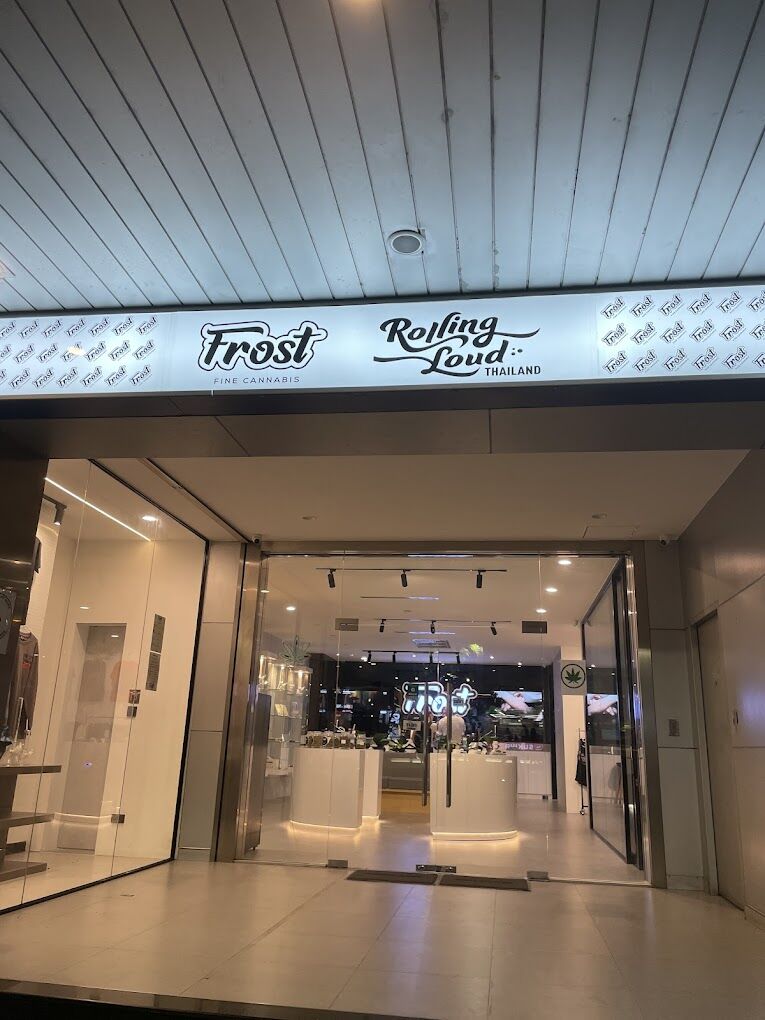 Situated in the heart of the bustling Charoen Krung area, KQ Dispensary is a mere five minutes' walk from BTS Saphan Taksin.
KQ Dispensary boasts a spectacular array of strains. One to watch out for is Funky Charms, a 50-50 hybrid that is an undeniable star in the KQ galaxy. According to Daniel, the owner of KQ Dispensary, this charismatic strain packs a fruity punch with 26% THC. The dispensary thoughtfully select it as a farm-to-dispensary offering, ensuring it supports every facet of the local Thai economy.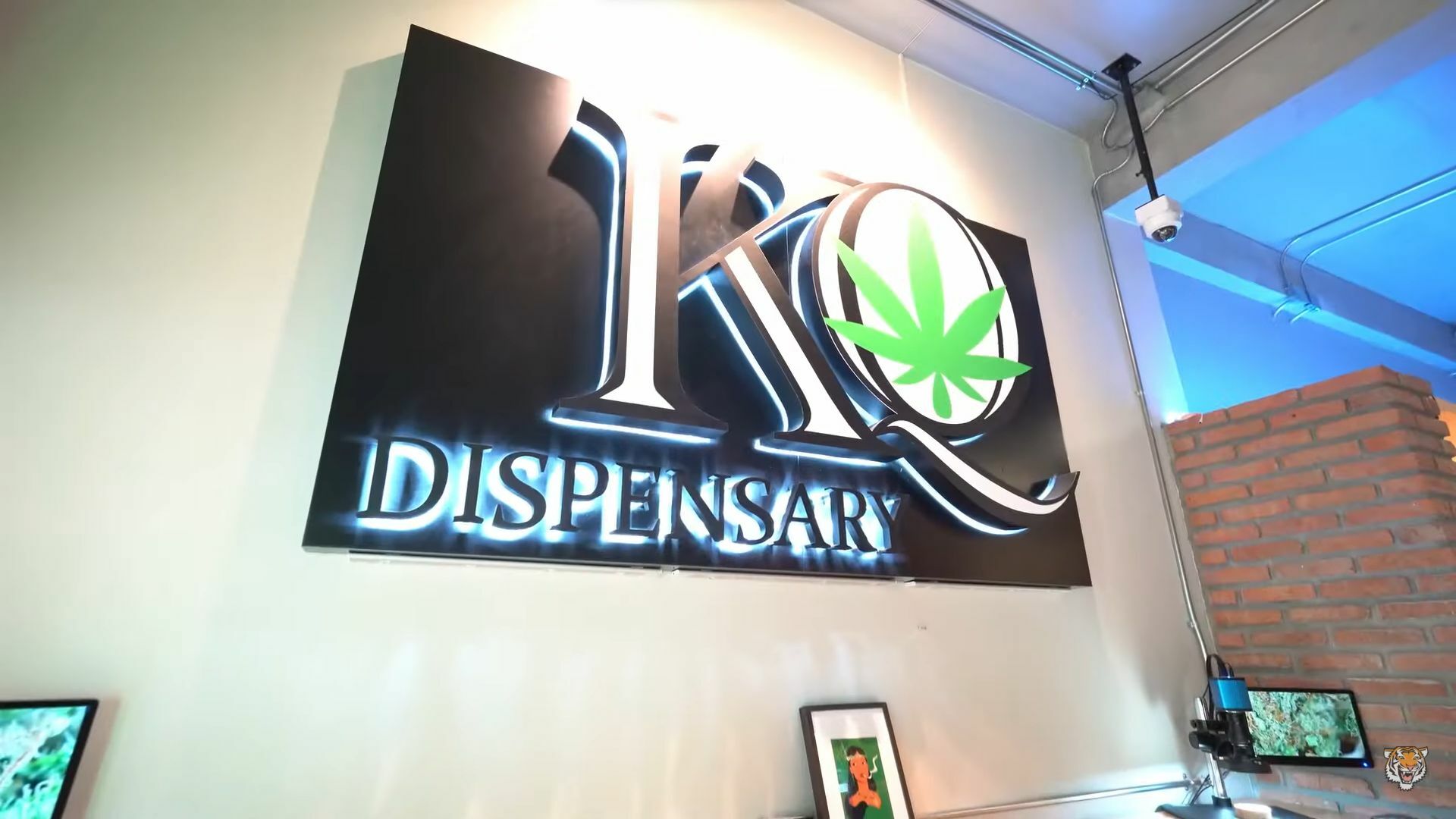 Located on Silom's Convent Road, Cannabis Kingdom is just a five-minute walk from BTS Sala Daeng. Featuring a diverse selection of strains, the star at Cannabis Kingdom today is the impressive hybrid, Banana Daddy. Grown right in Bangkok, Banana Daddy showcases a balanced 50-50 mix of Indica and Sativa and helps support the local economy.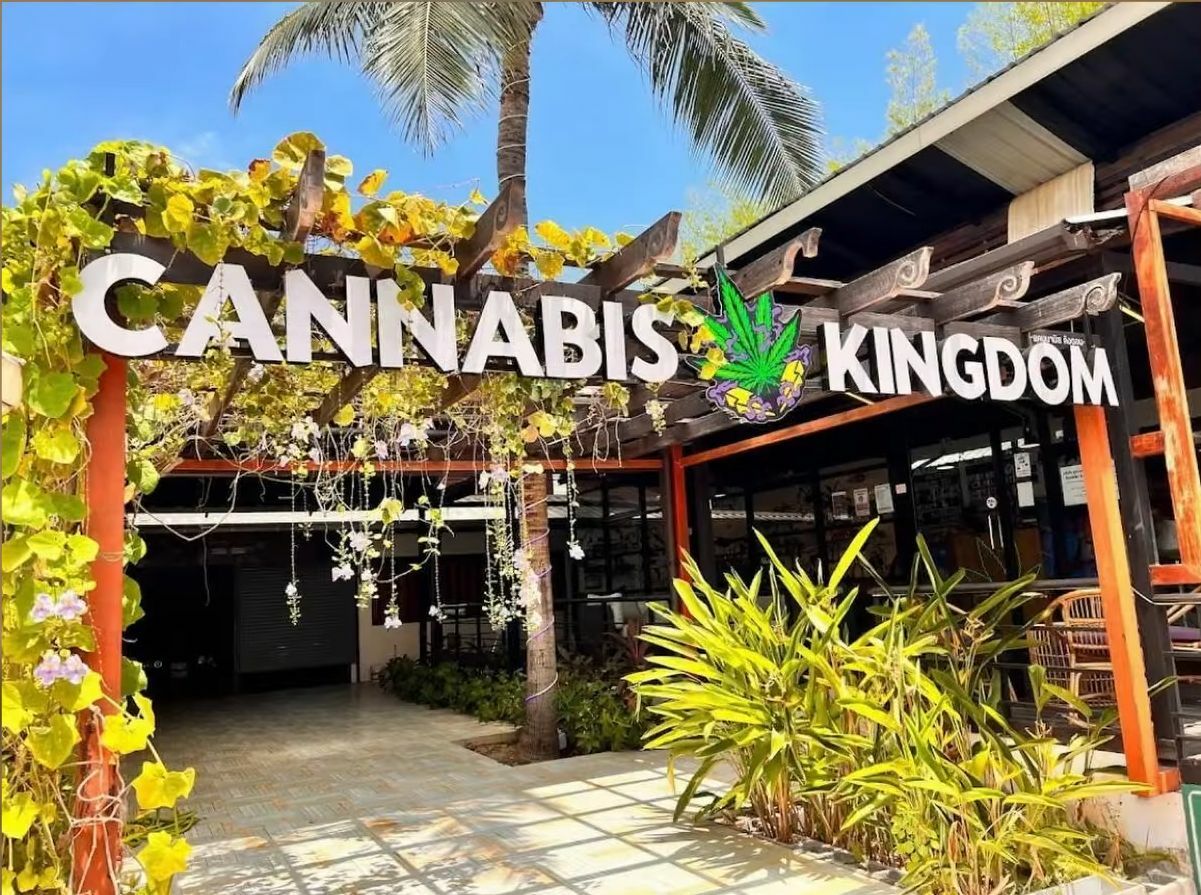 Located just on the outskirts of Bangkok, Red Eye Krush by Fat Finger Farms in Nonthaburi is a breath of fresh air in the world of weed shops. Picture a trendy café, perfectly blended with the professionalism and quality products of a top-end cannabis dispensary. This is what Red Eye Krush offers – a fresh and fun take on the classic weed shop.
Visit The Thaiger's guide section on cannabis in Thailand to find answers to all your cannabis-related queries.
Alternatively, read all the latest cannabis-related news in Thailand.
Cannabis
Thailand Cannabis Guide
Thailand News

Join the conversation and have your say on Thailand news published on The Thaiger.
Thaiger Talk is our new Thaiger Community where you can join the discussion on everything happening in Thailand right now.
Please note that articles are not posted to the forum instantly and can take up to 20 min before being visible. Click for more information and the Thaiger Talk Guidelines.