Unraveling the best Indian restaurants in Bangkok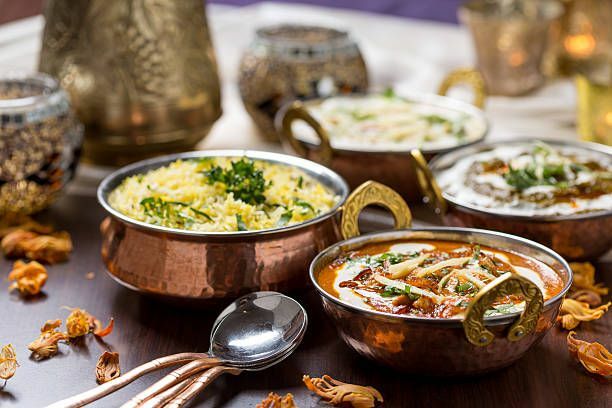 Craving a taste of India in the heart of Thailand? Look no further than these top Indian restaurants in Bangkok! The rich and diverse flavors of Indian dishes, ranging from spicy curries, fragrant biryanis, and mouth-watering tandoori delights, have captured the hearts and taste buds of both locals and tourists. With an increasingly vibrant Indian community in the city, Bangkok's Indian restaurants offer a wide array of dining experiences, from luxurious establishments to cozy, family-run eateries that boast authentic recipes passed down through generations.
In this guide, we'll take you on a culinary journey through the best Indian restaurants in Bangkok that are sure to satiate your cravings for rich, aromatic, and authentic Indian dishes. So, let's embark on this delectable adventure and explore the finest Indian dining experiences the city has to offer!
Top Indian restaurants in Bangkok for a flavorful adventure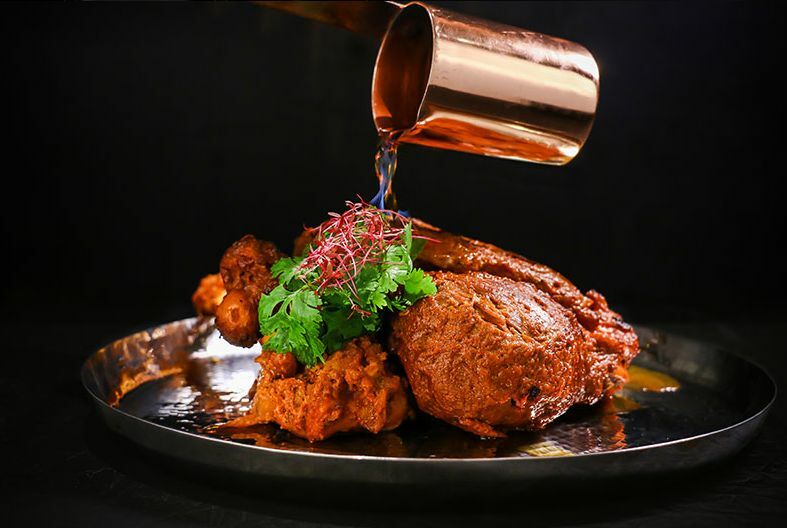 Punjab Grill, an outstanding Indian restaurant in Bangkok proudly stands within the luxurious Radisson Blu Plaza Bangkok. This fine dining destination specializes in traditional Punjabi cuisine, displaying the rich and vibrant flavors of North India. Upon entering, the tasteful decor and inviting ambiance set the stage for an unforgettable meal. The brand has already left its mark in India, Abu Dhabi, and Singapore, earning prestigious accolades such as the Best North Indian Restaurant in South Mumbai from the Time Food Awards in 2014.
In 2016, Punjab Grill opened its doors in Bangkok, aiming to offer the same high-quality food and service to the city's food enthusiasts. Chef Bharath Bhat is devoted to delivering an authentic North Indian experience by drawing inspiration from well-loved Indian street foods and infusing them with his modern twists. Alongside its fine dining menu during weekdays, Punjab Grill Bangkok also features a more casual "Sunday Brunch" buffet, providing guests with a variety of delightful options.
The extensive menu at Punjab Grill showcases an array of exquisite dishes, including succulent kebabs, tandoori items, flavorful curries, and biryanis. The skilled chefs use a blend of aromatic spices and fresh ingredients to create true culinary masterpieces, ensuring each dish delights the senses. The combination of exceptional food, attentive service, and a relaxing atmosphere make Punjab Grill a must-visit dining destination for both locals and travelers seeking an authentic and memorable North Indian culinary experience in Bangkok.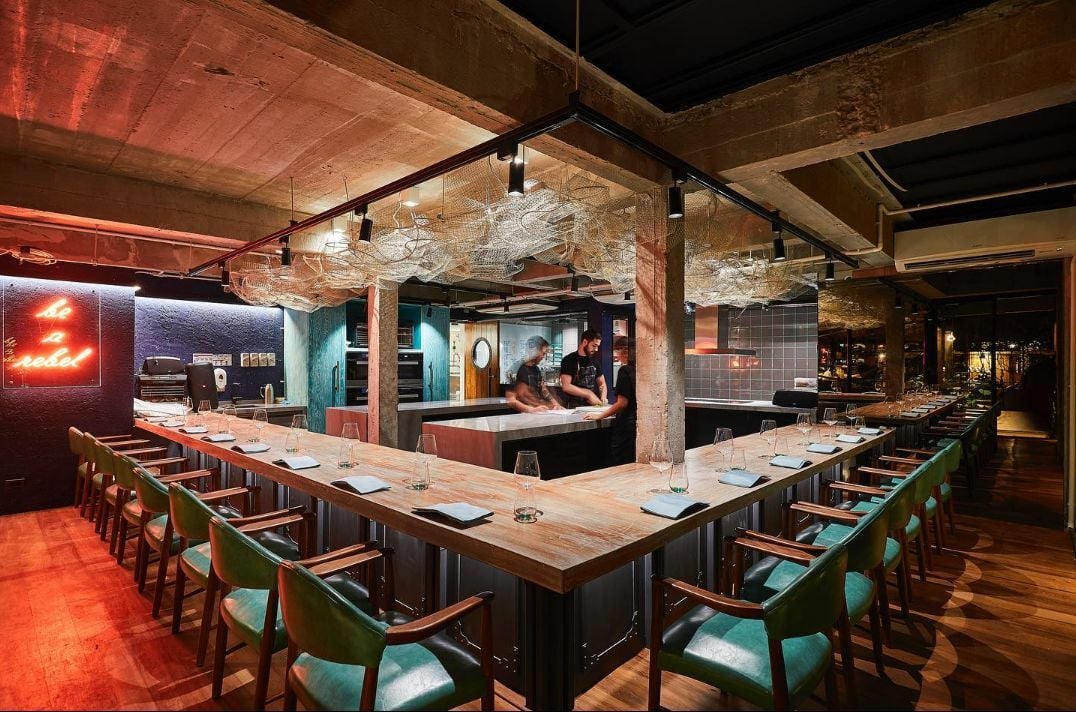 For culinary aficionados worldwide, the renowned Gaggan restaurant by Chef Gaggan Anand needs no introduction. This esteemed establishment not only boasted two Michelin stars but also claimed the top spot on Asia's 50 Best Restaurant list for four consecutive years and secured the 4th position on the World's 50 Best Restaurants list in 2019. As an Indian restaurant in Bangkok, Gaggan Anand successfully blends the rich flavors and spices of India with modern culinary techniques and presentation styles, creating an unforgettable dining experience for its guests.
Presently, the original Gaggan restaurant has evolved and relocated to a new location at Soi Sukhumvit 31, known as Gaggan Anand Restaurant. Here, patrons continue to relish the delectable, inventive Indian cuisine that showcases Chef Gaggan Anand's audacious ideas and cooking techniques enticing food enthusiasts and curious diners to return time and again. Dining at Gaggan has always been a theatrical experience, with a perfect balance of exceptional food preparation and a relaxed atmosphere to enjoy wine pairings throughout the evening. Guests can choose between two unique dining experiences: the Chef's Table, referred to as the G's Spot, or the more conventional restaurant setting called Arena G.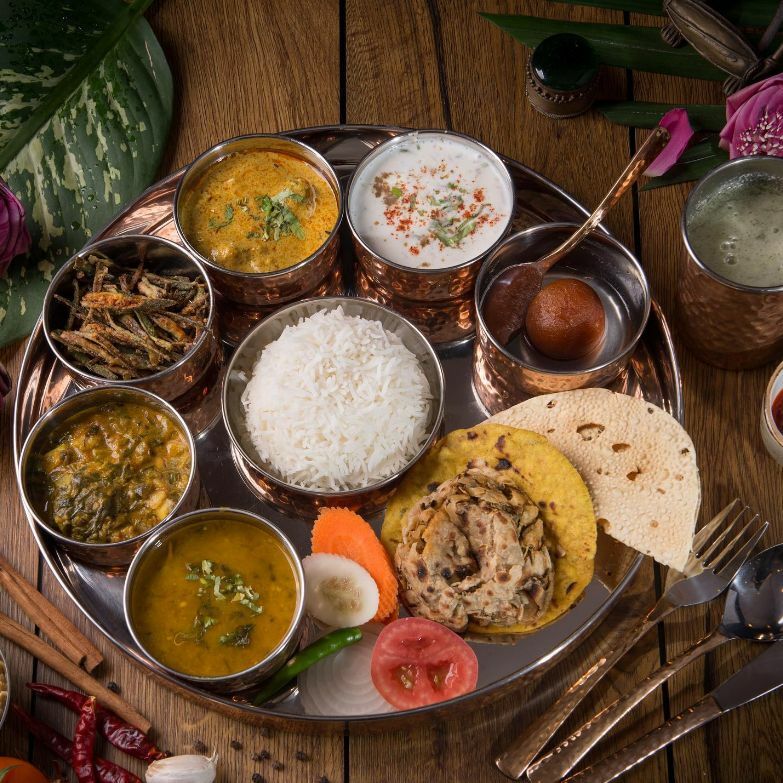 Saras is a delightful Indian restaurant in Bangkok, offering a diverse and authentic culinary experience to its patrons. With a warm and welcoming ambiance, this hidden gem has carved a niche for itself among the numerous dining options in the vibrant city. This place is worth noting for its reliable and tasty Indian vegetarian food establishing it as a prime destination for vegetarians seeking a superior culinary experience.
The Indian sweets at Saras are highly regarded for their authentic taste and quality. They offer a delightful variety of traditional Indian desserts that cater to the sweet cravings of their guests. Prepared using high-quality ingredients and following time-honored recipes, these sweets are not only good but also capable of transporting you to the heart of India with each bite. Whether you are a fan of the soft, creamy Rasmalai or the irresistible Gulab Jamun, Saras has something to satisfy every sweet tooth. The attention to detail and commitment to maintaining the essence of traditional Indian sweets make them a must-try when dining at Saras.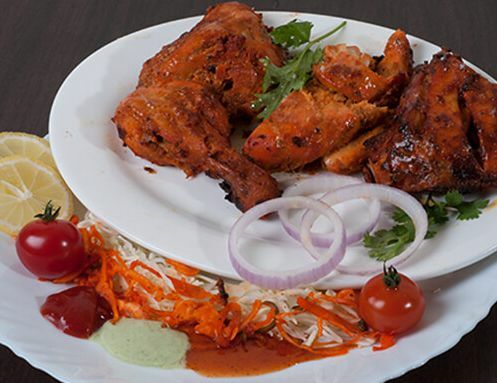 The ambiance at Amritsr is perfect for intimate dinners, as well as celebrating special occasions with loved ones. The restaurant caters to a wide range of tastes, offering both Indian and Chinese dishes to ensure customer satisfaction. Regarded as one of the best Indian restaurants in Bangkok, Amritsr is an exquisite Indian restaurant in Bangkok that offers a delightful culinary experience to its patrons.
When it comes to North Indian cuisine, some dishes will transport you back to the authentic street food experience in India. Amritsr Restaurant boasts a collection of popular and unique non-vegetarian options. For those who enjoy chicken and meat, the Indian-style cooking features succulent, mouth-watering dishes made with fresh ingredients and traditional Indian spices, delivering an authentic flair. Vegetarians are also well-catered, with a variety of enticing choices such as Paneer Tikka and Dal Makhani. And don't miss out on the Lassi – sweet or salty, it pairs perfectly with Sarson Saag and Makki Roti.
In addition to the spicy snacks and full-course meals, Indian desserts at Amritsr are equally delightful and bursting with flavors. Whether it's a chilly winter or a warm summer day, the temptation of Indian sweets is hard to resist. So, after indulging in a delicious meal, be sure to treat yourself with a scrumptious dessert.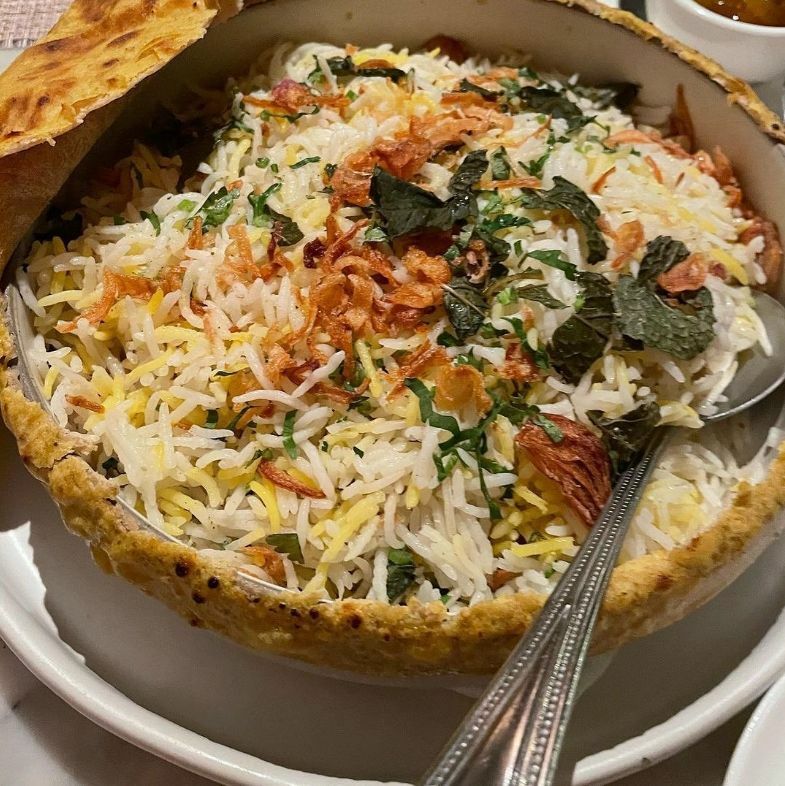 Indus is a contemporary Indian fine dining establishment in Bangkok, offering authentic and delectable dishes in a stylish setting, complete with alfresco seating and a refined dining room. For over a decade, this Indian restaurant in Bangkok has been synonymous with the pinnacle of northern Indian cuisine.
The menu showcases a diverse range of Indian culinary traditions, featuring influences from New Delhi, Kashmir, Punjab, Rajasthan, and more, allowing food enthusiasts to savor and appreciate the variety. The Halal-certified chef team also caters to vegetarian preferences.
Set in a beautiful 1960s house with a lush garden, Indus provides attentive service, making the dining experience even more welcoming. Guests can host private events or relish a delightful evening with friends and family while indulging in some of the finest Indian cuisines in Bangkok.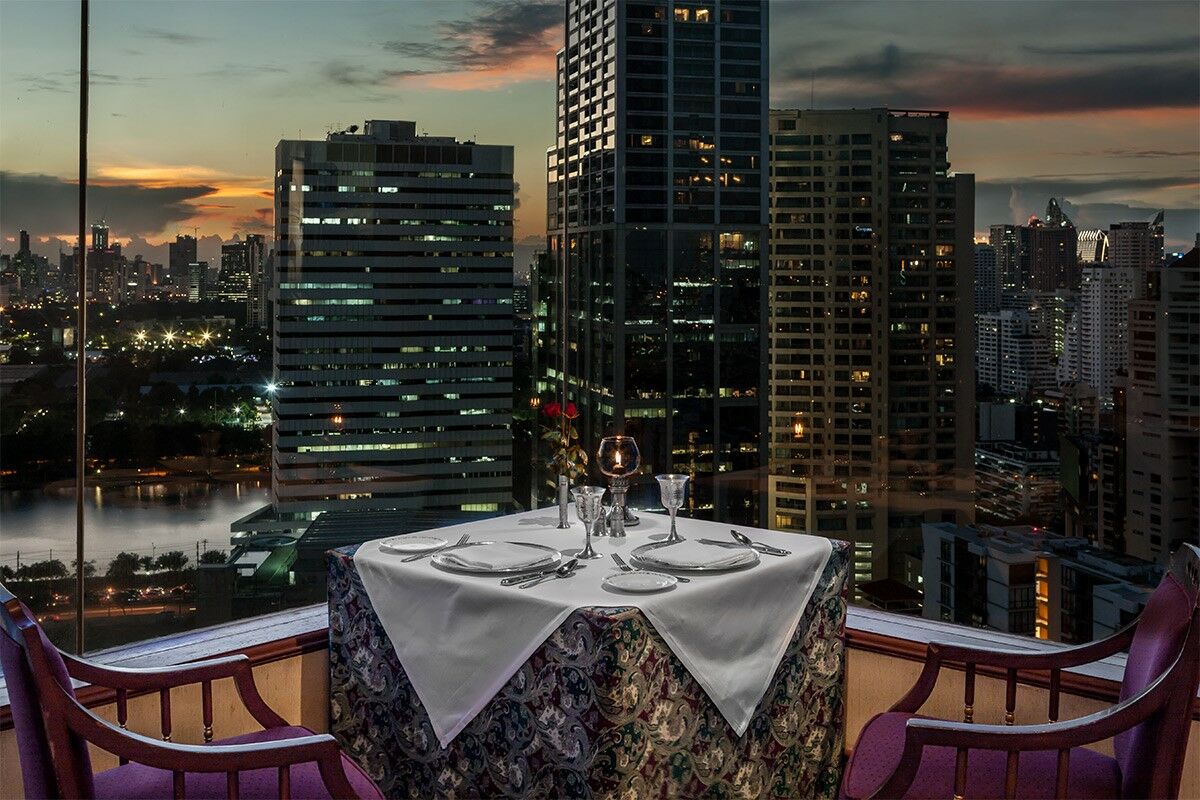 Deriving its name from the "Palace of Color" within Delhi's Red Fort, Rang Mahal embodies a spirit of luxury and celebration at its location on the 26th floor of the Rembrandt Hotel. This Indian restaurant in Bangkok offers exquisite cuisine and breathtaking views, reminiscent of the lavish feasts enjoyed by ruling maharajas.
Rang Mahal is highly regarded as one of Bangkok's finest Indian restaurants, specializing in Northern Indian cuisine under the expert guidance of long-time Head Chef Misra Rajan. His signature dishes include Butter Chicken, Lamb Rogan Josh, Raan-e-Khyber (Lamb Shank), Murgh "Dum" Biryani, Butter Naan, Paneer Makhanwala (Cottage Cheese), and much more!
Additionally, Rang Mahal's Sunday Brunch buffet boasts over 50 different options, including appetizers, curries, naans, barbeque, rice, desserts, drinks, and more, ensuring a truly delightful dining experience at this Indian restaurant in Bangkok.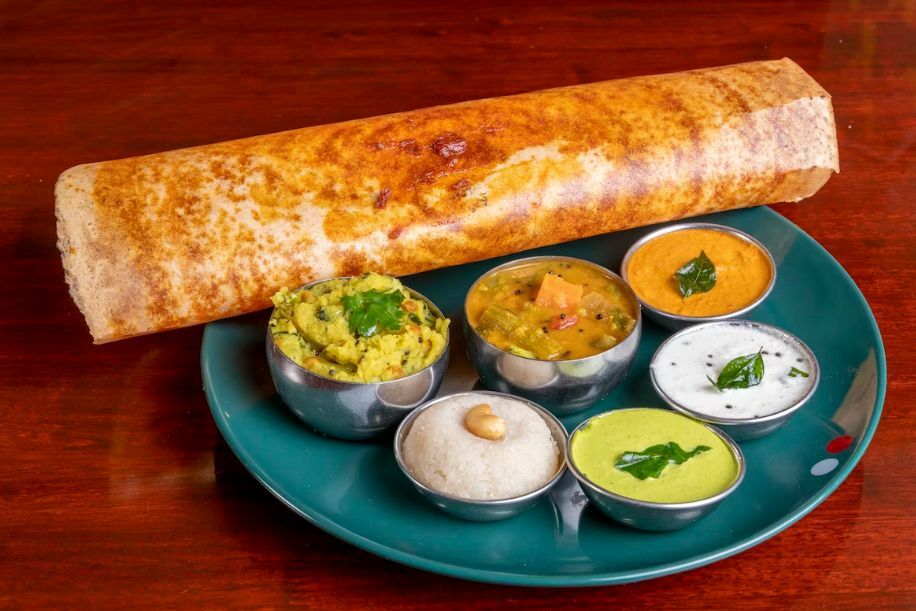 Dosa King is a popular Indian restaurant in Bangkok, known for its authentic and delicious South Indian cuisine. This bustling eatery has earned a reputation for serving some of the best dosas in the city, along with a variety of other traditional South Indian dishes. Since first opening its doors on September 10, 2002, Dosa King has been a popular destination for vegans, vegetarians, locals, tourists, and the international community residing in Thailand. This cherished eatery is known for its mouth-watering vegetarian delicacies that draw patrons from around the world.
The menu at Dosa King is extensive and features a wide range of dosas, from the classic Masala Dosa to more inventive variations, catering to different tastes and preferences. In addition to dosas, the restaurant also offers a selection of idlis, vadas, uttapams, and other South Indian staples, all prepared using fresh ingredients and authentic spices.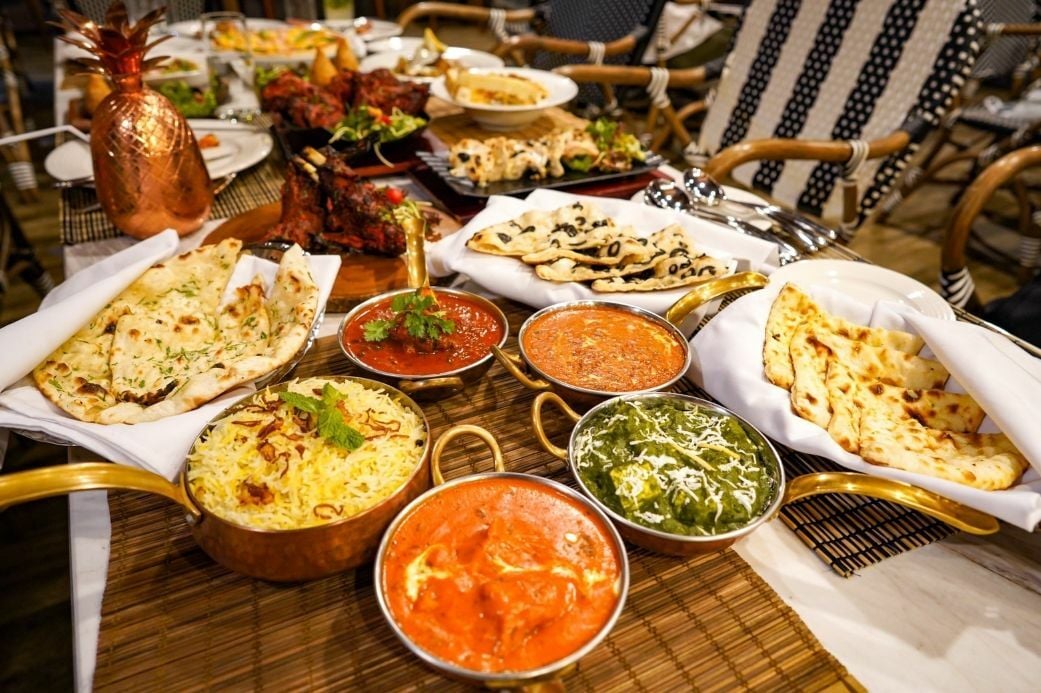 Bawarchi Rooftop is a stunning Indian restaurant in Bangkok, known for its exceptional cuisine and breathtaking views. Situated atop a high-rise building, this rooftop dining destination offers a unique and memorable experience, combining the best of Indian culinary delights with panoramic vistas of the bustling city below.
Established in 1998, Bawarchi is one of the pioneers of Indian fine dining in Bangkok, consistently earning top ratings for over 20 years due to its unwavering commitment to quality and flavorful dishes. With four locations across Thailand, Bawarchi Rooftop stands out as their first-ever rooftop fine-dining establishment. Located on the 16th floor of the Solitaire Bangkok Hotel, Bawarchi Rooftop features a stunning Mughal-style dining hall adorned with gold hues, flowing fabric ceilings, and intricately patterned tiles that evoke the grandeur of Indian palaces.
The delectable menu at Bawarchi Rooftop is crafted by a talented team of experienced chefs from India, who skillfully infuse their passion for spices and traditional recipes into high-quality ingredients such as giant lobsters, lamb chops, tiger prawns, and premium chicken cuts. Among the most popular dishes are the Kashmiri Rogan Josh, a fragrant lamb curry that is a signature of Kashmiri cuisine, and the Murgh Makhanwala, a New Delhi-originated dish more commonly known as "Butter Chicken."
Gaa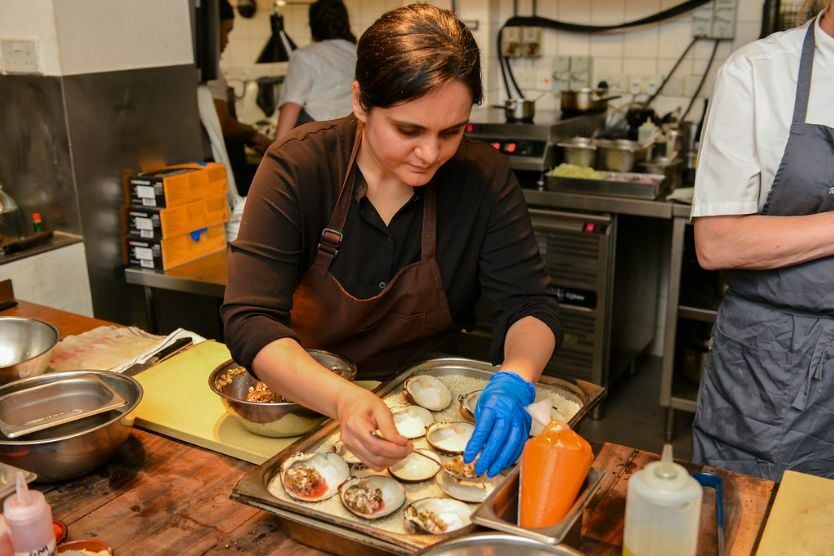 GAA, an Indian restaurant in Bangkok, offers a unique culinary experience created by Mumbai-born Chef Garima Arora. The restaurant presents an eclectic menu that combines the finest international flavors with a focus on Indian and Thai cuisine. Guests can enjoy a 12-15 course tasting menu accompanied by natural wines, fermentation-rich cocktails, or a whole juice pairing.
GAA has gained recognition by debuting at number 16 on Asia's 50 Best Restaurants 2019 list and maintaining its One Michelin Star status in the Michelin Guide Thailand 2020. Chef Garima Arora was also named Asia's Best Female Chef by World's 50 Best Restaurants in 2019, making her the first and only female Indian chef to achieve this honor.
The restaurant's innovative cuisine, Chef Garima's determination, and the perfect blend of modern and classic décor create a one-of-a-kind dining experience in Bangkok.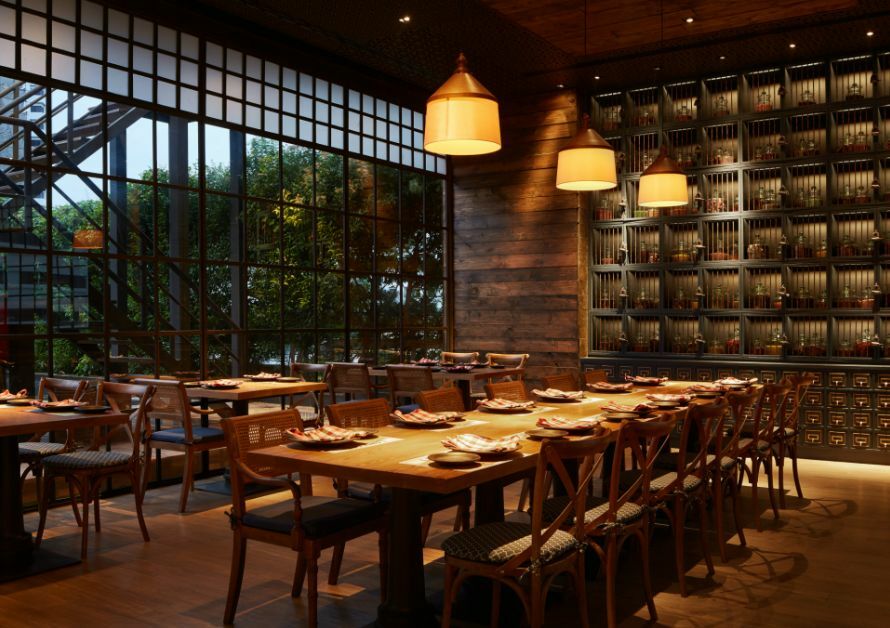 Charcoal Tandoor Grill & Mixology, an Indian restaurant in Bangkok, is perfect for introducing even the most hesitant eater to Indian cuisine. The menu features a variety of dishes from Northwestern India, crafted by skilled Indian chefs. The dishes retain authentic flavors without excessive spiciness, making them approachable for beginners.
In addition to its flavorful offerings that attract food enthusiasts worldwide, the restaurant's interior is also quite captivating. Combining dark woods, lattice screens, spice jars, and mood lighting within a spacious dining hall, Charcoal Tandoor Grill & Mixology provides a memorable dining experience in Bangkok.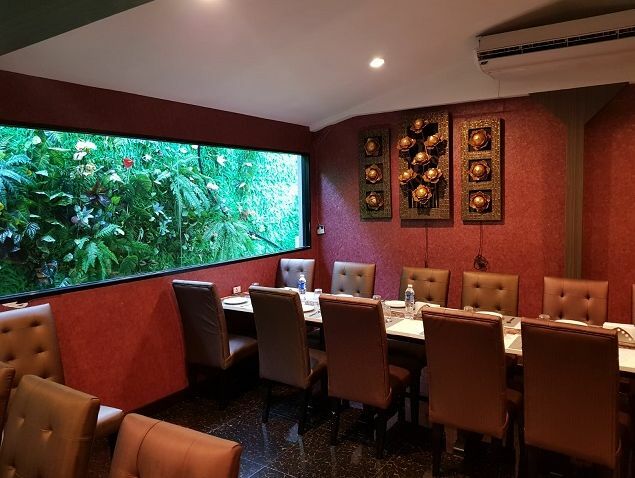 Vrindavan is a renowned dining establishment situated at Sathu Pradit 19, Chong Nonsi, Yan Nawa, Bangkok, offering genuine Indian, Italian, and Chinese vegetarian cuisine. As an Indian restaurant in Bangkok, Vrindavan's distinctive dishes are crafted using traditional techniques and a combination of diverse herbs and spices, resulting in unparalleled meals with unique flavors. The eatery is recognized as the "Best Vegetarian Restaurant" for its exceptional specialty dishes.
In 2014, Vrindavan opened its doors in the heart of Bangkok, providing a truly one-of-a-kind dining experience. This Indian restaurant in Bangkok also offers a premium selection of beverages to complement its delicious dishes. Vrindavan takes pride in its team of skilled chefs who have extensive experience in traditional cooking methods, ensuring every meal is an unforgettable experience for diners. Searching for affordable Indian restaurants in Bangkok without compromising on taste? Discover your options here.
Craving authentic Thai cuisine in Bangkok? Discover the best eateries in Bangkok in our exclusive guide!
Food
Guides

Join the conversation and have your say on Thailand news published on The Thaiger.
Thaiger Talk is our new Thaiger Community where you can join the discussion on everything happening in Thailand right now.
Please note that articles are not posted to the forum instantly and can take up to 20 min before being visible. Click for more information and the Thaiger Talk Guidelines.