Top 10 restaurants in Sathorn and Wireless Bangkok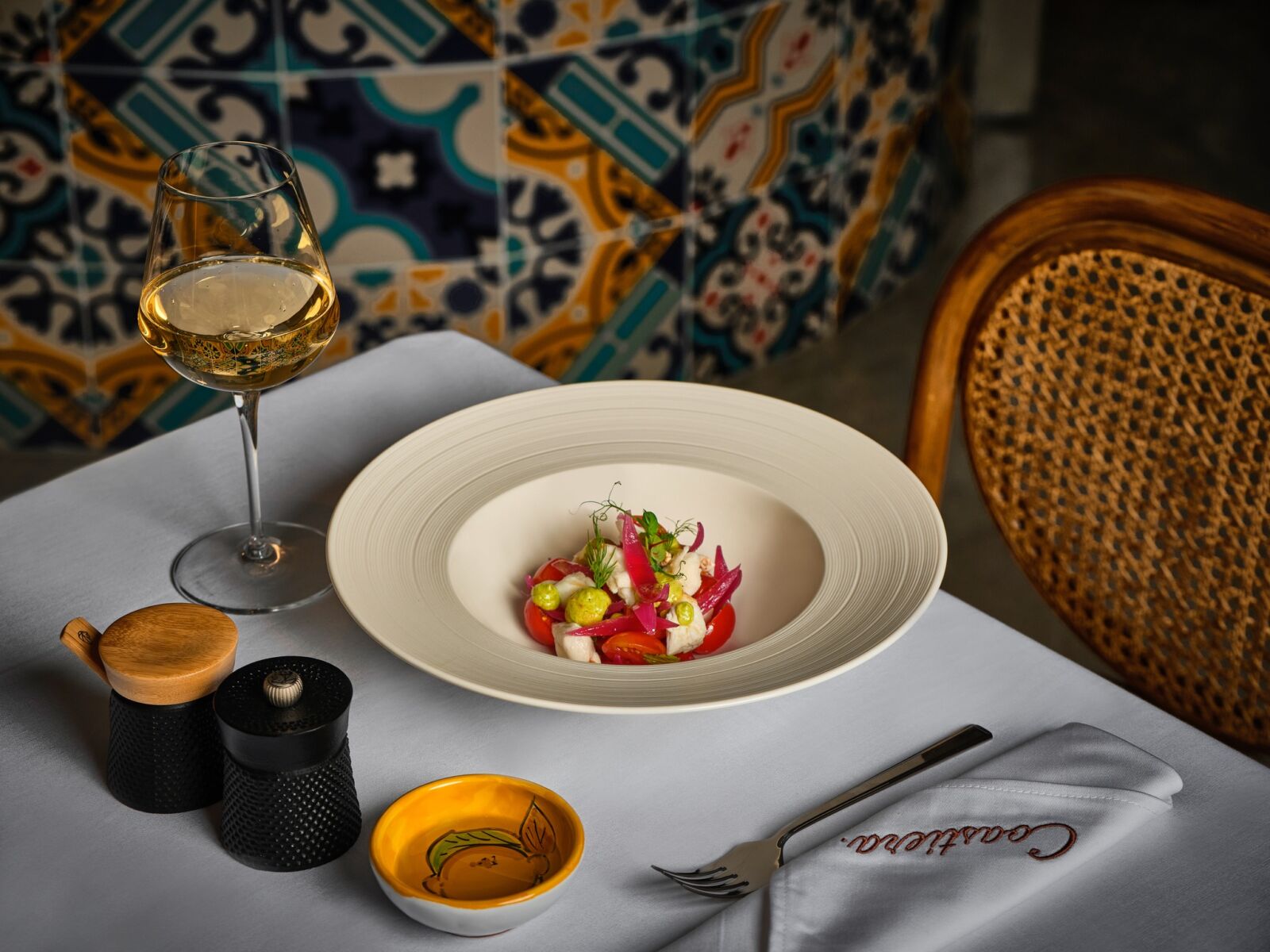 Sathorn and Wireless's gastronomic landscape mirrors their characters – it's daring, adventurous, and endlessly creative. Now, if you're someone who appreciates a bit of high-end dining, then these areas are your kind of place. After all, what's bustling, lively neighbourhoods without their exquisite collection of upscale dining spots, right? So, if you're looking to treat yourself to a bit of posh dining, we have quite the list for you. Here is our pick of 10 upscale restaurants that will whisk you away on a fancy dining experience, right here in the heart of Sathorn and Wireless, Bangkok.
COASTIERA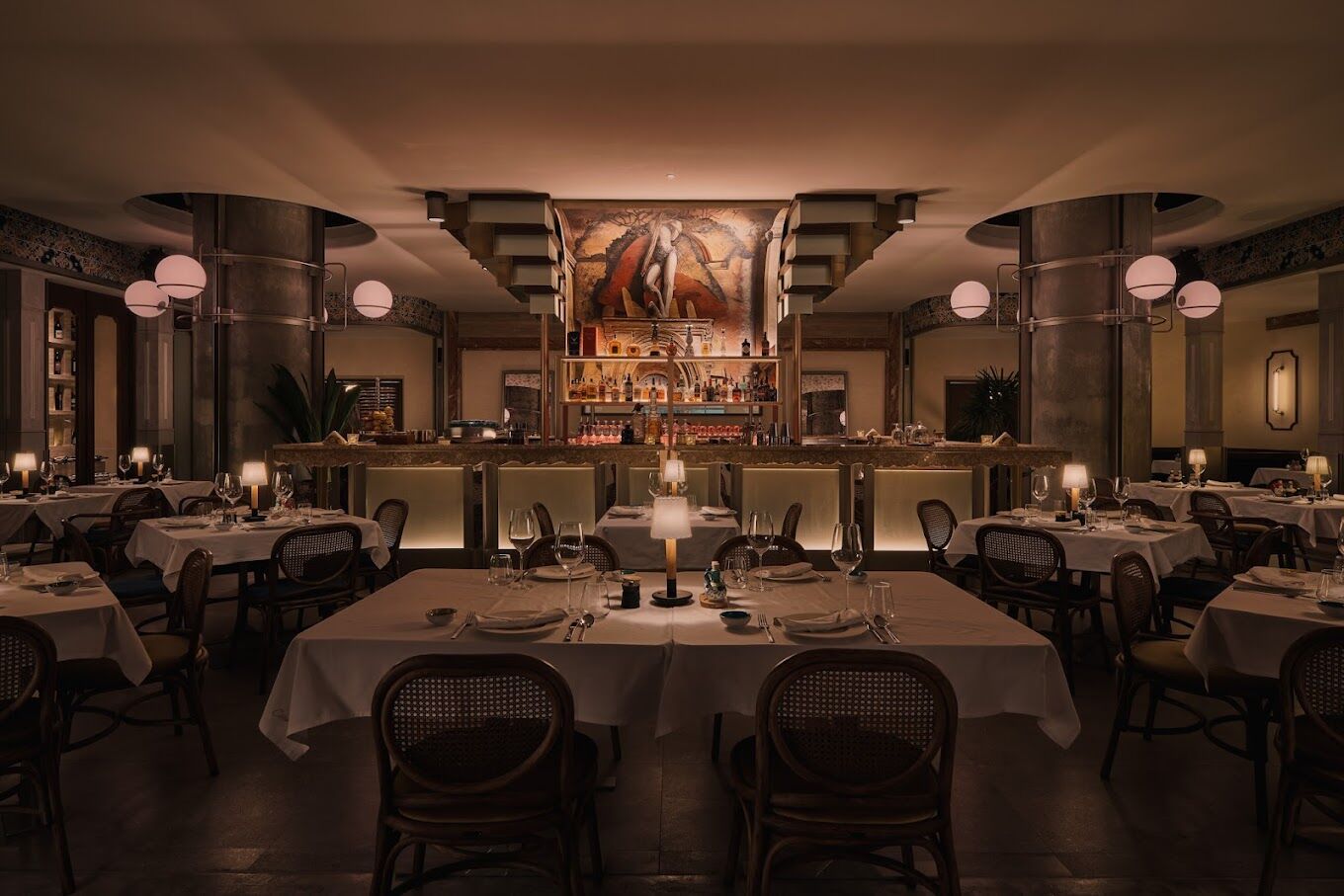 Opening hours: Monday – Sunday, 18:00 – 01:00
Address: Level B, Wireless Building, 140 Witthayu Rd, Lumphini, Pathum Wan, Bangkok 10330, Thailand
Click here to Google Maps
If luxury and good humour had a baby, it would be named COASTIERA. Situated in the artistic hub of the 140 Wireless Building, COASTIERA isn't just a restaurant, it's an experience. This fine-dining spot doesn't do things by halves. From live entertainment including DJs and international performers that spark an upbeat vibe, to dishes that dance with flavour, it's a hangout spot like no other in the city.
In the kitchen of this restaurant is Chef Andrea Ortu, an expert in Southern Italian food. His style? Simple yet sophisticated, all about drawing out the flavour of each high-quality ingredient. His menu is as diverse as the Italian coast itself – from shareable Antipasti, homemade pasta, to the best Mediterranean seafood.
View this post on Instagram
But what's a good meal without an equally exciting beverage? Expect a curated wine list of over 100 labels, or sip on signature cocktails that forge a perfect marriage of local staples with western twists. Whether you choose by the bottle or glass, each choice promises to perfectly complement your meal's flavours and textures.
But COASTIERA isn't just about feasting on delicious food and drink. Housed within a space that's also home to New York-inspired art stores and one of the largest collections of pianos in the world, it's about feasting your senses. All of these elements come together in a bright, open space that truly captures the essence of simple elegance and refined style.
Make sure to book your table in advance by calling +66 (0) 83 884 6445. For all the latest news and updates, you can stay connected by following them on Facebook and Instagram.
Diplomat Bar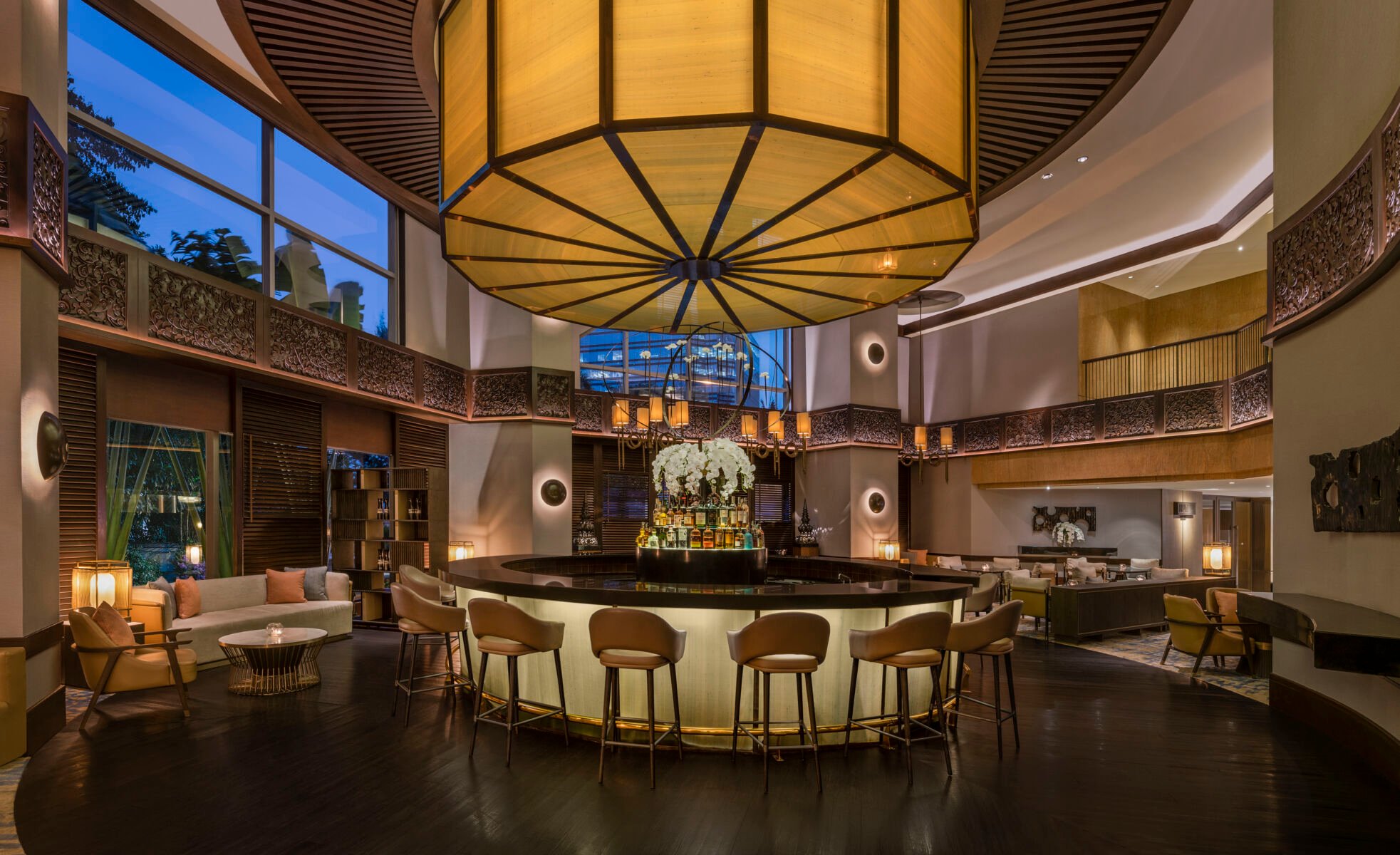 Opening hours: Daily, 08:00 – 00:00
Address: Conrad Bangkok, Lobby Level, 87/3 Witthayu Rd, Lumphini, Pathum Wan, Bangkok 10330, Thailand
Click here to Google Maps
Imagine a place where the best music from international artists fills the air as you sip on craft-made cocktails – that's Diplomat Bar, a must-visit restaurant in Wireless, Bangkok! From enjoying a relaxed morning with freshly baked pastries to a stylish afternoon tea service to dancing the night away, this venue stands out as a delightful experience that caters to all tastes.
The key player behind the unique menu at Diplomat Bar is its experienced kitchen team. Their inspired menu spans culinary treasures brought to life with ingredients from across the world. Look forward to 'Freshly Shucked Oysters' or 'New York Sliders', and for dessert, you can't miss the 'Dark Chocolate Tart'.
But that's not all. At Diplomat Bar, the cocktail menu is almost a travel guide. Its Signature Cocktail Series take inspiration from places such as the moon landing and romantic halls of Casa Blanca – each drink bringing a tale from the worldwide to the table. For the traditionalists, their Classic Series revives renowned classics from Old Fashioned to Cosmopolitan.
View this post on Instagram
Not to be overshadowed, their Afternoon Tea service whisks you on a round-the-world adventure with sweet and savoury delights from multiple countries. Offering an exclusive 20% discount until 15 October 2023, it's a treat worth booking in for.
Entertainment at the Diplomat Bar is provided by the talented Elevate Band, astonishing crowds with iconic tunes Monday to Saturday.
For more information or to reserve a table, reach out to the team at +66 (0) 2690 9999 or email bkkci.info@conradhotels.com. You could also connect online via Facebook, Instagram, or their LINE OA.
Antito Bangkok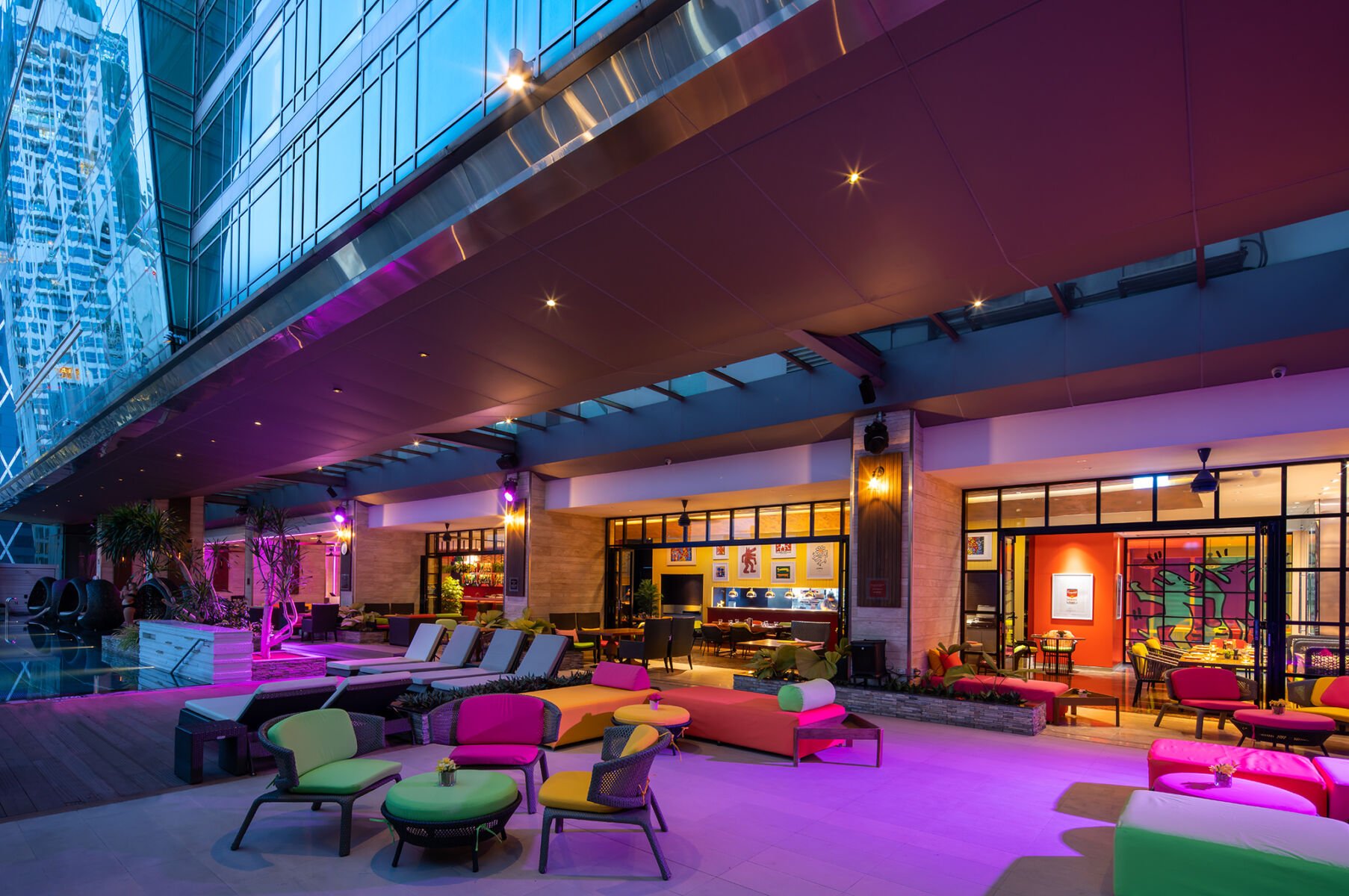 Opening hours: Daily, 12:00 – 23:30
Address: 14F, Eastin Grand Sathorn, 33/1 Sathon Rd, Yan Nawa, Sathon, Bangkok 10120, Thailand
Click here to Google Maps
Nestled on the 14th floor of the Eastin Grand Hotel Sathorn, get ready to be charmed by Antito, a zesty resto-bar serving creative Italian cuisine. With Michelin Chef Amerigo Tito Sesti at the helm, your palates are in for a delicious treat! Chef Amerigo Tito Sesti is already known for his interpretation of French cuisine in a distinctive way and he is a 1-star Michelin chef (2018-2023) from J'Aime by Jean-Michel Lorain (Bangkok).
Born from the merging of 'antipasti' and 'Tito', this restaurant in Sathorn delivers an exciting Italian food culture infused experience, with a unique twist on appetizers by honouring Chef Amerigo's middle name. This Michelin 1-star chef is now exploring his Italian roots, drawing inspiration from Northern Italy, his place of birth.
Unassuming and accessible are the key ingredients at Antito. While it may boast spectacular city views in a relaxed poolside setting, the heart of this restaurant lies in its lively "Aperitivo" lifestyle. The key concept behind Antito is a playful mixture of "pop art" and "pop food". Here, a simple meal can turn into a social night out, filled with enticing dishes, vibrant vibes, and an in-house DJ (every Thursday to Saturday from 18:30 – 21:30).
View this post on Instagram
Explore a menu that revives the everyday with an amazing selection of dishes, including freshly baked pastries for an indulgent breakfast. From Kampachi & Tomato Carpaccio, to Potato Gnocchi with Roasted Sausages & Red Wine Ragù, all the way to Pizza Fritta (deep-fried pizza with caramelized onion and pancetta), you'll be spoilt for choice in this restaurant in Sathorn. When it comes to desserts, the Honey & Lime Panna Cotta and Frozen Pavlova are indeed must-try treats. Your sweet tooth is sure to relish the blissful balance of flavours!
To reserve your spot at Antito, call +66 (0) 2210 8100 or visit their website. Keep up with their latest news by following their Facebook and Instagram.
Mimosa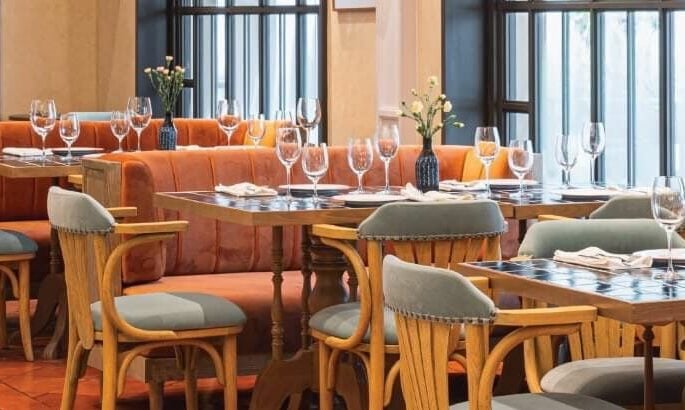 Opening hours: Daily, 11:00 – 15:00 and 17:00 – 23:00
Address: 67, 69 S Sathon Rd, Thung Maha Mek, Sathon, Bangkok 10230, Thailand
Click here to Google Maps
Say hello to Mimosa, where 'la dolce vita' is served on every plate! This trendy Mediterranean-inspired restaurant is the latest delight in the much-loved Suan Phlu neighbourhood of Sathorn.
Where exactly is it, you ask? It's tucked away in the same premises as the popular 30-year-old Baan Khanitha. Yes, that's right. The very spot renowned for classic Thai cuisine is now home to Mimosa's elegant Mediterranean vibe. The atmosphere is warm, inviting and every bit Mediterranean, with the interiors boasting an open kitchen and rich decor.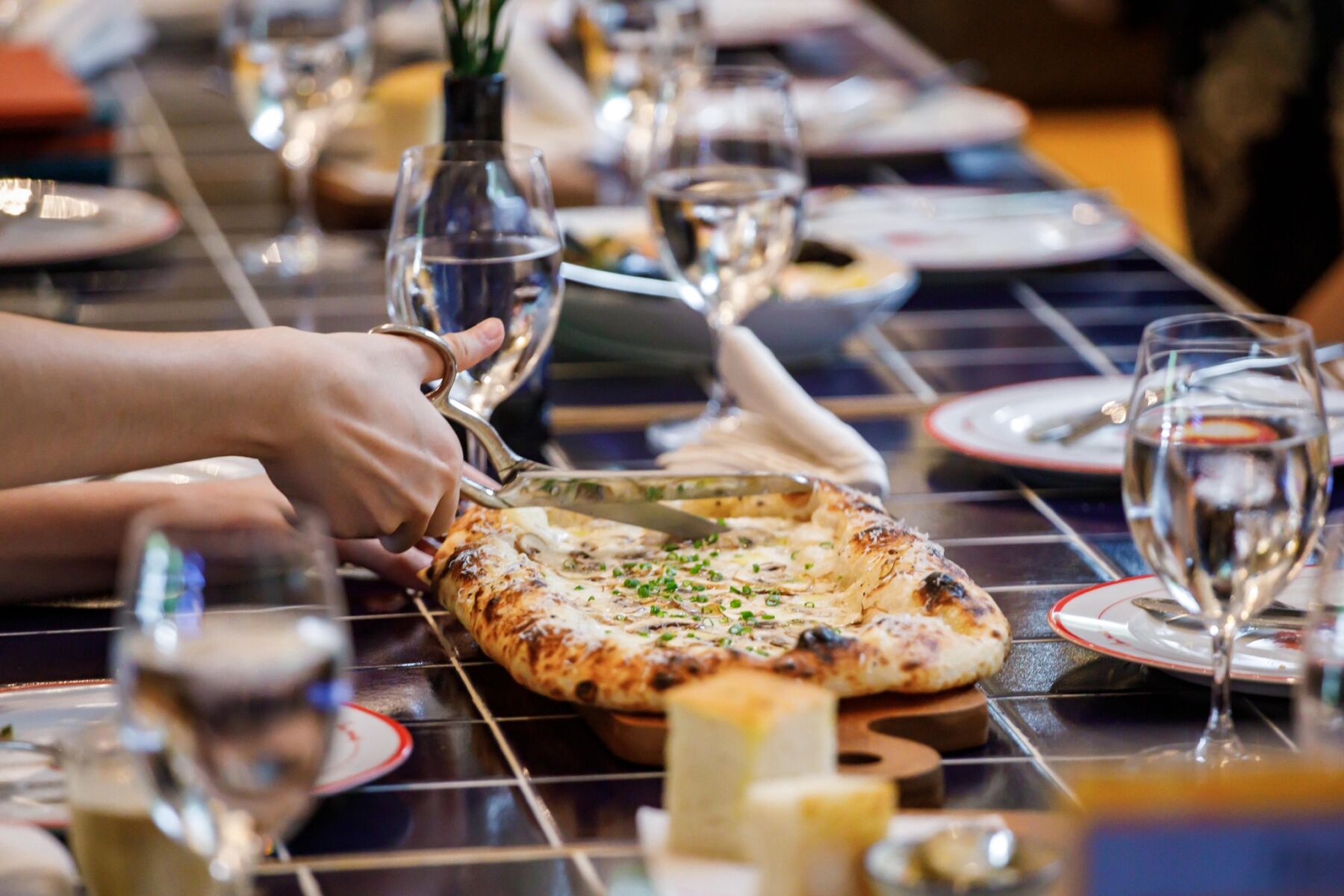 Kick-off your Mediterranean escapade with a platter of cold cuts and cheese accompanied by a glass of fine wine. Be sure to sample their Grande Mimosa, a delicious medley of prosciutto, coppa, speck, saucisson, and an assortment of cheeses, dried fruits, pickles, jam and sourdough. For pasta lovers, Linguine Vongole comes highly recommended, as does the Prawn Squid Ink Spaghetti for those intrigued by unique flavours.
If you fancy brunch or an early lunch, you won't go wrong with the shakshuka with chorizo or the truffled scrambled eggs served on brioche with burrata. For those who love a boozy feast, Mimosa's drinks menu includes mimosas, signature cocktails, and an array of Mediterranean wines both by the bottle and the glass.
Khum Hom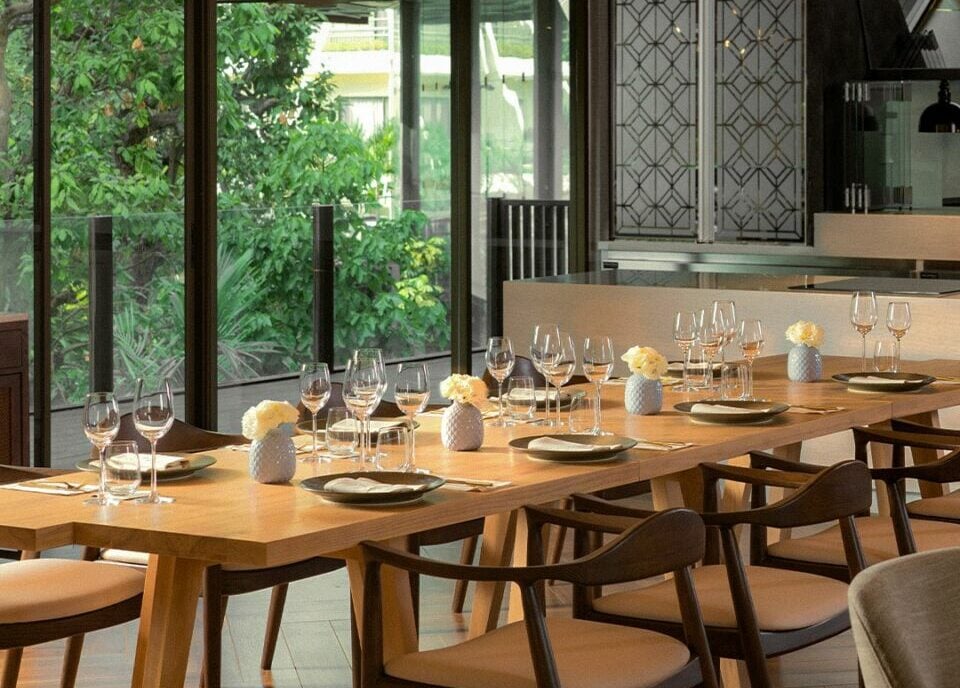 Opening hours: Wednesday – Sunday, 17:00 – 22:00
Address: Mövenpick BDMS Wellness Resort, 2 Witthayu Rd, Khwaeng Lumphini, Pathum Wan, Bangkok 10330, Thailand
Click here to Google Maps
Your next stop on the exquisite dining trail across Sathorn and Wireless introduces an aromatic world of flavours at the Khum Hom restaurant. A delightful indulgence showcasing contemporary Thai cuisine, this stunning venue offers panoramic views of lush gardens, making it a favourite rendezvous for local food connoisseurs.
This restaurant is where you savour a vibrant palette of dishes that ingeniously weave a modern twist into traditional recipes from Thailand's four main regions: North, Northeast, Central and South. Drawing the freshest local ingredients, Khum Hom succeeds in unravelling Thailand's rich culinary heritage with a modern flourish.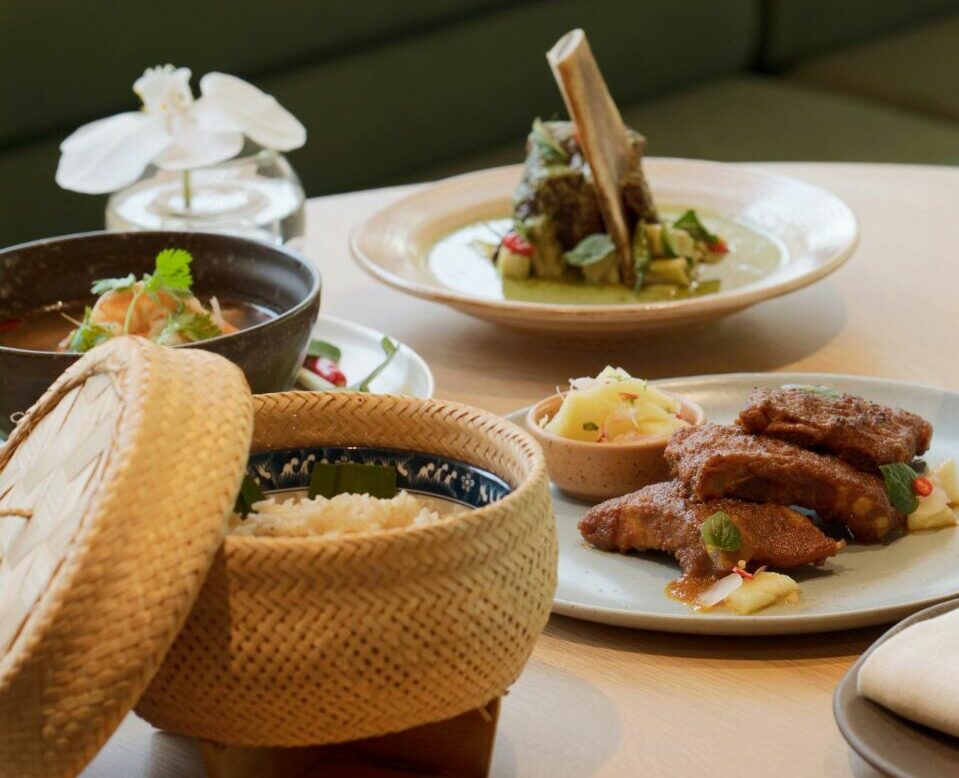 The essence of Khum Hom is encapsulated in its name: 'Khum' signifying a 'bite-sized portion' whereas 'Hom' translates to 'aromatic'. Indeed, every dish here brings out the celebrated aroma and robust flavours inherent in Thai cuisine.
Diners at Khum Hom have the privilege of having à la carte or sampling the scrumptious tasting menu. Expect gastronomical delights ranging from tangy salads with local mushrooms and cashews mingling in a mint dressing to succulent beef short ribs immersed in a tantalising yellow curry.
Penthouse Bar + Grill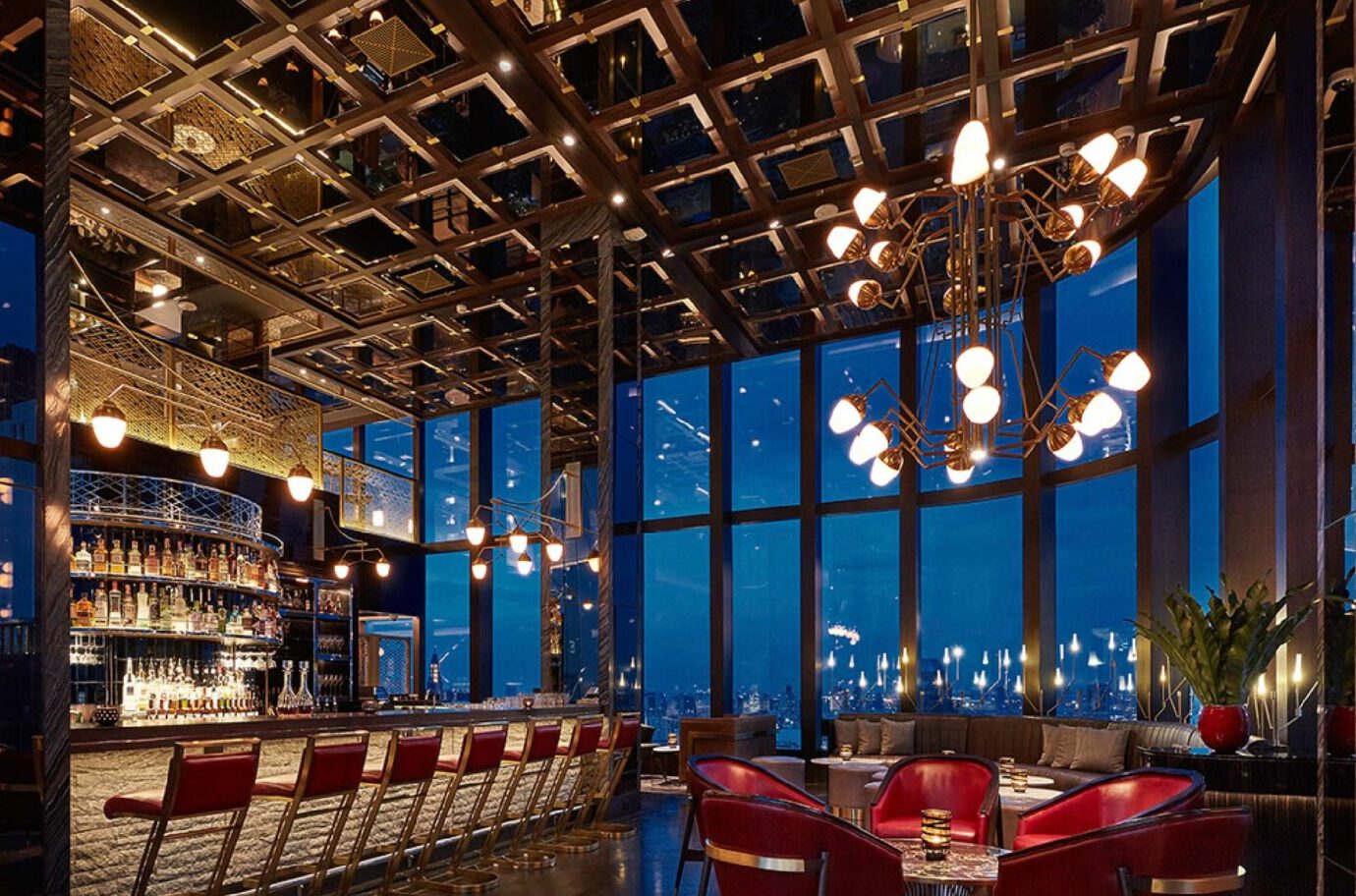 Opening hours: Daily, 12:00 – 15:00 and 17:30 and 02:00
Address: 34th – 36th Floor, Park Hyatt Bangkok, 88 Witthayu Rd, Lumphini, Pathum Wan, Bangkok 10330, Thailand
Click here to Google Maps
With six distinctive dining and drinking venues spread across three stunning floors, the Penthouse Bar + Grill perched atop the Park Hyatt Bangkok, offers you a dining experience that's replete with glamour and sophistication. This restaurant has been designed to encapsulate the elegance of classic New York and Chicago penthouses.
From premium meats and seafood grilled to perfection over organic coconut charcoal at The Grill to the intimate dining experience offered at the Chef's Table, the Penthouse Bar + Grill effortlessly caters to a wide palette of tastes. Fancy cocktails? You're in luck! The heady ambience of the Cocktail Bar and the unique selection of whiskey at the Whisky Room are sure to entice your senses.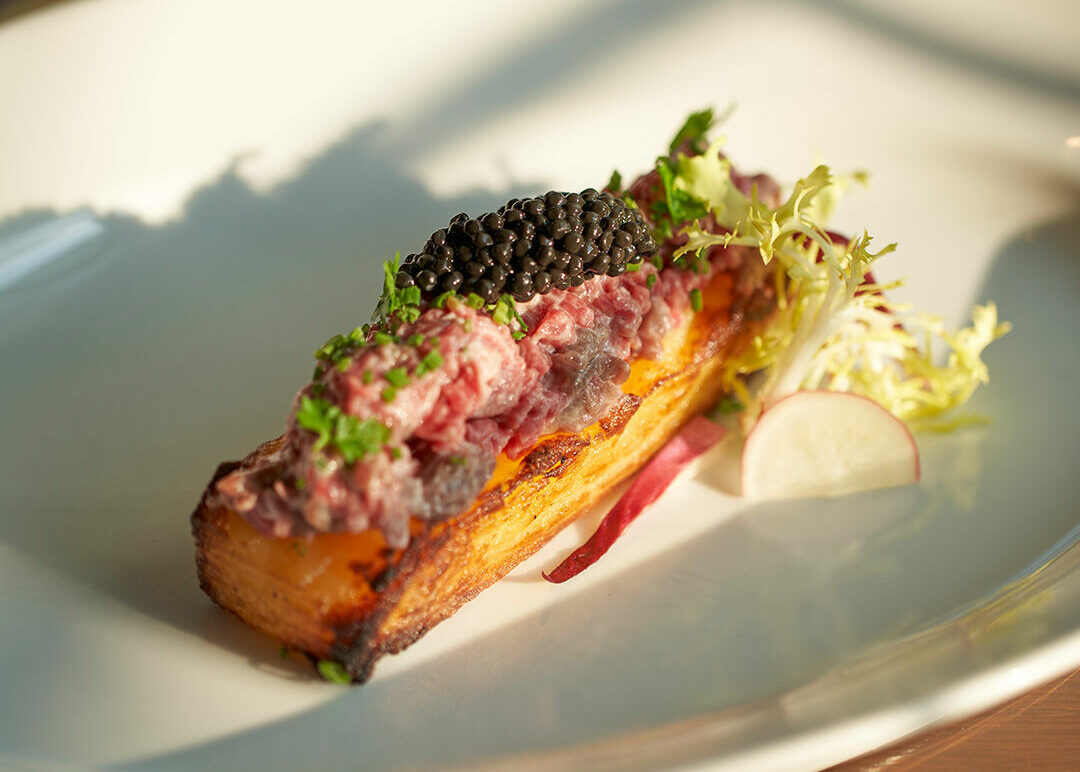 A semi-private floor, the Mezzanine, offers the perfect setting for a special party. And if you've had enough of the indoors, head to the breathtaking Rooftop Bar. It's where you can sip on tropical cocktails as you watch the sun set over the twinkling Bangkok cityscape.
And the music up on the 35th floor? It's a harmonious blend of house-beats with a jazzy, soulful undertone, keeping you entertained through your meal.
Baan Khanitha & Gallery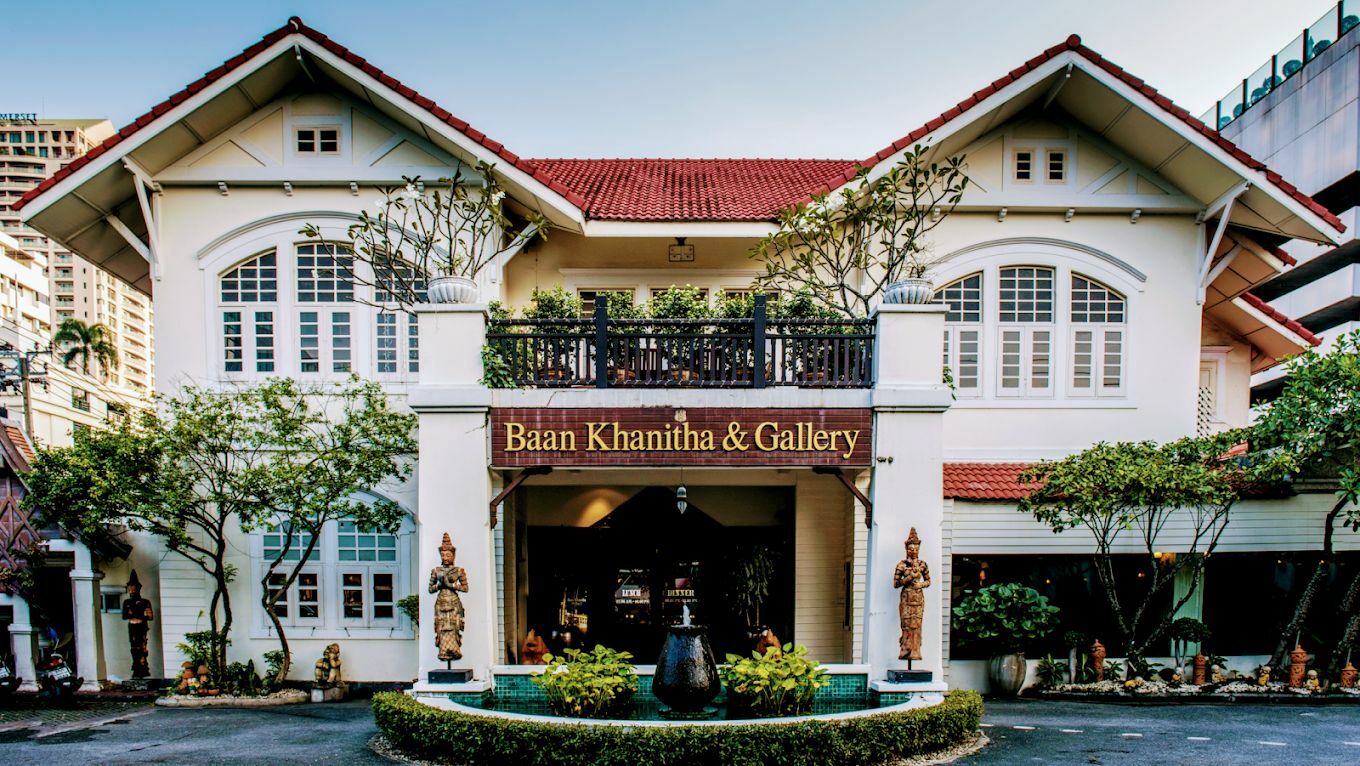 Opening hours: Daily, 11:00 – 23:00
Address: 67, 69 S Sathon Rd, Thung Maha Mek, Sathon, Bangkok 10120, Thailand
Click here to Google Maps
The next restaurant you need to try in Sathorn is the Baan Khanitha & Gallery. Located in a prime location, easily accessible from MRT Lumpini and BTS Chong Nonsi, this restaurant in Sathorn offers an elegant ambience perfect for varied occasions, from family gatherings to high-profile business events or private meetings.
The unmistakable character of Baan Khanitha permeates every corner with its charming decor and matrimonial harmony of authentic Thai cuisine and stunning local and international traditional craftworks by selected artists. Award-winning recipes, all focusing on the delicate flavours extracted from premium organic ingredients harvested from their very own Baan Panalai Organic Farm, bring you the true taste of Thailand in every bite.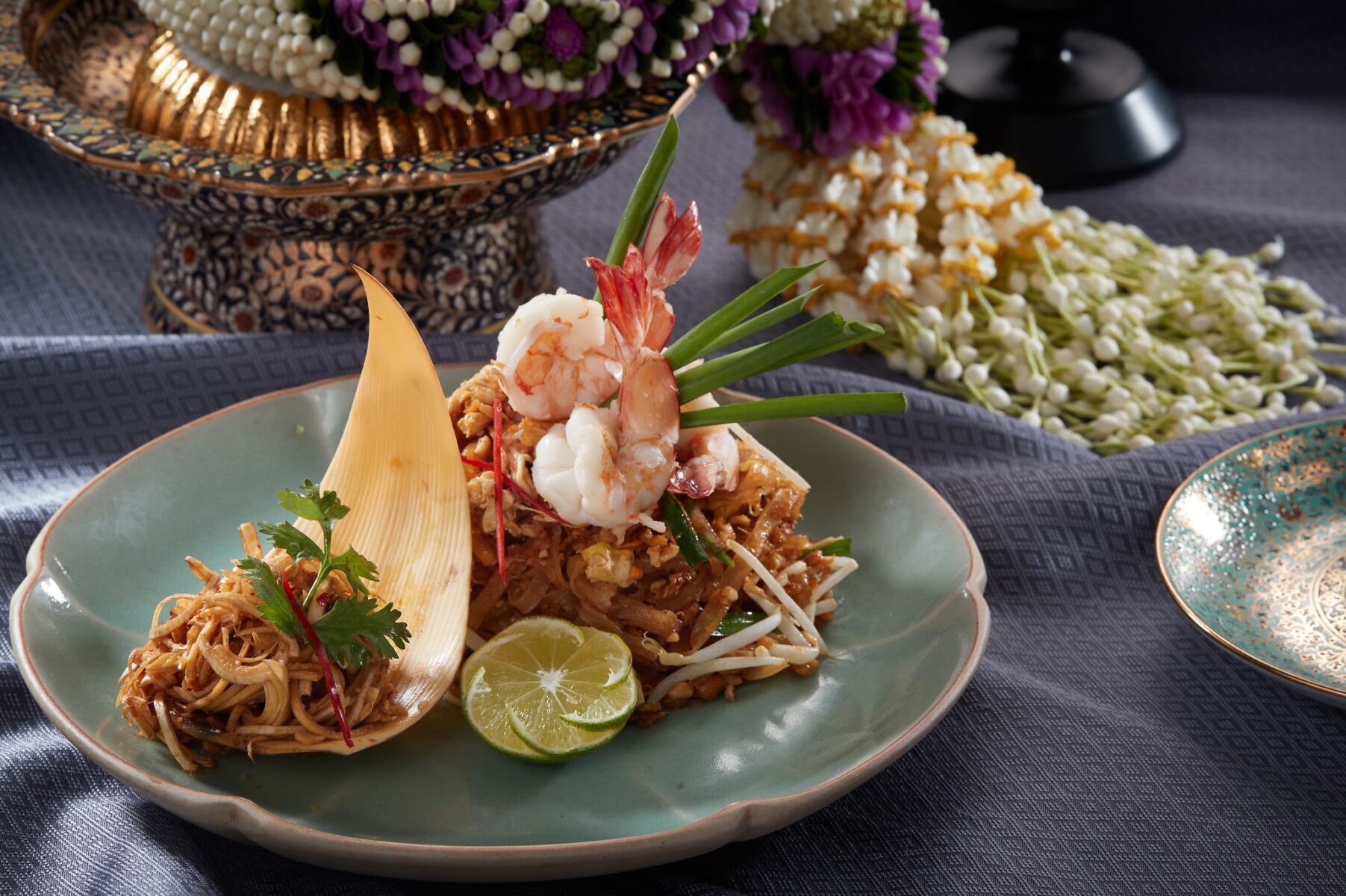 This restaurant in Sathorn also houses 'The Missing Piece' – a treasure trove of all-day desserts. From French-style pastries to breakfast sets, flavourful coffee and tea specialties, to healthy herbal drinks and fresh fruit smoothies, there's something to satisfy every sweet craving.
But the Baan Khanitha experience isn't confined to just taste. This restaurant in Sathorn has varied private function rooms, which accommodate from an intimate gathering of 12 in the Diamond room, all the way up to 135 guests in the sprawling Terrace room – each radiating a relaxed yet traditional atmosphere, making it a favourite spot for private dining, meetings, or small-scale seminars.
Saffron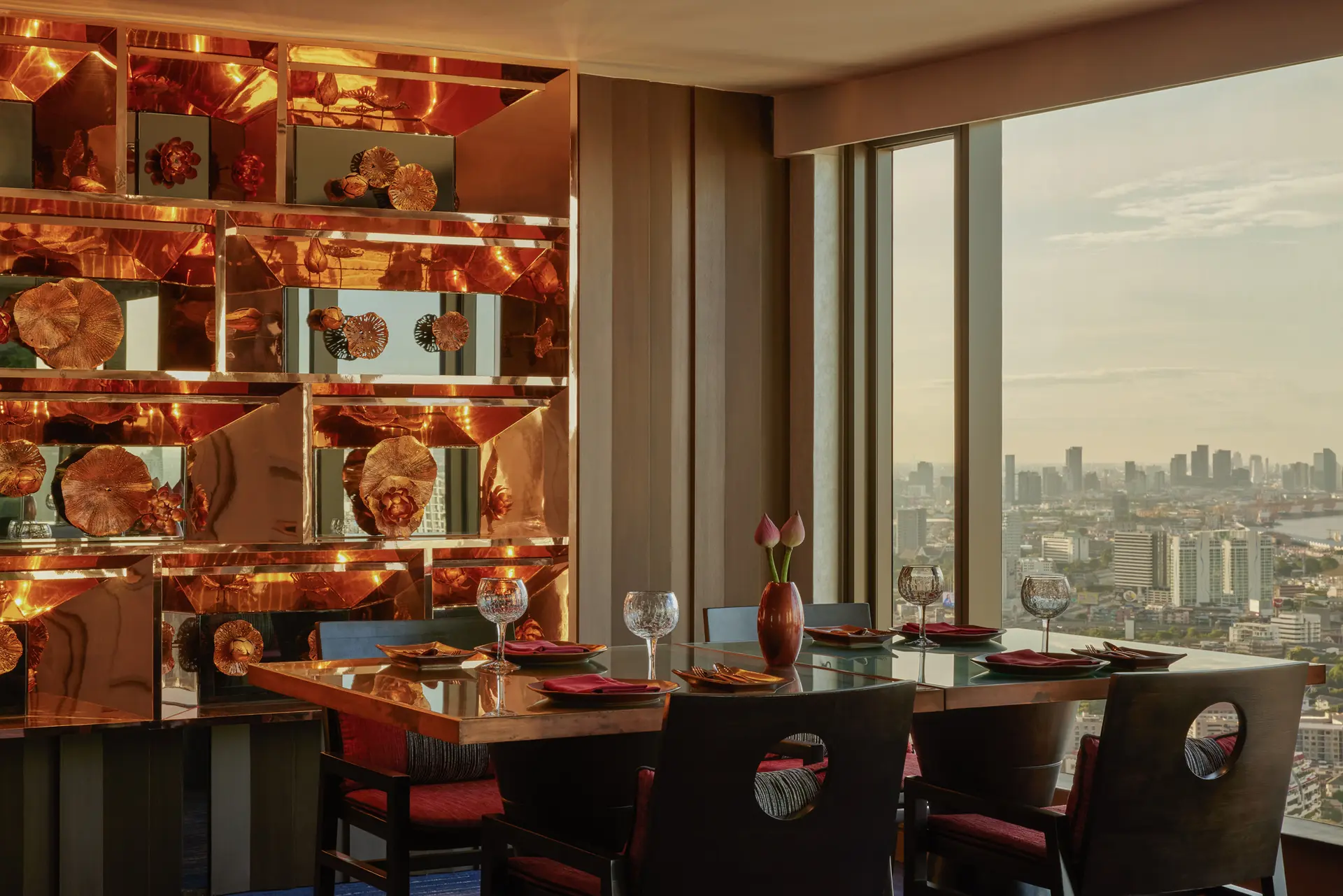 Opening hours: Daily, 11:30 – 14:30 and 18:00 – 23:00
Address: Banyan Tree Bangkok, 21/100 S Sathon Rd, Khwaeng Thung Maha Mek, Sathon, Bangkok 10120, Thailand
Click here to Google Maps
Perching on the 52nd floor, treat yourself to an unforgettable dining experience at Saffron, a show-stopping restaurant in Sathorn graced with award-winning contemporary Thai cuisine. Prepare your palates for mouth-watering signature Thai dishes that masterfully pair taste and aesthetics, all served in an intimate setting that simultaneously captures the vibrant pulse of the mesmerising Bangkok skyline.
Witness how Saffron's culinary maestros reinvent traditional Thai recipes with flair. Imagine savouring succulent, seared Tasmanian salmon complemented by crisp pork crackling and a spicy citrus dressing, or indulging in a refreshingly delicious banana blossom salad, adorned with perfectly grilled and marinated prawns nestled amidst a subtly flavoured coconut dressing.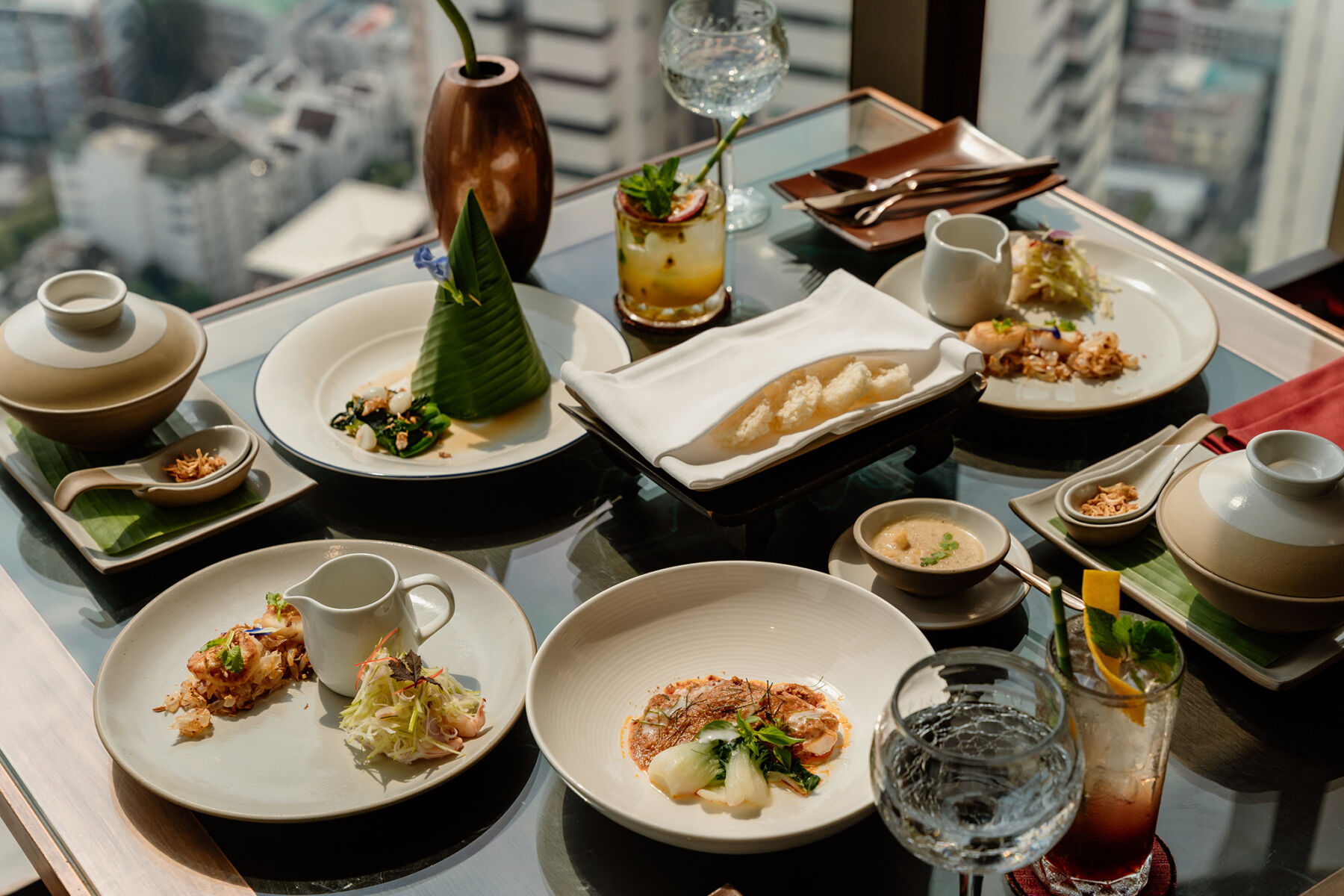 Peek beyond the enticing menu and you'll be captivated by the atmosphere of this restaurant in Sathorn. Saffron creates an intimate ambiance. It's edged with panoramic views of Bangkok that transform the dining experience into a feast for the eyes. Whether you choose indoor or outdoor seating, every spot in this restaurant in Sathorn boasts a spectacular vista.
To ensure a delightful dining experience, the team at this restaurant in Sathorn are renowned for their courteous service. They also excel at personalising your gastronomical journey. They take not of dietary preferences or food allergies as soon as you order and adapting each dish to meet those needs.
Supanniga Eating Room by Khun Yai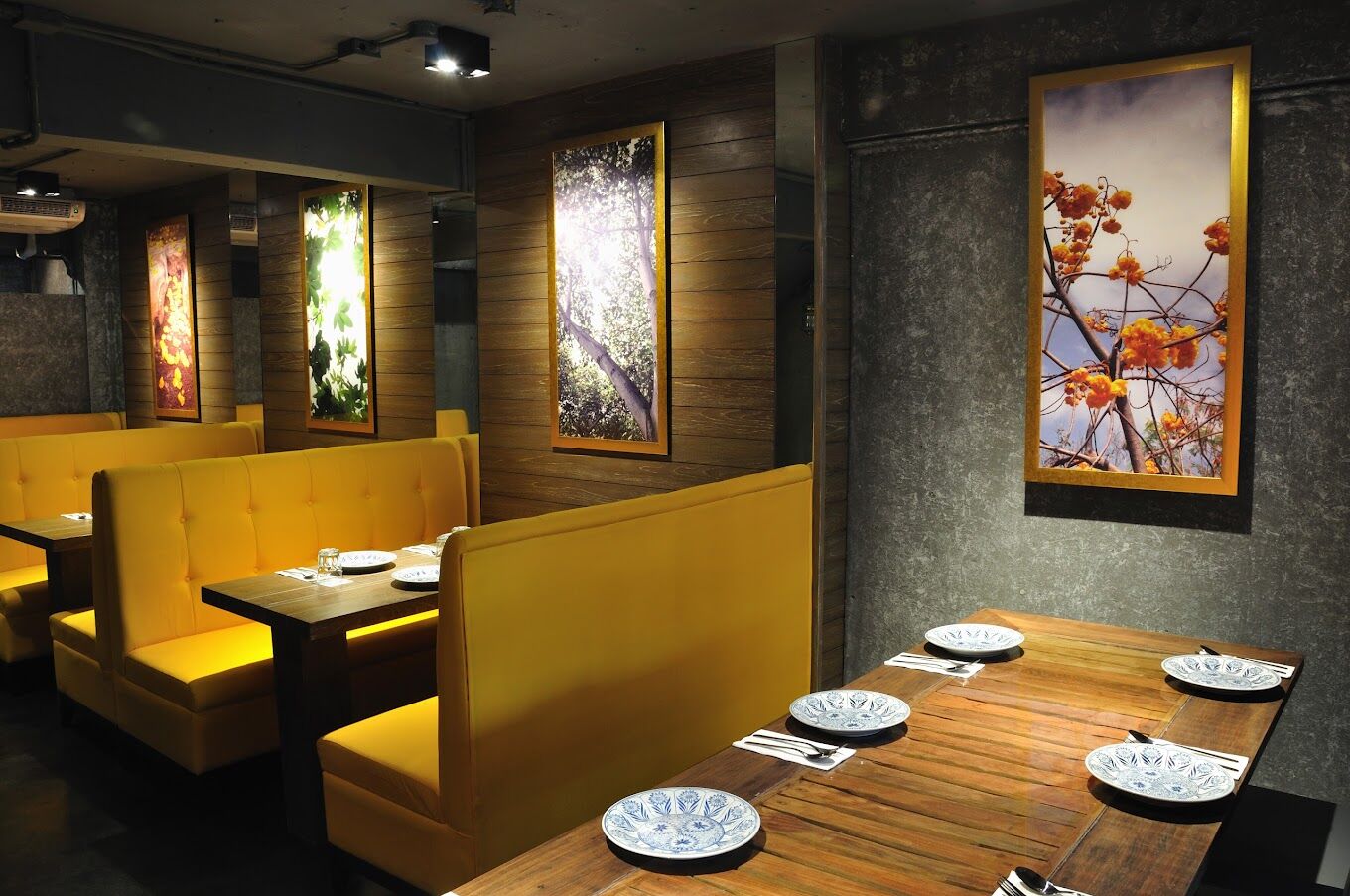 Opening hours: Daily, 10:00 – 22:00
Address: 160, 11 Thong Lo Rd, Khlong Tan Nuea, Watthana, Bangkok 10110, Thailand
Click here to Google Maps
Right in the heart of the city yet seeming a world apart, Supanniga Eating Room is a treasured restaurant in Sathorn that invites you to bask in the warm comforts of home-style cooking. This little gem specialises in traditional Thai cuisine. It flawlessly blends the robust flavours from Thailand's eastern provinces, Trat and Chantaburi, with an audacious Isan punch.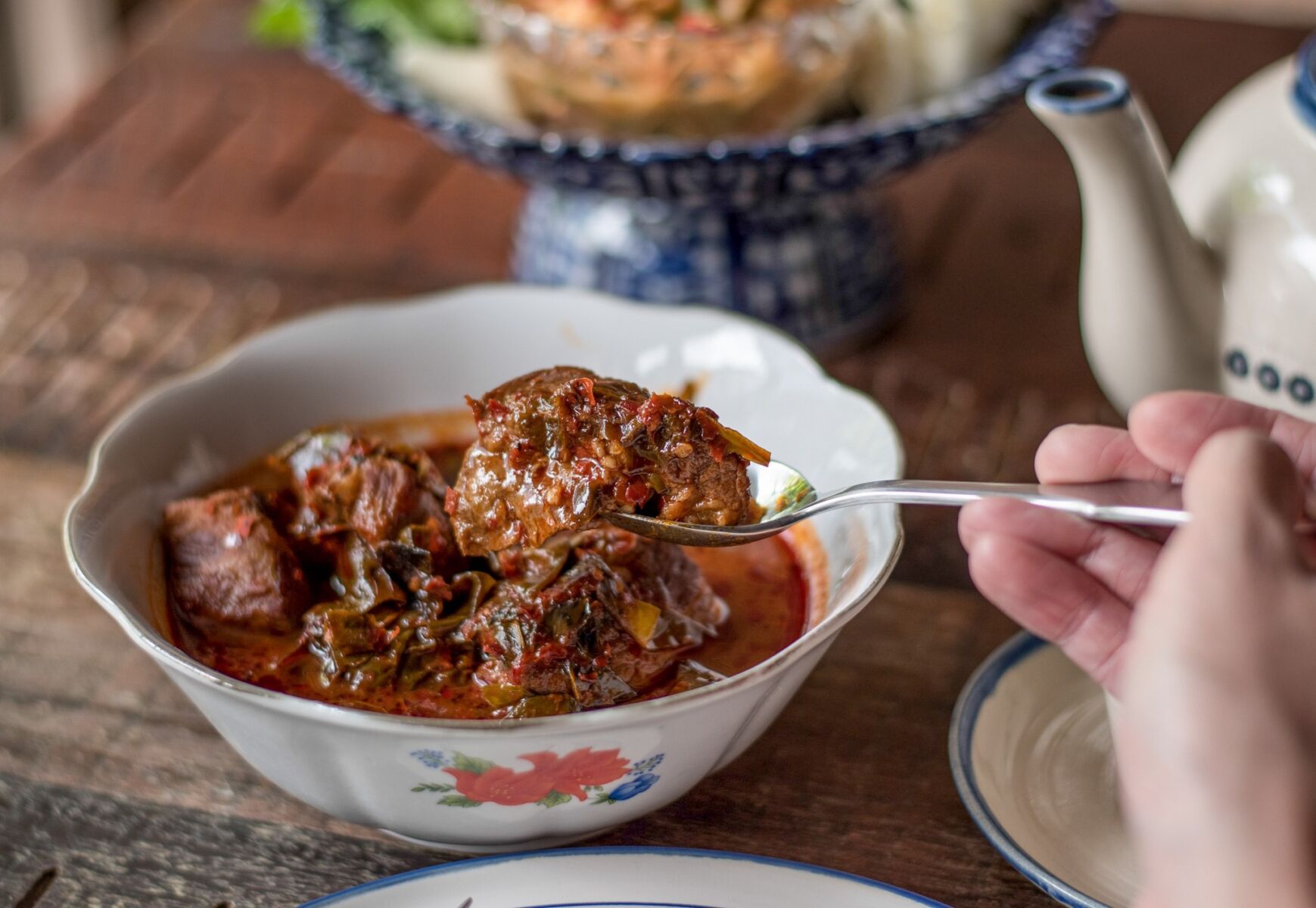 Reminisce the joy of dining in the loving surrounds of a family home as you savour the rich heritage of Thai cuisine at this restaurant in Sathorn. Supanniga Eating Room promises a vibrant symphony of flavours, with each dish crafted, marinated, and garnished to perfection. Moreover, the meticulously prepared menu showcases generously portioned dishes featuring everything from luscious meats, exquisite seafood, delightful curries to fresh vegetables, all seasoned with premium ingredients sourced from seaside towns.
And what would a culinary escapade be without a perfect drink to pair it with? In addition to its delicious food, Supanniga Eating Room offers a selection of delicious drinks. These include handcrafted mocktails, creative cocktails, and a finely picked range of wines designed to complement every dish. So, whether it's Kate's Mojito, Lemon Drop or a pour from the premium selection of wines, there's a bit of liquid joy for everyone.
CHAR Bangkok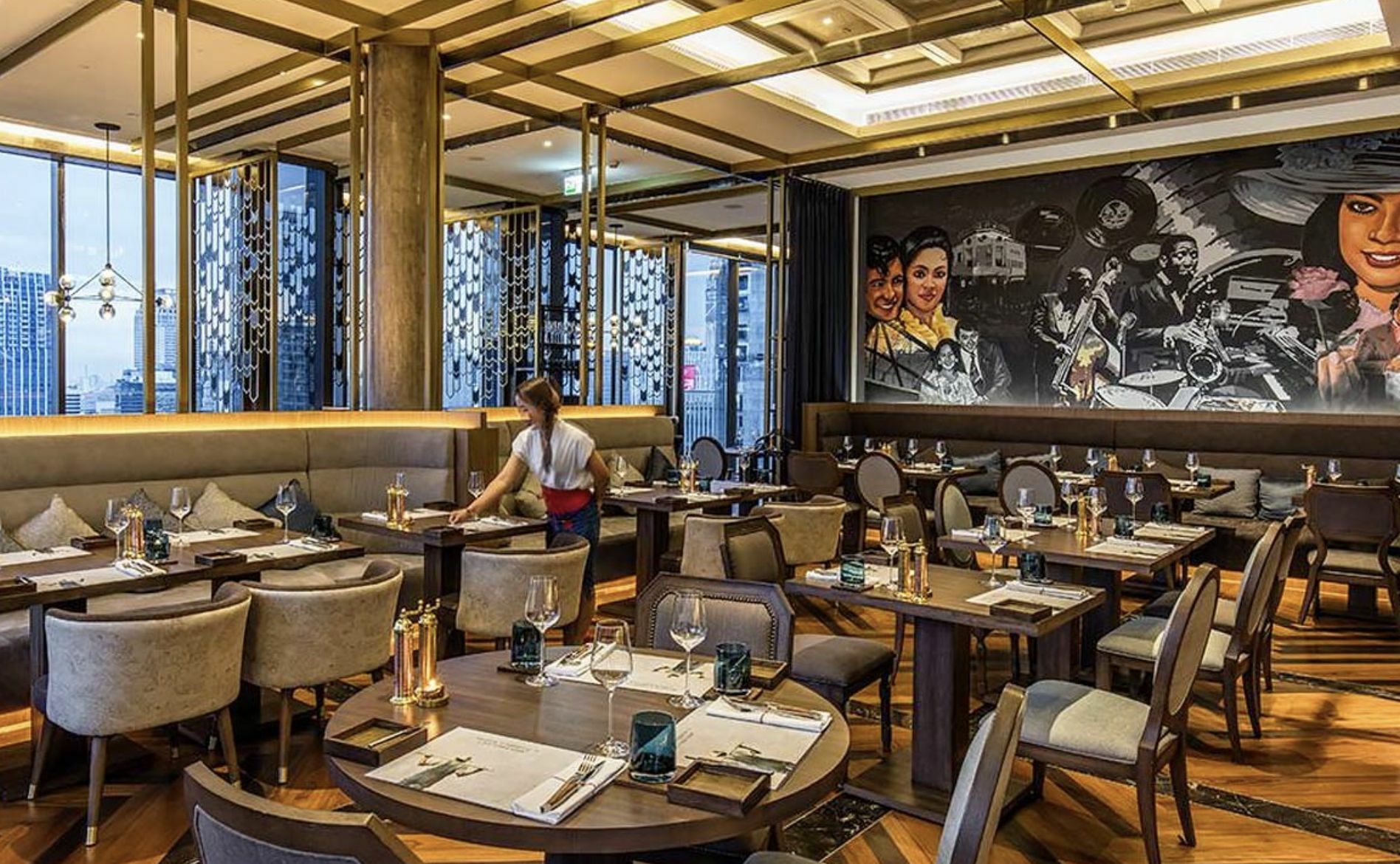 Opening hours: Sunday – Thursday, 17:00 – 00:00; Friday – Saturday, 17:00 – 01:00
Address: 25th & 26th Floor, Hotel Indigo Bangkok, 81 Witthayu Rd, Lumphini, Pathum Wan, Bangkok 10330, Thailand
Click here to Google Maps
Our next Sathorn and Wireless-based culinary wonder is the multi-faceted dining haven known as CHAR. With three distinct dining experiences, this exceptional restaurant goes beyond being just a place to grab a bite. In fact, at this stunning restaurant, they serve up honest, wholesome dishes designed to inspire and nourish.
Start your indulgent expedition in CHAR Restaurant, where modern grills and distinctive flavours take centre stage. An enticing delight for the discerning carnivore, the menu showcases an array of succulent cuts cooked to perfection on the grill. Need to end on a sweet note? Their sinfully decadent cheesecake is just the indulgence you need.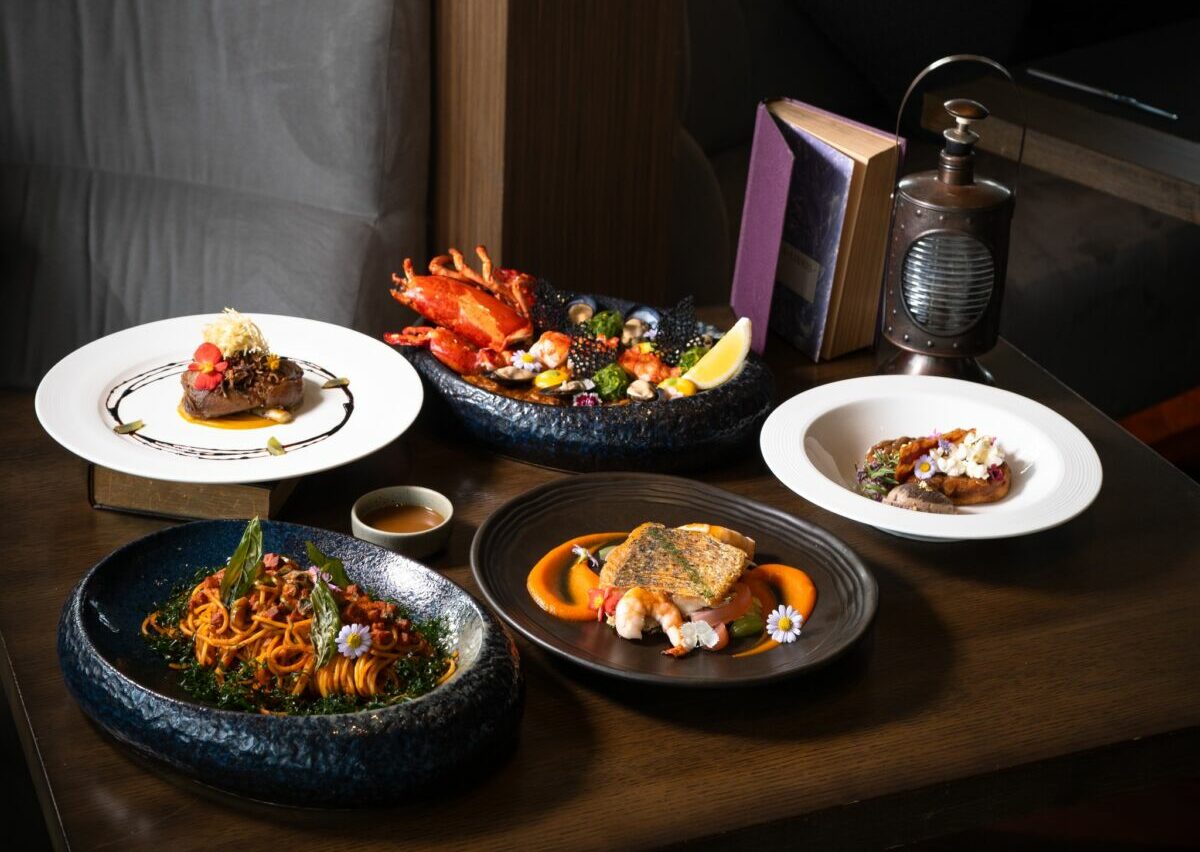 In the mood for something a tad more exclusive? Step into CHAR Private, an elegantly simple venue filled with natural light. It serves as the ideal locale for professional meetings during the day, transitioning effortlessly into an intimate dining space come nightfall.
But the real star at CHAR is the Rooftop Bar. It's high up on the 26th floor and gives you wonderful views of Bangkok's city lights. This is a great place to enjoy their tasty old-timey drinks. The skilled bartenders mix each drink with a special touch, making them just right for a fun evening out under the stars.
And there you go! Your top ten picks for fancy food in the bustling heart of Sathorn and Wireless. Everything from tasty Thai treats to Italian delights, these places really put the shine on Bangkok's food scene. So, brush off the crumbs from your sofa, and start planning a grand night out.
Sponsored
Best Bites
Food
Sponsored

Join the conversation and have your say on Thailand news published on The Thaiger.
Thaiger Talk is our new Thaiger Community where you can join the discussion on everything happening in Thailand right now.
Please note that articles are not posted to the forum instantly and can take up to 20 min before being visible. Click for more information and the Thaiger Talk Guidelines.