Protesters flood Thammasat University for major anti-government rally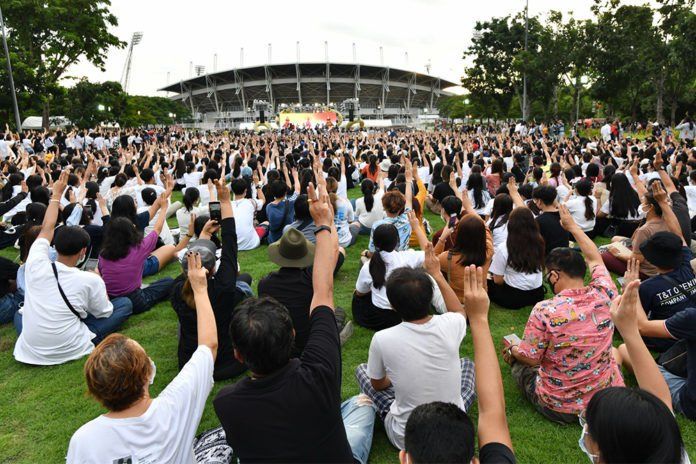 Today, Thammasat University's Tha Prachan campus in Bangkok is seeing thousands of protesters flood its campus in what they say is the biggest rally yet against the Prayut-led Thai government. After unsuccessfully trying to gain permission from university officials, the protesters broke through the gates of the history-laden university and are now gathering for the schedule of anti-government speeches.
Earlier this week protesters were hoping for around 50,000 demonstrators with security officials saying it would more likely to be around 20,000. Today's poor Bangkok weather is likely to make a crowd size more the latter than the former.
Security officials did little to prevent their entrance into the campus and people on site say that there is a clear intention, from all sides, not to inflame any tensions.
The protesters, some who have identified themselves as members of the pro-Thaksin Red Shirt movement, are made up of a majority of students who are being led by student and political activists "Panusaya" and "Panupong". Both have spoken at previous rallies and made it clear about their demands for political reform and changes to the role of the Thai monarch.
Today's protest was well-anticipated as the government has deployed up to 10,000 police and sent warnings to those around the area, including such things as respecting social distancing and following the laws on public assembly. Embassies have also sent out notifications to expats warning them to be aware of their surroundings in downtown Bangkok. Despite such warnings by police, officials say they will try to ensure protesters' safety during the event.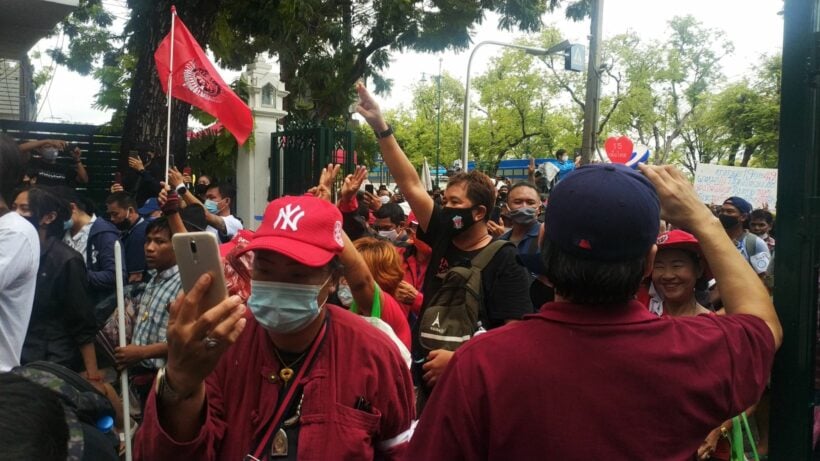 Some protests in the past have become violent – Thammasat University was the scene of a violent clash in the 1970's which followed after the ousting of a political party only to later attempt to bring back one of the party's leaders. Official figures put the death toll of the so-called Thammasat Massacre at 46, with 167 injured and more than 3,000 arrested. However, survivors put the death toll closer to 100. The clash was then used to justify a military coup which overthrew the democratically-elected government.
Protesters started pouring into the area early today with some even shaking the gates in an attempt to open them, while others put up anti-government posters on the walls facing the royal parade grounds of Sanam Luang. The group also prepared for the event by setting up makeshift kitchens to supply the rally-goers with food as the demonstration is expected to go into the evening. At 2 pm today, leaders of the protest say they will push forward with their demands for political reform and changes to the country's revered monarchy with a film producer, Yutthalert Sippapark, offering his works and art to be screened at the site tonight.
SOURCE: Thai PBS World
Want more from the Thaiger family?
📱 Download our app on Android or iOS for instant updates on your mobile
📧 Subscribe to our daily email newsletter
👍 Like/Follow us on Facebook
🔔 Subscribe to or Join our YouTube channel for daily video updates
University student carves "112" into chest after being charged with violating lèse-majesté law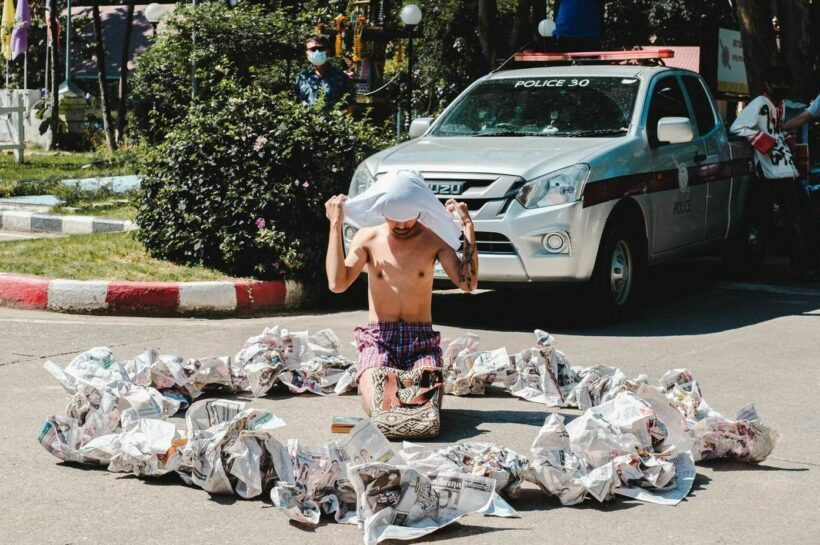 A Chiang Mai University student now has the numbers of "112" carved across his chest after using a razor blade on himself in defiance of the Section 112 of the Criminal Code, also known as the lèse-majesté law. The student took to cutting himself after arriving at the police station to face charges of violating the law. He was also charged with breaching the National Flag Act.
The 23 year old student and his colleague, are facing charges brought by political activist Srisuwan Janya after the duo allegedly placed an altered Thai national flag, featuring critical words against the monarchy, at an exhibition site at the university. Police tried to prevent him from harming himself further, as Vitthaya claimed it was an act of freedom of expression, but he was taken to the police station for first-aid treatment. The other student told reporters that he did not amend the Thai flag as police alleged, citing again, that it was a work of art. Both students are now released, but must come back to report themselves on May 31.
Thasanai Sethaseree, a university lecturer at the Faculty of Fine Arts, says the use of the Thai national flag in a work of art does not constitute a violation of the Thai National Flag Act. However, the lecturer didn't comment on whether the words adorning the flag would constitute a violation of the lèse-majesté law, or Section 112 of the Criminal Code of Thailand.
Last Thursday, jailed student activist leader Panusaya "Rung" Sithijirawattanakul was granted bail of 200,000 baht after repeated denials of bail requests over the last 2 months. Rung was detained on charges using Thailand's strict lèse-majesté laws that carry a 15-year maximum sentence for insulting the royal monarchy and has been held without bail since March 8.
She joined her fellow activist leader Parit "Penguin" Chiwarak on March 30 in his hunger strike to protest the bail denials. Penguin was recently hospitalised over health concerns due to his hunger strike that began March 16.
SOURCE: Thai PBS World
Want more from the Thaiger family?
📱 Download our app on Android or iOS for instant updates on your mobile
📧 Subscribe to our daily email newsletter
👍 Like/Follow us on Facebook
🔔 Subscribe to or Join our YouTube channel for daily video updates
Police step up border patrols and checkpoints, arresting 49 illegal migrants today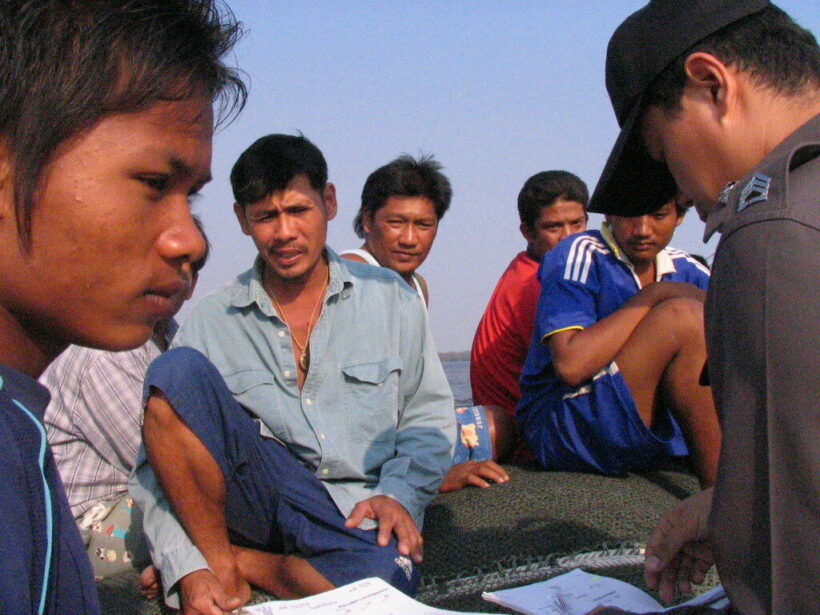 Police are stepping up border checkpoints and patrolling as 49 more illegal migrants from Myanmar are arrested today. In the North, Trairong Piewpan, deputy commissioner of Provincial Police Region 6, says checkpoints have been set up along the roads, waterways and natural foot trails in an effort to block all possible channels for illegal border crossings from Myanmar. In Songkhla, a southern border province, combined police units were deployed heavily among the mountainous areas of the border with Malaysia, to stop border crossings.
The border crossings bring fears of the Indian and South African Covid-19 variants, as well as more infections of the original virus. Yesterday, 10 Burmese job seekers were arrested after crossing over the Malaysian border and into Thailand. And, today, 49 illegal Burmese migrants and 3 guides were arrested near a border village in Lat Ya province. None of them were carrying travel documents.
Soldiers in PPE suits took their temperatures, with none displaying a fever. The illegal border crossers said they had walked 3 days along natural trails from Dawei to the Thai border. They were to pay 13,000-20,000 baht each in brokerage fees for jobs in Thailand, but say they had not made a payment yet. The 3 guides were charged with human trafficking as well as illegally entering the Kingdom and violating the emergency decree. The others were charged with the same offenses minus the human trafficking. Police say they were given food and water before being handed to the Muang district police to face legal action on the charges detailed above.
It has not been disclosed whether the migrants were tested for the Covid-19 virus, but we will update the information if more is given concerning the migrants' virus status.
Meanwhile, Thailand reported 1,630 new Covid-19 cases and 22 coronavirus-related deaths today. There are now 29,376 active Covid-19 cases. Since the start of the pandemic last year, the CCSA has reported 85,005 Covid-19 cases and 421 Covid-related deaths.
Want more from the Thaiger family?
📱 Download our app on Android or iOS for instant updates on your mobile
📧 Subscribe to our daily email newsletter
👍 Like/Follow us on Facebook
🔔 Subscribe to or Join our YouTube channel for daily video updates
Travel bubble talks to pick back up once Covid-19 is under control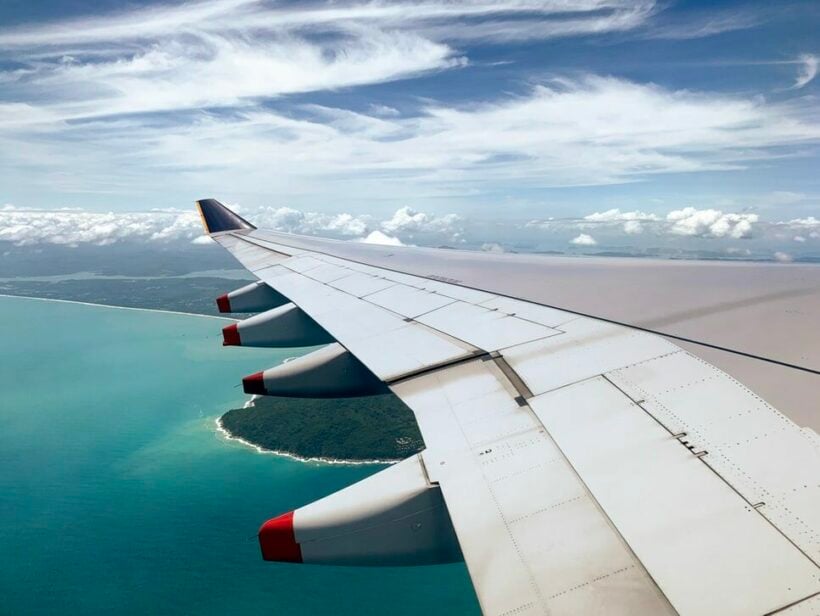 Once the Covid-19 outbreak is under control, Thailand will pick back up on travel bubble discussions with countries such as Vietnam, Singapore, Laos and Malaysia. Travel bubbles could start as soon as October if the daily Covid-19 count significantly decreases by the end of the month.
The country's Covid-19 immunisation plan needs to be accelerated and the daily Covid-19 count needs to drop, Thailand's Tourism and Sports Minister, Phiphat Ratchakitprakarn, recently told the Bangkok Post.
"We have to speed up inoculations, particularly in Bangkok, to achieve herd immunity by the fourth quarter. The number of daily infections should be below 200 by the end of this month to restore international tourism confidence."
Thailand has experienced a drastic spike in Covid-19 infections, with more than 50,000 confirmed infections since April 1, making up the majority of the cumulative case count since the start of the pandemic last year. Deaths related to Covid-19 increased from just under 100 at the end of March to more than 450.
Phiphat says Thailand needs the situation to be under control before resuming talks with other countries about potential travel bubbles because no country will want to make a deal while the infection rate is high.
SOURCE: VN Express
Want more from the Thaiger family?
📱 Download our app on Android or iOS for instant updates on your mobile
📧 Subscribe to our daily email newsletter
👍 Like/Follow us on Facebook
🔔 Subscribe to or Join our YouTube channel for daily video updates