Thailand's Covid task force to make preparations in event of "second wave"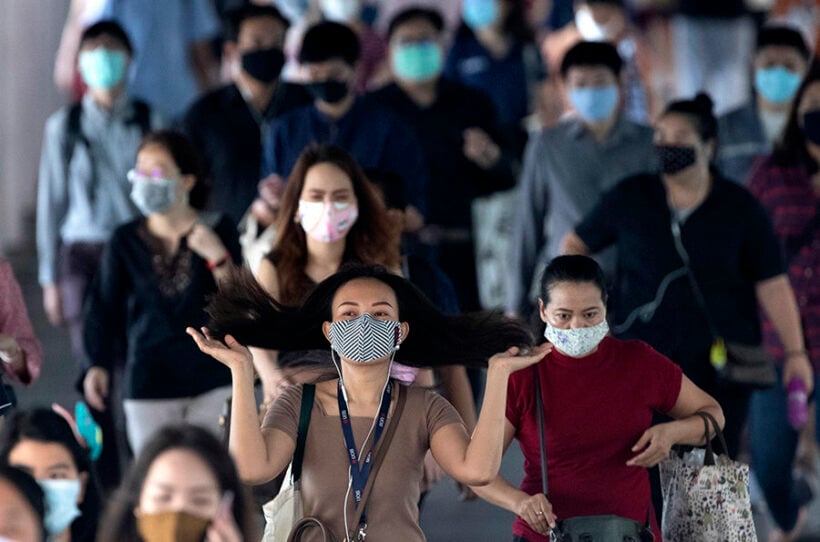 The spokesman for Thailand's Covid-19 task force. Dr. Taweesin, says the government is making sure it's ready to handle any potential second wave of the virus. Dr Taweesin Visanuyoth says the recent mishaps with an infected Egyptian soldier in Rayong and a Covid-positive Sudanese child in Bangkok, have taught the government a valuable lesson. Taweesin stresses the importance of being ready to deal with any spike in virus numbers as more businesses open up.
Over 6,700 people in Rayong have tested negative for the virus, with over 360 Bangkok residents also testing negative. Both cities were rocked by recent Covid scares, when it was revealed an Egyptian soldier had violated self-isolation rules by visiting various malls in Rayong, while a Sudanese girl who arrived with her diplomat father and family, later tested positive for the virus while staying at a condo in the capital. The family's diplomatic status meant they were exempt from the usual requirement to quarantine on arrival.
Rayong, in particular, was hit hard by the panic caused by the Egyptian soldier testing positive. The reaction led to many businesses closing down once more, as well as the cancellation of domestic travel to the region. Taweesin says the reaction to the news must serve as a lesson to the government, pointing to Japan's way of dealing with localized outbreaks, which consists of 2 phases. The first phase closes off the immediate area of ​​the outbreak, along with high-risk venues such as schools. The second phase involves declaring a national emergency and imposing mandatory social distancing.
"What we have to learn is the economy must move forward. In cases like Rayong, the entire city can be closed instead of just shopping malls and hotels, because there is a strong possibility of transmission. "
SOURCE: Nation Thailand
Keep in contact with Thaiger by following our Facebook page.
Never miss out on future posts by following Thaiger.
Nightlife plays major role in Covid-19 third wave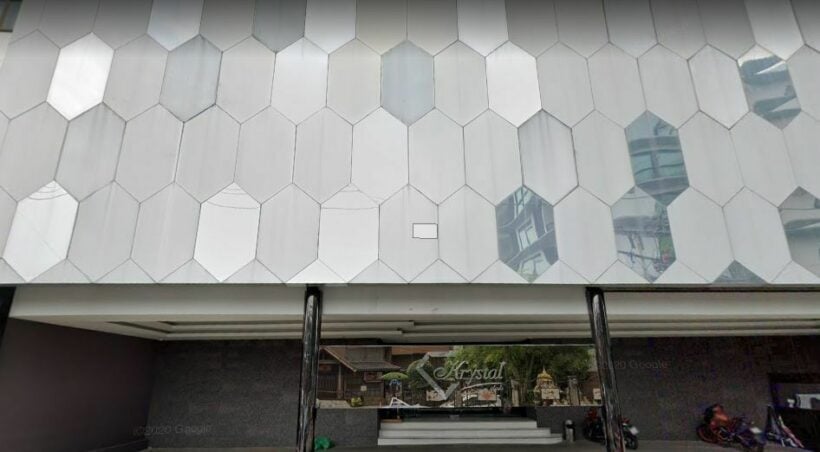 The current surge in Covid-19 infections now looks to be spread in large part by Thailand's colourful nightlife, with more than 500 people contracting the more contagious UK variant (B117) of the Coronavirus. The government responded by closing all bars and entertainment venues in 41 provinces, but it may be too late to prevent a third wave of the pandemic. Many people now are critical, pointing to the first and second wave as harbingers of how the party nightlife can so easily transmit Covid-19.
At the beginning of the pandemic, partiers in Bangkok's Thong Lor area began testing positive for Covid-19 last March. The Public Health Ministry instructed everyone to follow safety measures to prevent a big outbreak. The area is well known to be a hotspot for Bangkok's wealthy elite and powerful with its multitude of high-end luxury clubs and bars.
A normal night has thousands of people roaming the streets into the late hours of the evening. But after infections started spreading, all nightlife was closed until July when Thailand overall had gained some control and contained the Coronavirus more successfully than most countries. In fact, it would be months before any new infections were diagnosed in the area.
While it's commonly known that the next wave of Covid-19 in Thailand started mainly from migrant workers and low wage market workers, even the second round of infections was proliferated by people enjoying the nightlife around Thailand. There was a case of a woman in the North who went to several bars before knowing that she had contracted the virus in January, and, when the details of her bar-hopping were released, many customers of a bar she attended in Chiang Mai had already contracted Covid-19 as well. Meanwhile, in Bangkok, Techin "DJ Matoom" Ploypetch held a lavish all-night party in a luxury hotel in January. Facing criminal charges for violating Covid-19 restrictions, he has recovered from the virus himself but the party became a spreader event. None of these nightlife outbreaks stopped people from pouring back into the club scene as soon as it reopened in February.
Now Thailand is facing a massive shutdown with the threat of a third wave of Covid-19 inescapable. One major factor in the rapidly spreading infections is trendy evening entertainment venues around Bangkok, Phuket, and Pattaya among other areas. A 35-year-old man who contracted Covid-19 reported he had been partying in Thong Lor the month before. Testing clubgoers from bars and entertainment venues in the area revealed an outbreak of Covid-19 infections.
Krystal Club Thonglor25 gained attention as powerful politicians and the wealthy elite that frequent the club so often it's nicknamed "Government House 2". 1/3 of Thailand's cabinet ministers are currently self-isolating and it was rumoured that the Transport Minister had gotten C0vid-19 from visiting the infamous Krystal Club, though rumours were later dispelled.
But growing anger has emerged towards the upscale party-going set, with the hashtag #thonglorpub trending across social media since Wednesday, and many people complaining as the country closes down entertainment venues for the next two weeks and maybe facing further lockdown procedures.
The bar and club scene is a hotspot for Covid clusters since social distancing and mask-wearing are rarely enforced, in poorly ventilated rooms with throngs of tightly packed people. A list has emerged of high society hot spots where anyone in attendance in the past few weeks is being requested to get Covid-19 tests right away after customers at each has tested positive for covid.
Krystal Club Thonglor25
Bar Bar Bar,
Ekamai Beer House,
Emerald Thonglor13
Dirty Bar
Bottoms up Thonglor
AINU Hokkaido lzakaya & Bar
the Cassette Music Bar Ekamai
63 Music House Ekamai
SOURCE: Thai PBS World
Keep in contact with Thaiger by following our Facebook page.
Never miss out on future posts by following Thaiger.
Big Covid-19 numbers today: 789 new infections, 1 death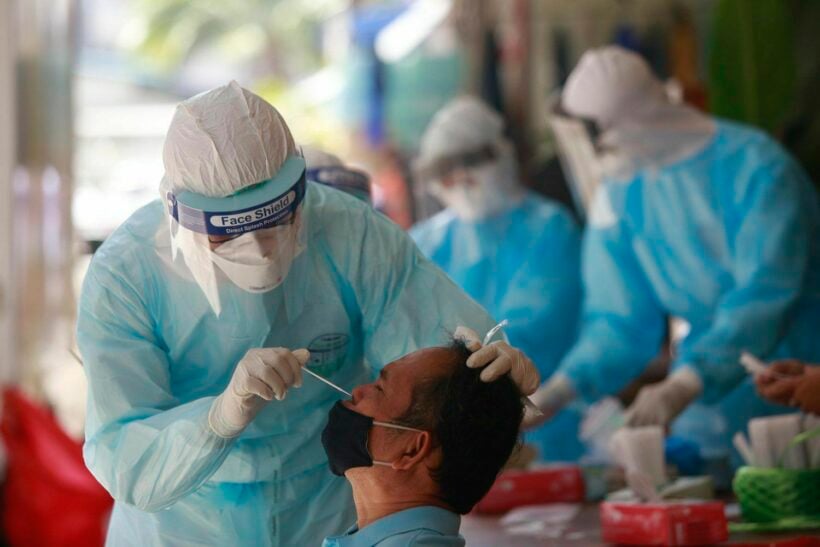 789 new Covid-19 infections and 1 death were reported today by the CCSA. The death, a 68 year old Thai man from Nakhon Pathom, had died April 4 but was yesterday confirmed as dying from complications from Coronavirus. Only 8 infections were international arrivals, with 522 local infections and 259 diagnosed today through contact tracing.
The international infections were Thai and foreigners and included 3 arriving from Russia and 1 each from the US, UK, Oman, India, and Canada. 33 former patients are now fully recovered from the virus and discharged in the past 24 hours.
Earlier today 17 new infections were identified in Phuket and will go into tomorrow's official national count. This brings the island's total new infections this week to 43, almost all of them a result of an influx of Bangkok party-goers to events last weekend.
This new jump in Covid-19 brings the total infections in Thailand to 31,658 – c28,463 local cases and 3,195 internationally imported cases, 17,000+ of those cases were diagnosed from proactive testing. 28,161 have been released as 'recovered' with 2,645 people currently undergoing treatment and 97 total deaths.
Thailand is now 113th on the list of most cases globally, with the USA's 31.8 million infections still more than the next 3 countries combined – Brazil with 13.37 million, India with 13.2 million, and France with 4.98 million. Russia rounds out the top 5 with 4.62 million infections.
The global total is up almost 800,000 to 135.29 million cases with 23.3 million active cases, just over 100,000 of which are considered in critical condition. 108,86 million have recovered from the virus, and 2.92 million have died, including 13,268 today.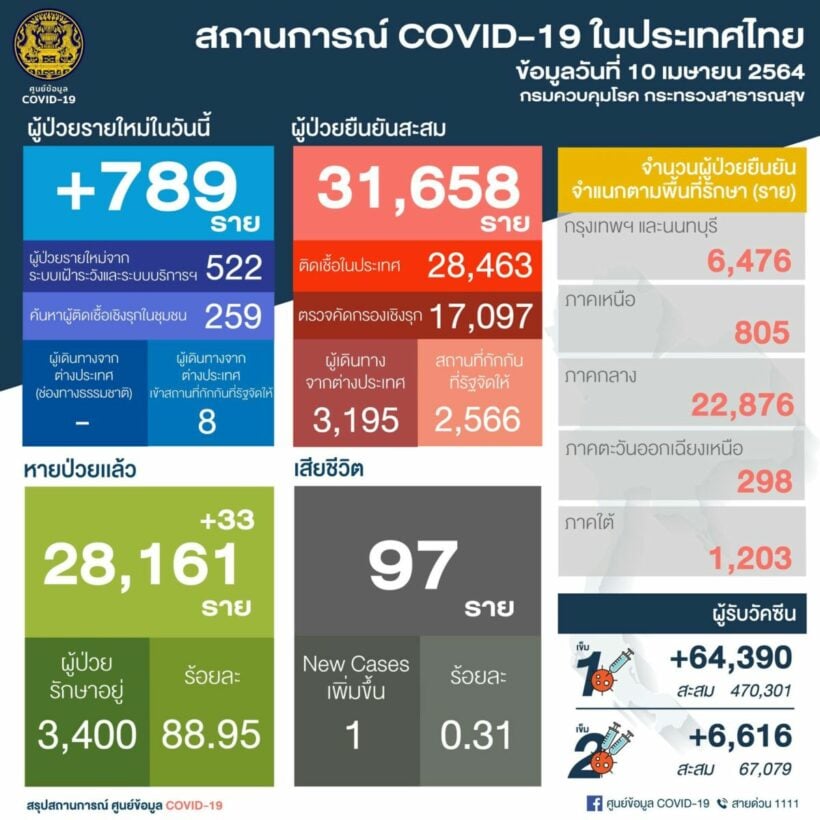 SOURCE: The Nation Thailand
Keep in contact with Thaiger by following our Facebook page.
Never miss out on future posts by following Thaiger.
Privatising Covid vaccines – Thai government gives private hospitals the go-ahead to buy vaccines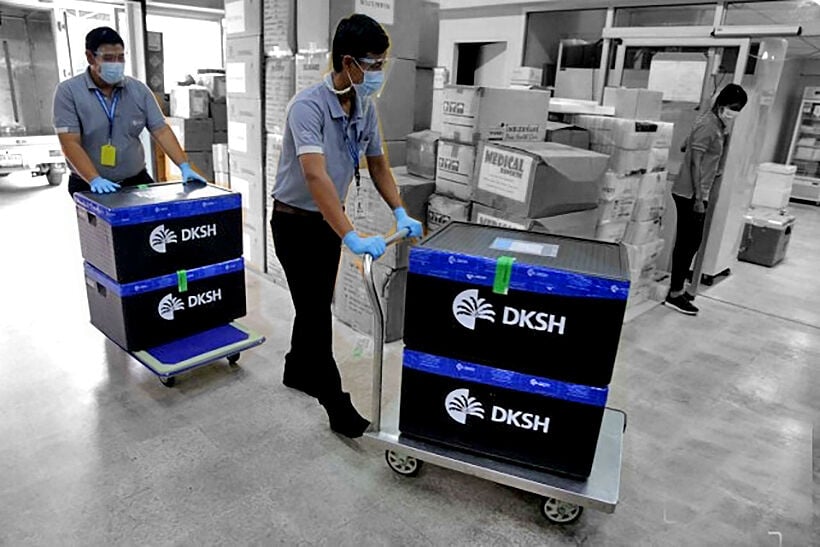 "About 10,000 people are being vaccinated around Thailand, on average, with 14,000 people being vaccinated each day in Phuket."
Private hospitals and institutions have been given the official go-ahead to purchase up to 10 million doses of approved Covid-19 vaccines. The purchases will be in addition to what the Thai government is also doing. The major sticking point, despite the approval, however, continues to be the world supply shortage of vaccines, with demand far outstripping current supply.
The CCSA's Dr. Taweesilp Visanuyothin announced that the Thai PM had approved the privatisation of vaccines but maintained that the roll out of free vaccines for Thais and people at risk would continue at full pace. The Thai government have been fending off accusations that it was blocking the acquisition of vaccines by private companies and hospitals. The 10 million doses approved for private purchases actually allows about 5 million vaccinated people with most of the approved vaccines needing 2 doses.
The spokesperson explained that the Thai government needs to have 40 million Thais vaccinated before they would be able to claim any scientific level of herd immunity. The public health minister said that around 10,000 people per day are being vaccinated around the country, on average. About 350,000 doses have arrived in Thailand and 1.5 million more doses are awaiting delivery for this month, according to the Thai PM.
The order allows the private sector to use a letter of approval from the Thai government to purchase its own supplies separately. Or, alternatively, to purchase directly from the government and resell to customers.
The government's current order for vaccines is enough for around 35 million people with a local supplier, manufacturing the Oxford/Astrazeneca vaccine under license, from June this year.
Dr Taweesilp also urged private companies to target and purchase vaccines from manufacturers other than the vaccine companies the Thai government were already dealing with.
The following vaccines are currently approved in Thailand…
AZD1222 by AstraZeneca/Oxford University (2 doses)
ARS-CoV-2 (CoronaVac) by Sinovac (2 doses)
NT162b2/CORMIRNATY – Tozinameran by Pfizer/BioNTech (2 doses)
Covishield (ChAdOx1_nCoV19) by the Serum Institute of India (2 doses)
Ad26.COV2.S by the Janssen Pharmaceutical Companies of Johnson & Johnson (Single dose)
mRNA-1273 by Moderna (2 doses)
There are also current applications pending from other vaccine producers which will likely be approved in coming weeks.
Many expats have been chasing information about when they could expect to be vaccinated. Despite some promises from the government there has been little concrete information about formalities to register for vaccination at this stage. Meanwhile many expats have indicated they were prepared to pay for their vaccination but were unable to get clarification from private hospitals about when that may be available.
In Phuket the provincial government has promised ALL registered residents, local or foreign, that they would be eligible for government-funded vaccination. There has been a flurry of activity on the island over the past 2 weeks since the 'Sandbox' proposal was approved, in principal, for a July re-opening of quarantine-free tourism to vaccinated travellers. There has been queues and waiting lists at the island's public hospitals every day for the past week. Currently some 14,000 people are being vaccinated every day, on average.
Meanwhile, the events of the past few days – the closure of entertainment venues and bars in 41 provinces, including all the main tourist areas – will force the government to re-consider any scheduled plans to re-open borders and reduction of quarantine times. Travellers are still allowed to visit Thailand, under new guidelines introduced on April 1, 2021.
What you currently need to enter Thailand…
Vaccine certificate, either a print out or the original document (or vaccinated travellers)
Certificate of Entry issued by the Royal Thai Embassy in your country
Covid-19 health insurance with a minimum coverage of US$100,000
Booking confirmation for an Alternative State Quarantine (ASQ) hotel
Negative Covid-19 test issued no more than 72 hours before departure
Anyone considering travelling to Thailand at this time is recommended to check with the Thai embassy in their country first, before making bookings of ASQ hotels or flights.
Keep in contact with Thaiger by following our Facebook page.
Never miss out on future posts by following Thaiger.